Wednesday, July 25, 2018
I'm a Cooker
Today was a cooking day. But in order to cook, you first have to buy your ingredients. That's how you ensure they are fresh.  Vicky met us at the hotel with Jose, our driver, and with Carolina Velez. Carolina is a chef who, with her ex-husband, Gilles Dupart, runs the French restaurant Oh! Là Là. Carolina doesn't call herself a chef.  She said, "I'm a cooker."  But trust me, she is a chef.
We were off to the Mercado de Bazurto. Now this was a market!
Mercado de Bazurto
We drove about 30 minutes to get here. As we approached, we could see the Cienaga de Las Quintas Lake on one side of the road and the market on the other. This is how you get the freshest fish, by being right on the water. There were bright blue parrot fish, large tuna, and red snapper and many other types of fish all set out for people to buy. There were birds everywhere, following the fishing boats that were pulled up onto the shore. Fishermen were sewing their nets. And fresh fish was everywhere.
Carolina described this market as a place of magical realism. It is a market for locals. You don't find many tourists here. It was crowded. It was dirty. It was noisy. It was bustling. It was giant.
It was a maze of endless stalls of fruit and vegetables, meat and fish. It was an all-out assault on our senses. The ground was earthy with holes and bumps. Men with carts were going back and forth, which barely left room to walk. It was really magical!
Carolina took us from stall to stall.  We had our own man with a cart for her to put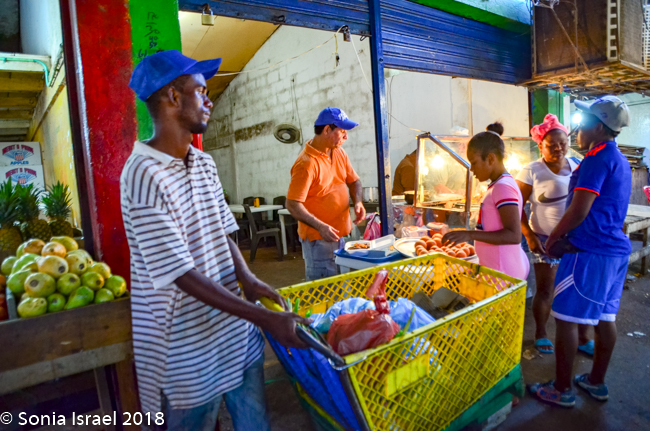 all our purchases. She instructed us not to accept any tastes. Nothing should be eaten until cooked or washed very carefully. Watching her talk itself was magical as her face lit up when she talked about food.
She showed us the large Bijao leaves from a plant that grows on the side of the roads here and used to wrap food, the way we would use aluminum foil. She showed us herbs that do different things at different times of the day (circadian rhythms and chronomedicine!). She talked about intentionality in food. She taught us that emotions and memory are important in cooking. We bought tree tomatoes, or tomate de arbol, a red-orange fruit shaped like an egg. The inside is orange and juicy, sweet and tart, all at the same time.  We bought other things I had never seen or heard of. Cooking all this was guaranteed to be fun.  And tasty.
Eating, not just shopping
We saw locals ladies making arepas, a staple in Colombian cooking and food.  Arepas is sort of like a tortilla, made of ground maize or flour and eaten at all meals with cheese or avocado or absolutely anything else. People came here not only to shop, but to eat.
Faces
But the best part for me was the faces.
And when we had walked all around the different sections and had seen all the chaos we could take, and had purchased all we needed for our cooking class, we headed back to town.
Oh! Là Là
We drove back into the old town, through the walls and stopped by a purple and orange house with a mural across the street. That was Oh! Là Là. Gilles was there to greet us as the other helpers in the restaurant came out to carry all our purchases in. The restaurant is described as, "Owners, Carolina Velez and Gilles Dupart, are both on a mission to expand the healthy eating options in Cartagena and resurrect long-forgotten regional dishes with a modern, French flourish."
The inside was as colorful as the outside. The house itself is an historic one. The walls are covered with black and white photographs including one of the first black governor of Bolivar, Francisco Vargas, meeting US president Franklin Roosevelt.
There was a long, large table on one side of the restaurant all set up with mixing bowls, mixing spoons, measuring cups, and all sorts of other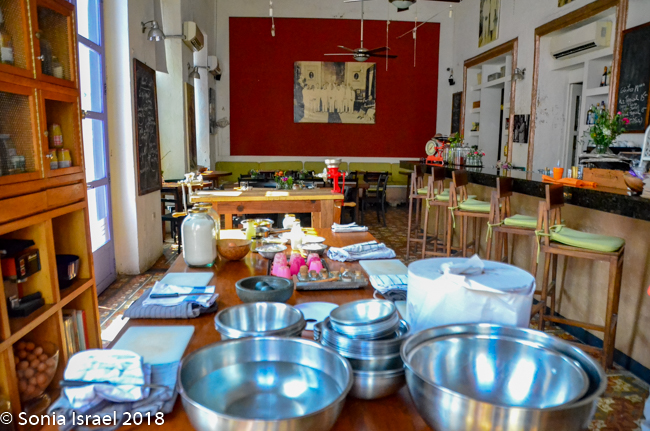 implements. We were given aprons to put on and set to work.
Gilles started by listing our menu on the blackboard, adjusting it for our dietary preferences.
We chopped and we ground and we pureed, and we sautéed.
After a few hours, we got to sit down for lunch. What did we have? We started with plantain chips (another staple) and other appetizers, ceviche (without cilantro for me), arroz apastelado (sticky rice), tomato tree salad, hogao (a savory salsa of tomatoes, onions, garlic, cilantro [but not in ours], sautéed until they are soft) (tomatoes, onion and garlic sautéed in oil), chicken, and enyucado with passion fruit  and macaroon. What is enyucado?  It is a traditional Colombians cassava dessert cake made with ground boiled yucca, anise, sugar and sometimes guava jam. And hot chocolate, frothed at the table.
By then the restaurant was full of people. But we had the best meal because we got to cook it with Gilles.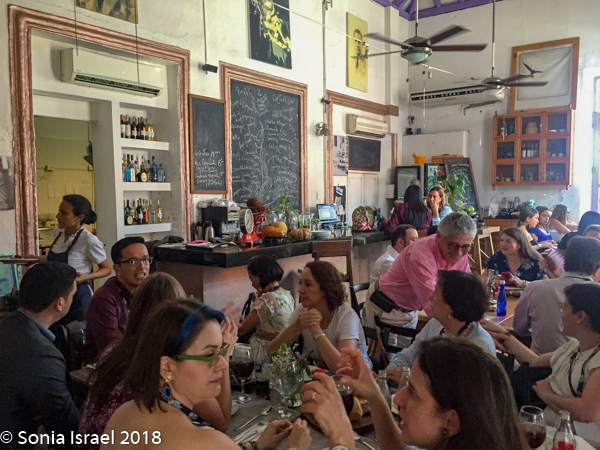 After lunch, it was time to say good-bye.  But not before taking pictures for us all to remember.
It was a fun day. Seeing the locals at the market going about their daily life is always an eye-opener to the real world. Our sense of smell, sight and hearing were all attacked by the noise of the people and the color and smell of the fruit and vegetables. Our kitchen skills were tested. And in the end, we were rewarded with a fabulous lunch.
More good-byes
But we weren't just saying good-bye to Carolina and Gilles today.  We were saying good-bye to Vicky and Jose as well, as it was time to leave Cartagena. We had a wonderful few days here, made more special by them.  It was sad to leave, but we were also excited about seeing and learning about other parts of Colombia.