Sunday, October 22, 2017
San Telmo
Since today was Sunday, it was time to visit San Telmo and the famous Sunday market. Our new friends, David and Judi, from New Zealand, who we had met at Iguazu Falls and who happened to be staying at the Sofitel, joined us. We shared an Uber over to the San Telmo area. Street musicians were filling the air with their music. It was a sea of people, both locals and tourists, and both sides of the street (streets) were lined with craft stalls selling souvenirs, homemade art, freshly squeezed orange juice and antiques.
We walked around the stalls, slowing, looking at the antiques, the souvenirs, the junk, but mostly the people. Tourists. Locals. Families with children. Shopping. Bargaining. Cafes and restaurants with outdoor tables. It was spring. Winter was over and everyone was enjoying being outdoors.
Bar Plaza Dorrego
We stopped for cappuccinos at a small café, arbitrarily chosen, Bar Plaza Dorrego. What a find. Small wood tables. People, some clearly regulars, sitting around enjoying their coffees, or their beers, and an atmosphere to match. The coffees and the food were named after famous people with their pictures in the menus.
Plaza Dorrego
Then it was back out on the plaza to peruse the street market once more. There was music playing and dancers dancing. One allowed me a picture with him, although I did not tango with him. Nor did I pay him. But he had a great smile and he made me smile.
One group of two women singers and men two guitar players sat at the edge of the square entertaining the crowd with their music, their voices and their dancing. Tango music and tango dancers were everywhere. It was joyous, and sexy, and moving, and melodic, and the music and movement just swept through me.
There were several puppeteers with their marionettes. They would draw crowds of children and adults who laughed and clapped and just plain were having a great time.
Judi bargained for a piece of art…
…and I watched the people. Worn faces with big smiles. Each has their story which we will never know. But for today, we shared those smiles.
Todo Mundo
We walked and walked and then it was time for lunch. There were so many choices, but we finally settled on  Todo Mundo. We sat outside so we could keep watching the people. And the parade of characters did not disappoint. We had empanadas (what else!) which were not as good as those at La Morada (see the post on Buenos Aires – so much to do, see and eat), and pizza. Pizza in Argentina?  Yes, see the post on BA- so much to do, see and eat).
After lunch we kept walking. But what we didn't realize is that one street over was the covered market full of food and more antiques.  The true heart of the San Telmo Sunday market and somehow we missed it.
El Zanjón de Granados
We wanted to stop at the El Zanjón de Granados as it was right there, but it was closed on Sundays. The most we could do was peek in the front door. This is one of the more unique places in BA with its series of old tunnels, sewers and cisterns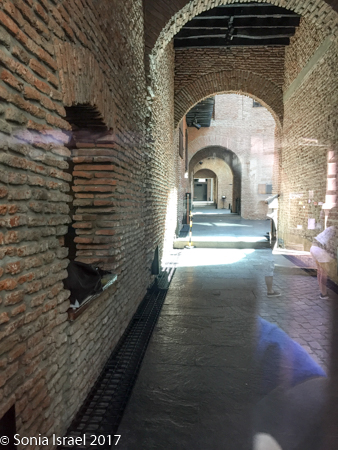 (built from 1730 onwards) which were constructed above a river tributary and provided the base for one of BA's oldest settlements.  So we will have to save this for our next trip.
El Obelisco
We kept walking since it was such a beautiful day, all the way to the Obelisk. This obelisk, just called El Obelisco by the locals, is the symbol and an icon in Buenos Aires. So what is an Egyptian obelisk doing in Buenos Aires? It was built in 1936 to commemorate the 400th anniversary of the founding of the city, right at Plaza de la Republica where the Argentine flag first flew.  Now, along with being the icon of the city, it is a venue for cultural activities, a place for sports fans to gather and celebrate a win, and a place for acrobatic troupes to perform high-wire acts. We didn't see any of that. We saw children running around, lots of tourists taking pictures, like us, and everyone just enjoying the sun. We took the required picture by the Olympic rings and the BA topiary. The Olympic rings were just installed in preparation for the 2018 Summer Youth Olympic Games, commonly called Buenos Aires 2018.  It will be the first Summer Youth Olympic Games to be held outside of Asia (also first in the Southern and Western Hemispheres), and the first Youth Games for either summer or winter to be held outside Eurasia.
We passed the obelisk many times during our week here, getting many different views.
And then we made our way back to the hotel.
Juana M
Dinner that night was just down the street from the hotel, in a restaurant called Juana M. David and Judi and Andy and I walked over and down a flight of stairs into the cellar of the building where the restaurant is located. We entered into a large, long room, all in white, with a bar in the front and white tables in the back. Main dishes were ordered from a menu, and of course we had beef. Since we were earlier than most people are here in BA, there was an empty long table next to us. But within a few minutes the waitstaff had filled it with all sorts of salads and side dishes. We got to go up and help ourselves to whatever we wanted. All the different salads were actually my favorite part.  We had good wine, good food and even better company.