Tuesday Oct 24, 2017
Today was the start of our National Geographic trip (please see the posts on the Falklands and South Georgia Island). But since we had already done most the of the tourist stuff they were doing in Buenos Aires, we went off on our own to see some of the things we had missed so far. This would be our final day in Buenos Aires.
Palacio Barolo
Our first stop was the Palacio Barolo. We had tried to come several other days, but always missed the time for the tour in English. So today was the day.
The Palacio Barolo is a 22-story office building. But that is not why people visit. But first, who was Barolo? Luis Barolo was a progressive and powerful farmer who came to Argentina in 1890. He brought cotton spinning machines to Argentina. He hired architect Mario Palanti to work on a project he had in mind.  Palanti was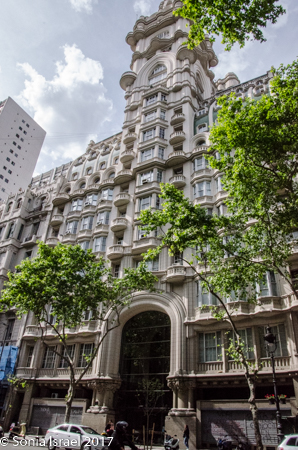 inspired by Dante's Divine Comedy and designed the building around that.  And that is way people come to see it.
As an aside, in order to build such a tall building, the Mayor had to grant a special concession as it surpassed the maximum allowed by four times.  When it was completed in 1923, it was the tallest building in all of South America and held that title until 1935.
Dante's Divine Comedy
How does one build a building based on literature?
The height of the building is 100m, a reference to each canto (or song). There are 22 floors, the number of verses per song. And the structure is divided into three, representing hell, purgatory and heaven. In the central passage, the palace has 9 domes representing access to hell.  The central dome is a point of bronze which originally stood a statue of a condor with the body of Dante elevating him to paradise.  The upper floors and the dome symbolize the seven levels of purgatory. The dome was inspired by a Hindu temple dedicated to love and is the emblem of the realization of the union of Dante with his beloved Beatrice.
Our tour of the Palacio Barolo
So this time we got there in time for our tour. There was one other woman and us, and our guide. We rode up in the 1920s gate elevator to the 17th floor, and then walked up a narrow winding staircase to the top.  We stopped along the way (I can't remember which floor) and walked into someone's office as the door to the balcony which goes around the building was next to their desk. The panoramic view was spectacular.
We looked down right at the Palace of the Argentine National Congress (Palacio del Congreso Nacional Argentino or Palacio del Congreso for short).  This is a monumental building which houses the seat of the government. Its large green dome can be seen from many spots in BA.
After walking all the way around, we continued up the stairs to the lighthouse which had more of a panoramic view. The lighthouse can be seen all the way in Uruguay. The light itself was covered in pink as it was October – Breast Cancer Awareness month.  On the lighthouse is the constellation of the Southern Cross which is aligned with the axis of Barolo on the first days of June at 19:45 hours.
Museo Nacional de Bellas Artes
Our next stop was the Museo Nacional de Bellas Artes, the Fine Arts Museum, whose building was originally a pump house for the city waterworks. This is considered one of Argentina's most important art museum. There are the requisite paintings by as Cézanne, Degas, Picasso, Rembrandt, Toulouse-Lautrec and van Gogh, but there were also lots of works by other Argentine artists. And lots of kinetic art. We enjoyed walking around and seeing the art, but the best part was watching the group of students who were there, in their white aprons. They were learning about art which made me happy.
Plaza de las Naciones Unidas (United Nations Park)
Just outside the museum and next door to the School of Law, was the Plaza de las Naciones Unidas (United Nations Park) with its metallic flower sculpture. What makes this sculpture special is that is opens (blooms) during the day and closes at night, like a real flower (circadian rhythm!).  There were wooden lounge chairs which we took advantage of as we watched the reflections in the petals of the flower.
Sunset
And then it was the end of our time in BA.  It was time for our next adventure – the Falklands and South Georgia Island (please see those posts). We loved BA. Wonderful people. Wonderful food. A great city to visit.
Speak out and learn to trust
One evening we called Uber to take us back to the hotel. The Uber driver was a young man, likely in his mid-twenties. We got into a very interesting discussion about the politics of Argentina. He felt that not only was the economy down, but the educational culture was being lost as was the work ethic. The state gives money to the younger generation so they don't feel they need to work or to study. He felt that his generation has lost trust of the government and of the world. He said they are just starting to gain it back. Slowly.
Mariana, our guide on our food tour, was also in her twenties. She felt that they had both the right and duty to speak up about the status of their world. They owed it to those that died fighting for freedom of speech. She felt the current generation was rather outspoken, on politics and on everything else, for that reason.
It was very refreshing to have these conversations with these young adults. As everywhere, they are our future. But not everywhere are they so astute.
Things to know about Buenos Aires
Uber is here and is much cheaper than a taxi. If you do use a taxi, try to use the Radio Taxi's as they are licensed and have the drivers name and phone number. All taxis are black and yellow, but the Radio Taxi's say Radio Taxi on the side and have a sign on top of the car.
Bring small American dollar bills (10's, 5's, 1's). They can be used for tips.
Bring Argentinian dollars. You will need them for taxi's (unless you Uber), and many restaurants do not take credit cards. If you do use a credit card, you need a picture ID with you (passport or driver's license) which means you have to carry your passport with you at all times instead of leaving them in your hotel safe.  Some places take only VISA and not MC.  Bring both.
One traditional meal, served only on Sunday's, is the puchero stew. We heard the best place to eat it is at El Tropezon but we were never able to make it.  We did get to try to stew in the Falklands, but I suggest you try to get it in BA.
Turns out that Buenos Aires is not a particularly safe city. We were consistently warned by the hotel staff and our guides about pickpockets. They warned me not to wear my camera around my neck (how can I possible take pictures if the camera is in my backpack?!). Wear your backpack in front. All the usual safety precautions. I opted to wear my camera but under a button up shirt so I could sort of hide it. I never carried my camera at night. That's when my phone camera came in handy.
Final Thoughts
There is a lot of history here in Buenos Aires. Ugly history. History that is still being made. But the country has faced its past and is trying valiantly to move forward in a positive way. Not everyone believes they are succeeding.
But as a tourist, it is a beautiful city to visit. So much to see. So much to do. So much to eat. Not a good place for a vegetarian (although I'm told there are lots of great vegetarian restaurants here too). But most people come for the beef. And it is good!
But beyond the food, there is color everywhere. In the buildings. In the trees. In the dress of the people. In the tango. If I had to pick one word to describe Buenos Aires, it would be that.  Color.
But there is also beautiful architecture. Beautiful parks.  Beautiful museums. But most, most importantly, beautiful people.
And as we flew out, onto our next adventure, I knew one day I'll be back. To do, to see, to eat.