Off to Botswana
Note: Often, in my blog, I write about our daily adventures. But for Botswana, everything is mixed up, rogue, just like Africa itself. In the week we were there, we made two stops, one in Xigara and one in Savuti. We saw many of the same animals and birds in both places, so the descriptions are lumped together by animal rather than by location. Credit for the majority of the videos goes to Phyllis and Roberta. I was busy taking pictures while they shot video.
Leaving South Africa
After spending some days in Cape Town (please see that post) and a day in Johannesburg (please see that post too), we were ready for our safari experience. Phyllis and Ben, and Arnie and Roberta, four of our usual traveling companions, joined us. We were picked up at our hotel in Johannesburg at 845am for an 1145 flight. The airport was only 30 minutes away so we couldn't figure out why we needed so much time. But when we got to the airport and saw the long line to check in, we understood. We were flying South Africa Airlines, an airline on which we have no status. So it was stand in line and patiently wait your turn to check in. Our guide, Nelson, was with us, walking us through each step. I'm not exactly sure why, as checking at Tambor airport is no different than checking in anywhere else in the world. But he was assigned to assist us, and so he did.
Serendipity
As we checked in I told the woman behind the counter that I was hoping for a window seat not over the wing as I loved to take pictures. She said she never takes pictures. I told her that I hope others take pictures of her because she is beautiful. I find African women in general to be absolutely gorgeous. She laughed and thanked me.  She looked at the computer screen and told me that I had a window in row 8, but it was over the wing, so she moved Andy and me to row 15 where we could have an unobstructed view.  Nelson, in the meantime, was trying to get the attention of a couple on line. It was the Wilderness Safari manager for Europe and England.
We made it through security with no line and through passport control with no line. That left us plenty of time to make our way to our gate, which of course was about as far as you could go. Rather than getting right on the plane via a jet bridge, we were to board buses that would take us to the plane. As we handed over our boarding passes, we were told there had been an aircraft change and Andy was now in 5F and I was in 15A. Since we wanted to stay together, Arnie, in 6F, changed with me. So I still had my window seat, although now I was under the wing. But the best part was that my seatmates were Roberto and Debi Viviani from Wilderness Safari, the company we were traveling with. Roberto checked my itinerary and pronounced it perfect. Serendipity.
Maun, Botswana
We landed 1.5 hours later in Maun, Botswana. We walked off the plane, down a narrow set of stairs onto the tarmac and then into a covered, outdoor area where all the passengers were waiting. A representative from the airline was handing out landing slips for us to fill out. I have no idea why they couldn't do that on the plane the way every other airline does it. But no, we all stood around, trying to fill out our forms with nowhere to sit down and nothing to lean on.
The line to go into the building and through immigration was long and slow. Turns out they had one window for visitors and one for residents, of which there were only three. Eventually the officer (they were all women) took some of us to her window. By the time we got our passports stamped, all our bags were in the luggage room on the floor, waiting for us to pick up.
From one plane to another
We had another representative from Wilderness Safari waiting for us on the other side of customs. He took our bags and checked them right back in again for our next flight to Xigera, our first camp.  We were led to a golf cart which took us past small plane after small plane until we saw one with our six bags sitting on the ground near it.
A word about our bags. For safaris, we are required to have a small duffel bag with no hard sides or handles. This is so the bags can be squished into the hold of the plane. Our wonderful travel agency, Piper and Heath, gave the six of us wheeled duffel bags, so they all looked alike. We tried to individualize them so we could tell which belonged to whom.
The plane was a small 12-seater prop plane. The pilot introduced himself and had us all stand in the shade at the side of the plane while he gave us the safety instructions. The stairs leading to the plane were flimsy and only one person was allowed on them at a time. There was a bench (like in a car) for two on one side and a single seat on the other. Since there were so few of us, we could each get a window. And then we were off.
View from the sky
We were not flying very high so it was easy to see the landscape and look for animals in the famous Okavango Delta.
From the sky, the terrain was different shades of green, with wet areas of blue pools reflecting the sky and the clouds or ribbons of river running through the green landscape. Even the very green areas looked like they were wet, as if you stepped on them, you would fall right in. The pools looked like large spiders with legs coming out of the body. There were clumps of trees and separate clumps of palm trees. And there were huge towers which turned out to be termite mounds.
Suddenly someone called out "elephant," and sure enough there was a lone elephant way down there, drinking from a pool. We saw giraffe and a few more elephants, but mostly we enjoyed the views of the land. The vastness of the delta.  Rivers winding through. Pools reflecting the clouds and very blue sky. The lone elephant or giraffe.
The plane made two stops, each 15 minutes apart, at two other lodges. On our second stop, we picked up a few more people, and since we were now running out of seats, one of the men sat up front with the pilot. Now that I realized that was an option, at the next stop, when they left, I moved up there. Now I could see out the front of the plane as well as the side.
Botswana and the Okavango Delta
Botswana is a landlocked country which is about the size of France. Botswana's Okavango Delta is one of the most beautiful wildlife and wilderness sanctuaries. It is the largest inland delta system in the world with an area of 5791 square miles and it is filled with water channels, lagoons, swamps and islands.  What makes this area most remarkable is that it is a wetland paradise located deep within the arid Kalahari Desert. How is this possible? The floodwaters flow into the Delta from catchment areas 600 miles away. The Delta Botswana is broken into concessions which are leased out to safari companies under very strict guidelines. We would be spending our time in the concession leased to Wilderness Safari.
Wilderness Safari
We decided to travel with Wilderness Safari (WS) for many reasons, not the least of which was its philosophy. WS is an organization that believes in giving back to the wildlife and the people of Africa. They describe their vision as the 4C's: commerce, conservation, community and culture. Commerce is about ecotourism. That's us travelers. Conservation is about their eco-friendly camps and protecting the wildlife and ecosystems. Community is about the people, those that work for WS and those that live in the local villages. Culture is about respect for the cultures of those same people, that is, those working for WS and those living all around them.
For me, that was reason enough to travel with them. It did not hurt that their lodges are gorgeous and the guides so knowledgeable.
Basic info on Botswana
Before we get into the animals and the bush, here is a bit about what we learned about Botswana itself.
Education
Education was free until 2006. Now families are encouraged to contribute some money. If you don't continue to get good grades, the government stops paying for you and  your education ends at seventh grade. That is a good incentive. But when the kids were no longer in school, they joined gangs as they had nothing gelse to do and nowhere else to go. So now the government has developed free vocational schools.
Diamonds
Where does the government get all this money?  From diamonds. Diamonds are the primary industry in Botswana (with tourism second and beef third). The income from diamonds is shared 50/50 with the DeBeers Diamond Company.
Government
The same party has been ruling since 1996. There are 16 tribes on Botswana. The House of Chiefs run the government. The Chiefs make up 30% of house but they only rule on local tribal matters. They have no say on the law of the land.
Xigera
We landed in Xigara, on the small runway, taxied to a stop and climbed down. Kitso, our guide for the next two days, greeted us and told us one of his jobs as the plane is approaching it to let the pilot know if the coast is clear, meaning no animals on the runway.
On the way to the camp, we saw our first warthog (first of what would be many) and birds of all sorts (also of what would be many). The way in and out of the camp always took us across a log bridge. Good thing we totally trusted Kitso.
When we got to the camp we were greeted with cold towels and cold drinks. The staff sang a song for us. And everyone shook hands and exchanged names.
Xigera Camp (pronounced Keejera) lies on Paradise Island within a remote area of the Moremi Game Reserve. It is surrounded by deep channels and lush vegetation which made it a perfect place to look for animals and birds. The Xigera Concession is 23 square miles. It is full of papyrus swamps. And the animals here are primarily sitatunga antelope, red lechwe, spotted-necked otters, vervet monkeys, impala, leopards, spotted hyena, and the occasional lion. And the birds! Owls, African skimmer, brown firefinch, greater swamp warbler, wattled crane, African pygmy goose, Luapula cisticola and lesser jacana as well as kingfishers. How many of these would we get to see? We were given a checklist so we could keep track.
We had arrived in time for tea and snacks. Taswell, the hotel manager, sat us down for the house rules.  No walking alone at night; we must be shown to our room by a staff member. Blow the air horn in your room three times if there is an emergency and turn your lights on. If you hear someone else's air horn, turn your lights off (so they know which tent has the emergency). Always keep your eyes open as this lodge is not fenced in and there are animals everywhere.  And as if to prove his point, an elephant appeared, just sauntering along, right by the camp. Yes! That is why we came to Africa.
We were then shown to our rooms. We were in tent 5 of 9 tents, all of which overlooked the Okavango Delta. On our bed were beans spelling out "Welcome to Xigera." We freshened up quickly and made our way back to main dining room to head off to our first outing.

A few words about the camp and our tent. There were 9 tents and our group was in three of them. This was not like the tents you go camping in. This was a luxury tent with canvas walls on a wood frame overlooking the delta. The tents are all raised (in case of high waters). We had a sitting area and a large bath area, including both an indoor and an outdoor shower. There was coffee in the room and cookies in case we were still hungry after all the great meals.
Meals were served in the dining area overlooking a permanently flowing channel. The bar/lounge area was also right there. Dinner was served communal style, that is, we all sat together at one long table. There was a small swimming pool (they call it a plunge pool) but, although we did have bathing suits with us, we never went swimming. There was a small gift shop and two bathrooms down the path from the dining/lounge area. The bathrooms had three walls, with the last side open to the Delta. No one could see in, but you could look out at the beautiful view.  And to let people know the bathroom was occupied, there was a wooden BUSY sign that you hung across the bridge leading to the bathroom.  If you didn't want to be disturbed in your tent, there was a similar QUIET sign that you hung across the bridge leading to the tent.
Our first outing
The Land Rovers have three rows of seats, each a bit higher than the one before. You have to climb up to get in. No doors that open. There was a canopy over our heads, but otherwise it was open on all sides. We began the drive and almost immediately saw a bushbok with its white spots (also called imbabala and related to the Bongo which is my favorite animal!), right at the side of the dirt road near us. We stopped to take pictures, and then Kitso started the engine and headed forward again. But we quickly made another stop as we saw some kudus. We saw lots of antelopes and impalas. And springboks. The springboks are the smartest as they bury their poop to hide the scent and keep from being detecting by their predators. And then there was a lone male elephant, ambling along. There was a giraffe. Each was amazing to observe. The giraffe would nibble on leaves, then stop and look around, sometimes right at us. Then he would eat some more. We knew it was a "he" because male giraffes are darker in color.
Termites
There are termite mounds all over the world.  But somehow, the ones here seemed so much bigger than any others I've seen. Some of the mounds were taller than me (OK, I'm not that tall, but still, the mounds were massive). When we flew from camp to camp, sometimes it was the termite mounds that stood out the most. And the more water there was, there more termite mounds there were. The often were strategically placed to help channel the water.  The termites are so resilient, even though they are a favorite food of almost every animal and humans living in Botswana, that only they and cockroaches will survive a nuclear holocaust.
They have already been around for over 50 million (MILLION) years, making it one of the oldest and most adaptable species on earth. Even when dead the termites are helpful as the abandoned termite mounds are used as "homes" for birds and some smaller animals. And trees.
The smell of the bush
As we drove along, I found myself taking big breaths, taking in the smell of the bush. This is a smell that is hard to describe and has to be experienced.  It was the smell of dampness and the morning dew, of wild crushed sage and rosemary and basil, beds of reeds and papyrus and other different grasses, tall and short, and the smell of the animals. There is no other smell like it. It wakes you up. It breathes life into you. It is freshness like nothing else I have ever smelled. It is the smell of the bush.
The sights of the bush
The sky in the bush changes from one set of incredible colors of red, yellow, orange, pink at sunrise, to a brilliant blue dotted with white clouds to a second set of incredible colors of purple, dark blue, orange, pink at sunset. The trees, and the animals, are all silhouetted against the sky. Some of the trees have been hit by lightning and look like black and white sculptures. And sometimes, the shadows on the trees look like birds.
This video will take you into the bush. Take a deep breath. Imagine the smell of the bush. And enjoy just driving around.
Baboons and Monkeys
Baboons were everywhere. In Xigara, they were running all around the grounds, sitting by the pool, carrying their babies on their backs. We were warned to lock up our medicines inside our safes so the baboons would not see them.  Seems they have grown to like pills.  And every now and then, there would be a monkey sitting in the tree or running around.
Sausage Tree
Kitso stopped the Land Rover and jumped out to show us the Sausage tree, more officially, the Kigelia. The reason it is called the Sausage tree is that the fruit can grow up to about 2 feet long and weight over 15 pounds, and looks like a sausage. In Botswana, the bark of the tree is used to build Mokoro (see below).
Searching for Tracks
We were driving through tall grass and we could just imagine some animal slinking through it on a hunt. But it seemed almost a bit boring, in a relaxing kind of way. We would see a lone animal here and there. No large herds of animals. Mostly birds and lots of grass, bushes and trees. Many of the trees were bare, either burned from fires, or just dead. But their shapes were beautifully stark against the blue sky. Kitso would look for tracks in the sand or mud as we were driving along to help find the animals.
The Lioness
And then the call came over the radio. Lioness. A lioness had been spotted. Kitso told us to hold on tight and off we sped looking for her. I had this image that she would be gone by the time we arrived. But everything moves slowly here. Whenever we saw an animal, we could slowly drive over to get a closer look, and the animal would just go about his/her business as if we just weren't there. We are not their predators; we do not bother them.
So we were speeding along and suddenly Kitso stopped and pointed straight ahead. And there she was. Our lioness low in the tall grass, so that we could hardly see her. She was stalking something, but we were not sure what. Then up ahead we saw a herd of elephants. Adults and two babies. The adults quickly surrounded the babies to protect them. The lioness stood up giving us a perfect view of her face. And as she moved around, Kitso moved the jeep so we could follow her. At one point she walked right by the side of the jeep. We kept very still and very quiet – except of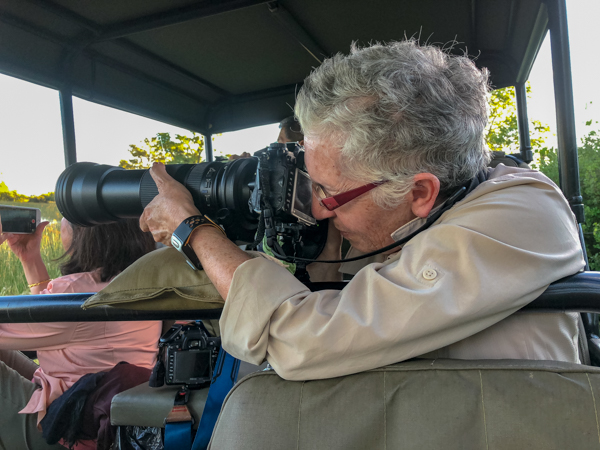 course for the clicking of the cameras. And she was beautiful. Be-u-ti-ful! Where was her family? Was there a lion she lived with? Were there cubs? Was she stalking for food to feed her family? Or was she all alone? Of course, we will never know. But we enjoyed every moment of watching this incredibly elegant, sleek creature. The sun had set.  It was dusk. It got darker and darker. And still we watched. It was no longer boring!
And later, when we downloaded our pictures and had a chance to review them, we discovered what she had really been stalking.  It wasn't the elephants, although she did make them nervous.  In the tall grass stood a kudu looking right at the lioness. They saw each other, but for some reason, the lioness did not strike and the kudu got away. Kudu 1, Lioness 0.
The end of our first day in the bush: Castanets and Frogs
We headed back to camp in the dark. Kitso turned on his headlights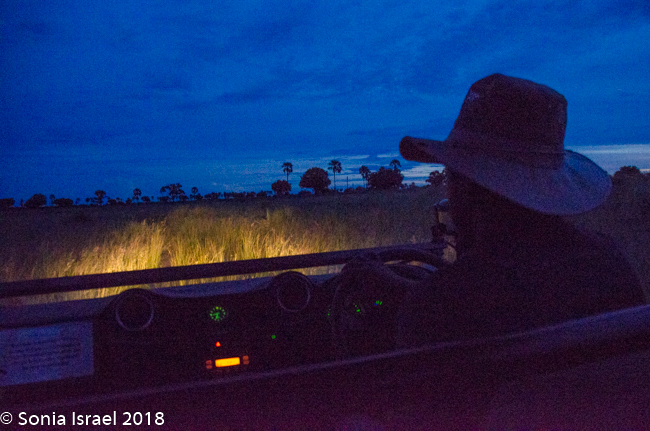 creating a tunnel of light surrounded by darkness. We arrived back at camp, and as we walked across the bridge to the lodge we could hear what sounded like very loud castanets. But we were in Africa, not Spain. There would be no flamingo dancers (although there could be flamingo birds). It was the frogs. Very loud frogs, along with some very loud insects, sounding just like hundreds of castanets.
After relaxing in the lounge with drinks, and a great dinner, we were escorted to our rooms for a great night's sleep under our mosquito nets.
Sunday, April 8, 2018
Wake up call
Our wake-up call, that is, someone knocking on our door, came at 530. The sun was just getting ready to rise and the sky was a stripe of red. By 6:00 we were in the dining hall for a continental breakfast, and by 630 we were back in our Land Rover on the road.
The fog was just lifting and it made everything look magical. And the light was perfect.
Zebras
We saw lots and lots of Red Lechwes and warthogs, a giraffe or two. And then, just on the other side of the runway, there was a zebra. As we got closer we realized it was a whole dazzle of zebras (which is what a lot of zebras are called). I commented that this is one animal that is still beautiful even from behind. The stripes. The black and white designs.  The white tail. They mostly stood with the backs to us, and then one would turn his head and we could see their eyes. Then they all started to move, slowly, slowly, into smaller groups, nibbling on the long grass, totally ignoring us. I could have watched them for hours. Magnificent creatures.
Of course, what makes them so special are their black and white stripes. Each pattern is unique to the individual zebra, like our fingerprints. Turns out, however, that some zebras are not just black and white, but black, white and brown. The brown stipes are called shadow stripes and not all zebras have them.
Zebras are social animals who like to live in small to large groups. Unlike their relatives, the horse and the donkey, they have never been domesticated, primarily because of their weak backs.
Warthogs
If you had asked me what I thought of warthogs, I would have told you it is one of the less beautiful animals (I'm being polite – I would have said it was quite ugly).  But not anymore. Once you watch them, you realize how very cute they are. First, they hang out in families (called a sounder) with related females and their offspring. We saw quite a few mothers with the babies trotting behind them. The males live alone or in bachelor groups. When they walk, their tails stand straight up into the air, like a flag for everyone to see and follow. And when they dig for roots, they get down on their front legs, with their behinds sticking up. Even unborn warthogs have callouses on their elbows to prepare for a lifetime of being on their knees eating grass and roots. The are considered nature's gardeners as by digging they till the soil, aierating it and softening it for the rain to sink in. We saw lots of them around the antelopes and impalas, totally ignoring each other and sharing in their space. And they are fearless, trotting into water holes, not caring what other animals might be around.
The Red Lechwe and the Impala
The Red Lechwe is one of the medium-sized antelopes. One distinguishing feature is that their hindquarters are noticeable higher than their forequarters. They are reddish brown on the upper parts, thus the name. But on their under sides they are white with white patches around their eyes. There is yet more color, as the front of the forelegs are black. They are only found in the Okavango Delta and Linyanti swamps in Botswana, both of which we were visiting, and in Namibia, our next destination. And we saw hundreds of them.
In Savuti, the  first animal we saw was the impala. The impala is small and slick. Our guide Goodman was constantly asking us questions and they were not rhetorical. He expected an answer. But of course when we didn't know, which was most of the time, he educated us. "How can you easily distinguish an impala from an antelope?" The impala has an 'M' on its behind. For that reason, it is nicknamed the McDonald's impala.
And there were so many different types of antelopes! In addition to the kudu and red lechwe, we saw sitatunga (a medium-sized antelope) and a southern reedbok (a small diurnal antelope).
There was one impala we kept seeing over and over again. We could tell it was the same one as he had only one horn. Imagine the fight he won to actually lose his horn!  We called him the unicorn. At one point we saw him protecting his herd of females by chasing a young male who was trying to intrude.
Wild Dogs
And then Kitso saw something on the other side. More Red Lechwe. But even beyond them there was a pack of wild dogs, also called painted dogs. He told us that these have been hard to spot but here was a whole brood of them, about 7, all lying around, sleeping. Every once in a while, one would lift his head, look around, and go back to sleep. Interestingly, although they were in a circle, they slept facing out, one in every direction so they could keep watch.
The Red Lechwe, unaware that the painted dogs were there, slowly approached, just eating and strolling. We watch with baited breathes. Would the dogs continue to sleep, or would they attack? One dog finally stood up and chased the antelopes, who quickly out-ran them. Usually a wild dog would chase until the antelope got tired and then the whole brood of dogs would attack. But today most of them were more interested in sleeping.
The wild dogs are endangered with only about 1400 fully grown males and females left. They are very social animals, living in packs. Interestingly, they have separate dominance hierarchies for the males and females.  Uniquely among social carnivores, it is the females rather than the males that scatter from the natal pack once sexually mature, and the young are allowed to feed first on carcasses. The species is a specialized diurnal hunter of antelopes, which, as I mentioned above, they catch by chasing them to exhaustion.
Slooooow Moooootion
We started driving again. I asked Kitso how he knew where to drive as obviously there are no signs or arrows. Similar to the drivers in the Gobi desert (see post on Mongolia), he said he used landmarks. To us every tree and bush looked the same, but to him each one is different.
Everything here seems to be in slow motion. Everyone is relaxed. There is no wifi, so people are not looking at their phones. Rather, everyone is looking at the scenery, keeping an eye out for wildlife. Tracking animals was in done slow motion, as if the animals knew we were coming and would just wait for us.
African Birds
Even watching the birds seemed to be in slow motion. Once in a while the bird would fly away before we could shoot a picture, but most of the time, they just perched on their branches and seemed to be posing. There were birds of all colors everywhere. Over the few days in both Xigara and Savuti we saw Blue Kingfishers. African gray horn birds (and red horn and orange horn and yellow horn; to be honest, in my labeled pictures below, I'm really not sure which are red and which are orange). The Lesser Gray Shrike (a little white and grey bird from Russia). A Kori Bustard (the national bird of Botswana who is the heaviest flying bird and who makes a sound like a drum). The little bee-eater who is yellow and blue with a black stripe on its head and one of the more beautiful birds. Starlings in blue with red eyes. Sparrows who have two toes facing forward and two toes facing backward which makes them steadier on branches.  The coppery tailed coucal (in the cuckoo family; it gets all fluffy to preserve heat). Orange bellied Pigmy goose (who we saw eating water lily seeds. Although called a goose because of its stubby bill, it is really a type of duck). An African hawk eagle (who looks like a tree stump). An African Jacana, nicknamed the Jesus bird as it walks on water (it has long toes and long claws that enable it to walk on floating vegetation in shallow lakes. We saw it walking on the lotus plants).Two fish eagles just perched on tree branches. Short tailed eagle. Black shoulder kite.  Green pigeons.
A stork surround by white faced ducks (which seemed to have black faces, so I'm not sure why the name). We watched that group for a while and suddenly they all took off into the air, flew in formation and landed right back in their same spot. Minus the stork who seemed to have flown away.
On one of our drives in Savuti, Goodman spotted an owl. We never expected to see an owl awake during the day. Owls are nocturnal. But then again, so are lions, and we saw them awake during the day. In all fairness, the owl did look sleepy, closing his eyes, opening them to half-mast to peek out, and closing them again. The top of his head, what we would call the forehead, had the smallest, softest looking feathers in brown and white, making it looking like little stripes or alternating rows of color. His eyelids were pink, almost like new skin. His feathers were also brown and white, but it looked like each feather had a different pattern of colors, almost like individual fingerprints. And every now and then he would turn his head around, as if he could turn it 360 degrees.
Note: to my readers – if I have mislabeled any of these birds or have a label missing, please send me a message with the correct name.
And the birds were not the only ones singing songs.  The squirrels, which were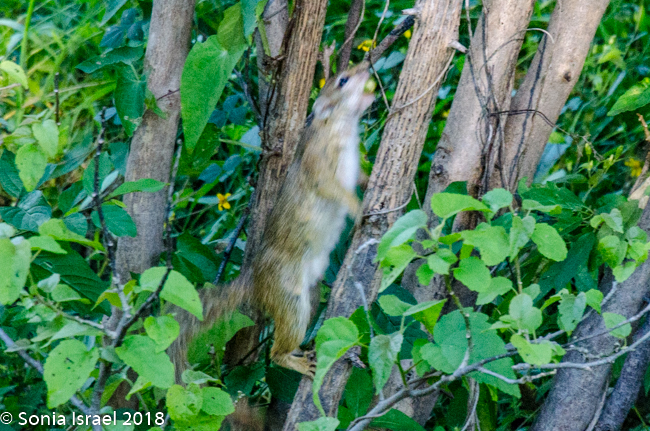 everywhere, were adding to the symphony by chirping, a sound I had never heard a squirrel make before. And at sunset? We would get a concert of all the birds singing, each in its own pitch and own tone and own distinctive song.
Listen to the music of the birds.
Mokoro
We had a destination this morning, the Mokoro. The mokoro is a type of dugout canoe, one that used to be made from the bark of the sausage tree, but now is made of fiberglass. It is a hollow canoe with no seats, but for us they put pillows with backs on them. The mokoro is the way the people of the tribes in this area get around from village to village. Or fish. Or hunt for food.
Each couple had its own mokoro and ours was punted by Kci (pronounced like Casey). I say punt because they stand on the stern of the boat and use a long stick which reaches the bottom of the river and thus pushes the canoe along. Obviously, they can only go in shallow water.  When the water is deeper, they now use motor boats. More importantly, when the water is deeper, the area is full of hippos.  But alas, not today in low tide.
Frogs
We drifted along silently through blooming lily pads and snowflake flowers. The reeds were very high and the canoe would just push right through them creating its own path. It reminded me of the parting of the Red Sea, maybe because it was just Passover. As the reeds, (called brown sage) were pushed to the side and under the mokoro, they made a scraping sound that accompanied the only other sounds of the frogs and birds. There are times when elephants and other mammals might come to drink from this river, but today there were none. Kci suddenly steered the canoe right into a large lump of reeds, stuck his stick out and said, "Look at the end of my stick." And there, at the end of his stick, on a reed, was an Angolan Reed Frog, a beautiful brown and white patterned tiny frog that made its way here from Angola. After observing the frog for a bit, we backed up making way for our friends to also see it. It was so small, about half the size of half of my thumb. I don't know how anyone can find them. We floated some more and Kci suddenly pointed out a small green frog, called the Long Reed Frog, even smaller than the first, right at the front of our canoe. He was hitching a ride. He must have gotten to his destination as he suddenly jumped off onto a reed, and then just stayed there posing for me.
A zebra picture
Kitso was in a canoe leading the way, actually clearing the path, making sure there were no crocodiles, and all was safe. He pulled onto an island and we followed suit. As a large herd of sitatunga, common mostly in this area, and who seemed to be all lined up on the other side, ate their grass, we had tea, coffee and cookies.
I asked that we get a picture with everyone, and one of the men said, "Yes, a zebra picture."  (Black, white, black, white….). Too funny!
Lilac Breasted Roller
When we got back to the jeep and headed towards home we saw more and more herds of antelope, a spur winged goose, a blue kingfisher, a Lilac Breasted Roller, and more and more birds. The sounds of the birds were so varied. There was chirping and cheeping and cawing and caying, shrieking and hooting. It was like a symphony of different instruments all warming up.
But two birds get their own section. The Lilac breasted roller is one of them.
The Lilac Breasted Roller is one of the more beautiful birds I've ever seen. Roberta began calling it Sonia's Blue Bird of Happiness because every time we saw one, it would make me so happy. I would snap pictures, trying really hard to catch one in flight. The average size of the Lilac Breasted Roller is about 14.5 inches. Their heads are large and green. Their legs are greenish yellow. But the shoulder of their wings and the outer part of their feathers and their backsides are a brilliant violet. Other parts, particularly the underside of their wings, are this iridescent green-blue. An absolutely beautifully colored bird. And why are they called a roller? When they mate, they dive down from considerable elevation with a rolling or fast rocking motion, accompanied by loud raucous calls. And when they "sing" or call, it sounds like a loud harsh squawk, 'zaaak'.
Saddle-billed stork
The second bird that gets its own section is the saddle-billed stork. This is a huge bird (not as heavy as the Kori Bustard however), getting as tall as 59 inches (which is almost as tall as me!). The height comes primarily from its very long legs. How do you tell the males and females apart? The female has golden yellow eyes while the males have brown eyes and dangling yellow wattles.
But it is the colors of this bird that earned it its own section. It has spectacular plumage. The head, neck, back, wings, and tail are iridescent black, with the rest of the body and the primary wing feathers being white.  The massive bill however, which can be up to a foot long, is red with a black band and a yellow frontal shield (the "saddle"). The legs and feet are black with pink. Both genders look the same when perched or standing, but the female shows much more white while in flight. We did not see it fly. We watched it walk around the swampy water filled with tall grass.
At one point Goodman called out, "did you see it just eat a frog?" I was so disappointed, because I hadn't.  That was too far away for me to see and I had missed it. But my photos told a different story.
Time for a massage
It was about 1130 when we returned (it seemed like the whole day had passed) and time for lunch and siesta. In the heat of the day, everyone, including the animals, rest (I once wrote a paper on what the Bible has to tell us about sleep [Psychosomatic Medicine. 63(5):778-87, 2001] and there is a part that reads: "Tell me, you whom I love so well; where do you pasture your sheep; Where do you rest them at noon?" (Songs of Songs, 1:7), i.e., a siesta. Instead of sleeping however, I sat in the lounge area, writing this blog before I forgot all these feelings, and watching the grass for movement. After a few hours I returned to our room, took an outdoor shower to refresh, and then sat on our porch, enjoying the breeze and the antelope outside our tent.
Tea would be at 4:00, but first, at 3:00, the local masseuse set up a massage table on our front porch overlooking the delta and gave me a shoulder and neck massage. This is the life! Watch the wildlife. Smell the bush. Get a massage.  Yes!
Sundowner
Later in the afternoon, we went back out for another game drive seeing more of each of the animals. We ended up in a field where the staff had set up drinks and snacks for our sundowner – watching the sun set. I couldn't help stare in wonder as the trees were silhouetted against the purple, blue, red, orange sky. This is Africa.
Monday, April 9, 2018
Our Last Morning in Xigera
During the night, I woke up feeling like our tent was shaking. And I could hear a noise that sounded like some animal was right next to me.  Part of me was so tempted to get up, with my camera, to see what animal it was.  It sounded like an elephant. The other part of me was frozen still with fright. The fright won out. The next morning we saw the culprit. There was indeed a large elephant that had been rubbing himself against the tree on the side of our tent. And he was still walking around the grounds, slowly, shadowy in the fog, eating and being happy. Welcome to Africa.
We had coffee by the fire pit this morning. The sky was a dark blue before the sun rose. Baboons were running around everywhere. The sun rose and the sky burst into flames of pink and purple, reflecting in the channel below us. And as the sun continued to rise, the sky turned a beautiful blue filled with puffs of white clouds.
As this was our last morning here, our goal was to find a leopard. We had seen elephants and giraffes, wild dogs, warthogs, zebras and lots of different antelopes and birds. We had seen a lioness. But no leopard.
Where are the animals hanging out?
At times it seemed like we were just aimlessly driving around. And in some ways we were as we were trying to find the animals. We saw some more zebras, still as beautiful as they had been yesterday. I would never get tired of watching zebras. But the leopard still alluded us. The leopards, like all the animals, could be anywhere so you just had to drive around and search. The animals have no favorite trees or spots where they hang out. They go where there is food and water and where there are no predators. And that can change from day to day. But even as we were driving around, and even thought there might not be any animals, the landscape was beautiful. The shadow of our Range Rover racing us. Stripes of dark green, light green, yellow, red, white. Tall grasses and short grasses each giving off a different hue. And flowers.
The Circle of Life
So we kept driving looking for a leopard. We drove through a grove of trees and we all kept looking up to see if there might be a leopard sleeping on a tree branch.  We saw the painted dogs again but this time they were eating something, a carcass of a red lechwe (the closest we got to a kill). The circle of life.
The Leopard
And while we were watching the dogs, Kitso took up his binoculars and looked across the fields into the trees on the other side, maybe a football field or two away. He saw two light brown spots in a tree and exclaimed: "Leopards."  We forgot all about the dogs and sped off to explore more carefully.  Sure enough, there was a mother leopard in the upper crook of the tree and a cub (actually a teenager) in the lower crook. And as we got closer, we realized there was a third leopard, a second cub, on the ground, just under the tree.  Bingo! We hit the jackpot.
We sat there a long time observing (and photographing) them. The cub eventually climbed down, sometimes stretching up and sharpening his claws on the tree.
The mother would alternate between walking around the branches as if she was getting ready to jump down and then just wrapping herself around a branch and relaxing. Except she was not relaxing. She was watching the dogs across the way as well as watching her teenagers. At one point she seemed to look right into the camera with the most intense look.
Eventually she did jump down and started walking, with one of the cubs following her, along the tall grass.
We slowly followed in our jeep as they crawled under a bush and staying there in the shade. She obviously felt safer now and decided they could get comfortable. We watched for a bit longer and then headed back to camp. Kitso told us that is was unusual to see a female leopard so active. We were lucky.
It had been a successful drive.
Saying good-bye
But now it was time to finish packing and head to the airfield to catch our flight to our next camp, The Savuti. Everyone gathered around us, Kitso, Quest, Taswell, QB, and we took a group selfie. Even after only a few nights here, everyone felt like family.
Savuti
Savuti Camp is situated in the private Linyanti Concession along the Savuti Channel. The Linyanti ends in the Kalahari Desert. This area was very dry for many years but in 2008 the waters returned and with it came the game. But the circle of life continues and now it is dry again, resulting in a rich feeding ground. From the plane we could see islands created by low tides. From the sky we could also see these large spider shapes which turned out to be little estuaries. Whether on the ground or in the air, it is beautiful here.
The Linyanti is most known for the large elephant population here. But of course there are also antelope, giraffes, zebra, wildebeest, impala, red lechwe, kuku, lion, leopards, cheetah, spotted hyaena, jackel and wild dog. What would we get to see?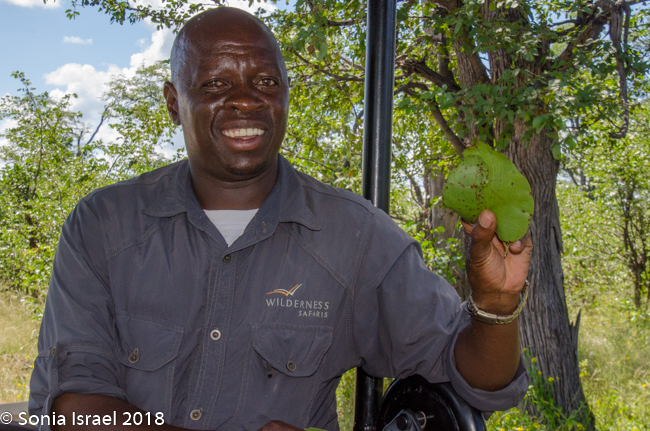 We were picked up at the airstrip by our guide for the next two days, Goodman.
African Names
A word here about African names.  We noticed as we met different staff members that they had very interesting names. This was true in South Africa as well. Their names reflect how their parents felt about that child or what hopes they had for the child. Names like Loveness, Given, Doctor, Progress, Gift. Goodman's African name was Mafwira which means a good man or someone who does good things. Thus Goodman.
And off we go!
So we climbed into our Land Rover and headed off. We could tell right away that the landscape here was very different. There were groves of trees with small watering holes in between, instead of tall grass and bushes. We drove by an empty field, full of grass. Goodman took one look and pronounced that a lion must have recently been there. How did he know, we asked him. Because the field is usually full of red lechwe and now there were all gone. Plus he could smell lion (which he said smelled like corn).  Ah, the smells of Africa.
On the way from the airstrip, Goodman asked us what we wanted to see. We all immediately answered lions and hippos. "Oh," he said, "There were two lions spotted this morning."  And then he arranged for an early tea so we could head out to find lions.
Savuti – the Camp
We were once again greeted with a song, wet, cool towels and a cold drink. We were introduced to the staff, Megan, Sean, Sally, Naledi, Moss and Jackie. But as before, the first thing was to get another orientation (just like the first with the most important part – never walk alone after dark) and check into our rooms.
There are seven tents here, each raised off the ground. Like Xigara, there was a small pool and a large deck with a fire pit. The dining room was thatched. But the best part was the view of the Channel with all the birds and other animals. No, that wasn't the best part. The best part was the staff. Once again we felt like we had a new set of best friends.
Searching for the Lions
Finally we had our tea and climbed back into the Land Rover, cameras and hats and plastic bags for the cameras as rain was expected. We started what would be an almost two-hour drive, in part because we kept stopping to look at the animals and birds. This area is full of water holes, so we stopped to check out what was living there. At one we saw the top of a crocodile's head. At another the top of two hippo heads; but Goodman said we would see plenty more hippos tomorrow and we had to keep going to get to the lions.
In the distance we could hear thunder and see the lightening, but the rain never came. What did come was a beautiful rainbow arching across the sky. It was as if the colors of the birds and bush wasn't enough but we needed the colors of the rainbow to take the beauty over the top.
And there they were! Our Lions!
We drove and we drove and we drove. This is Africa. You have to drive around and get to where the animals are, you have to track them and search for them and hope you find them. And find them we did. They were indeed two lions sleeping under a tree. These lions had black manes which meant they had good genes and came from the Kalahari.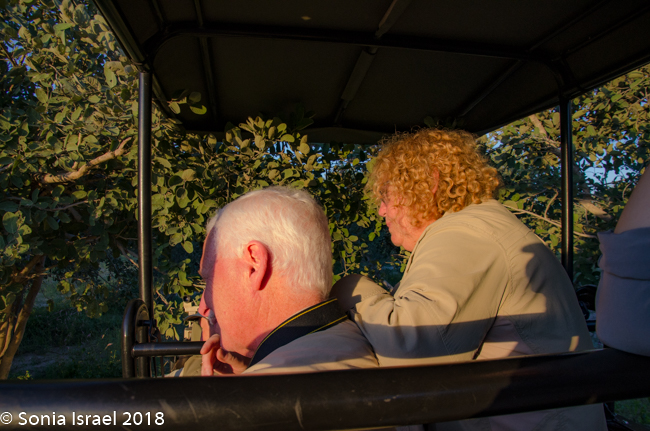 It was about 5:00 when we got there and Goodman announced that the lions would wake up at 5:30. Well, 5:30 came and went. One lion would lift us his head, look around, and go back to sleep. The other barely moved. 6:00 came and went. Their sleep inertia was strong. But finally, at about 6:15ish, they finally started to wake up. One sat up, yawned, began licking himself and then strolled out from under the tree to relieve himself.  The other slowly followed suit. We moved the Land Rover so we could keep watching them walk around, lie down again and go back to sleep. Get up and move a bit more. They were walking in a field of flowers as if in a painting.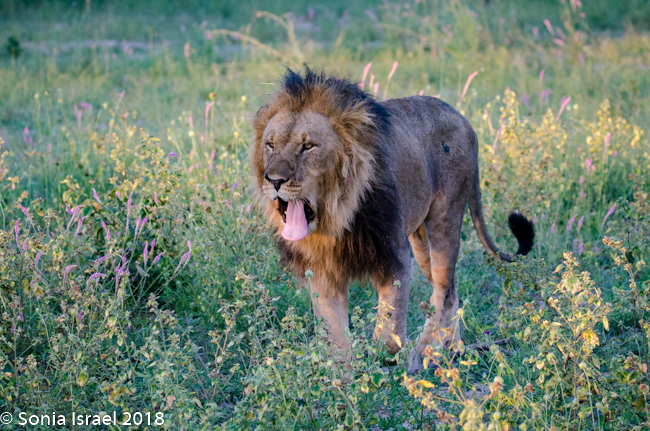 Then they would sit down again, at one point looking like book ends or like the lions at the New York Public Library. Goodman explained, as the lions kept turning their heads, that they were catching the scent of the dead hippo. Yes, not far away there was a decaying hippo who had died of old age. It was not a kill. No animal came to eat it. It was a natural death. But boy did he smell. I kept thinking we were smelling the lions, but no, it was the hippo. So the lions kept turning their heads, smelling the scent, then they would lie back down and go back to sleep.
The sun started setting. The sky turned a dark blue with purple. The lions continued to sleep, and we headed back to camp. Magnificent afternoon. 
Culture Show – It must be Monday
That evening, since it was Monday, the staff performed a show for us with traditional African music, food and dancing, all around a campfire. Seems they do this at each camp every Monday night. While we watched they passed around  small bites of African corn soup and other delicacies. They each then took the hand of a guest, danced around the fire with us a few times and then danced us to a long table set for dinner. It was all lovely, but so dark that we could hardly see them.
After dinner we were escorted back to our tents for a great night's sleep.
Tuesday, April 9, 2018
Good Morning, Good morning
The next morning, our "wake up" call, again a staff member coming down the bridge to our tent and yelling out "Good Morning," came at 5:30. We quickly go up, got cleaned up and dressed, and went for our continental breakfast, ready to hit the road by 6:30. There was no real sunrise to be seen here as there are so many trees in the way.  But it was getting lighter by the minute. We quickly rushed out to catch that beautiful morning light.
The Hippopotamus
Our first search was for hippos and boy did we find them. At one water hole we saw two, then three, then four, then five or six hippos. They would slowly bob up from under the water, reminding me of the arcade game, Whack a Mole. There were at least two babies and two very large mothers. They would bop up and down, sometimes together, sometimes randomly. We could see their nostrils, their eyes and their hairy ears. And sometimes much of their bodies. Hippos are large animals!  An adult can weigh between 1.5-4 tons and they can grow up to 14 feet long. The ancient Greeks called them "river horses" as they love being in the water, spending up to 16 hours a day just lumbering along the bottom of the rivers and lakes, often with only their eyes and nostrils bopping above the surface. This is how they keep cool. That's mostly what we got to see.  I really wanted to see one fully out of the water, but never did.
Notice I said "lumbering along" and not swimming. Although hippos spend all that time in the water, they can't float and can't really swim. So they stay mostly in shallow water. When they want to get to the other side, they walk along the bottom of the river or lake.
We watched for quite a while, observing their behavior as the older ones stayed put, sometimes submerging, but mostly watching the younger ones, who were floating around as they went down and up and down. When they were up, they would sometimes wiggle their ears. Their nostrils would be closed as they came up, open up to breath, and then close back up as they went back under the water. They can stay under water for 5 minutes, which means you have to be patient as you watch them. Even though they have the smallest ears relative to their size (you don't need big ears underwater), their hearing is quite sharp even when submerged.
And although they are herbivores, eating only plants (I say only, but they can eat up to about 80 pounds of grass a day), they are one of the most aggressive animals in the world. They have extremely powerful jaws and do kill people, other animals and even have been known to snap a canoe in two.
We saw hippos throughout the two days in the Savuti area. Each time we passed a pond, it had hippos in it. One rather large pond (small lake?) had lots of hippos (a group of hippos is called a pod, similar to whales, who are their relatives). We stayed there a long time watching them. It was dusk and we were hoping they would make their way down the hippo channels. We could see the paths (channels) leading out of the water, one for each of the hippos. This is where they walk in the evening when they come out of the water. The sun was slowly setting, reflecting the trees into the water. We waited and waited. We saw them porpoise!  I never knew they do that.  We saw them breach and then splash down, just like the humpback whale! I never knew they did that either. This confirmed that they are indeed related to whales. We heard them grunt. We heard them growl (that's what they do when they are not happy; good time to stay away).  We heard them trumpet. We saw them yawn (I hope that was a yawn; those were some big teeth). But we never saw them come out of the water.
Why the Hippo is a Herbivore and leaves the water at night
You might ask, "Why is the hippos, who spends his days in the water, a herbivore and why would the hippo come out of the water at night anyway?" Legend tells us that in the days of long, long ago, when the Good Lord N'gai made his plans for all the creatures upon his earth, he made the hippopotamus as an animal of the forests and plains. But the hippopotamus was greedy and, finding plenty of food all round him and no enemies to worry about, he grew fatter, and fatter and fatter. And the fatter he grew, the more he suffered from the heat of the Equatorial midday sun. Day after day, when he waddled down to the river for his drink, he gazed with envy at the little fishes that swam in the pool which was cooled by the melted snows from far-away Mount Kenya. "Oh" he would sigh, " how wonderful it would be if I could live, like N'gai's little fishes, in the clear, cool, refreshing water!" The hippopotamus pondered over his trouble for many days and eventually decided to approach The Lord of All Creation. "Please, Good Lord N'gai" he cried loudly to the heavens upon one particularly hot day, "allow me to leave the forests and the plains.  Let me live instead in the clear, cool waters of your rivers and lakes, for the heat of the fiery sun is killing me!" "No", replied Lord N'gai, "for my little fishes are very dear to me, and if you were to live in the rivers and lakes, you might try a change of your eating habits, and begin to eat those little fishes.  That would never do. No, you must continue to live upon the dry land." So the hippopotamus stayed sadly in his home in the forests and plains, where the sun continued to beat down mercilessly on his unprotected hide.  "This is more that I can bear!", moaned the poor creature. "Please, please, Good Lord N'gai, let me leave the forests and plains, and become a creature of the rivers and lakes, I promise most faithfully that I will not eat your little fishes." The Great Lord N'gai thought the matter over, while he looked down upon the plains baking in the heat of the tropical sun, and eventually his heart softened. "Very well," he agreed, " I will allow you to live in my rivers and lakes, but how will you prove to me that you are not eating my little fishes?" "I will lie in the cool of the water by day, and at night time I will browse along the banks of the rivers, and in the vleis," replied the hippopotamus. "I promise that I will not eat your little fishes." "But that will not be proof to me that you are keeping your promise!", pointed out The Great Lord N'gai. "Well then," answered the hippopotamus, "I will come out of the water every time that food passes through my body, and I will scatter my dung on the earth with my tail. All that I have eaten will be spread out in your sight, and you will see for yourself that there are no fish bones.  Surely this will be proof enough!"
So this is way, to this very day, the hippopotamus comes out of the water to scatter its dung as it looks up to heaven and says, "Look N'gai, no fishes!" – and that is why hippos don't eat fish! And why they come out of the water at night.
Sundowner with the Hippos
We waited and waited, but the hippos would not come out of the water. We opened some wine and beer and waited some more. Perhaps they too were waiting, waiting for us to leave. So we finally did. I'm pretty sure as soon as we left, they said, "Finally, now we can come out."
We drove a short distance and then stopped at an open field watching the sun set. Goodman gave us permission to leave the car and Phyllis and I scampered out. What an opportunity to shoot the sunset from land rather than from the Land Rover. We stood quietly, not because there were animals we didn't want to disturb, but because there was a stillness in the air that we didn't want to disturb.

Giraffes
On one of our morning drives, we saw a giraffe, then two, then three, then four. This happens as you see one from the road, you start driving across the brush and suddenly more come into sight. Often they are peeking out from the trees. You see a group of trees and bushes, and suddenly you realize one of those is actually a giraffe. You wouldn't expect them to be camouflaged with their brown and yellow pattern, but somehow they do blend into the trees. And at night, when they are silhouetted against the dark sky, they look like walking trees.
The giraffes would stretch their necks up or out to reach the leaves, or just stand perfectly still staring at something. And as we watched them, we noticed that they have a most distinctive way of walking. They move both right legs forward and then both left legs. But when they gallop, they swing the back legs forward at the same time, ahead and outside of the front legs. And speaking of running, they can run as fast as 35 miles an hour over short distances. Then they get tired and stop to rest. If they have to go long distances, they run at about 10 miles an hour.
Giraffes are the tallest mammals in the world. Not only are their necks long, their legs are about 6 feet high. But although we think of them as having long necks, their necks are too short to reach the ground. This means they have to eat by pulling leaves off of trees. This is one way to tell the males from the females. The males (called bulls) feed at a full stretch, reaching high up to the upper leaves of the trees. The females (called cows) feed lower, with their heads tipped downwards and their necks angles forward to reach the top of the lower bushes. This means that the bulls and the cows never compete for food.
But if their necks can't reach the ground, how do their drink? Turns out they don't need a lot of water and they get most of their water from the plants. But when they do want to drink, they splay their front legs and bend their knees before bending their necks down to get their heads down to ground level. This puts them in a very vulnerable position. So before doing this, they always look around to make sure it is safe.
And how do they keep from getting dizzy when they have to lower and raise their head that far? When they raise and lower their heads, their brain is protected by a special system of elastic blood vessels in their neck. This system is effective in getting blood and oxygen to their heads, as well as to prevent blackouts when they lower their heads.
And what about sleeping? Adult giraffes sleep standing up, but rarely for more than about 5 minutes at a time, often modifying their position so that they remain standing with their head and neck curved around to rest on their hindquarters.
 While most animals roar or shriek or trumpet, the giraffe, while it does have a larynx, can't really produce enough airflow through its long neck (or rather through its 13-foot trachea (airway) to make noise. So instead, they hum.
Necking Giraffes
This is not what you think. We saw the two young males practice fighting by wrapping their necks around each other. Giraffes fight with their necks as that is the most powerful and maneuverable weapon they have. They swing their necks as fast as possible, sort of like the swinging of a medieval mace. This is called necking, and in the world of giraffes is the most violent and unpleasant experience possible.  Often it is two bulls fighting each other over a female giraffe. So, what else is new?
But these two teenagers were not in physical contact. They would just take turns swaying their necks towards one another. It was more like a graceful ballet than a fight. But if you watch videos of them actually fighting, you can hear the thump of one neck hitting another. It is not so beautiful then.
Yellow-billed and Red-billed Oxpeckers
Some of the giraffes had little birds picking and eating the insects and parasites off their heads, neck and backs. These are the yellow-billed oxpeckers, and sometimes the red-billed oxpeckers, which hang out on giraffes, as well as on water buffalo. They have a beneficial relationship with the hosts providing food for the birds and the birds giving the giraffe a cleaner, healthier skin and the bird getting food. Sometimes we would see a lone oxpecker and other times they would be lined up and down the giraffe's neck, feasting.
Elephants
It was already a wonderfully successful morning. Hippos. Giraffes. But there was more. We passed another large water hole that was surrounding in part with elephants drinking. There were several adults and one baby, all dipping their trunks into the water, cupping the end to fill up and then curling it up to their mouths to drink. Their legs and bodies reflected in the water. Behind them, there were giraffes eating leaves off the tall trees. And then an impala ran through, scaring the elephants back from the water.
A lone male elephant, in heat, strolled into their "camp" and started sniffing for females in heat. As Goodman explained (and you can hear in the video), when an elephant is in heat, you can see a white sheath over his penis. This is called the musth period (which means crazy). Always a good time to s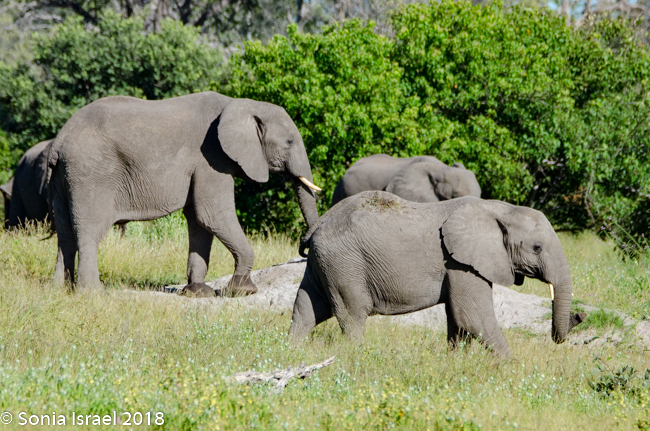 tay away from the elephant. The elephant will go and smell the vulva of the females looking for one to mate with. Their hind legs are wet with urine as they urinate on themselves on purpose for the strong smell. This lone male must not have found any females in heat as he eventually wandered off. The other elephants kept eating grass and flowers and we just enjoyed the sight.
It was so peaceful, once the musth elephant left. Goodman allowed us out of the Land Rover to stretch our legs, have some tea and biscuits. We got to watch the elephants and giraffes from the ground level. And take pictures of ourselves with the animals behind us. For us a rare opportunity.
The next day we were driving around for about two hours stopping to watch different birds and bopping hippos.  But then we saw a herd of about 30 or 40 elephants.  There were babies of all different ages. The elephants basically ignored us and stood around eating. There was one with bad leg, limping around. There was one adolescent male with no tail and boy was he angry. The spot where his tail had been was red and raw suggesting it was a recent loss and that he must have been in pain. We stayed far away from him. And we discovered that elephants do indeed trumpet.
And snort.
Elephants and Mud
We watched them walk away, in a line, one following the other. And then we realized they were heading for a mud hole. Goodman repositioned the Land Rover and we sat for a while watching the elephants take turns in the mud, throwing it on themselves and rolling around in it. They were sure having fun. But mostly they do it to keep cool. Then they would run against a termite hill to get rid of their parasites.
I could have watched forever. But as always, after a while, it was time to move on.
Devil's Thorn
Throughout our adventures out in the bush, Goodman would grab leaves and have us smell them and then guess what they were.  Sage. Basil. One was the Devil's thorn. The Devil's thorn, which is quite common here, is a ground creeping plant with purple, trumpet-shaped flowers. The name comes from the shape of the seeds which are oval but adorned with two sharp facing thorny seeds which are look like the horns of the devil. These vicious looking seeds stick to animals' feet and hooves and then, as the animal walks around, the seeds are dispersed. Goodman told us he would do a magic trick with the Devil's thorn leaf. He had us hold the leaf while he poured some water on it. We rubbed our hands together and voila, soap. The Devil's Thorn contains saponins, a chemical that reacts with water to produce a slimy mucilage that acts as soap.
Sculptures of Nature
Driving around the Linyanti area, I couldn't help thinking about how incredibly beautiful the terrain was. It is a mopane woodlands, with the mopane tree only growing in Africa. And the LInyanti area is half a mile above sea level. We were driving through tall spear grass, knocking it down and then watching it pop back up like a jack-in-the-box. But here, unlike in the south of Botswana, there were more trees rather than just grass and bushes. The trees were full of leaves and birds, against a brilliant blue sky.  Most of them. Some trees had been struck by lightning and looked instead like black and white sculptures. The ground at parts was more dirt and less grass and looked cracked, most likely from paths created by the animals trekking across the land. And the colors kept changing as the sun rose and then set. The shades of grass would go from a glistening light green to a dark green with everything in between. There were little flowers everywhere in purple and white and yellow and pink. There were little flowers in the Hibiscus family, what we would call primrose. The still water ponds were covered in a green sheen caused by duck weed, which made the water pop out amongst the darker green grass around it. And then there was the mystical fog which hung like a curtain making everything look ethereal. And of course, there was the smell of the bush, which I tried to describe above. The breeze hit us in the face and we would take big breaths to inhale the smell of Africa. Goodman would say to us, "Smell the elephant? Smell the water? Smell the grass? Smell the wild sage?" Smell the bush.
Lawyers Cap
We have lots of lawyers in our family. My son is a lawyer.  My daughter is a lawyer. My nephews and nieces are lawyers. But I've never seen a lawyer's cap before. The lawyer's cap is a mushroom. It is also called a lawyer's wig, a shaggy ink cap or a shaggy mane, but it is officially the coprophilous fungi. And it is very unusual. Why? Because it grows in elephant dung. And it grows in the sunlight. And it gives out this dark black ink which is used by the locals for basket weaving. And when the animals eat it, it is released in their dung, thus spreading. All from one little mushroom. But beyond the science, it is one of the most beautiful mushrooms I've seen.  It is almost ethereal. When it is closed, it looks like the wigs the lawyers wear in Great Britain (thus the name). But when it is open, it is almost translucent with thin stripes and a bright yellow center. Beautiful.
Spring Water
At the end of one of our drives, Goodman told us we were heading for the one place in the Linyanti that had fresh spring water. He kept raving about how beautiful it was. He went on and on about it.  That should have been a clue. I imagined dipping my feet in. Or watching it surrounded by animals drinking their fill. But when we got there, the joke was on us. There was no spring water. But instead there was Megan with cold drinks and snacks for us.
The night sky
That last night in Botswana, Sean spent several hours helping me try to capture the stars. The sky in Botswana is magical. There is no light pollution so all you see when you look up is thousands upon thousands of sparkling diamonds. You can see the milky way. You can see all the Southern Hemisphere constellations. It is like nothing else you have ever seen.
Good-bye Savuti
Our tim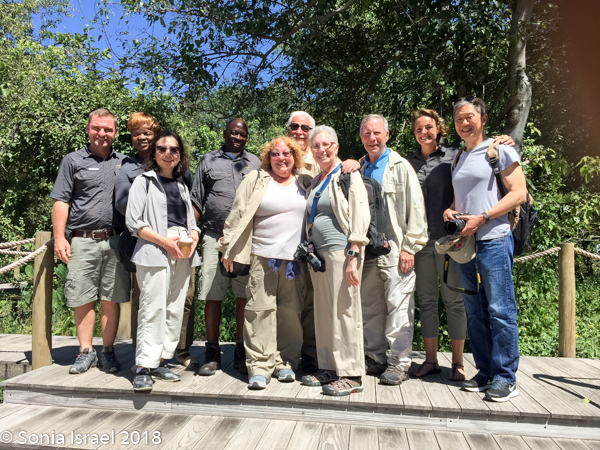 e in Botswana was over. It was time to say good-bye to our Savuti family. And good-bye to Botswana. The whole Savuti gang assembled by the car to say good-bye and send us off. I fell in love here. In love with Africa.
And then it was time to fly away.
Final thoughts on Botswana
Everything is rogue in Botswana, in Africa. Nothing is what you expect. Mushrooms grow in the sun.  Owls are out and hooting in the day. Lions roam during the day, in between their naps. This is Africa.
The delta and the river areas are spectacular. Every area is spectacular. Only after you have been here do you understand why people keep coming back again and again. There is 360 degrees of beauty with undulating grass in shades of dark and light greens, yellow, red, with purple, red, yellow and white flowers and the bluest sky, sometimes spotted with the whitest clouds. The dead trees look like sculptures against a blue canvas. The termite mounds rise up reaching for the sky. In the early morning, as the sun is rising, the light is magnificent, a soft yellow, almost orange cast. There is a light chill in the air, the breeze from the movement of the car hits your face. The sunrises turn the sky into fire. And the sunsets are dark blue with pink and orange, with the trees and animals silhouetted in the sky. This is Africa.
The water holes are like mirrors or like art. The begin to ripple as the hippos go up and down, or as the birds skim the tops as they take off into flight. This is Africa.
And when you see the antelopes or impalas or springbok running through the tall grass, with their heads bopping up and down, or leaping gracefully through the air like the most beautiful prima ballerina, it almost makes you cry. And the lions! And the elephants! And the leopards! And the giraffes with their symbiotic birds! And the buffalo! And the zebras! This is Africa.
And the smells! There is a freshness in the air, with the smell of wild sage and other grasses, the dampness, the animals, the dung. This is the smell of the bush. This is Africa.
I can't wait to come back.