April 22, 2018
And these things too shall pass – it was time to leave
Today was our last day in Namibia. I'm sad that this trip is over. I would have loved more time in this beautiful country. We never saw Damaraland. We never made it to Etosha National Park. We didn't visit Penduka (meaning "wake up") which is a nonprofit women's needlework project at Goreangab Dam. We didn't get to the Sesriem Canyon. We didn't get to Spitzkoppe with its spectacular landscapes. But spectacular landscapes?  You could say that about all of Namibia!
 Charles had us leave right after breakfast. It would be a 4-5 hour drive to get to the airstrip where a bush plane would take us to Windhoek, where we would connect to a flight to Johannesburg. The sun was low on the horizon as we headed east and then south on C43. The sky was blue. We passed Herero villages and then Damara villages. The mountains were a purple-red. The fields were a lush green with little yellow flowers.
We passed makeshift wooden huts with handwritten signs, saying "Welcome to our craft store. Please stop and look." There were quartz stones and maybe other crafts. But no people. It was all on the honor system. But we did not stop.
We passed corrals filled with goats. Instead of being surrounded by wood, it was surrounded by plastic sheets in red or green. These are called the Lion corral as the lion can't see in which thus protects the goats.
And the animals were all out as if to wish us a "Bon Voyage, see you again soon."  A large dazzle of Hartmann Zebras with their white bellies and their babies running along the side of the road.  Spring buck running across the road. Giraffes nibbling on the tress. A Kori bustard running to take off and then soaring into the sky.
But the cheetah continued to allude us.
Conservancies
We passed huts were Himba women sat alongside Herero women selling something to those passing by.
We left the Anabeb conservancy, stopping at a closed gate where the car was inspected for plants and food, as we were leaving a stock disease controlled area.
So you might be asking what is a conservancy. In case you did not read my previous post, imagine if the responsibility for protecting Yellowstone National Park was taken away from the government and put into the hands of the local residents. That's what a communal conservancy in Namibia is. Namibia was the first country to put conservancies into its constitution. Conservancies exist to protect wildlife and habitats. Game guards from the community are employed by the conservancy to patrol the area, deter poachers and assist in monitoring wildlife.
Conservancies have rights over tourism operations, so if an investor wants to open a lodge in a conservancy, he or she has to make a deal with the community. If it's a good deal, both sides will benefit. For the conservancy, the benefits will include a share in the income from the lodge, as well as valuable job opportunities.
The terrain continued to take our breath away
The ground at the side of the road was covered in Mica sheets in ground making it sparkle like diamonds. The gravel road was wide and in all that time we saw less than a handful of cars.
We passed the Bersig village, part of the Torra Bay conservancy, where the Jacob Basson Combined School and the local jail are both located, as well as a clinic and the conservancy office. The Jacob Basson Combined School has grades 1-10, with about 365 students, about 365 of which are borders from other communities.
The sun continued to rise and as we headed southeast, it shone into the car. Our big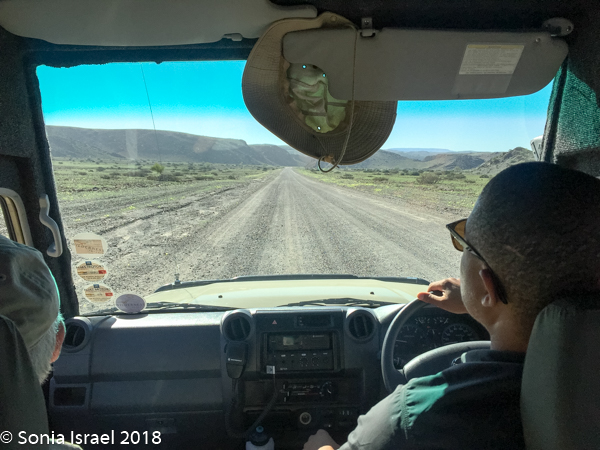 front windshield, which was great for takibg pictures, was not so great for blocking the sun in our eyes. This was particularly hard on Charles, so he made his own window visor.
Damaraland
We passed the Huab River bed and headed into Damaraland, one of the largest areas in Namibia. The Damara houses are also square, like those of the Herero, but they are made of dung. We did not get to visit any Damara, which was sad as Charles is Damara. But they, like the Herero and the Himba, have a colorful, fascinating, and sometimes sad history. Before 1870, the Damara, being hunter-gatherers, occupied most of central Namibia. They practiced pastoralism with sheep and cattle, but were also agriculturalist planting pumpkins, corn, tobacco. The Damara were also copper-smiths known for their ability to melt copper and used to make ornaments, jewelry, knives and spear heads out of iron. The Damara, just like the San, believed in communal ownership of land meaning that no individual owned land as God had given land to everyone (sort of like a kibbutz in Israel). Thus, rather than one person owning good grazing land and another eking out an existence, all would live in harmony. It was for this reason that many were displaced when the Herero began to occupy this area in search of better grazing. Thereafter the Damara were dominated by the Herero, most living as servants in their households. In 1960, the South African government forced the Damara into the area now known as Damaraland, an area of poor soil and irregular rainfall.
IlGamab
There are also wonderful Damara legends. The supreme deity of the Damara is IlGamab, the provider of water. He lives in a high heaven, even above the heaven of the stars. He is therefore associated with the clouds, thunder, lightning and water. He ensured the annual renewal of nature and the cycle of the seasons with the chief responsibility of ensuring the growth of crops. But IlGamab is also the God of Death, directing the fate of mankind. He shoots arrows at humans from his place above the skies and those struck fall ill and die. After death, the souls of the dead make their way to IlGamab's village in the heaven above stars and gather around him at a ritual fire. Then he offers them a drink from a bowl of liquid fat to drink, as a reward.
It is these legends and beliefs that makes people from around the world so interesting!
The Indescribable Namibia Terrain
The landscape changed again. We began seeing sandstone, especially one very large piece of sandstone, the border of Damaraland. And while still here, there were fewer pastures and fields. The grass was shorter but there were still lots of yellow flowers, the devils thorn. Now the terrain began looking more like desert again.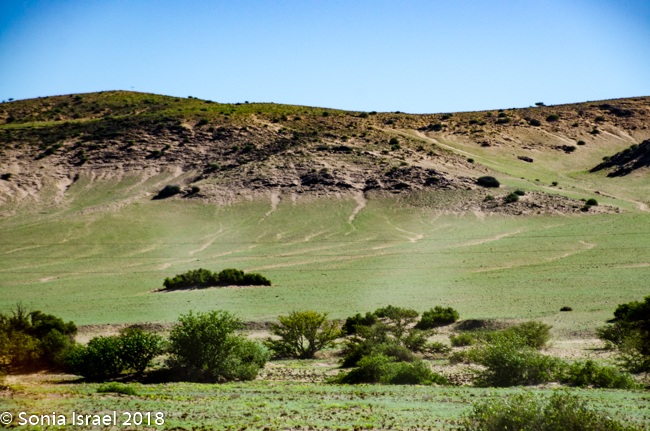 As we passed the green mountain, we could see game lines. Those are the paths the game make as they go up and down the mountains, looking like painted lines on a green canvas.
Doro Nawas
After this long beautiful drive, we approached the airstrip, belonging to Wilderness Safari at the Doro Nawas Lodge. We had some time, so we drove up to the lodge for a cold drink, a bathroom break and a few last moments to sit quietly and take in the beautiful landscape of Namibia.
And before we knew it, it was time to head to the airstrip down the hill to catch our 1 hour 10 minute Cessna flight to Windhoek where we would catch our international trip thus leaving Namibia behind.

Final thoughts on Namibia
From the very south to the very north Namibia is as varied as any large country.
Namibia is a land of red sand dunes.  Of white roaring dunes. Of desert. Of gravel roads.  Of sandy roads.  Of river beds. Of washboard roads. Of almost no paved roads. Of ocean. Of towering mountains. Of smaller foothills. Of skeletons. Of gorgeous sunrises. And sunsets.  Of a night sky where you feel you are alone with millions of diamonds in the sky. Of floods.  Of grass.  Of fields of flowers.  Of endangered  animals – black desert rhino, desert lion, mountain zebras, brown hyenas. Of elephants. of giraffe. of ostrich. Of oryx. Of cheetahs. Of Springbok. Of seals. Of baboons. Of flamingos. Of multitudes of other birds. Of wide open plains. Of narrow canyons.
It is a land of 4 wheel drives. Of land rovers and land cruisers.  It is a land of long, long drives. Or short flights on a bush plane.
And then there are the people.  Where wealth is based on the number of cows you own.  Where village schools go to 7th grade and then the kids have to move to the bigger village to continue their education. Except for the Himba who don't go to school. Where everyone is welcoming with big smiles and a ready wave and everyone is so proud of their heritage and their country.
It is a land of extreme rugged beauty. Of colors like deep brown, beige, red, blue, pink, greens, yellow, purple. Of smells of trees and shrubs and plants the likes of which are not found anywhere else.  The smell of air unpolluted by industry, by large cities, by smog, by traffic.
Charles said to me, "The village clears your head. That's why you always come back." His 72 y/o uncle, who lives in his village, heard car. No one else could hear it. Two minutes later, a car appeared. He proclaimed that for those that could not hear it, "Your ears are filled with the city." In the village, they know your footprints. They can pick up any differences in the village. Footprints. Sounds. Tracks. You can't get away with anything.
And the guides are the same way. They know every track.
I have only been to 5 other countries in Africa and Namibia is nothing like them.  I'm guessing it is like no other county in Africa, or in the world.  It is a country that has to be experienced.
I read somewhere that "Space and time are on my side." This journey had ended but there will be more. The beauty of Namibia, the people, the colors, the smell of the desert on a hot day, will stay in my heart forever.
Advise for those planning a trip to Namibia
Make sure you have closed toed shoes; there are too many creatures crawling around.
Namibia is the safest country in Africa. You never have to be afraid, except of the animals.
You can drive for hours and never see another car. A traffic jam means animals in the road.  What is more likely is the road was washed out.
High season is December. Don't come.  It will be very crowded everywhere including on the amazing sand dunes.
Lots of people drive themselves. It is so much easier with a knowledgeable driver. You won't have to worry about getting stuck in the sand. And, more importantly, you get to learn about what you are seeing.
It is dark at night. Bring a headlamp.
If at all possible, camp. Our most favorite experience was camping in Namibia.
Spend as much time as you can. We were here for 8 days. Each place we stopped (except Terrace Bay), I wished we had another night. And then there is all the stuff we missed.
Don't put off coming here. Come before it is discovered even more. Namibia is a magical place.