National Geographic Trip to Mongolia – Day 8, June 18, 2017  (con't)
Back to Three Camel Lodge – the TEST
We got back to the Three Camel Lodge, had lunch, and then met in the Lodge theater. This was our big test. This was a photography trip after all, so today we each had to turn in 5 photographs to be shared with the group and then critiqued by Michael Melford, our Nat Geo photography instructor. We climbed down the stairs to the dark theater which was decorated with masks.
The sofa seats were so comfortable and we sank into them, trying to hide. But Michael was gentle and we all learned a lot from each other's pictures.  Many of the photographers in this group are really spectacular and I felt humbled to be a part of this talented group.
Here are the 5 pictures I submitted…plus a few more that I really like! [Remember – if you click on the pictures, they will become bigger.]
We relaxed a bit, had lunch and then headed off for the afternoon excursion to the Flaming Cliffs.
Flaming cliffs
I mentioned several times throughout the blog, the Gobi is where many dinosaur bones and fossils have been found. Well, most were found at the Flaming Cliffs (Bayanzag or Bain-Dzak). The area is most famous for yielding the first discovery of dinosaur eggs. Protoceratops, velociraptor, oviraptor, pinacosaurus all roamed here millions of years ago. And the red/orange color of the sandstone cliffs, especially at sunset, looks like they are on fire. Thus the name. And this was our destination for the afternoon and evening.
Our caravan once again made its way through the desert. No road. But this time there seemed to be 6 sets of tracks.  This must be the highway!  And it even had a Mongolian traffic jam!
We wandered around the top of the cliffs first, taking our first group picture with the National Geographic flag.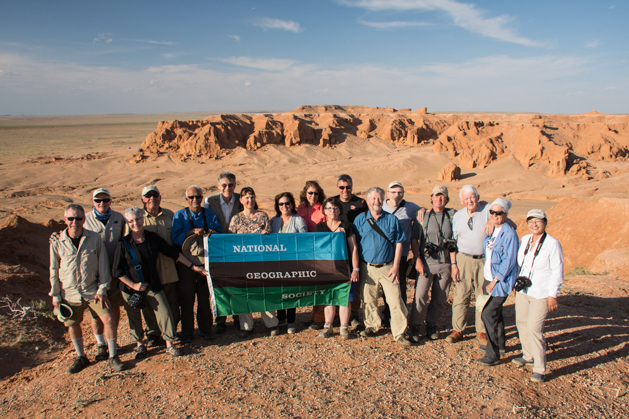 There were a series of stalls with people selling souvenirs. We figured it was a good place to buy some gifts and help the economy.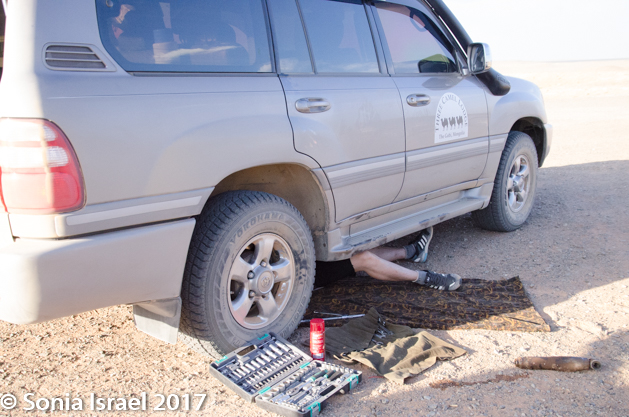 One of our vans broke down, so as the rest of us wandered around the cliffs, our drivers worked on fixing it.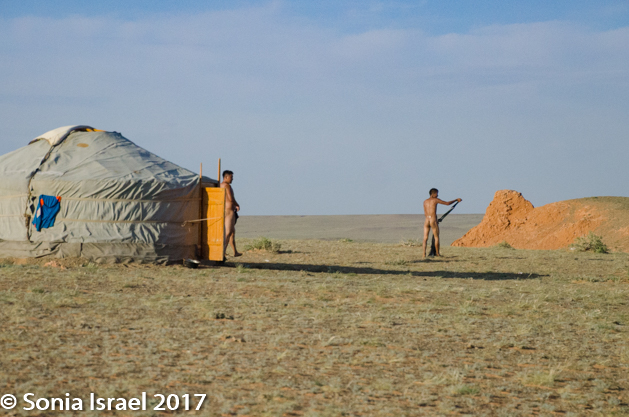 The other sight that took us a bit by surprise up there was a ger, right at the edge, with two nomads wandering around au natural.
Some of the group hiked down and others rode to the bottom. And what a surprise when we got there. There was a beautiful table, under a tent, ready for an al fresco dinner. There was even a camp toilet set up for us. There was wine and beer and we mingled while having drinks and snacks.
Then we sat down to a full course meal of soup, and lamb and vegetables and dessert. The group surprised Andy and me over dinner as they celebrated our anniversary (which would not be for another two weeks, but hey, who are we to turn away congratulations).
All while watching the sun set and the cliffs turned color. Our shadows played on the walls. And we loved every moment of it. It was bitter sweet however, as we knew this trip was soon coming to an end.