National Geographic Trip to Mongolia – Day 10, June 20, 2017
Saying Goodbye to the Gobi
We woke up early, had breakfast and went to settle our bill. This reminded us that we were indeed in Mongolia in the middle of the Gobi desert. In order to get wifi to pay by credit card, the staff had to drive up the hill. I may have neglected to mention that for our 5 days here, we had no wifi.  It was a combination of bliss and horror.
As we left the Gobi, the skies began to cry imitating our very own feelings. Sad to leave such a beautiful, peaceful, colorful, unspoiled place. I worry that if I come back in ten years, there will be paved roads and few nomads left.
We drove back across the desert, cherishing our last sights of the dust and green patches, and herds here and there between the isolated gers. And before we knew it, we were back in Gurvan Saikhan Airport. We boarded our plane and flew back to UB. I spent the whole flight looking out the window for my last sights of the Gobi.
Back in UB
As we approached UB we could see the congestion of gers at the outskirts. We passed the Welcome to Mongolia sign (our third time), the tall, colorful houses, the coal mines in the distance, the large pipes running through the city like a subway el, but carrying hot water. It was almost a shock to be back in the big city. Noise. And more traffic.
Shopping for cashmere
But our touring was not done yet. We had not been doing much shopping, but on the way into town from the airport, Azaa agreed to stop at a cashmere outlet, the Gobi Cashmere Factory Outlet. It was full of beautiful items including sweaters, dresses, scarfs, socks, coats, pants and children's' clothing The prices were decent. The quality supreme. And so we shopped and shopped. On the way out, I noticed a young boy climbing on the statue of the goat which represented the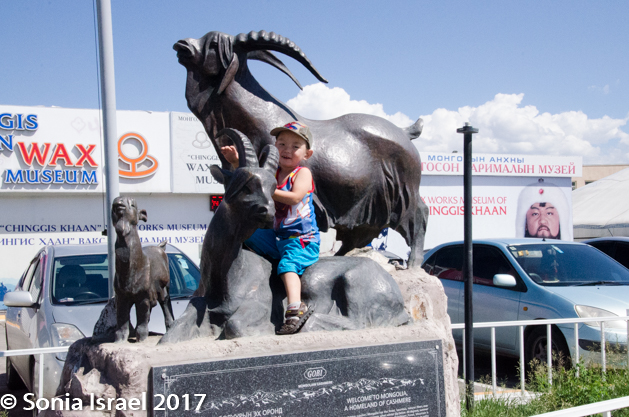 cashmere. He was so happy climbing about. And probably his mother was happy that he was preoccupied while she shopped!
Winter Palace of the Bogd Khan
After we were shopped out (is there really such a thing?), we headed off to visit the Winter Palace of the Bogd Khan (also called Jebtzun Damba Hutagt VIII), Mongolia's last king and the eighth Living Buddha. The palace was built in the late 1800s. Somehow, this palace escaped destruction during the Stalin period and was turned into a museum. This is particularly strange as the summer palace was completely destroyed.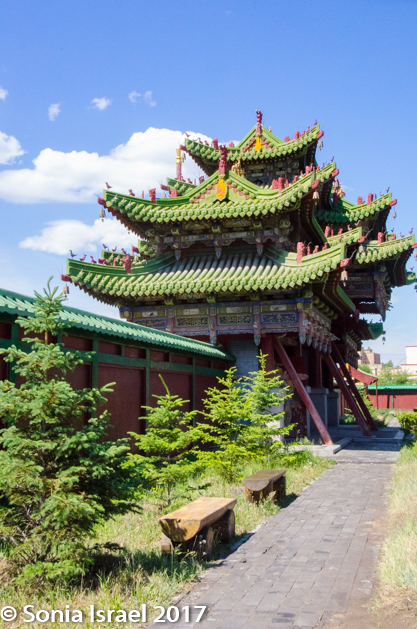 There was a fee to get in, which was to be expected, but there was also a fee for taking photos. They made good on us that day as we were all photographers!  This fee is not unusual and we have encountered it in many of the Asian countries, especially in temples and palaces. I have no problem with that. They need to make money for up keep and I don't mind helping.
There are six temples in the grounds and we visited each one.  Most contain Buddhist artwork, including sculpture and thangka.
The whole complex was done in a Chinese style with pagodas everywhere.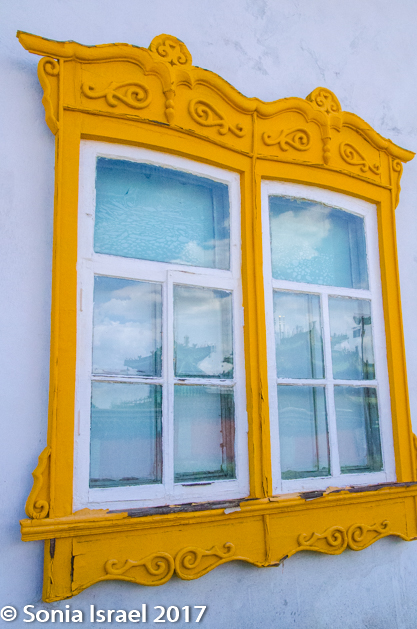 The windows in the palace were reflecting the pagodas at that time of day, and that made for some beautiful pictures and beautiful sights.
In the palace itself, there is a large collection of stuffed animals which had been part of the Bogd Khan's personal zoo, as well as gifts from around the world from foreign dignitaries (such as golden boots from a Russian tzar, a robe made form 80 foxes and a ger lined with skins of 150 snow leopards). Mongolia's Declaration of Independence is also on display (Mongolia declared its independence on Dec 29, 1911).  There was also a display of a famous painting by Marzan Sharav, a painter credited with the introduction of modern painting styles to Mongolia. The famous painting, A Day in Mongolia (done in the traditional zurag style). It was a beautiful painting showing the daily nomadic life in the early times. Birth of a baby, celebration of a new home, a wedding, moving the ger, chopping firewood, taking care of animals on a dairy farm, work of an undertaker, shearing animals and just everyday life.  This painting is reproduced everywhere, including in scarfs and other items, and in a puzzle which I bought as a gift.
Mongolian Barbeque  – yes really!
From here we went for lunch, and yes, maybe you guessed it, Mongolian Barbeque. The funny part is that there is not such thing as Mongolian Barbeque.  The concept came from America! The restaurant was called BD's Mongolian Barbeque and it was quite delicious. Like these type of restaura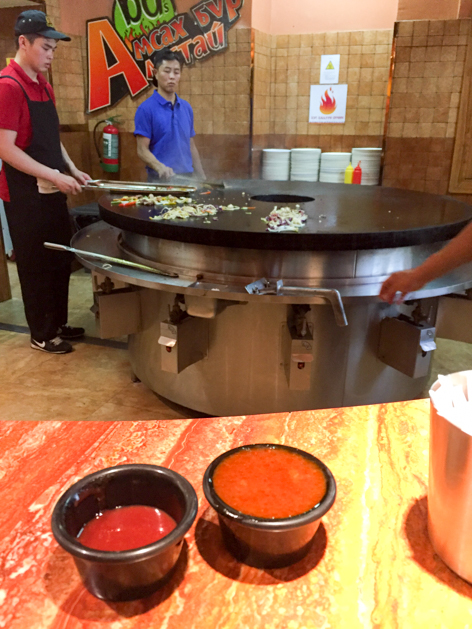 nts in the United States, you fill up a bowl with all the goodies you want – cabbage, vegetables, meats – you add the sauces (which the staff is ready to help with as there are so many choices), you bring your bowl over to have it cooked on the huge grill and then you enjoy. There was also a buffet with all sorts of other foods. Since all meals were included in our trip, I have no idea what the prices were. But it was certainly delicious.
Zanabazar Museum of Fine Art
After lunch some of us went to the Zanabazar Museum of Fine Art.  The building itself is more than 100 years old and was the first to be built in the European style. It was originally a trade center but became a museum in 1961. The exhibits were wonderful, full of masks and thangas, and beaded gods. One was of Jamsran, the Red faced deity guardian, who was all made of coral beads. In the Mongolian Buddhist world, powerful, fierce Buddhist deities such as Jamsran are seen as representing courage, physical and mental strength and virtue and are greatly admired. Jamsran   was the most fearful so he drove away any demons, thus he was considered a protector. I was particularly interested in Jamsran because I bought a beaded picture of him when we were in the Gün-Galuut Nature Reserve.
When we finished walking through the museum, Andy and I went to do some more shopping for gifts. Our first stop was at Mary & Martha, a shop of ethical and fair business which helps small and micro indigenous businesses in Mongolia grow.  The shop was full of handcrafted clothes and handmade souvenirs, beautiful things. I bought a few gifts and some things for myself. I always love local items made by locals.
What about the hat?
And that means it was time to see if my newspaper seller had a hat for me. For those of you who read my earlier blogs, or did not, let me review. I love hats. Especially ethnic ones. I don't wear them. I display them. On my first day in UB, I passed a man selling newspapers on the corner of Genghis Khan Square. He was wearing the traditional deel and a traditional hat. I pulled out some cash and offered it to him in exchange for his hat.  He laughed and said he would bring me one tomorrow. All this of course was by sign language. I showed him my calendar and the date I would be back for my hat.  And we both smiled and I left.  So today was the day to go back for my hat.
Andy and I walk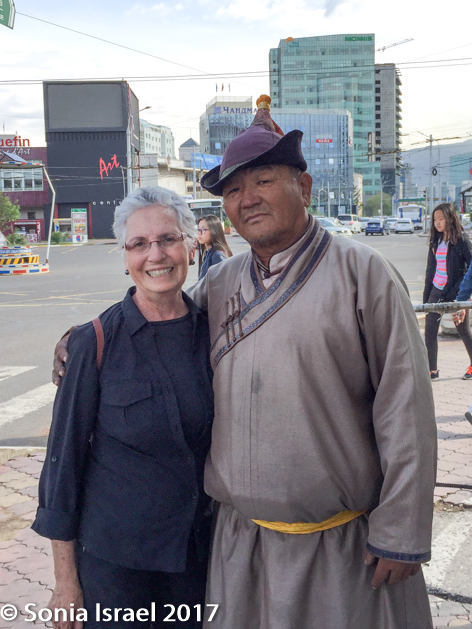 ed back to the corner where the newspapers were sold. My friend was there, in his deel and hat. I waited while he finished selling a newspaper to an older woman. And then I motioned to his hat and to my money.  His hand flew to his mouth as if he was saying "Oh!"  He forgot.  He forgot my hat. He said tomorrow. I said I was leaving too early. And that was that. No hat. We took a picture together. We smiled at each other and waved good bye.  And that was the end of my hat saga.
On the way back across the square we noticed a large group of people, in their colorful deels, all congregated on the steps of the square. We walked closer. I have no idea what they were there for, but they were there to watch a few other men further up the stairs. Whatever they were there for, they were colorful and fun to watch.
We had a little time to go back to the hotel to pack. And once again enjoy our view of Genghis Khan Square.
Mongolian Grand Theater of National Art
That night we went to the Mongolian Grand Theater of National Art for a performance of the Mongolian National Song and Dance Ensemble. This was a unique, colorful performance, a larger, longer version of the performance we saw at Three Camel Lodge. The theater was full of red velvet, red velvet seats and red velvet banisters. The curtain on the stage was all flowers, likely embroidered. The walls were yellow with white embossed decorations.
And the performers were dressed in red and the wall behind them was in blue. The performers all played the traditional instruments, like the horse head fiddle. There was a full orchestra playing traditional music. And of course, there was throat singing (khoomi) (describe in a previous blog from the Gobi). They danced including the Old White Man (also called the edler White) dance. The Old White Man was my favorite since I am interested in aging. He is the Mongolian guardian of life and longevity, a symbol of fertility and prosperity. And after the performance I got to take a picture with him. The show only lasted about an hour, but it was totally entertaining. And totally worthwhile.
Good-bye Dinner
And then it was time for our final, good-bye dinner. Although only a few blocks away, we all boarded our bus and were driven over to the Central Square Tower, a modern office building that could have been built in any modern city in the world. On the 17th floor of the building was the Monet Restaurant, where we would enjoy our last meal together. We had a long table near the windows, with views in all direction of the entire city of UB.
We were served wonderful French food with beautiful presentations, great wine or beer and wonderful company with our new friends. It was raining. And then it stopped and a double full rainbow appeared. A fitting end to such a wonderful trip in such a fabulous country.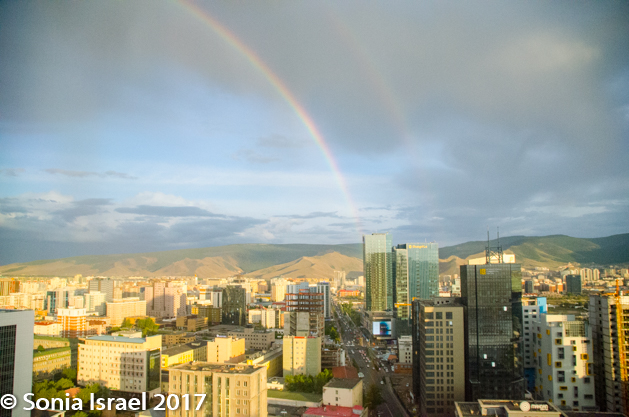 And then it was good-byes to our new friends.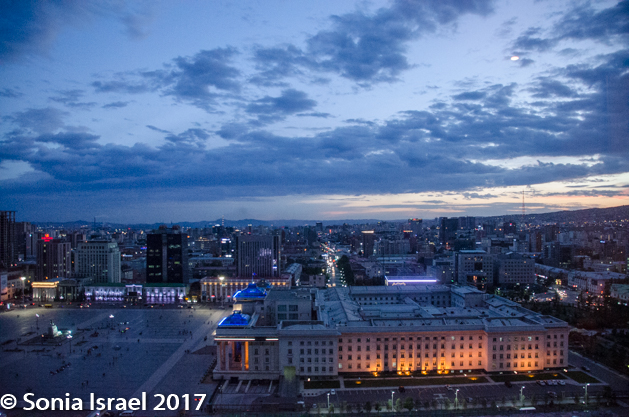 And one last view of the square at night. And the trip was over.
Final thoughts on Mongolia
Some other things we learned:
You don't come to Mongolia for the food. That's what most people think.  But we had great food everywhere we went.
Most burials are underground. But, like in Bhutan or other Buddhist countries, some still do sky burials. A sky burial is when the human corpse is placed on a mountain top to decompose or be eaten by birds. Spirits need to reach the heavens, and the body is now an empty vessel, so there is no need to preserve it.
The symbol of Mongolia's national independence is the Soyombo and it is found on the currency and on the flag. The flag has three vertical rectangles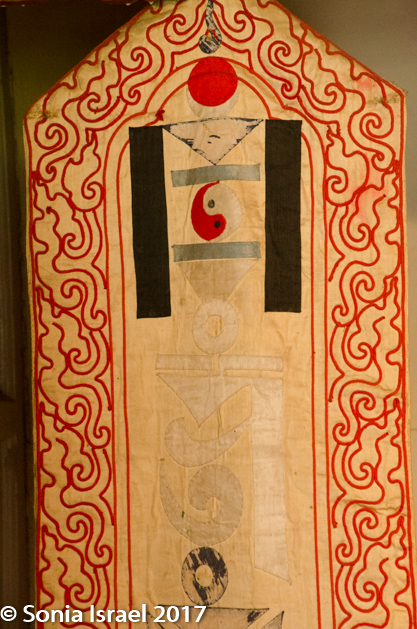 in red, blue and red. The Soyombo is on the first red part and is made up of a flame at the top which stands for renewal, growth and the family hearth. The flame has three prongs representing the past, present and future (a Buddhist concept). Under the flame is a symbol of the sun and the moon which reminds us of Mongolia's first religion, Tengriism which worshiped the blue eternal sky. The triangles are the ancient symbols representing arrows and they point down to signify death to Mongolia's enemies. Two horizontal rectangles represent honesty, justice and nobility. There's also a yin yang which for Mongolians represents not just the union of opposites but two fish who never close their eyes symbolizing eternal vigilance, reason and wisdom. And two vertical rectangles on either side represent fortress walls and an old Mongolian saying, "Two men in friendship are stronger than walls of stone," which appeals to national unity. The blue part of the flag represents the eternal blue sky, the red the ability of Mongolians to thrive in its harsh environment, i.e, progress and prosperity.
Mongolians count age from time of conception.
About 60-70% of Mongolians vote. The polls are taken out to the remote nomad sites. Other nomads go to their nearest village. Voting age is 18 years old. Terms in Parliament are 4 years and each member is allowed two terms. There are 76 members in Parliament with 13 of them women.
When sitting on the floor in a ger, try not to show the bottoms of your feet. And women never sit crossed-leg in a ger.
Do not step over a lasso that is on the ground. And if a lasso is planted in the ground, avoid that area as it is a request for privacy.
Never walk between the central supports of a ger.
When Mongolians greet each other, is is often with questions such as, "Are you wintering well?" "Are you spending the spring in peace?" "Are the sheep grazing in peace or fattening well?"  The world peace often appears and is thought of as synonymous with happiness.
Thank you = Bayarlalaa (pronounced bayala Q)
Sain bain uu = Hello
And how about sleep? In the summer, women sleep about 7 hours waking up to milk their cows from 10-5.  In the winter they are in bed by 8 and sleep longer. Men sleep 6 hours and are usually up by 7am. But life has changed with the introduction of the satellite dish.
Here is a lesson about cashmere: The Mongolian goat gives the rarest and highest quality of cashmere. Mongolia produces about 30% of the world's cashmere at 14,000 tons per year (an average goat produces 250 grams).  Mongolian cashmere comes in four natural colors – white (20% of the cashmere from white goats), beige (most abundant of all colors, 60%), warm grey (the rarest color, 2%) and brown.
Final, final words:
Here is how Stanley Stewart, in his book on The Empire of Genghis Khan, described Mongolia: "This is Asia'a secret. A vast medieval world of nomads, slumbering in the heart of the continent, traversed by winds and clouds and caravans of camels." And he was right. Mongolia is Asia's secret. It pulses with life, just like a heart. The plains are vast with an emptiness that isn't really empty. There is a quietness yet the air is full of music from the wind, and the bleeping of the sheep and goats, and the neighing of the horses, and the mooing of the cows.  And the nomads singing as they ride their horses. It is beautiful here.  It is magical. It is mystical. It is spiritual. It is a place not to be missed. It will enter your soul and never leave.
And I'll end with this. Chris Michel, one of the photographers on our group said, "Stay young by creating memories.  And create memories by traveling." And that is exactly right!  This trip helped create fabulous memories that will always keep me young.