Thursday Oct 26, 2017
They let us sleep until 8 this morning. And warned us that would be the first and last day we get to sleep late. This was a day at sea as we made our way to the Falkland Islands.
Breakfast and lunch are always buffet. We lined up but the lines always went quickly on two sides of the central island. For breakfast there was always fresh fruit, cucumber (while it lasted – by day 9 it was no longer to be seen), tomatoes, bell peppers in green, yellow and red, cheeses, meats, lox, chia pudding (we tried it one morning and for us that was enough), potatoes, scrambled eggs or eggs to order, oatmeal, yogurts, granola and other cereals, and the best breads ever.  Coffee, lattes, cappuccinos and teas were always available, and hot chocolate! This was one fattening trip!  These pictures are from different days on the trip, just to show some of the variety.
After breakfast we were invited back to the lounge for more staff introductions and instructions on how to get in and out of the zodiacs. That is the way we will get to and from the ship to the islands. Then David Cothran, the photography instructor lectured on Expedition Photography, followed by break-out sessions for different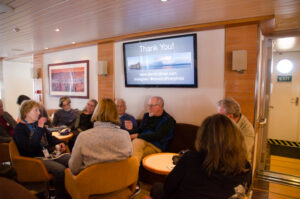 level photographers, including those using their phones. On this type of trip, everyone is taking pictures as there is so much to see. So much to document. So much we will want to share. So much we all want to remember.
Fin Whales
Lunch was served around 1230 and we used this opportunity to meet some more people. Then another lecture on Seabirds of the Southern Ocean with Bud Lenhausen, one of the naturalists. Just as Bud started, the Captain spotted whales and we all ran up to the deck to see them. There were two fin whales, also called finback whale, razorback whale, or herring whale. They are the second largest mammals in the world, just second to the blue whale. They can grow to 90 feet and weigh 82 tons. They were breaching (not fully, but enough for us to see their fins).
And Birds
And birds.  There were birds everywhere. Black-browed albatross. Constantly soaring around us. Swooping down and soaring back up. And then the would land and just sit on the water. We watched for a long time, until it got too cold to stay out there.
This is one of the wonderful things about Nat Geo trips. There is always something to see.  There are fabulous lectures about what we are seeing. And there is an open bridge policy, so anytime during the day or night you can sit with the Captain.
The M.S. National Geographic Explorer
And in between the lectures and the eating, we explored the ship. There was a fitness center (which somehow we never used), a sauna, rooms for massage, the library and observation deck with walls of windows (and where a light lunch was served every day), the Chart Room with maps showing our location and progress and tea, coffee and cookies. We walked by the zodiacs and the kayaks with their paddles (which we never got to use due to the winds).
How Civilized! Afternoon Tea
Then it was time for tea. Every afternoon there was tea with either cookies or finger sandwiches. One thing we learned quickly when traveling with Nat Geo, you never go hungry!
The Falklands
Since this was a day at sea, as the Falklands are 300 miles from the coast of Argentina, the staff took this opportunity to give us lots of lectures. The next one was on the Falkland Islands: An Entangled Tale, by Eduardo Shaw. Eduardo's family is from Great Britain, but he lives in Argentina. So it was perfect to hear about the Falklands and the conflict from his point of view.
The Falklands are made up of two main islands (cleverly called West Falklands and East Falklands) and 776 smaller islands. It is considered a British overseas territory, but Argentina does not recognize that. At different times in the history of the Falklands, it was an Argentinian colony or British. More on this in the Falklands blog.
More Fin Whales
And then in the middle of the talk, the call came – more Fin Whales. So we all grabbed our jackets and cameras and filed back on deck. One hundred people with their cameras all pointed to the site the whales were last seen.  But of course they were moving. Fast. Fin whales are so fast that they are also called "the greyhound of the sea … for its beautiful, slender body is built like a racing yacht and the animal can surpass the speed of the fastest ocean steamship." (American Naturalist Roy Chapman Andrews)  But we did spot them.  They would blow the water and then you would see them emerge slightly from the water, see their fin, and then nothing as they went down below again.  They would do this 2-3 times and then disappear for about 5-10 minutes during which time we all stood there trying to find them again. This went on until we all got too cold or had our pictures.
Welcome Reception with Captain Oliver Krub
That evening the captain welcomed us with drinks and a talk. He was the most entertaining captain we ever had. He introduced each staff member, giving us a full description of who they were and where they were from and what they were good at. And he did it with humor and with grace.