April 2021
Those of you who follow Journeys With Sonia know that I write about places, not people. But in this time of the COVID-19  pandemic, anything goes.
I found myself back in the desert in April 2021. It was still the COVID-19 pandemic. No one was going inside restaurants. No one was seeing people. We were all masked. So it was time for another art tour/road trip. This time to see rabbits (well, it was almost Easter). But these were not just any rabbits. These weree nine aluminum rabbit sculptures by local artists, Karen and Tony Barone.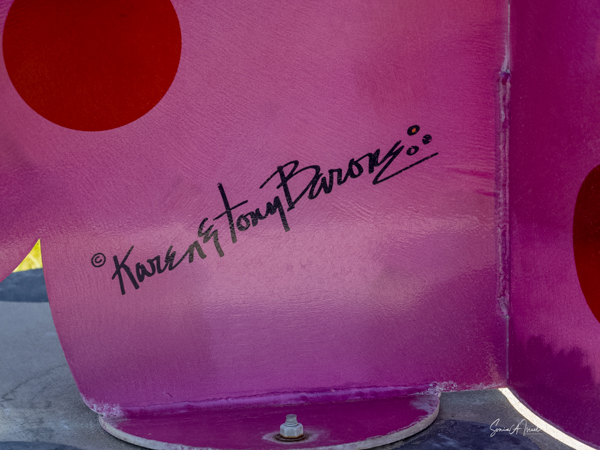 The rabbits stand 7 to 8 feet high in vibrant colors, some solid, some with polka dots. They are all over the Coachella Valley, but we went to the one called, Desert Warren 2 in Palm Desert. [Note – if you click on the photos, not only will they get bigger, but you can see the names of the sculptures.]

Larger than Life
Karen and Tony specialize in "larger than life" pop art and talk about being inspired by Alice in Wonderland. They love public art as it reaches people of all ages, bringing smiles to their faces. And that was so true as we were a group ranging in age from 5 to well into double digits and we did indeed all smile.
Rabbits? Yes Rabbits
So why rabbits?  When Karen and Tony shared their first kiss, in Chicago, a rabbit appeared out of nowhere, taking them by surprise. Tony says, "Since then we have been all about rabbits."
And then there were more
But they are more than just about rabbits. Karen and Tony wanted to create art that people could enjoy without going into a museum during the COVID-19 pandemic. There is an app that can be downloaded from https://baroneart.glideapp.io/. The app gives you some background, but more importantly, gives you a map with all the public spots where Karen and Tony's art lives.  So my family and I decided to take the full tour. I grabbed my Olympus OmD E M1 Mark III with my Olympus 12-100mm lens and off we went. What amazing fun! Large dogs. Large cats. More rabbits. Ice cream. And more and more.
Some are on public property, like in front of doctors' offices, the Conprehensive Cancer Center (what better place to have a large rabbit called "Hope"), or museums.
Some are in people's private front yards. but are accessible to see from the street.
And some are just in the desert. Or it seemed to be in the desert as it was a very large sandy area by the mountains. The Jaguar was my favorite, and if you read my blog on the Pantanal, you know why. Although the gorilla was pretty spectacular too.
I got to meet Tony
I got up my courage and contacted Tony and Karen. Unfortunately, Karen was not available, but I got to meet Tony, who like their art, is large and happy and made me smile. I got invited into their backyard which was filled with even more art. Really. Every square inch was filled with art.
As I walked around taking it all in, I was in awe and all I could think about was such happiness, such color, such talent, such fun. And I must say the Flaming Redhead stole my heart.
It seems that Karen and Tony's whole life is consumed by their art – they even drive around town in a white-and-black, polka dot 2015 Volkswagen Beetle.
An art tour not to be missed
So if you find yourself in the Palm Springs/Palm Desert/Rancho Mirage area of California, download their app and take yourself on a Karen and Tony Barone art tour.  You won't regret it. (And yes, the art is for sale).