March 14-15, 2021
Yes, still COVID, still not traveling the world and still writing about local sights. This time I am in the Palm Springs area in California. It is a beautiful desert surrounded by beautiful mountains.
Once a year there is an art exhibition called Desert X taking place all over the surrounding towns. I have never been before, so what better time than during quarantine. It is all outdoors, so safe for everyone. I masked up, got in my car, and off I went. There were ten exhibits and little did I know it would take about six hours.
Desert X
The mission of Desert X is to "produce recurring international contemporary art" exhibits in different desert locations. Each exhibit is on a different site, and given that this is a desert, there are lots of big empty spaces just waiting to be filled with art. The key is that it be public, open to the community, free, and that each exhibit fit into its desert surroundings and "respond meaningfully to the conditions of desert locations, the environment, and indigenous communities promoting cultural exchange and education programs that foster dialogue and understanding among cultures and communities about shared artistic, historical, and societal issues; and providing an accessible platform for artists from around the world to address ecological, cultural, spiritual, and other existential themes."
There was a Desert X app with a map, directions, and a description of each site which made it very east to find everything. I should point out that the quotes here are all from the app as the descriptions and lessons about each piece and each artist (in both English and Spanish) were wonderful.
What Lies Behind the Walls
I decided to start with the farthest one and make my way back towards "home." So my first stop was a 25 minutes drive east, thought back roads I never knew existed. I passed little farmers markets, individual farmers selling oranges, one selling silver doodads. Part of the area was considered a California Scenic Route. I passed schools and Liquor Mart's and lots of trailer parks all within the sight of the beautiful mountains.
I finally arrived and pulled into the sandy parking lot.  Luckily, I was to discover, each site had parking for us. I got out of the car, donned my mask and grabbed my new Olympus Om D E M1 Mark III camera with my Olympus M. Zuiko digital ED 12-100mm f/4 Pro lens, and headed up the desert hill towards what looked like a large wall in the middle of nowhere. It was a ten minute walk, although if I hadn't stopped to take lots of pictures, it likely would have been faster.
This first one was by Zahrah Alhramidi, an artist from Saudi Arabia. Her bio explained that she "explores memory and history through traditional architecture in both medium and assemblage. Her laborious and meticulous process involves assembling particles of earth, clay, rocks, leather, and water. Her medium and process draw on the notion of "embodied memory" to translate and delineate themes of cultural identity, memory, and loss." Forgive the long quotes, but I couldn't write it better myself.
From the distance it just looks like a big wall, but as I approached, I began to see the layers and the textures and the colors. It was a very large monolith made up of stacked pieces of cement, soil and some soft fabric all dyed in colors of the desert, both here in Palm Springs and in Saudi Arabia. I spent about 15 minutes walking around taking in the textures along with the views of the snowcapped mountains.
Then it was time to walk back down the hill through the desert to drive to art site number two.
ParaPivot (sempiternal clouds)
The first thing I had to do was look up "sempiternal."  It means eternal and unchanging or everlasting. I found this a bit ironic, as clouds are anything but sempiternal. But I kept an open mind and drove my 15 minutes to get there. What I found was a line of about 20 people waiting to walk up a very long, very steep road. Seems on Sundays (which today was), you need a timed ticket or else you wait on line for this exhibit (and one other, The Passenger) as they want to limit the number of people there at any one time. The artist for this piece was Alicja Kwade from Poland, although she lives in Berlin, where she "investigates and questions the structures of reality and society and reflects on the perception of time in our everyday life."
So I took my place in line and about 10 minutes later I was allowed to start my climb. Yes, climb. Did I say this was a very, very, very steep hill, with switchbacks and the cold desert wind sometimes pushing on my back as if to help me and other times hitting my chest as if to hinder me. But everyone that was heading down kept saying it was worth it, so I kept going.
The road ended and turned into a rocky desert area but in the distance I can see the sculpture. I saw the interlocking black metal frames holding up large pieces of white marble which looked almost like ice bergs rather than like clouds. The description of this piece said, "As you approach and move in and out of its frames, you become aware of the experiential equivalent of Heisenberg's uncertainty principle, an effect whereby observer interaction changes the form of the thing being interacted with. The result is an illusion of instability. This wobbling perception of size and relationship lies at the heart of the work, as with every step, the sculpture and its components reform into new combinations." I did not experience this. It did not seem unstable at all. It did look beautiful with the pure white "clouds" against the very blue sky with its own set of puffy clouds. And in the distance, which you could see between the metal posts, were the snowcapped mountains.
I headed back down the mountain, and for those of you in the know, you understand how hard going down a mountain can be on one's knees. But I persevered, enjoying the view of the mountains and the desert as I slowly made my way back down to my car.
Because you know ultimately we will band a militia
My next stop was an exhibit of double-sided billboards along the Gene Autry Trail, by Xaviera Simmons from New York. She describes her work at an "ongoing investigation…of memory…and present and future histories…" The series of billboards represent "reverence, resistanc and the redistribution of tangible material resources." The problem with this piece of art is that I had to pull over onto the shoulder of the road in order to see and read the billboards which was not very conducive to enjoying them or more importantly, to taking the time to understand the message. That's where the pictures come in. Once I got back at the end of the day, I could study them more closely and think about what they represented, the bigotry and racial inequality. By the way, the last sign, Love Yourself, was not part of the exhibit, but I thought it was very pertinent and fitting.
Windmills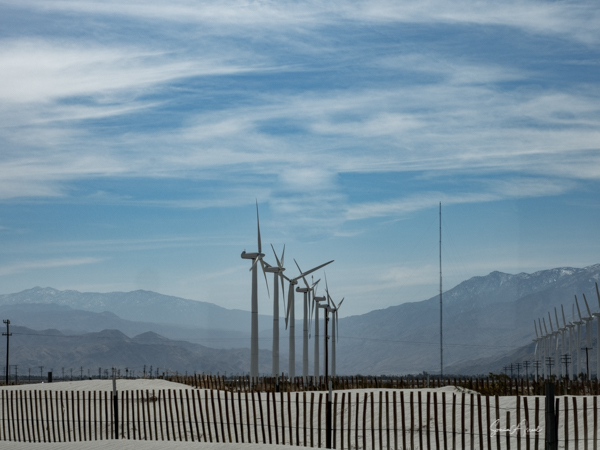 I made a little detour to take a closer look at the windmills against the mountains. I've always loved watching them as I drove back and forth across the desert. This was my chance to stop and take a picture.
Wishing wells
Then it was back on the road heading towards Palm Springs proper. The next installation, the Wishing Wells, was one of my favorites. It was two very large cubes, connected by a walkway, all made of plastic yellow Kufuour gallon water jugs, woven together. The Kufuor are used to transport water in Ghana. Turns out they are no longer used and now pollute the streets and the waterways. Yet this installation was a reminder of the importance of water and how so many communities around the world have to trek long distances to get their water. This jus helped them carry their precious water back to their villages. Seeing these "wells" in the middle of the desert reminded me that needing to find water is a universal problem.
The artist, Serge Attukwei Clottey is of course, from Ghana where he use "yellow plastic jerrycans known as Kufuor gallons…[to] create sculptures …that speak to histories of colonial pillaging and its effects on trade and migration. These gallons function as material and a striking symbol in Attukwei Clottey's practice: a reminder of the way violent pasts manifest in the everyday."
Why was this my favorite? Well, besides the brilliant yellow against the green grass and trees with the snowcapped mountains in the back, I loved how the artist used something traditional in his culture to make a statement about one of the most essential elements in life – water.
Never forget
For me, the words "Never Forget" have a very specific meaning. We say "never forget" when we talk about the Holocaust. Never forget the horrific acts of six million being murdered. We too had our land and our lives taken away from us.  But this "Never Forget" was about the Indians, and I do understand that these words hold important meaning for them too.
The artist, Nicholas Galanin, is a Tlingit and Unangax̂ from Sitka, Alaska. For him memory and land are totally intertwined. His installing is made up of 45-foot high letters which say, INDIANLAND, reminiscent of the Hollywood sign in LA. That sign initially spelled out HOLLYWOODLAND and was erected to promote a whites-only development. Never Forget is a call to action and reminder that this land belonged to the Indians and, as the artist believes, should be given back to local Indigenous communities.
As an aside, I loved that everywhere I went, there were signs about protecting the desert.
The Art of Taming Horses and Finding Home in my Own Flesh
The next two sites I tried to visit were a bust. . I followed the directions to The Art of Taming Horses. I couldn't find it. I u-turned (safely) and went back to look again. Three times.  I never found it. So I gave up and kept going.
I drove to downtown Palm Springs, parked my car and walked around and around and around trying to find then next one, Finding Home in my Own Flesh. If I had read the app more carefully, I would have noticed that it would not be on view until April 9.
So I got back into my car and drove to the next site, luckily less than a mile away, also in downtown Palm Springs.
Tamanrasset
This one was very different than all the others because it was inside a building that was locked. We had to look at the large-scale abstract paintings through the window. Turns out that the artist, Vivian Suter from Buenos Aires, Argentina, wanted the reflections of us and the palm trees and mountains, i.e., the desert landscape behind us to become part of her paintings.  The colors were very bright and happy and they made me smile. Not a bad thing!
Jackrabbit Homestead
It was finally time to head back for the last two which were very close to home. Jackrabbit Homestead, by Kim Stringfellow from San Mateo, California, is a small, one room 122-sqaure-foot cabin on the grounds of the Palm Springs Art Museum in Palm Desert. There was a time when land was given to homesteaders and this little cabin represents that. There is a audioscape about the homesteading experience that I listened to as I walked around the cabin, peering in the windows. What you see is a very small, but cozy home surrounded by sky and sand. It didn't look that bad to me!
Palm Springs Art Museum in Palm Desert Scuplture Garden
Since I was already here, I took a few minutes to walk around the Scullpture Garden. There were some scultptues I liked a lot. One in particular was two heads with their eyes closed, as if sleeping. Yes, those readers that know me, understand….There were also beautiful flowers and water features everywhere.
Women's Qualities
This was my other favorite installation by Ghada Amer who lives in NY but is originally from Cairo, Egypt. It was a garden made up of monolithic letters which spelled out the words Strong,  Resilient, Loving, Nurturing, Caring, Beautiful, Determined, all arranged in on the circular Great Lawn at Sunnylands. What better way to describe a woman. Need I say more?
Sunnylands
So, while I was here, I decided to explore the gardens. Sunnylands is the former Annenberg Estate, once known as the Camp David of the West. The estate is 200 acres and the gardens are magnificent, all filled with drought resistance plants. I'm pretty sure I only saw a small part of it.

March 15, 2021
The Passenger
There was one exhibit I did not see yesterday, The Passenger. On a Sunday, you needed a timed ticket for this one. It was already late in the day, there were no tickets left and I was too tired to stand on line. Since this exhibit was only a few minutes from me, I decided to save it for early Monday morning.
Monday morning came and I hoped into the car for the 6 minutes ride. The sun was low in the very blue, clear sky.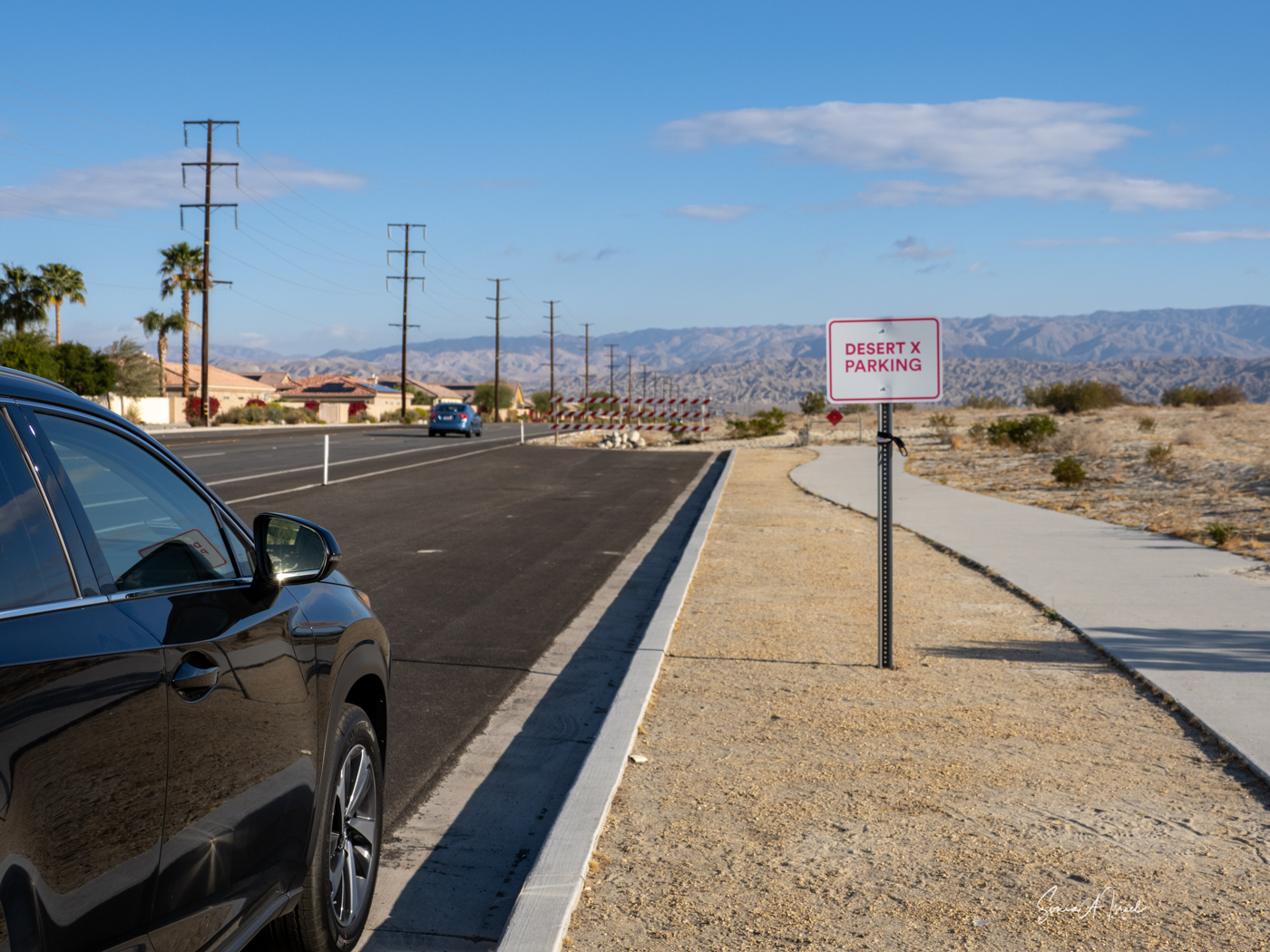 Parking for this exhibit was on the street which made me even more glad that I did not come yesterday and that I came early when it was not yet crowed. In fact, I was the only one there which meant I would have the maze all to myself.
Yes, The Passenger is a maze in the shape of an arrow hear and made out of traditional palm fiber woven rugs called petates. The artist, Eduardo Sarabia, originally from LA but now living in Guadalajara, Mexico, was inspired by the story of Exodus from the bible (how fitting as it is Passover next week which in fact, is the story of the Exodus). The maze is about the necessity to move from one place to another, an experience generations of people have had. "The Passenger speaks to the challenges and aspirations that encourage journeys and pays tribute to the people who have embarked upon them."
Once parked, I walked on the sand on the path marked by rows of stones. This was real sand as you would find at the beach.  Yes, where golf courses have not been built, this is still a desert. I had to raise my feet up high to keep the sand out of my shoes. There was sagebrush everywhere. There was a sign again advising to respect the desert and stay on the path, but the funny thing is that you could only read it on the out!
As I went through the maze, I tried to imagine myself on a journey to the unknown. I could smell the straw from the mats and for some reason, I found it soothing. I did not know where each passage would lead. I did not know where I would end up. That is the definition of a journey. Something we have not been able to do in this year of the pandemic. At the center of the maze was one large triangular room with three sets of wooden steps, one in each cornrer, which I imagined are used as benches for one to sit and contemplate their journey.
I made my way back to my car, again lifting my feet up high. It didn't help. Before I drove off I had to dump the sand out of my shoes.
It was indeed a journey. All of Desert X was a journey so it was fitting to end here.
Nature is art
And then I got "home" and saw the beautiful mountains in all shades in front of me, and birds flying and I felt free and light.  Nature is art and art is nature and they both make me happy.
[contact-form][contact-field label="Name" type="name" required="true" /][contact-field label="Email" type="email" required="true" /][contact-field label="Website" type="url" /][contact-field label="Message" type="textarea" /][/contact-form]