Our first view of Dublin
Dublin, Day 1, October 19, 2016
We arrived late Tuesday night. We got through customs. We got our passports stamped, collected luggage and easily found a taxi to our hotel. The taxi driver was extremely friendly, telling us about the sights along the way and making recommendations on what to see and where to eat.  After less than 30 minutes, we arrived at the Grand Canal Hotel. The rooms at the Grand Canal are more simple than our usual hotels, but very adequate. We had one double bed and one twin bed. (were we supposed to invite someone to join us?). There was ample closet and drawer space. There was a coffee machine and a pot for boiling water for tea. And we even had cookies. Breakfast was OK with all the basics (cereal, scrambled or baked eggs, cheese, cold meats, mushrooms, fresh fruit, yogurt, smoothies), but nothing fancy. One plus for me was that it was very convenient to the Aviva stadium where my meeting was being held, as, of course, it was work that got us here. And it was only about a 15-minute walk to City Centre which was a good thing as there was no public transportation close by.
The first morning, after breakfast, we headed to the convention center to pick up my registration. It was about a 15-minute walk through the neighborhood, across the river. When we got there I realized that my meeting wasn't at the convention center! We walked to the wrong place. But mistakes like that are nice, because we might not have seen the beautiful convention center building, or walked across the magnificent Beckett Bridge (which is said to look like a harp – the national symbol of Ireland –  lying on its edge).
Or seen all the public sculptures and people all scuttling to work. Work seems to start late here, perhaps because the sun rises late (sunrise wasn't until almost 8:00).  We passed lots of bicycles.  And lots of pubs.  We learned later that there are over 700 pubs in Dublin alone!  We also passed a coffee house called Insomnia!
So we headed off to the City Center, about a 20-minute walk, to meet up with our walking tour.
Sandmann walking tour
We used Sandmann tours as they got great reviews on TripAdvisor. And we were not disappointed. We met at City Hall under the red umbrella, where they were waiting just like they said they would. We were a large group of about 30 people, from all over the world, and mostly younger than us.
Dublin Castle
Our first stop was Dublin Castle were we stood on the cobblestones for quite some time (yes, my knees could tell) while Carl, our Dubliner guide, told us all about the history and customs of Dublin and Ireland.
The history here is important and this was a good introduction to help put the rest of the sights in perspective and on a time line. The late 1500s were the beginning of a long, dark and troubled time in Ireland when the castle became the seat of the UK government in Ireland. The Penal Laws were introduced and the Irish Catholics were persecuted for practicing their religion. They were not allowed to speak Irish. They were not allowed to work. They were not allowed to purchase or lease land, vote, hold political office, or live in or within 5 miles of a corporate town. They were not allowed to have a profession. They were not allowed to go to school past age 15. They were not allowed to play their music or sing their songs (all musical instruments were destroyed except for one harp which was hidden and survived and now can be seen in Trinity College in the Library). And many Catholics who did not renounce their faiths, including priests, were found guilty of treason and imprisoned in Dublin Castle. The Castle represented English (and thus Protestant) rule until 1922 when Ireland became a Republic.  (More on all this later.) So in general, they were kept from doing many other things necessary for a person to succeed and prosper in society.
We moved into the courtyard where we faced the main gate and the life-sized statue of Lady Justice. You know the one, the blindfolded woman with the sword holding the scales of justice. She has also been called Lustitia and is meant to be the personification of the moral force in the judicial system. Except this one was different. She was erected by the British Administration in 1751 and she betrays many of the characteristics of the other Lad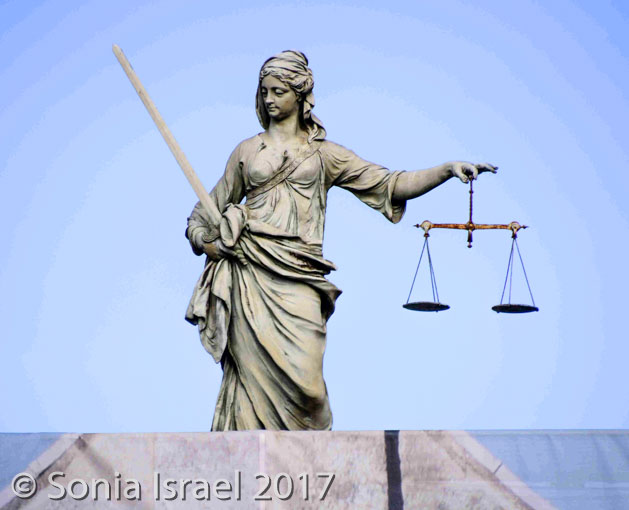 y Justices. First, this one is not blindfolded. Next, she is facing the courtyard which meant she was turning her back on the people of Dublin (or mooning them).  Her right arm holds her sword, but rather than down by her side, her arm is stretched out to the side and she is looking at the sword with a smile on her face. Her scales are supposed to be even (innocent until proven guilty), but these were real working scales. So every time it rained (and it rains a lot in Ireland), the scales would tilt. So their drilled holes in them. Then when it snowed, they still tipped until the snow melted.
From there we walked into the castle gardens. The view back at the castle is of the old, thick walled tower, next to green, yellow and red buildings.
We walked up small alleys named for the different famous Irish authors (Yeats, Oscar Wilde, James Joyce, Jonathan Swift, Samuel Beckett, George Bernard Shaw, etc).  We walked by Christchurch, considered the spiritual heart of the city. Carl told us a story about how the Irish love their beer and their pubs so much, that they can't bear having to walk even 5 minutes to get to one. So they built a pub in the basement of the Church. That way people could pray and have their beer all at the same time. Since then the pub has been removed, many believe unfortunately.
Temple Bar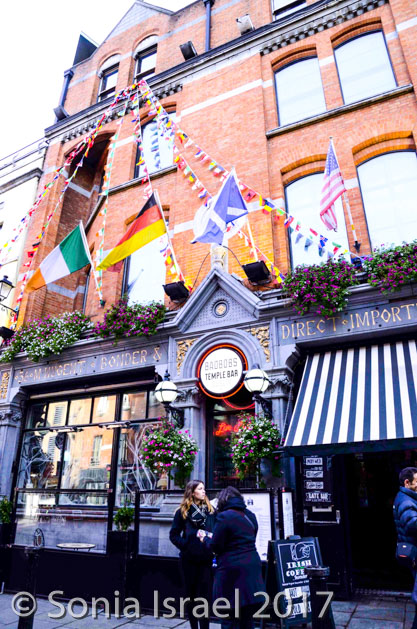 We stopped for a coffee/tea break in Temple Bar. Temple Bar is not a bar per se, but an area, all cobbled stoned, bordered by the south bank of the River Liffey and Dame Street and is Dublin's cultural quarter with a lively nightlife, particularly popular with tourists and therefore has tourist prices. Carl told us that a pint of bear was 1-2 more Euros here.
Trinity College
We then walked over to Trinity College, founded in 1592 as the "mother" of a new university, modelled after Oxford and Cambridge. It is one of the seven oldest universities of Britain and the oldest in Ireland. Women were admitted to Trinity College as full members for the first time in 1904. We walked under an arch onto the Trinity College green. The architecture was quite beautiful, and Carl, an alumnus, told us all about it.
Carl told us lots of stories. One had to do with crack, but spelled craic, which means fun in Irish. Like having loads and loads and loads of fun. More than just the usual fun. But when used with tourists who associate it with drugs, all sorts of funny situations can occur. This is the Irish humor. Carl told us the story of running into two American girls at a pub, and inviting them to come upstairs to have some craic with their friends. The girls of course were horrified thinking he meant drugs. All in the name of fun.
We learned that the Irish alphabet has only 18 letters in alphabet. No j, k, q, v, w, x, y or z. Instead of v, the dh is used.  We learned that cheers in Irish is "Sláinte," pronounced to rhyme with sh-loin te.  We learned that the name Dublin which comes from Duvh Lin, meaning black pool or where the Poddle stream met the River Liffey at Dublin Castle, forming a deep pool.  We learned that the flag of Ireland is green for independence, orange for those loyal to the British crown and white in the middle for the peace between the two.
The tour lasted three hours, and while it doesn't sound like we saw a lot, and while the square footage covered was not large, we learned so much and saw so many of the important sites in Dublin. It was a great introduction to this city.
Since the tour ended at Trinity College, we opted to pop into the Book of Kells. The Book of Kells is an illuminated manuscript Gospel book in Latin, containing the four Gospels of the New Testament together with various explanatory texts and tables. It was created in a Columban (Saint Columba was an Irish abbot and missionary credited with spreading Christianity in Scotland) monastery in Ireland or may have had contributions from various Columban institutions from both Britain and Ireland. It is believed to have been created in the year 800. The book is written on vellum (prepared calfskin) in a bold and expert version of the script with beautiful drawings, and edged in gold.
The manuscript's is very famous because of the lavish decorations especially for such an early year. There are abstract decorations and images of plant, animal and human ornaments in brilliant colors. It was impressive to see the artwork and calligraphy done so many centuries ago.
Trinity College Library
But the most impressive part for me was when we went upstairs to see the library. It was literally breathtaking. Some say it looks like the library in Harry Potter, but Harry Potter was filmed at the library in Oxford which has a flat ceiling, not here with its vaulted ceiling. The library is the legal depository for all of Ireland and the United Kingdom. Every first edition book published in the UK is here. There are over 4.5 million books here.  And the vaulted ceiling surrounds two stories of books and ladders. The long hall is lined with busts, Including Socrates and Aristotle. And the smell of the books was delicious.
Lunch at the Pub
O'Neill's is just around the corner from Trinity College and we went there for dinner (what the Irish call their noon meal) after visiting the Book of Kells.  We were ready to rest our feet and to eat and drink. O'Neill's is a traditional Irish pub (short for public house) famous from it atmosphere and great food. This is one of the famous pubs with various nooks and crannies, both upstairs and down. When you first walk in, it is a bit confusing as there are quite a few small rooms and multiple bars. But one of the staff quickly directed us to the self-serve area for food where we could look over the offerings, order, pay and then take our food to one of the many tables. We were there at about 2:30 in the afternoon and the place was packed.  So we ordered, paid and found a small table to eat our lunch while we watched the people. Turns out almost all pub menus are the same. Irish stew (lamb). Beef and Guinness pie with either pastry or potatoes on top, fish and chips (French fries), hamburger and chips.
We ended up having the corned beef with parsley gravy, carrots and the best roasted potatoes and the beef stew (with potatoes, mushrooms, carrots and whiskey).  Both were delicious and filling.  And because we are lightweights when to comes to drinking, we were able to order half-pints of beer. This was our first pub experience, but not our last.  And O'Neill's was a great place to begin this experience​.
Aviva Stadium
After lunch we continued walking around the city center. Eventually we grabbed a cab over to the Aviva stadium as that was where my meeting really was. The Aviva stadium is a sports stadium in the middle of a residential area. It seats over 51,000 people and is home to the Irish rugby team and Republic of Ireland football (i.e., soccer) team. What a strange place to have a meeting.
As we walked back to the hotel, we began seeing different colored doors on the houses.  These were part of the famous Georgian doors.  Here are just a few, but more on this later.
We were supposed to join some colleagues for a tour of the Teeling whiskey distillery that night, but we hit the wall, went back to the room and crashed instead.