More of Dublin
Day 2, Thursday, October 20, 2016
We spent the morning doing some more walking. We walked back over towards the convention center and the Samuel Beckett Bridge, and then along the River Liffey crossin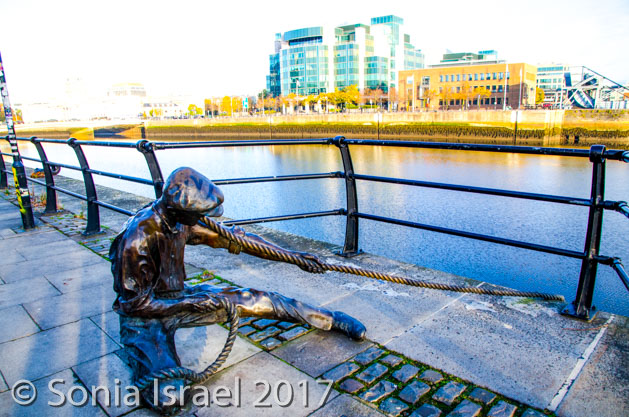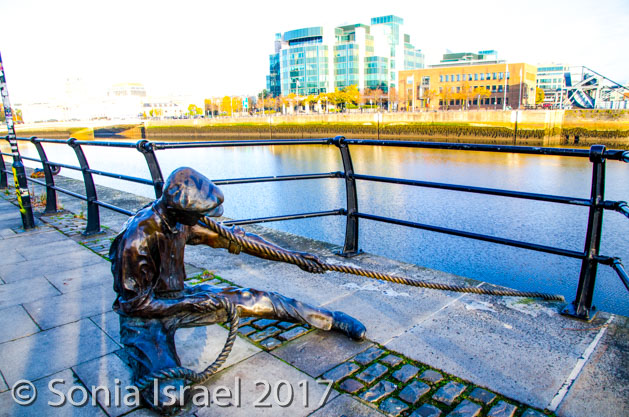 g over to the North side of the river, known as the more down to earth, less touristy side of town. Along the way we passed lots of sculptures.  There was one bronze sculpture, called The Linesman, commemorating the tradition of docking in the area.
Our first destination was the Old Customs House, a beautiful old building in a neoclassical style from the 18th century, which currently houses the Department of Housing, Planning and Coal Government.
Alongside the Customs Building there was a sculpture which is a memorial to Irish socialist hero James Connolly, one of the signatories of the Proclamation of the Irish Repub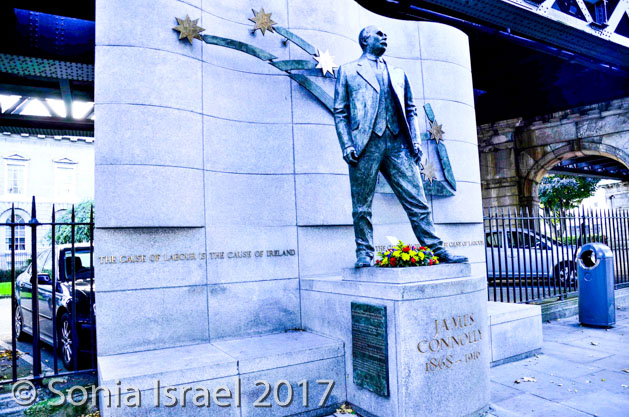 lic in 1916 who was executed by the British in the Easter Rising (more on this later).
Memorials and Sculptures
On the other side of the Old Customs House we came across another sculpture, a large sphere of welded interlinked chains and bars with an etern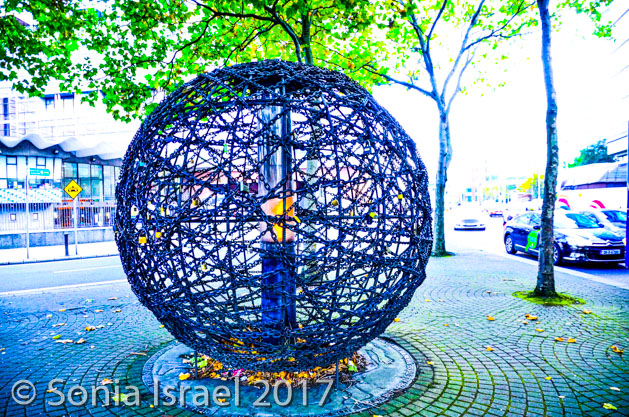 al flame in the center. This was the Universal Links on Human Rights memorial. It was commissioned by Amnesty International in 1995 and represents the jails around the world holding prisoners of conscience. We stopped for a moment, in silence, and contemplated just what this meant.
From here we were trying to find the famous Famine sculpture (by Norma Smurfit), but had to ask directions. The Irish are some of the friendliest people, always stopping to say hello (if you don't answer, you are considered rude). So it was not difficult to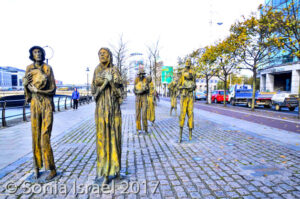 be pointed in the right direction, and as I thought from the map, we were only about one block away. There are actually many famine statues around the city, in fact, around the country, but this is one of the more famous ones. This one is striking. It is of six very graphic and sad adults, one carrying a child, and one dog, representing the starving and dying population of Ireland as they tried to reach the Dublin port on foot to escape from Ireland and certain death due to starvation during the Potato Famine of 1845-1848.
But was it really a famine?.  Here is the real story, which is pieced together from many sources including our different guides throughout this trip.
Remember the Penal Laws when Catholics were prohibited from doing just about anything? Most of the Irish Catholic became farmers and all they could afford to grow was potatoes. Other vegetables were heavily taxed by the British. So the lived on potatoes.  But in 1845 there was a potato blight. And suddenly the Irish Catholic farmers had no food. It wasn't that there was no food in Ireland. There was plenty of food. But not for the Irish. Four ships full of food were exported to Great Britain each week! But none was given to the Irish. Some call this the Great Hunger. Some have called this a genocide. Each family tried to send one member to leave for America, or Australia, or any other country. But only about half ever survived the journey. They called them coffin ships. The cost to sail was between 3-5 pounds which was a lot of money for them, but once they paid for passage, there were no other expenses. If they went to the poor house, they had to pay their upkeep. So it was cheaper to sail. Those that did survive the trip, sent money back to their families back home. Fifty percent of the Irish Catholic population died during these years. This of course strained the relationships between the Irish and the British Crown even more and led in part to the ethnic and sectarian tensions that grew into the revolution later.
We walked back across the River Liffey to the South Side, walked back through Temple Bar, and made our way to Merrion Square Park. Dublin is full of squares which are really parks.
Merrion Square
Merrion Square was designed in 1762 and is one of the most intact Georgian Squares in Dublin. It is surrounded on three sides by Georgian redbrick houses with museums and government buildings on the last side.  But it is the center of the square which is most beautiful as it is a public park, filled with flowers and statues including one of Oscar Wilde sprawled across a large rock. This sculpture is really in three parts. There is the sculpture of the author himself on a large rock, a pillar with a bronze of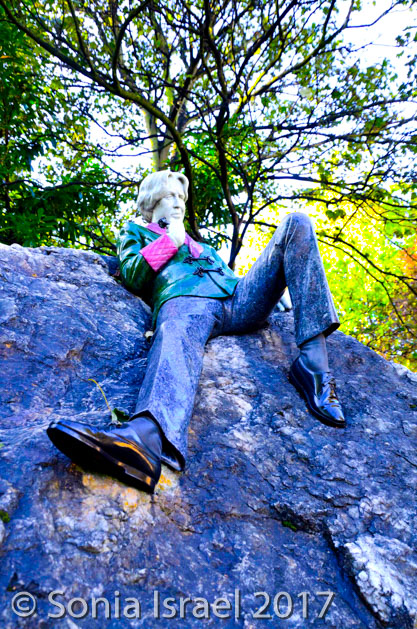 his pregnant wife and a pillar with a bronze male torso (all created by Danny Osborne, an Irish sculptor). The sculpture of Oscar Wilde himself is in full color which captures his flamboyant and colorful personality. He is sitting on top of a 35-ton boulder of white quartz. But Wilde himself is wearing a green smoking jacket with a pink collar, long trousers and shiny black shoes, with an unusual two-sided expression on his face, depicting both joy and sadness. But the statue is not painted. Wilde's shiny green jacket is made from nephrite jade. The pink collar is made of a rare semi precious stone called thulite. Wilde's head and hands are carved from jade. His trousers are made from a rare crystalline stone, larvikite, and his shiny shoes are black granite. Very unusual.  Very beautiful.

There was also a memorial with an eternal light dedicated to Irish soldiers who fell in the wars. It is a pyramid with statues of soldiers representing different armed forces, standing in attention around the eternal flame. Very moving.
Edwardian Doors of Dublin
We noticed again all the colorful doors, in red, blue, green, pink, yellow. Some covered in flower vines. I took pictures of all of them, but didn't know the history.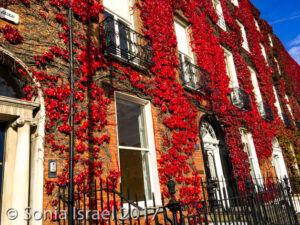 Turns out there are several stories. One story is that the writers George Moore and Oliver St. John Goharty were neighbors. Gogarty had a habit of coming home drunk and knocking on Moore's door instead of his own. Moore painted his door green so he wouldn't get confused. Then Gogarty retaliated and painted his red. It was a domino effect from there.
Another story, similar, was that it was the woman of Dublin that painted their doors so their drunk husbands wouldn't mistake other homes for their own. And wake up in bed with another woman.
And yet another story goes that after Queen Victoria died, England ordered Irish citizens to paint the doors black in mourning. The Irish, no great lovers of England, rebelled and painted all their doors in bright colors instead.

This seems to have been a special day in the squares as there were Irish Markets in several of them. Not your usual market, but stalls with all different kind of food. But we were still full from breakfast.
St Stephen's Green
From here we walked to St. Stephen's Green. St. Stephen's Green is much larger than Merrion with even more playgrounds, flowers, fountains and sculptures, including another one called Famine.  There were ponds with ducks and swans, and beautiful trees in yellow and orange and red, reflecting in the water. Stone bridges arched over the lakes. Birds flew everywhere.

Meeting Gwendolyn
We made our way, slowly, back to the canal, knowing we could follow it all the way back to the hotel. By now we had walked over 10,000 steps and it was only 1130.
Andy rested at the hotel while I made my way to the Aviva for a meeting. A few hours later, my colleague Bill Redd and I began walking back to the hotel. Again we stopped to admire the colorful Georgian doors.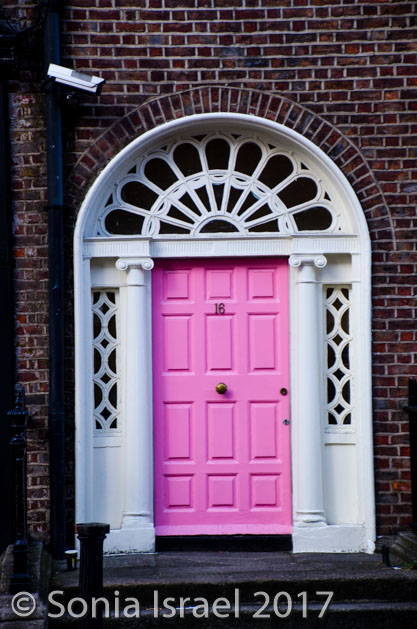 At one pink door, a woman was outside cleaning the dried leaves off the sidewalk. Bill started asking her about the doors. We mentioned that we were at a meeting at the stadium and asked her what it was like to have it in the midst of their neighborhood.  She told us stories of drunk people urinating in her yard, empty beer bottles being left everywhere. The neighbors are not happy. It seems the stadium was supposed to be built on a different site, but the restaurants and shops complained so the ruling was overruled and it was built among the homes.  We kept talking and then, she invited us in for a cup of tea. Of course we said yes. Imagine someone inviting strangers in for tea in the US! It would not happen.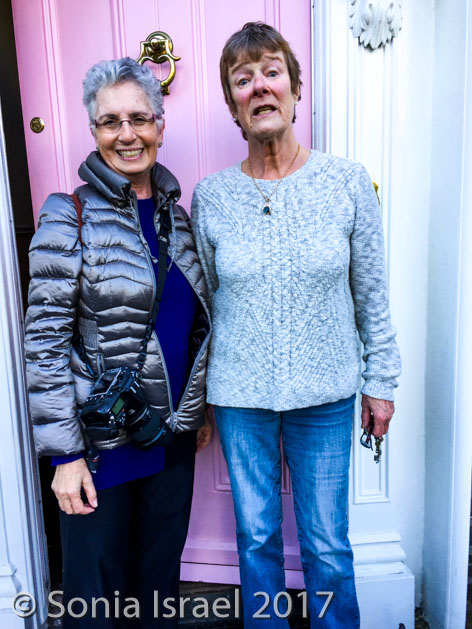 Gwendolyn and her husband Pearce could not have been nicer. She made tea in her kitchen and served it with chocolate chip cookies from a box. She sent Pearce to the store to buy milk (you can't have tea without milk). She explained that the doors can be painted any color you want. Pearce painted theirs pink because it was the undercoat, and he liked it. She toured us through her beautiful garden and the upstairs which had two bedrooms. There was also a sunroom that was turned into another bedroom. Each room had its own fireplace where turf (peat) was burned. This also explained why on each roof there was one large chimney with several smaller ones coming out of it. One for each fireplace. We talked about their children (they have only been married 8 years and each had their own children). Pearce has grandchildren, one just born. Gwendolyn was widowed when her daughter was five. She went looking for a job as an executive assistant. She interviewed with one man who asked if she planned on getting remarried. She replied, "No one has shown any interest." He said, can you start tomorrow, and she worked there for 18 years until he retired. She said when she started working there, he asked if he could call her sweetie as he could never remember names. And he called her that for 18 years.  Different times.
This visit was the high point of my trip. How wonderful to really meet a local, in her home with such generosity.   And to see what the inside of these famous homes looked like. But we finally had to leave as we had a dinner to go to.
Dinner at Trinity College Grand Hall
We picked up Andy at the hotel and walked back to Trinity College for a dinner from our meeting, in the grand hall. The grand hall has been described as an 8th century Dining Hall which provides a classical atmosphere for banquets. But I found it rather disappointing. It was one long room with portraits around the walls. But not really very spectacular.
They had entertainment for us, Irish dancing by a group of young girls, which would have been perfect except it was set to modern music. It didn't quite make it.
So we walked back to the hotel and went to sleep. Steps for the day? 27,430!