Day 5, Sunday Oct 23, 2016
Leaving Dublin
Today we headed out of Dublin and headed north to Belfast. Since we would be traveling all around the Republic of Ireland and Northern Ireland, I thought I'd include a map.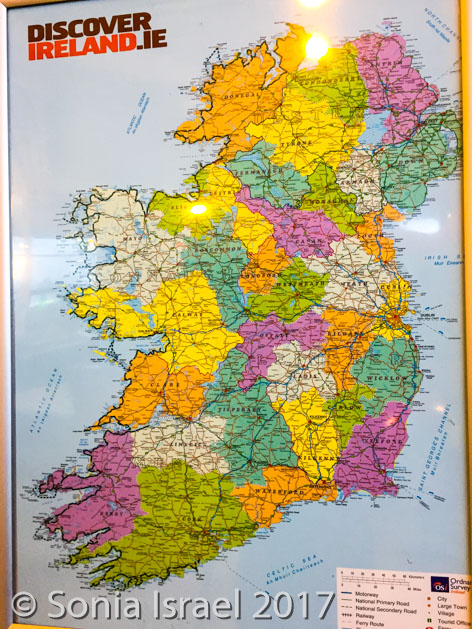 The motorway here has two lanes. Here in the Republic of Ireland, signs are both in English and Irish. Maximum speed for cars is 120 km (74 miles), but for buses 100 km (62 miles). The median is filled with sculptures such as large bee hives and cows, but the bus was going by too fast for pictures. We saw the sun rise. It rises late here. And it was beautiful.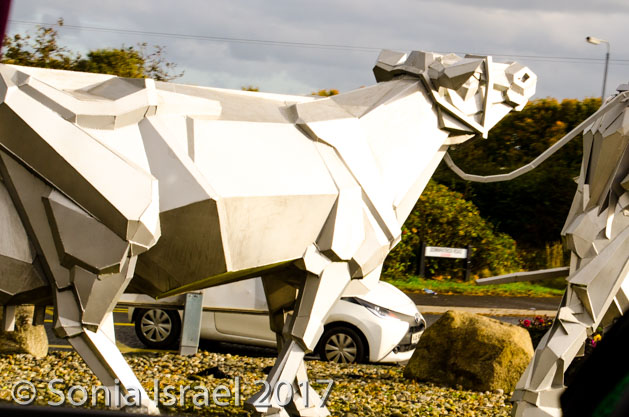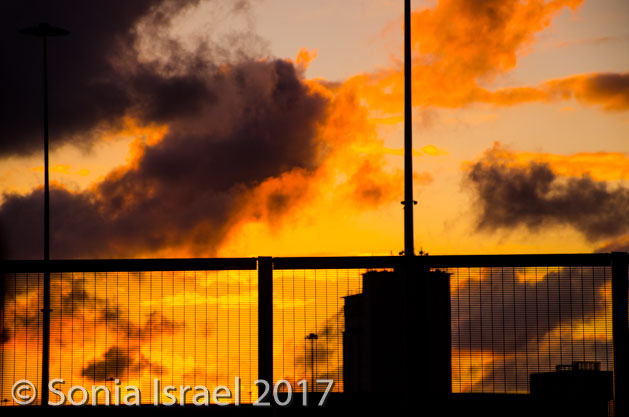 ColCColm started telling us all sorts of stories. For example, if you are learning to drive, you get a big L on your car window. Once you pass your driver's test, you get an N for novice. But if you fail your test, you can still drive yourself home in your L car.
Because of the little rain that Ireland got this summer, the trees are still all covered in red and yellow and orange leaves. The sunrise made them glow and the leaves were literally shimmering. Throughout the trip we were amazed by the spectacular colors of the trees, especially against the green, green fields.
We passed ring forts which are circular, fortified settlements primarily from the early middle ages. They are often made of stone or earth and are where farmers and the cattle lived. Later in the trip we would get to visit two of them.
It began to rain a little bit, and then it stopped and the sky was covered in a full rainbow. I literally wanted to look for the leprechaun with the pot of gold at the end.
Two of the women traveling together (from Sacramento) had taken a baking class the morning before our tour began. And they had boxes of brownies and cakes and cookies they had baked, passing them around the bus. This is going to be fattening trip.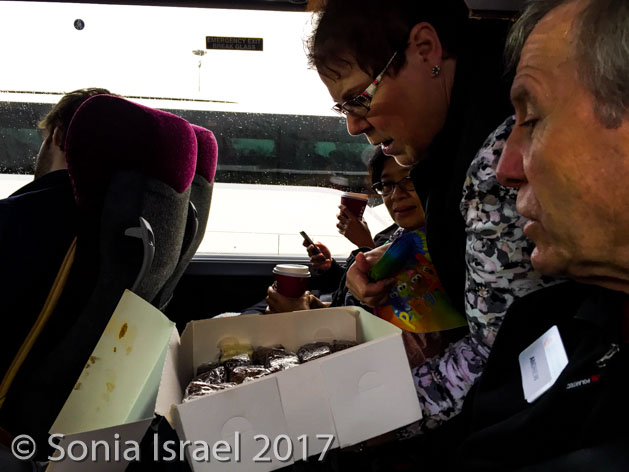 Colm told us about industry in Ireland. IT is big here in Ireland. Apple and Google have a large presence in Dulbin (right behind our first hotel) as do Facebook ad Yahoo. Second is pharmaceuticals and third is tourism.
He told us that Hibernia was the previous name of Ireland because it was thought to be the land of perpetual winter.
We left the motorway and drove on narrow country roads. Farms are everywhere once you leave the city, and grass is the most common thing grown. And speaking of farms, they are absolutely beautiful as you drive through the country side. There are green fields, shades of green like you have never seen, and they are dotted with white sheep and cows grazing (there 4.5 million sheep here). And the sheep all looked like they have been painted in red or blue or yellow or green. In fact, they have been.  Each farmer marks his sheep in some pattern to they can identify which are theirs. And the farms are divided with old stone walls which make the hills looks like checker boards.
The hills were literally rolling. The mountains were covered in trees in fall colors. The sky turned blue as we crossed into North Ireland. And that combination of colors was awe inspiring.  We passed lakes. We passed a church and/or cathedral in every village and each had an old graveyard by its side. Each village had colorful houses lined up on the main street.
And as we crossed the border into North Ireland, the signs changed and were now just in English. North Ireland is part of Great Britain. The pound sterling is used here, not the Euro. What will happen to this border with Brexit? We were told by one guide, in North Ireland you encourage people to come, and then you encourage them to leave. It is very beautiful here.
Downpatrick
And we arrived in Downpatrick where St. Patrick is buried. It was Sunday, so everything was closed, and mass was being conducted in the Cathedral (yes, also called St. Patrick's). We stopped in the visitor's center where we watched a video about St. Patrick. From there some of our group went to mass and some of us walked around looking for a place to have lunch. Unfortunately, the only thing open was Subway.  You can travel far and still end up in the same place! Andy and I walked up the hill to the Cathedral and walked around the grounds, looking at St. Patrick's grave and the old grave of others.  It was bitter cold so we entered the Cathedral and sat in the vestibule, eating cookies and listening to the service.  Once it was over, an older gentlemen in a purple sports jacket with a purple tie told us the story of the Cathedral. And by now we had heard this story of St. Patrick so many times, that watching him was really the best part.
But we did learn a few new things.  Dun means fort, so this place is called the Fort of St. Patrick. This is the only permanent exhibit of St. Patrick in the world. St. Patrick continues to be a Saint bringing people and communities together.  Ireland is a country of saints and scholars.  St. Patrick was both.
A few more interesting factoids. This Cathedral was previously a Benedictine monastery built in 1180. In 1527 the British burned it down and it took 200 years to restore. There is no crucifix here as they believe Christ rose. The organ pipes here are made of wood. Oh, and by the way, Game of Thrones was filmed here.
Ballycultra
Then it was back on the road, back past sheep farms and colorful trees to Ballycultra, a museum of how life in the countryside of Ireland once was 100 years ago. There are thatched cottages, schools and shops all set up like long ago. Staff are dressed like yesteryear. Some buildings were brought over from their original sites in different parts of Ulster. Some are reproductions. It was cute, but not overly impressive. I think with young kids it would have been more fun. We did have lunch at the tea shoppe which had great homemade soup and Irish black soda bread and the most amazing apple pie (which we photographed but did not eat).
Belfast
And then we arrived in Belfast.
The name Belfast comes from the Gaelic Beal Feirste which means mouth of the shoel, referring to the city's location on the sea and its future role as a seaport.
In 18th Century the first real growth spurt occurred in Belfast with the start of the linen and then rope industries. In 1912, the Titanic, which was built in Belfast shipyards, sank, and the Solemn Ulster League and Covenant was signed. The sinking of the Titanic marked the high point of Belfast industrial clout and although shipbuilding continued, the industry began to decline from that point on. The signing of the Solemn Ulster League and Covenant marked the start of Northern Ireland as a separate state. This of course set the stage for future bloody battles.
The Belfast of today is in many ways a brand-new city. As I read somewhere on the internet, once lumped with Beirut, Baghdad and Bosnia as one of the four 'Bs' for travelers to avoid, in recent years it has pulled off a remarkable transformation from a bombs-and-bullets pariah to a hip-hotels-and-hedonism party town. I found Belfast to be one of the more interesting places we have visited, primarily because of its history.
We drove into the city and the first thing we saw was the Court building with a huge wall surrounding it, left over from the troubled times.
We pulled into our hotel, the Belfast Hilton, which was across the street from the court, behind the concert hall, and just a few blocks from City Hall and City Center. We had about an hour to ourselves, so of course Andy and I donned our jackets and went walking and exploring. We walked to the City Hall which I think is as beautiful as many of our buildings in D.C. Interestingly, while the courts had walls and cameras (even to this day) protecting it, City Hall did not.  That is because the trials took place in the courthouse and not City Hall.
What is now City Hall was once the White Linen Hall, an important international Linen Exchange. Belfast was known for its linen industry, rope-making and ship building and due to these thriving industries, in 1888, Queen Victoria gave Belfast city status.
The sun was starting to set which made the light on the buildings even more gorgeous. We walked back on Grosvenor Road, through the concert hall and to the waterfront. Then back around again to our hotel.
We made it back to the hotel in time for dinner at the hotel.