Day 4, Saturday October 22, 2016
Our time on our own ended today as it was the first day of our CIE tour. We had decided we did not want to drive all through Ireland since I like to spend time looking at the country side (not at the road) and I like to know what I'm looking at. So we arranged to travel for 7 days with CIE tours.
We Ubered over to our next hotel, the Radison Blu. Yes, Uber is in Doblin, but it is the taxi drivers that are also Uber drivers and the price is the same. The difference is you can order one on your app and the charge is automatic, just like with the regular Uber.
Although we got to the hotel early, they had a room ready for us. The rooms were nice and the shower was great, although it took a while to figure out how to use it as it had a very unusual handle/faucet. The only down side was no outlets by the bed, just at the desk. But is was very centrally located and we immediately went out to explore.  We walked to St. Patrick's which was only one block away but then veered right to walk around the gardens of Christchurch Cathedral. We kept walking though narrow streets, in neighborhoods where we saw people feeding the pigeons and kids playing. We walked along the river again, on the South side, by the Law Courts, another beautiful old building reflecting in the river.  Since it was a Saturday, the streets were full of people, both locals and tourists. We made our way to Temple Bar enjoying all the street activities.
Molly Malone
I remembered seeing, but not photographing, a statue of Molly Malone. So we made our way back and were able to find it for a photograph.
Molly Malone is a popular song, also known as "Cockles and Mussels" and as "In Dublin's Fair City," set in Dublin and considered the unofficial anthem of the City of Dublin. The song tells the fictional tale of a fishmonger who plied her trade on the streets of Dublin, but who died young, of a fever. In the late 20th century a legend grew up that there was a historical Molly, who lived in the 17th century. She is typically represented as a hawker by day and part-time prostitute by night. In contrast she has also been portrayed as one of the few chaste female street-hawkers of her day. Molly is commemorated in a statue designed by Jeanne Rynhart and was erected in 1988 to celebrate the city's first millennium. It is affectionately known as the "Tart with the Cart," or the "Trollop with the Scallops," and Molly is portrayed as a busty young woman with a low-cut dress and large breasts, which were justified on the grounds t
hat as "women breastfed publicly in Molly's time, breasts were popped out all over the place."  And of course given tourists penchant for touching everything, the bronze on Molly's cleavage has begun to wear off.
 Here are the lyrics to Molly Malone: In Dublin's fair city, Where the girls are so pretty, I first set my eyes on sweet Molly Malone, As she wheeled her wheel-barrow, Through streets broad and narrow, Crying, "Cockles and mussels, alive, alive, oh!" "Alive, alive, oh, Alive, alive, oh," Crying "Cockles and mussels, alive, alive, oh". She was a fishmonger, But sure 'twas no wonder, For so were her father and mother before, And they wheeled their barrows, Through the streets broad and narrow, Crying, "Cockles and mussels, alive, alive, oh!" (chorus) She died of a fever, And no one could save her, And that was the end of sweet Molly Malone. But her ghost wheels her barrow, Through streets broad and narrow, Crying, "Cockles and mussels, alive, alive, oh!" (chorus)x2.
CIE Tours
And then it was time to return to the hotel and meet our group. Our guide for the next week is Colm. We are a group of 21 people, all from the States except from a mother and daughter from Taiwan. Everyone was very nice. There was Steve and Thea from NJ, but who both grew up in NY. There was Dan and Jean from Connecticut. Those were the 4 we mostly ate meals with.
This was to be a 7-day trip. And then on the last 3 days, we would have a private guide and driver, more our style. But that is to come later.
CIE tours are famous in Ireland as they are one of the bigger tour companies, in business for 84 years. They are known for having knowledgeable guides They assign seats on the bus each day so everyone has a turn in the front. They describe themselves as having set their own high standards for delivering excellent vacations with state-of-the are luxury coaches, the best hotels and carefully chosen visits. I will say that the bus very comfortable with seats that seemed to mold to your back, although they did not recline. There was free wifi on the bus which is how I posted pictures from the trip, but probably was distracting from just watching the sights. They assigned seats and each day rotated them, but because there were so few of us, and the bus sat 50, we could move around to any unassigned seats. The hotels were OK, not what I would call the best, but the standard was different. We generally like to travel with just 1-2 other couples and not 21 people. We like private cars and not buses. But, I also did not want to drive myself. Everyone said it would be easy to drive in Ireland. But for me, I wanted to be able to see the sights, know what I was looking at, and not focus on the road or figuring out how to make a left turn or avoid hitting the shee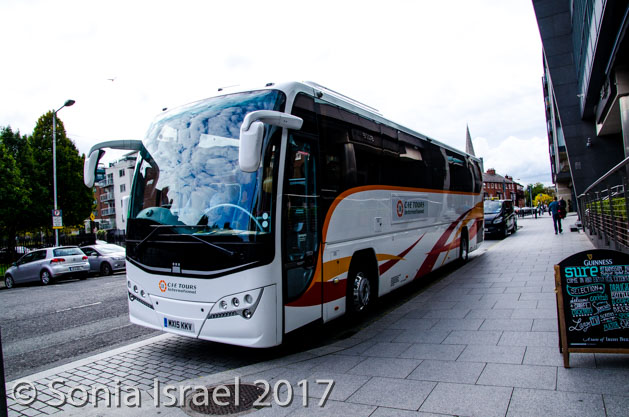 p. So while this was not our level of travel, it suited our time table and we got to see all the sights we wanted to, plus more.
We were given green boxes with earphones which would stay with us for the entire 7 day trip.  This was how we would hear the guides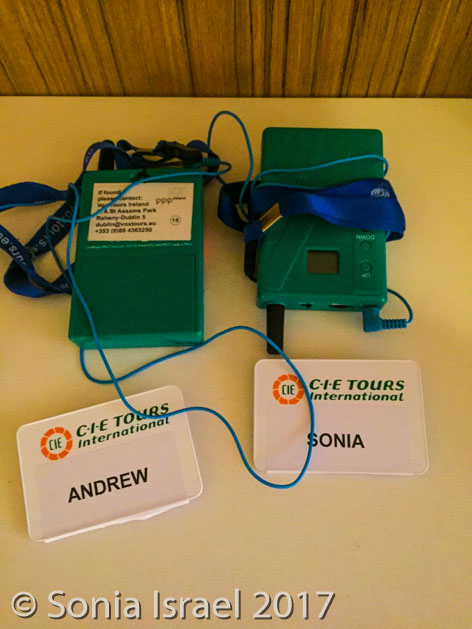 .  I liked that a lot as I could wander a bit, away from the crowd, take pictures but still hear what the guides were saying.
We drove around the city seeing some of the sights we had already seen and some areas of town we had not. It was a good overview, but with not much depth.
We did make our way to St. Patrick's Cathedral for a tour. I was not very excited about it, but I must say it was really interesting.  Every town in Ireland seems to have a church or cathedral named after St. Patrick. Seems every city in the world does as well.  I learned we have one in San Diego.
St. Patrick's Cathedral
This St. Patrick's in Dublin was originally built 1220-1259 on the site of an ancient well which was supposed to have been used by St. Patrick. It fell into disarray many times, and was reconstructed and fell into disarray again. In 1860 Benjamin Guinness, son of Arthur Guinness, offered to pay for the total restoration. But he insisted that no one interfere with his plans for the Cathedral.  He himself designed it down to the tiles on the floor. The Guinnes logo appears in just a few tiles as a reminder. The board was hesitant, but they had no other option. It took five years and 150,000 pounds. In the end, the representatives of the Cathedral and the congregants were very grateful and built a statue of Guinness which now sits in the garden.
In the midst of the Cathedral, is the Door of Reconciliation. In 1492 (besides Columbus sailing the ocean blue), two Irish families were in a bitter feud which escalated into warfare. One of the families realized that the fighting was getting out of control and took refuge in the Cathedral. The other family followed them and asked them to come out to make peace. But the first family was afraid they would be killed so they cut a hole in the door, thrust his arm through and thus offered his hand in peace. This is known as the Door of Reconciliation and gave life to the Irish expression, "To chance your arm."
But what about the story of St. Patrick? Who was he? St. Patrick is the primary patron saint of Ireland, along with Brigit of Kidlare and Columba. But how did he get to be a patron saint? The story goes like this. As a 16-year old in Great Britain, during approximately the 1400's, he was kidnapped by Irish pirates and brought to Ireland, which then was a pagan country. At that point he was not a believer. For six years he was a shepherd. One night he heard a voice tell him that he should escape to the coast where a boat was waiting for him. He walked for 28 days and ended up shipwrecked in France. There was no food. The sailors prayed to pagan gods but still there was no food. Patrick prayed and pigs appeared.  So the sailors converted. Over time he became a cleric. He had another vision telling him to return to Ireland where he converted thousands upon thousands of pagans and Celtics to Catholicism.
There is also a story about St. Patrick and snakes. Since there are no snakes in Ireland, it was (is) believed that St. Patrick banished them into the sea (with this theme coming from the story of Moses and Aaron in Exodus when Aaron's staff turns into a snake and eats all the other snakes). But the truth is that there were never any snakes in Ireland.
St. Patrick's day is the supposed day of his death and he is buried in Down Patrick, which we would visit in a few days.
The Cathedral itself had beautiful features. At each seat was a needle pointed  cushion to kneel on.  They were beautiful. I asked if they belonged to people who sat in those seats but was told that they were all donated by different people who make them especially for the church. The church is more like a museum although it is an active cathedral. There were areas to make rubbings and other activities for children. There were old Celtic crosses and engraved headstones. Even the tombs had stories, like the tomb of Jonathan Swift. Jonathan Swift was a dean at the Cathedral. (In the Church of England and elsewhere in the Anglican Communion, the dean is the chief resident cleric). Of course he is more famous as the author of Gulliver's Travels.  There are many of his artifacts on display in the Cathedral, including early editions of his writings including 'A sermon upon sleeping in Church' (which is particularly funny as he was known for giving very long sermons – hours long), two of his death masks and a cast of his skull. He is also buried here. As he got older, Swift experienced imbalance and noises in his ears. He was believed to be mad, but after he died it was discovered that he had Ménière's disease', i.e., a loose bone in his inner ear.
Marsh's Library
We had free time at the end of the tour so Andy and I walked back towards the bus. Colm met us there and said we had time to go next door to Marsh's Library. It cost 2 Euro and he paid for us to go in. While not as breathtaking as Trinity College library, it was still gorgeous and had the wonderful smell of old books. It was the first public library in Ireland in 1707 and still has over 25,000 books and 300 manuscripts. Andy and I walked through a small garden, up a flight of stairs and through the front door.  Then we climbed up the three more flights of stairs to get to the entrance to the library. The oak shelves and the fixtures are all originals. It is smaller and therefore more peaceful than the library at Trinity College. My fingers itched to touch the books. But that is not allowed. The ladders climbed to the upper shelves. The books bound in old leather. Many of the books were rare even back in the 1700s, and in order to read them, the scholars where locked in cages with the book of their choosing. The cages are still there today, although no longer used.
Ireland is a nation full of folk lore. Marsh's Library is no different. It has a ghost. the ghost of an old man who has been seen at midnight browsing through its ancient bookshelves, the ghost of its founder, Archbishop Narcissus Marsh. A popular explanation of the archbishop's ghostly appearance concerns a favorite niece of his, a girl whom he had reared from a child. When the girl fell in love with a sea captain, the archbishop strongly disapproved and tried to prevent her from seeing the man. The young couple then made up their minds to elope and the girl, doubtless to assuage her conscience, wrote a note to her uncle, pleading for his forgiveness, and placed it in one of his books in the library.  Archbishop Marsh, however, never found the note that might have consoled him for the loss of his beloved niece, and he returns every night to look for it.
And on the interior steps, there was a math puzzle. I am not sure I got it all, but it said: "Start with the number 1. Times it by 3. Add 3. Multiple by 10.  What is half your number? Take away 5. Add 4. This ends up with 29 and I am not sure what the significance of that is.
Dinner at the Pub
That night we went out to dinner with Art, one of the men on the tour. We went looking for a pub with great local atmosphere but not so swarming with people that you couldn't move. Several pubs that we visited were either too incredibly noisy or were not serving dinner. By accident, we found Sheehans. There are several levels, so it's possible to walk around and find your perfect spot. We got there at about 7:00 and large crowds had not yet arrived. We got a booth, got a menu, and happily ordered our beer and our meal. Andy had Irish stew (made with Irish lamb) and Art had beef stew made with Guinness and topped with puff pastry and I had fish and chips. That was served with chips, what we call french fries, and a lovely small salad with a delicious dressing. The meals were not expensive, but incredibly tasty. There was a TV showing the rugby game, but it was not so loud that it overwhelmed conversation. All in all great local color, great drinks and most importantly great food.