Hakone, Japan
Saturday, Day 1, July 31, 2016
We landed in Narita an hour late. We made it through immigration quickly, and since we had carried on our luggage, made it out into the terminal in just a few minutes. We dashed over to the train station (great signage throughout the airport) and got on line for the train ticket machines. Mistake. While it is in English, I couldn't find our destination on the list. So we moved over to the ticket line where we could talk with a real person. That worked much better.
Next time, forget the machines and always opt for a real person!  We got our tickets, but unfortunately missed the train we wanted by just a few minutes.  But there is always another train. We found our track and waited. The bullet train arrived right one time (everything in Japan is right on time – or is it?).  We took off and watched the miles and miles of green, green rice fields, planted in straight rows which were glistening in the sun. We watched children in school uniforms walking home through the fields. We watched people working in the fields. And all this at 6:00 at night. As we approached our first stop, Tokyo, the green fields morphed into tall buildings. At this point the train was split in two with the front cars going one way and the back cars going another (so be sure you are on the right end).  The trains are new and comfortable. There is place for your luggage, and if you want you can lock them in place with a combination lock. We had reserved seats, which cost a bit more, but seemed worth it. There is a digital sign announcing the stations, both in English and Japanese, as well as overhead announcements, so no fear of missing our stop.
Unfortunately, the train was going slower than expected and we were told that there was "congestion" on the track so we arrived at Shinagawa station four minutes late and thus missed our connecting train as well.  But there's a train every few minutes and we made our way to Odawara. The driver from the hotel was waiting for us and we commenced our 45 minute drive up through the mountains to the Hyatt Regency in Hakone. It was quite dark along the route so we really couldn't see much.
Hakone, with a population of only 15,000 inhabitants, is an area that is part of the Fuji-Hakone-Izu National Park. It seems to be made up of many little towns. It is only about 1.5 hours away from Tokyo so many tourists, and locals, come here just for the day. But we decided to relax here for 4 days. Hakone is most famous for its hot springs and for views of Mt. Fuji, if you can catch it on a clear day. Many of our friends have been here but saw nothing but fog and rain.
The name "Hakone" means hako=box ne=root as it looks just like a box surrounded by mountains.  Big beautiful, green mountains. This "box" was formed by volcanic activity which also formed Lake Ashi and all the hot springs. In fact, there are over 20 types of hot springs. For this reason, Hakone has been designated as a Geopark by UNESCO.
Hyatt Regency Hakone Resort and Spa
We checked into our hotel, the Hyatt Regency Hakone Resort and Spa which has its own onsen (hot springs), a mineral hot-spring spa rich in calcium and magnesium that is said to have healing and health-promoting properties. We visited every day and it did manage to melt away my stress. Our room was upgraded and we found ourselves on the top floor in a spectacular room. This hotel feels like a modern version of a ryokan (typical Japanese hotels). Turns out they also have traditional Japanese rooms here as well. We were given yukata (a traditional garment, like a kimono) to wear whenever we are walking around the hotel including for breakfast or dinner. Like going to the dining room in our robe. Takes a bit of getting used to, but almost everyone does it, and boy is it comfortable. The sleeves are very wide so they give you terry bands to tie them up while you eat. Of course you remove your shoes when coming into the room, and there are separate wooden shoes to wear around the hotel. I would have liked a little chair in the anteroom as for some of us it is hard to stand to put our shoes on. The shower in our room was not just a shower but a shower room with the bathtub and shower all enclosed together. The bed was extremely comfortable, although that part could've been the jet lag. But I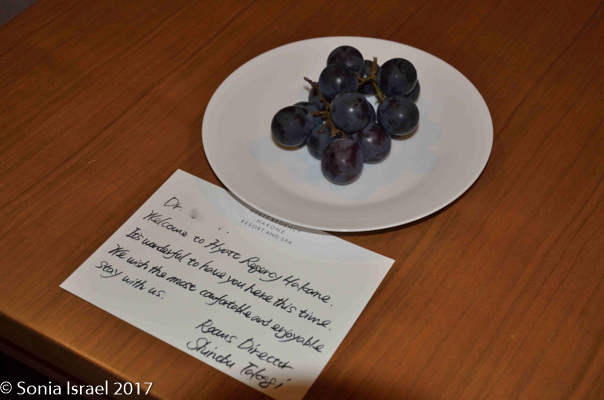 don't think so. There is a separate enclosed sun terrace with wall-to-wall windows overlooking the mountains. On the terrace there is a table with chairs, where we found grapes and a lovely note welcoming us. There's an Nespresso coffee maker as well as an electric kettle for boiling water for tea.  And every evening there are complimentary glasses of champagne, beer, wine or the cocktail of the day.
But tonight we just crashed.
Sunday, August 1, Day 2
We woke up at 130am. You would think I would know how to handle jet lag.  And I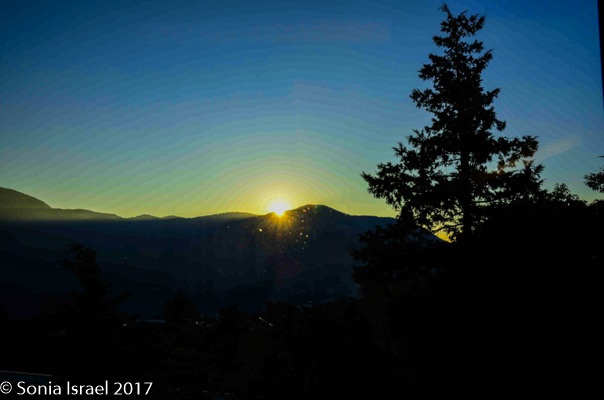 do.  I just don't necessarily follow my own advice.  But we relaxed in our beautiful room and eventually watched the sun rise.
It was going to be a beautiful day. We went down about 630 and sat in the common living room reading the paper. At 7:00 they began serving coffee. At 730, the restaurant opened for breakfast. Japan is such an industrialized and industrious country where people work long hours. Yet breakfast is not served till 730.
Tozan cable car
After breakfast, we hit the road, wanting to see as much as we could while the sky was still such a brilliant blue. We got directions for the Tozan cable car. It was just up the street. Turn left up the hill and you will run into it. Only a 5-minute walk. Or so we were told. We walked up the street. We didn't run into it. We walked some more.  We still didn't run into it. After 20 minutes of walking up hill, we decided we must have missed it. This is a residential area. It should not have been hard to miss.  So we walked back down the hill towards the hotel. When we were almost back, we saw some other tourists, Japanese tourists, and we asked. Ah. Make another left at this road and that takes you right there. If only those had been the directions we originally got. But as my family says – monuments at night (long story and private joke).
So, a block later we were at the Tozan cable car. Mind you, it was only 915 in the morning, so even with our detour, we were well ahead of the crowds.
The Hakone Tozan Cable Car is 9-minute ride from end to end, connecting the town of Gora and the Sounzan Station, our destination. We were only one stop away from the top. There was no one working at our station, but there was a ticket machine. Turns out you take a ticket (like out of the ticket line at a deli or bakery) and when you get to your destination, you pay based on where you got on.
The red cable car, pulled by ropes between the tracks, made its way up the mountain and we climbed up.  Turns out maybe we didn't beat the crowds after all. Tozan mean "mountain climbing" and it sure did just that. The cable car has large windows and we could see the scenic panorama of the Hakone mountains.
The Hakone Ropeway
At the top, we paid our fare and got on line to buy tickets for the ropeway. A word here about paying for transportation. There is a Hakone Free pass which you can buy for 1-2 days. It didn't cover our train to Odawara, but does cover some of the trains. It also covers all the buses, cable cars, ropeway and has discounts for the museums. For some reason, we were discouraged from buying one since our train was not included, but in hindsight, it might have saved us some money. I'm not totally sure of that since the pass is about $50 per person, but by the time we were done with all our transportation and museums, maybe it would have been worthwhile. The problem is that before you are here, you have no way of knowing how much you will need it. And you have to buy it at the train stations before you get here. Oh well.
Now it was time for the Hakone Ropeway which would take us past views of Mt. Fuji, the volcano steam vents of Owakudani and Lake Ashi. The ropeway is a sky ride or gondola that seats about 20 people. There are seats facing in both directions. There is post with fans in it to keep yourself cool (cool is an exaggeration) as there is no air conditioning or other source of air. Actually, there were some little windows on top which were open, but they did no good. So the fans were a welcome relief.

The first part of the ride was from Sounzan, the start, to Owakudani. This part of the ride had been closed for months due to the volcanic activity and gas fumes rising from the volcano. But we were lucky. It had just opened again. They did give us "medicinal towels" to cover our nose and mouth if needed. It was not needed. The Owakduani, which means great boiling valley, is a volcanic hot spot full of sulphurous springs. It looks very yellow from above, with steam shooting out from the ground.
And as we crested the peak, there it was in all its glory. Mt. Fuji.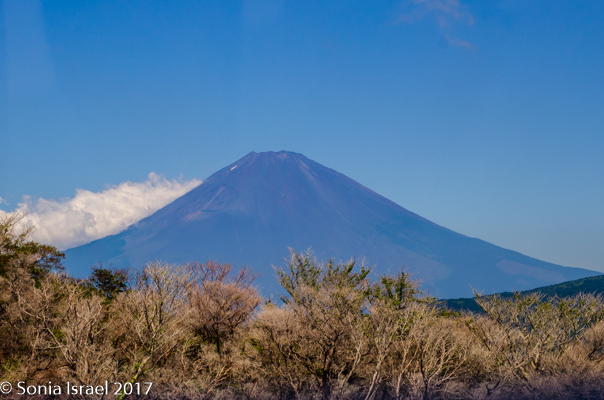 Mt. Fuji
Mt. Fuji is Japan's tallest mountain at 12,400 feet. It has been worshipped as a sacred mountain and has been painted countless of times. It is still considered an active volcano although the last eruption was in 1708.
When we were in Myanmar, our guide Toe told us we must be living a good life as we were very fortunate to see things that most tourists never got to see. Even the Hakone guide books say, "Note however, that clouds and poor visibility often block the view of Mount Fuji, and you have to consider yourself lucky if you get a clear view of the mountain. Visibility tends to be better during the colder seasons of the year than in summer, and in the early morning and late evening hours than during the middle of the day."
So this is how we felt today. We must have been doing something right. The sky was so blue, the sun was shining, there were no clouds in sight and we could see Mt. Fuji. It was almost hard to recognize because in all the pictures and when I have seen it before from the plane or from the bullet train between Tokyo and Osaka, there was always snow at the top or clouds looking like a skirt or hoola hoop around it. But you couldn't miss that distinctive shape. It was beautiful.
The first section of the gondola ended here, so we got out. We looked out at the sulphur fields and then got back on the next gondola. That was a mistake. We should have walked down to what looked like just a bunch of tourist shops. We forgot that this is where they sell black eggs, which are eggs boiled on site so their shells are black due to a chemical reaction with the sulphurous water. The egg itself however is supposed to be quite tasty. According to Japanese legend, every one you eat will add seven years to your life.  Ah well. I guess we just lost 7 years.
The next gondola made another stop at Ubako, but we stayed on until we got to Lake Ashi, the last stop. The views on the way down, of the lake, of the path below us filled with flowers and of Mt. Fuji, were spectacular.
At Lake Ashi, you can take a Pirate Ship around the lake, or a regular ferry. We opted for the ferry, although initially it was not easy to find. When you get off the gondola, it deposits you right at the Togendai Station and the Pirate ship. In fact, when you first buy your one-way or round trip ticket for the gondola, you can add in the Pirate shi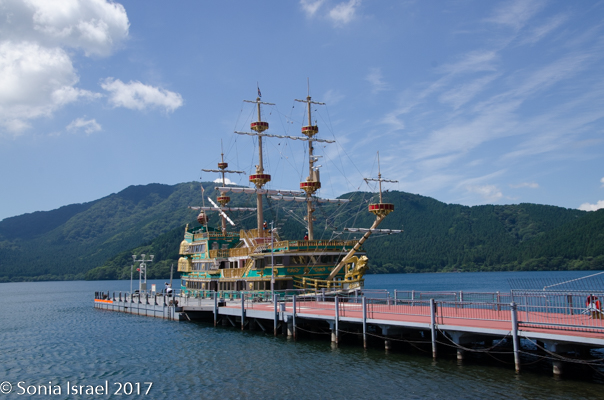 p. But it seemed to much like Disneyland for me. We wanted to find the ferry at Kojiri.
So we walked a short way around the lake until we got to a dead end. There was a small restaurant there so we asked where to get the boat. Note that when I say, "asked", I really mean sign language. They directed us up the driveway to the street which continued around the lake. Turns out we could have come right out of the gondola building as well. We walked a short distance and found the ferry terminal. Within a few minutes the large catamaran arrived. We climbed on board and began our tour of the Lake Ashi. The lake was a brilliant blue with small fishing boats and swan boats floating around. We were surrounded by tall green mountains, and the sky continued to be a cloudless.
Lake Ashi
Lake Ashi, or officially Lake Ashinoko, meaning lake of reeds (ashi = reeds; ko = lake), was formed in the caldera of Mount Hakone after the volcano's last eruption, 3000 years ago. It is most famous for its view of Mt. Fuji in the background and has become the symbol of Hakone. The shores of the lake are mostly undeveloped except for a few small towns and resorts. The rest is mountains and forests. Beautiful green mountains and forest. In the winter of course, the surrounding mountains are all covered in snow. But the lake never freezes due to warm currents underneath. In fact, there are both cold water fish and warm water fish here, and thus fishermen everywhere.

As we left the dock, to our left, we saw a very small red torii gate in the water, at what looked like the end of dock. Local legend tells the story of a dragon that lived in Lake Ashi, who would inflict damage on the lives of people living near the Lake. A chief priest of the shrine used his magical powers to change the dragon into a 9-headed protective spirit. Kuzuryu Shrine was built in 1988, the year of the dragon in honor of the legend. Every year on the night of July 31 at the shrin, the chief priest alone takes a boat out onto the lake and pays tribute to the dragon's spirit. And note, we were here on July 31.
Motohakone
The ferry made three stops before we got off at Motohakone. On the shore of the lake here is a Hakone Jinja Shrine with another, much larger red tori gate in the water. And a red torii gate at the entrance to the town.
We had about 40 minutes before the next ferry arrived, but that was plenty of time to walk around and get some lunch. We choose a noodle house, Shinsho Soba, where we had cold soba noodles and ice cream for dessert. The ice cream here is soft serve made primarily of milk and served in a cone made of cookie. Yummy.
We walked around the small town and saw the preparation for the festival to occur tonight, including fireworks (although by nightfall the sky was covered in clouds). There was a man with his met owl.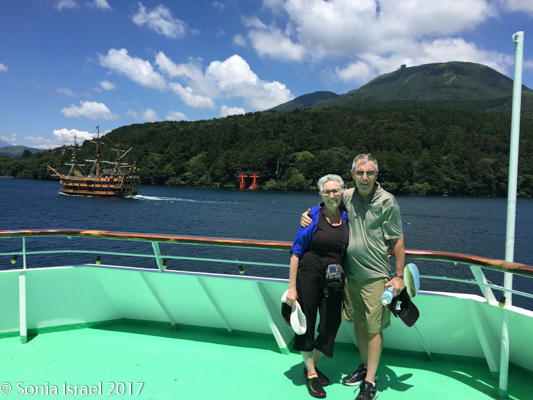 But we were not hanging around. It was back to the ferry and back to the gondola. As we headed back, big white clouds began appearing the Mt. Fuji began playing hide and seek with us. We were so glad we had come early in the day before the grand mountain was again covered in clouds.
We rode the gondolas and the Tozan cable car back to the hotel. We cooled down (yes, it is hot and humid), and then the hotel shuttle took us to the Hakone Open-Air Museum. Again we lucked out as it only drizzled a little but mostly the sun popped in and out of the clouds and we got to walk around this amazing place.
Hakone Open-Air Museum
Opened in 1969, this is a primarily a sculpture museum spread out on about a third of a square mile. At the entrance there is an escalator, with a glass cover through which we could see the mountains, and which took us down to the grounds. At the bottom is a plaque explaining that the mission of the museum is to create "a harmonic balance of nature and art by exhibiting various sculptures on its spacious grounds in combination with beautiful views of the surrounding valley and mountains."
And then you turn the corner and the world opens up into a large green expanse covered with art. It took our breath away.
There are 120 sculptures by well-known modern and contemporary sculptors, including Henry Moore,Rodin, Bourdelle, Miro, Brancusi, Morie Ogiwara, Boccioni, Lipchitz, Modigliani, and Shin Hongo. There is also a Picasso pavilion which is an art gallery devoted to works of Picasso including paintings, drawings, prints, sculptures, ceramics, golden objects and tapestries. More than I ever realized Picasso created.  At one end of the garden there is a footbath. When I saw this on the map, I thought it was the name of a sculpture. No.  It was really a footbath, 65 feet long, where 30 people can sit and soak their feet in the hot spring water while gazing at the art around them. There was a Zig Zag World (room) which was for familes with small children to relax and play. The play sculpture was designed by Isamu Noguchi and is a "world of play, a world of architecture and a world of art."
We just walked around slowly, enjoying each piece, taking pictures of course, and marveling at the beauty of the art and of the nature around us. The mission of the museum was indeed a success. Two of my favorite pieces were a large marble head with plants growing out and around it just like hair called La Pleureuse by Clause and Francois-Xavier Lalanne and two adjoining pieces by Takao Tsuchida called Surprise with the Glare-V and Sound of Wind. Oh, and I loved Miss Black Power by Niki de Saint Phalle (we have many of her mosaic works in Balboa Park in San Diego). And at her feet was another I loved,Close by Antony Gormley, a naked bronze figure spreadeagled on the emerald lawn. And I loved the Brancusi.  Ok, ok, there were lots of the that I loved. There was a golden globe reflecting the world back at by Arnaldo Pomodore, called Sfera con Sfera (Sphere Within Sphere).
And down the hill was a play sculpture called Curved Space – Diamond Structure by American artist Peter Jon Pearce. It was a castle made of triangular bubbles each building on the next and soaring to the sky. And it was full of children climbing in and around it. The aim again, to help children discover the fun of beauty and modeling to create colors and light.
The was one large steel tower Symphonic Sculpture by Gabriel Loire, which from the outside did not look like much. But once you climbed the stairs you were surrounded by stained glass in all colors, with the sun shining through and creating the most beautiful light and colors. Andy climbed all the way to the top to see the views, but I stayed and just let myself feel the colors.

And then there were the Moore reclining figures. Moore always leaves me breathless. The form. The curves. The flowing movement. The museum owns 26 of them which the rotate. But we saw at least 4 or 5 of them.
There was a whole separate building for the work of Picasso, not just sculptures but his are in general. Including his paint palette (special of one of you – you know who you are). Pictures were not allowed inside, but there was plenty to photograph on the outside.
The park itself was also beautiful with flowers, particularly hydrangeas, everywhere. Hydrangeas are the flower of Hakone and grow everywhere. We are just at end of their season so many are already faded. But you can tell how spectacular the whole place must look when they are in full, purple, bloom. Although it is August, some of the leaves were a fire red which also added to the beauty.
And, as you will only find in Japan, there was a onsen just for your feet.
When we were done, we called the hotel and the shuttle came to pick us up.  By now our jet lag was catching up with us. Yet we knew we had to eat dinner and the hotel restaurants seemed like too much. So we walked a few feet up the street to a small place we had passed that morning. It looked like someone's house and this was primarily a residential area. Outside were two spaniels and a sign saying tea and flowers. It was a combination florist and restaurant, open only in the morning until 4:00.  Or so we thought.  We got there about 3:45 and while the two women were still there, they were closed. We said we thought they were open until 400 and we wanted a pizza to go. They invited us in, gave us ice water to cool down (it was very hot and humid out), and made us a pizza. We chatted with what I assume was the owner. She said that 70% of her business is tourists who stop by for their homemade bread for breakfast, or for lunch. And when the pizza was done, they wished us a wonderful day, we bowed and thanked them and made our way back to the hotel. They were gracious and friendly. But more importantly, the pizza was fabulously delicious.
We went back to our room and donned our yukata and went down to the area called the Living Room for our afternoon complimentary drink (champagne for me, beer for Andy).
After imbibing and relaxing for a bit, we went to soak in the onsen.
Onsen
Tradition at a onsen is that you first wash yourself with soap to be sure you are clean. There are bathing stalls with showers and shampoo and soap, a stool and a wooden bucket. Entering the onsen while dry or with soap on you is socially unacceptable. It is also unacceptable to take pictures. But on one of my visits, I was the only one there, so it was possible to take a few shots to show how calming it is.
After walking 6 miles today (15,000 steps) my whole body melted into the hot water, the aches of my muscles resided, and I felt totally refreshed. Just refreshed enough to go to sleep.