Another day in Hakone
Monday Aug 2, 2016
Woke up at 330 today which was an improvement over yesterday.  Made some tea,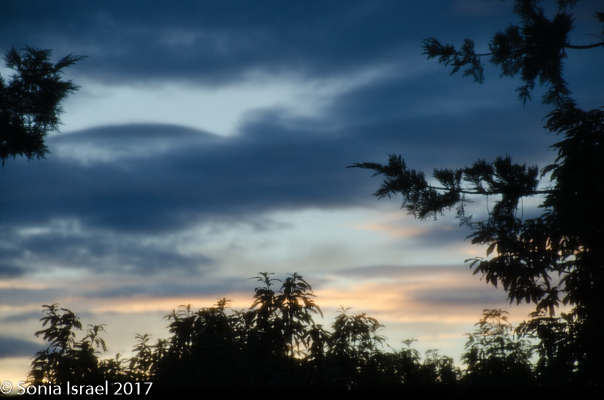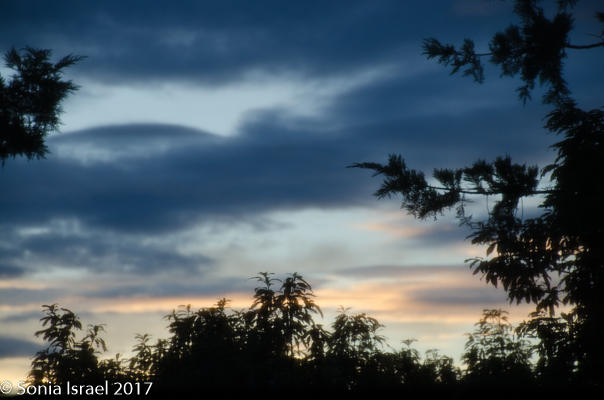 read, relaxed. Not a bad thing. Watched the sun rise through the black clouds and fog. Would it rain today as predicted? It was finally time for breakfast.
A word about breakfast here. As with all Japanese hotels (at least all I have stayed in during my 9 or 10 visits), breakfast buffet is a mix of traditional Japanese or Western. The buffet here was smaller than most, but there was still plenty of food. A hot soup. Rice. Congee. Fish. Eggs (scrambled or made to order). Breads. Sweet rolls. Lox and capers. Brie (no other cheeses). Fresh squeezed orange juice. A vegetable concoction made of cucumbers, green leafy vegetables, apples etc which tasted surprisingly good (not wheatgrass). Our breakfast was included but that was not the case for everyone staying at the hotel.
We decided to walk into town this morning as the hotel shuttle service doesn't begin until 11.  The good news is that it was all downhill. When we first planned the trip, I hadn't realized that Hakone is in the mountains with more mountains all around.
Gora Park (Gora Koen)
Our first stop was Gora Park (Gora Koen) which is a French style landscape park located on the steep slope above Gora Station. The focus of the park is a large fountain surrounded by azaleas and a lovely rose garden. Since this is a mountain, there were some lovely views from the top.  There is a Crafthouse where visitors can pay to blow glass, do glass etching, or make glass beads. Yes, make glass beads. I was excited to so that, but you have to make a reservation and then it takes about an hour including the kiln and the cooling. So it was not to be.

We then hopped on the local bus. There are several, but one is called the tourist bus as it stops at all the local museums. And there are lots of museums here! Lots! Who knew?  So many tourists come to Hakone for just one afternoon to try to see Mt. Fuji.  But they miss out on all the other wonderful things there are to see here.
To pay on the bus you take a ticket which had your zone number on it.  You hold on to that till it is time to get off.  Each stop is both announced and printed on a large screen at the front of the bus.  The price you will owe then flashes up by zone.  Payment is exact change only which made me panic, but turns out there is a change machine on board the bus. So the whole thing turns out to be quite simple even if you don't speak the language (which I don't) or don't know where you are going (which I didn't).
Lalique Museum
We were headed to the Lalique museum. The drive was about 40 minutes along the northern part of Hakone. We drove through forested areas along very curvy roads as we climbed the mountain.  And the road was lined with hydrangeas. We were awed by the beauty of Hakone.
The Lalique museum was quite a find. René Lalique (1860-1945) is a French artist of "Art Nouveau" and "Art Deco" era, primarily known as a craftsman of the objects in glass and as a master of jewelry. My mother had some Lalique, which I now have, so I have always loved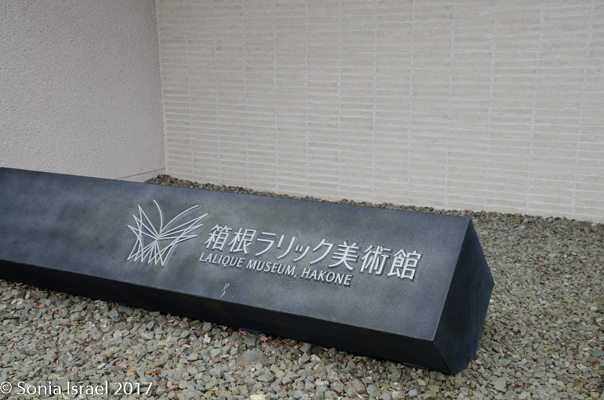 his art. The museum houses his private collection of over 1500 pieces, including over 200 pieces of jewelry. We saw vases, perfume bottles, jewelry, chandeliers, wall lights, fountains and even two hood ornaments sitting atop two old cars. We walked around slowly, absorbing the beauty of the glass. But no pictures allowed. At the end there was an area for children to create their own works of art. This seems to be a theme here in Japan. Help children learn to appreciate art. Not a bad thing!
Little Prince Museum
We then hopped back onto the bus and headed back in the direction of Gora Station, but first made one more stop at the Little Prince museum. Yes. The Little Prince museum.  Musee du Petit Prince de Saint-Exupery a Hakone. It is only when you spend enough days in a place to get beyond the major tourist sites that you find these types of gems.  And this was indeed a gem. It was a journey through the story of the Little Prince. The museum opened in 1999 and is dedicated to the author and creator of the wonderful children's book, The Little Prince, Saint-Exupéry.  If you haven't read it, drop all you are doing and go read it. A very short synopsis: "A single rose bloomed on the prince's planet. The prince tended to it very carefully. However, the rose was very grumpy and the prince couldn't do it anymore, so he left the planet and started to travel. Then, when the prince came to Earth, he found a field full of roses. "I thought my rose was a very rare flower but there is loads of them." The prince lied on the grass and wept. However, his friend the fox let him in on a secret. What's important cannot be seen. The prince realized. "My rose is much more important than other roses." "Why, you ask? Because this is the rose I took care of!" "I will go back to my planet." "If you look up to the sky, all the stars seem to be laughing. There is one of of me in those stars, and I'm there laughing."
The museum covers an area of about a third of a mile and the entrance is an exact replica of the great gate to the Chateau of Saint-Maurice-de-Rémens, where we were greeted by a statue of The Little Prince on his planet. The whole museum is filled with pieces from the story (the snake, the rose, the lamplighter, the King etc.). One area is interactive and I got to stand and make the rose petals float (video available upon request or on Facebook). I walked around the whole time with a big smile on my face.
But how and why did such a museum come into being in Japan? It was founded by Mrs. Akiko Torii to mark the Antoine de Saint-Exupéry's 100th birthday. She discovered The Little Prince as a child and it inspired her with a passionate admiration for the aviator.  [Read the book – you will understand].
We decided to have lunch here. Just to keep the magic going.
This museum was a gem.  A real gem and I am so glad I read reviews of things to do in Hakone beyond the usual and found this place.
It was then back on the bus. By now we were old hands on how to navigate paying. We went back to Gora Station and called the shuttle to come pick us up. It is one thing to walk down.  It is another completely to walk back up the mountain.
Gora Station
The Gora Station, by the way, is a unique building that resembles a mountain hut,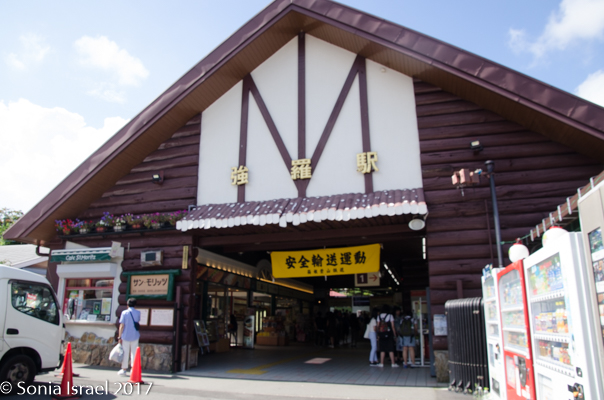 including a small ice cream shop call St. Moritz.
We were back at the hotel by early afternoon and got to soak in the onsen again. The sun was pouring in the window and the trees outside were reflecting in the water. What a way to relax.
Gora Yoshi-Cho
For dinner, we walked about 2 minutes down the hill from our hotel to Gora Yoshi-Cho. We knew nothing about it except that it was close to the hotel without hotel restaurant prices. We were still jet-lagged so got there about 6:00. There was only one other person having dinner, a local Japanese gentleman.  The menu offered a la carte or set menus. We opted for a set menu which included a small plate (fish cake tonight), miso soup, pickles, rice and a main course.  We decided to share the marinated fried chicken and the deep fried marinated chicken. Both were dark meat, tender and delicious, especially the former.  Our waiter, who may have been the owner, spoke excellent English, having spent some time in California.  By about 7:00 the restaurant had filled up with other tourists. There was a full bar and tea was served after dinner. The decor was a bit eclectic, but cozy feeling. There was a world map and we added a pin for San Diego.