Saturday Nov 4, 2017
Fortuna Bay
The hikers among us were up early to walk in Shackleton's footsteps on his last leg of his epic crossing of South Georgia, up the mountain and down the other side. The hike was 4 miles long with 1000 feet of elevation over tussock grass, snow, mud, grass, gravel, boulders, glacial plains with streams and varying depths of snow.  We dropped them off at Fortuna Bay and then continued on our way to Stromness Harbor.
Bay of Stromness
We opted instead to go up to the bridge, where Eduardo was drinking his mate (an Argentinian green tea) , and where we watched us sail into the Bay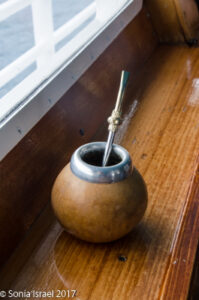 of Stromness with its whaling station. From the bridge we could see some small black dots in the snow, moving down the glacier.  This was some of our people, at the end of their hike, sliding down the snow the way Shackleton and his men did.
Stromness was actually a former whaling vessel repair station, named after the 3-mile wide body of water right in front of it. Out ship anchored very close to shore, but we still had to zodiac in. There were a group of the ever-present elephant seals, but mostly beta males and some females, with the one dominant alpha male. But this was a small harem.
There were a few fur seals lying around, and a few peng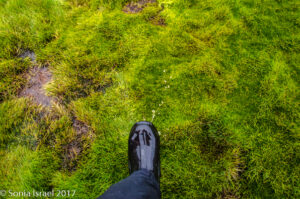 uins to greet us, but mostly it was abandoned buildings, rocky terrain, alternating with squishy moss, and small streams running through it all. I could see the drops dripping of my boots as I walked along. We could imagine how in winter this was all covered in snow, and in the midst of summer, it was all covered in raging rivers from the snow melt.
Shackleton Waterfall
We walked about 2 miles from the beach inland, on flat terrain, to the Shackleton Waterfall (everything here is named for The Boss).
And as I stood there, I tried to imagine what Shackleton must have experienced, the emotions running through him, when after 15 days in the most violent sea in a tiny lifeboat and 36 hours of crossing icy mountains, he finally looked down and saw this bay and this whaling station and realized he had succeeded in finding help for his 27 men still stranded on Elephant Island. Just imagine. In the midst of the exhaustion, the cold and wet and the hunger, finally feeling relief and joy and hope.
We walked back taking in the micro sights of the land. There were streams to cross, penguins to watch, seals to avoid.
There was color everywhere – greens and yellows and blues and oranges. So different than what it must look like in the winter.
The whaling station itself is not really accessible as it was being preserved. There are signs posted all over with big red X's warning of asbestos danger. But we were close enough to see the large tanks and the houses.  And several large propellers that must have been used to fix the ships. In this same bay there were three separate whaling stations. Imagine how many thousands of whales must have once lived here to be able to supply three separate stations. And now they are all gone.
Prion Island
After lunch our ship moved again, this time to Prion Island in the Bay of Isles. The wind had picked up and the water was being blown into white caps. My mother always called this an angry ocean. The mountains were high with the tops covered in snow. The lower parts were green with an orange tint (lichen? flowers?) against the blue/gray ocean. Except where the glaciers were emptying into the sea. Giant petrels, in white and black, were flying all around.
It was cold out there. Doug came over the intercom to let us know that it was 33 degrees but with high, strong winds. We would have a wet landing on gravel. So once again, we put on every piece of clothing we had brought, donned our muck boots, and headed to our zodiac. This is what landing and getting off the zodiac was like.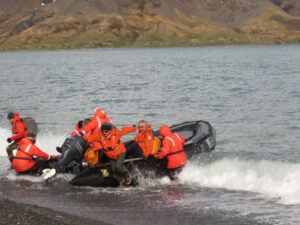 At the edge of the beach was a boardwalk, used to reduce the impact of our boots. And where did the boardwalk lead? To nesting albatross. And petrels. As we climbed up the boardwalk, the wind felt like it was literally blowing me away. I had to hold on to the handrail, when there was one, to keep upright. But when we got to the top, the view was spectacular. The blue/gray waters. The mountains. And the birds. The wandering albatross, sitting on their nests. It was cold. It was wet. It was beautiful.

Dinner – special dinners means the trip is almost over
That night we had a special Philippine dinner. Most of the crew are from the Philippines so they made us one of their special dinners. Every staff member wore the traditional dress. And the buffet line was decorated with the most magnificent carved fruit.
All this meant that tomorrow would be our last day in South Georgia.