Saturday Nov 4, 2017
Fortuna Bay
The hikers among us were up early to walk in Shackleton's footsteps on his last leg of his epic crossing of South Georgia, up the mountain and down the other side. The hike was 4 miles long with 1000 feet of elevation over tussock grass, snow, mud, grass, gravel, boulders, glacial plains with streams and varying depths of snow.  We dropped them off at Fortuna Bay and then continued on our way to Stromness Harbor.
Bay of Stromness
We opted instead to go up to the bridge, where Eduardo was drinking his mate (an Argentinian green tea) , and where we watched us sail into the Bay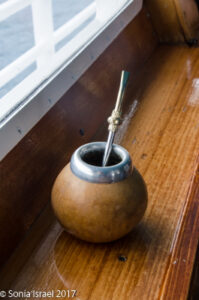 of Stromness with its whaling station. From the bridge we could see some small black dots in the snow, moving down the glacier.  This was some of our people, at the end of their hike, sliding down the snow the way Shackleton and his men did.