July 27-29, 2018
From the city to the pueblo
In the middle of our week in Medellin, we took a two-day side trip Jardin, a small pueblo about 4 hours south of Medellin. As part of the Antioquia region, it is famous for its preserved and colonial appearance. The gorgeous mountains surrounding it don't hurt either.
So Juan Carlos, our guide, and Guillermo our driver, and Andy and I hit the road, driving the narrow roads leading in and out of the mountains.
We passed a police checkpoint.  We saw these all around Colombia. Part of the road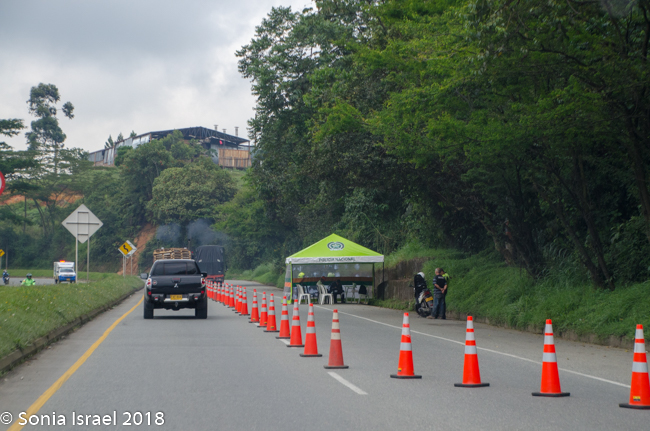 would be blocked off and the police would randomly stop cars.  I asked what they were looking for. Juan Carlos said they were just checking driver's licenses.  I think they were looking for drugs.
The mountains were beautiful. Yellow leaves in between green. Fields of coffee trees. Patches of smooth green in between tall trees. The country side of Colombia is gorgeous.
As we got closer to Jardin, driving through one small town after another, the scenery changed. We saw more horses. We saw more cows.  Less city.  More country. And more and more fields of coffee. There were road side stalls selling fruit, often coconuts or avocados, and usually out of someone's home. We passed lots of laundry hanging to dry or drying on the roof. We passed small shrines. Basically we saw life happening.
And the whole time it was raining, raining and raining some more.
Watch out for crossing animals
And the road signs! We are used to signs notifying us of deer crossing. Or cow crossing. But here there were signs of iguana crossing, tiger crossing, monkeys, falcons, and many more. And each was labeled in case you did not recognize the picture. There was also a sign which looked like eyes closing.  I got excited thinking it meant don't fall asleep driving. But no, it was headlights.
Cerro Tusa
As we drove along, there was a large mountain, looking like a perfect pyramid, playing peek-a- boo with us through the clouds. This was the Cerro Tusa, a domant volcano 6000 feet above sea level and part of the Farallones del Citara mountain range. Juan Carlos told us this was a good place to eat coco leaves and see UFOs.  Of course, if you eat enough coco leaves, you will see UFOs.  We kept watching the mountain hoping for a clear view. And patience paid off, although the best view was from Jardin itself.
Chiva
Along the road, we kept passing the Chiva (meaning goat) bus. This is a very colorful mode of transportation, particularly in the smaller towns of Colombia.  There is much more to the story, but you have to read part 8: Coffee and Chiva, to find it.  Here are a few pictures as a tease.
Jardin
We finally pulled into Jardin in the southwest region of Antioquia. Even in the pouring rain I could tell this was a charming place. The whole pueblo is only a few blocks long, and all streets somehow lead to the main square, or plaza. Our hotel was half a block from the square. We pulled up and dashed inside to get out of the rain.
Jardin is officially called El Jardin, the gardin. Legend has it that when the founders of this pueblo came to the Alto de las Flores (Flower Hilltop), they saw a jungle down in the valley, full of white snakewood, an exotic wood from a small rare tree found in Central and South America. The wood is initially deep red but changes it stripes (ha!) upon being exposed to air, at which point it turns reddish brown. The valley had two creeks crossing it and that beauty caused the explorers to call this place "the garden." In fact, Jardin is still filled with lush vegetation and three rivers and many streams. It is the place to catch trout so you see that quite a bit on restaurant menus.
Hotel La Casona
We were booked at the Hotel La Casona for two nights. The hotel is an old colonial house, 120 years old, converted into 20 rooms, each with a private bath, and as they say, hot water, cable TV and WiFi.  Most of the rooms have multiple beds, sleeping up to 5 people. It advertises itself and quiet and peaceful.  Not so much our experience. First, all the rooms are interior so although there is a window, it looks out at the hall, making the room quite dark, and making it impossible to know what the weather is like. We had one king bed and one single bed and one hardback desk chair, and some shelves for our belongings.  There was barely room to walk around. The WiFi was so weak as to essentially be non-existent. There was one bar of soap and no shampoo (so bring your own). The water in the shower was cold, not hot. When I tried to ask them about it at the front desk, I found that everyone had the same problem.  It had something to do with a weird way to turn on the water.  But that was never explained at check in. The bed was so hard that it felt like we were sleeping on a rock. And quiet? We could hear every person in everyone of the 20 rooms. Yelling in their rooms.  Running up and down the stairs.  Just plain noisy.
Breakfast, which did not start until 8:00am, is included and served in a dining area with communal seating. It is a traditional Colombian breakfast with a choice of arepas or bread, cheesy scrambled eggs and coffee or hot chocolate. The coffee was terrible (quite a surprise!) so we drank the hot chocolate. There was also a coffee station in the lobby area with equally bad coffee. The lobby, by the way, is not really a lobby but more of a hallway, open to the outside.
The décor was quite nice, all red and white. There were chairs all around, but I must say, as pretty as they were, they were not very comfortable.
Given how many hotels there are in Jardin, I would not pick this one again.
Perico
So, rather than drinking the coffee in the hotel, we opted to go around the corner for some real coffee. Right on the square, one flight up was a coffee house, De los Andes Café. The name comes from the coffee co-op, de los Andes, made up of 3600 members (a third of whom are women). Together they comprise over 86,000 acres of coffee farms.  (To read more about the coffee co-ops in Colombia, please see my post about Colombian coffee.)
Now, my go-to coffee is a latte and that is what I ordered. But Juan Carlos, our fearless leader, suggested I ask for a perico. You have to be careful when asking for a perico however, as it can mean coffee with a bit of milk, scrambled eggs, parrots or cocaine! By the way, perico is also called pintado (painted). Might be safer to ask for that.
But what Juan Carlos really wanted me to try was the Conchita (which is the same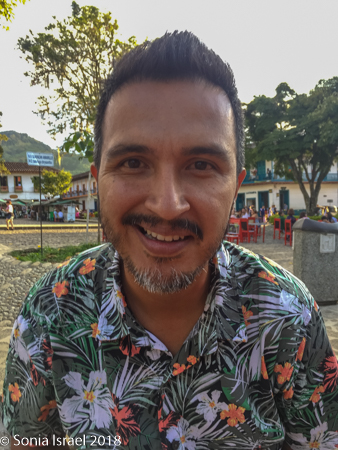 as the tinto, which means ink or in this case, black coffee. Please see my blog on Cartagena for our first encounter with tinto). And as much as I love my latte (or perico), I got addicted to the Conchita. I had two cups that afternoon and then again each morning we were here. It was flavorful and delicious (although I did add a bit of sugar).
The coffee cups were all different bright colors of orange, green, yellow, red making it even more fun to drink your coffee.  And the choice of fresh cakes and pastries were very tempting.
The café is perfectly located, right on the main plaza. And because it is on the second level, I could sit on the balcony and watch all the people and all the action below. The view from there was great.
The Plaza
But the best entertainment in town was people watching on the plaza. Even the Colombia Minister of Tourism thought so as it was declared a national monument in 1885. The plaza is officially called El Libertador Plaza or Principle Park. But really, it is just "the plaza." There were flowers everywhere – roses, ceiba trees and guayacane trees (which are covered in yellow flowers when they bloom in January and February). And carts filled with fruit and candy and toys.
When we first got there, it was raining, and the plaza was empty. But then the sky cleared and turned a beautiful blue. Where the tables were empty before, now they were full. Children started chasing after the pigeons and playing in the square. Dogs were everywhere. People were feeding the pigeons, buying fruit from the carts which magically appeared.
After two days, I realized that the same people came each day and sat on the same bench in the same spot, with their friends or families, chatting about the day's news or just admiring the scenery. Like the older man in the white poncho and white straw hat. He was there every day. That seemed to be the local activity. That and sitting with friends at the cafes, which along with restaurants and hotels, surrounded the plaza.
On Sunday, the plaza was especially full of people. In the evening, we ran into Martha and Gustavo Marin, of Margus Coffee, and their daughter.  (Please see the post on Colombian coffee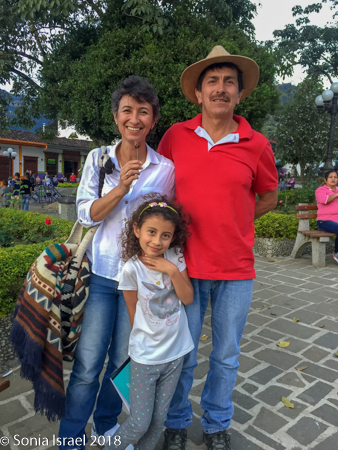 to learn about them). They had come into town to enjoy the crowds and the excitement of a Sunday night in town.
Sombreros
Speaking of hats, all the older men, wore the traditional Colombian straw hats, called sombrero vueltiao or "turned hat." These sombreros have become one of Colombia's symbols. It is made from a type of cane that grows in this region. The quality of the hat is dependent on the number of pairs of fibers braided together to make the hat, with more braids translating into more bending flexibility. And of course, the higher the quality, the higher the price.
Tables and Chairs
Each morning, the merchants put out tables and chairs. When it was raining, the chairs were all folded in as if that would keep them dry. But as soon as the rain stopped and the sun came out, the chairs came down and were immediately filled with people. And all those tables and chairs added the color to the otherwise white feel of the place.
Among the regular colorful cowhide chairs, there were hand painted ones depictig life and scenery in Jardin. They were quite beautiful and  added to the charm of Jardin.
There was a white fountain in the center and the ground was paved with white rocks from the nearby Taparto River. And there was a white marble statue of a mother and daughter, dedicated to La Madre, the mother. I loved it already.
Minor Basilica of the Immaculate Conception
As with every small town or pueblo, the church is the centerpiece of the town. In this case, it is the Minor Basilica of the Immaculate Conception with its dark brick facade towering over the plaza and over the people sitting on the square or in the surrounding coffee houses.
This is a traditional Colombian Catholic basilica, built in 1918-1940 in a neo-gothic design and built entirely from hand carved stones quarried in the foothills of Jardin. Father San Juan Nepomuceno Barrera, who started it, allegedly asked that sinners bring stones from the nearby quarry equal in weight to the weight of their sins for its construction.
The inside felt airy and sunny as the rays of the sun peering in through the windows. The arches inside are covered in gold which added to the brightness. Unlike most churches, this one does not have a rib vault.
And like any good church, there were church bells which rang every hour, in fact, every fifteen minutes, starting at 5:00am and going late into the night. This is a Catholic town and everyone needs to be called to mass.
Sunset and then a Full Moon
On the way to dinner that night, the sun was starting to set over the mountains and we had a great view of the Pyramid, Cerro Tusa.

On the way back there was a full moon shining at us through the steeples of the church. And since the fountain had been on that day, the church was beautifully reflected in the water. Along with many others, I just sat on a bench, watching the moon, and watching all the people watching the moon.
Color everywhere
W spent lots of time walking around the town.  All few blocks of it. We walked up and down the picturesque streets just marveling at all the colorful colonial houses, unchanged in 140 years. They all seemed to be whitewashed with brightly painted doors, balconies and windows. Red. Orange. Blue. Yellow. Green. You name the color and there was a house painted that way. Sometimes with multiple colors. Many of the homes were two story with colorful balconies overlooking the street. And often the balconies were covered in flowers.
As we would get to the end of a street, there was often gardens overlooking the mountains.  Or fields of coffee.
And then there were just the scenes of everyday life, including the woman who looked like she was pulling taffy, but Juan Carlos later explained she was making Gelatina de Pata, a sweet, pulled, taffy-like dulce, sweet.  But Pata means "paw" or "leg" and this sweet is made with the hoof of a cow which gives it the gelatin consistency. The sugarcane and vanilla are added to make it sweet, and it is pulled and pulled. I watched her pulling for a while, and then continued on my way.
Gondola Ride?  Not exactly…
One of THE things to do in Jardin is ride the gondola (the teleferico) or cable car to the mountain top to get a view of Jardin and the entire valley. The cable cars were originally put in to help the peasants from the neighboring villages to get to town to sell their goods. At the top is a cross that is lit up at night. But much to our dismay, it was closed. We were so disappointed, but Juan Carlos did some exploring and found an even better ride to see the view, albeit on the other side of the valley.
La Garrucha
It was La Garrucha and I hesitate to call it a cable car. La garrucha means pulley. And that is all it was.  A small wooden slated box on a pulley of two cables. It is powered by an old truck engine made of 600 pieces. And as the sign read, "Motor had two options: up and down. Without this motor the garrucha cannot work.  The garrucha has manual breaks that are checked and certified.  Tanks for your visit."  We were happy to see however that there was a safety break inside that we could pull in case of an emergency
It took us high above the Volcanes River and the river valley surrounded by coffee and plantain farms. This one was originally handmade by the owner of the coffee fields, Alejandro Velez for his own use to get him from town to his fields. Then the people working for him started using it.  Then it was opened to tourists. But it is still used by the locals and at times to transport coffee and plantains.
Juan Carlos bought our tickets (very inexpensive) and we sat in the little house waiting for the "box" to come back down the mountain. We finally saw it. It was so small that it was hard to see among the trees. It had a curved green roof and frame with yellow slats.
I questioned our sanity, but then decided we weren't the first and everyone else survived, so why not?! The person working there held it still while the three of us climbed in. There were two wooden benches and we held on to the slats as the "box" began it ascent, slowly, slowly across the valley. The view was tremendous although because of the narrow slats, hard to photograph.
But when the got to the top and climbed out, we got to appreciate the real view. The valley lay below us. We could see the church and the roofs of all the houses. We could see the mountains surrounding us. It was magnificent and absolutely worth the ride.  In fact, the ride itself was worth it!
At the top there was also what looked like a hotel (you can get there via a road as well, but not as much fun) and a café for coffee, beer and empanadas.  I learned later that the empanadas are not to be missed, but since I didn't know it at the time, we missed them.
When we finished enjoying the amazing views, we waited for the cable car – box – to return and rode it back down.  Here is what it felt like:
Gallito de Roca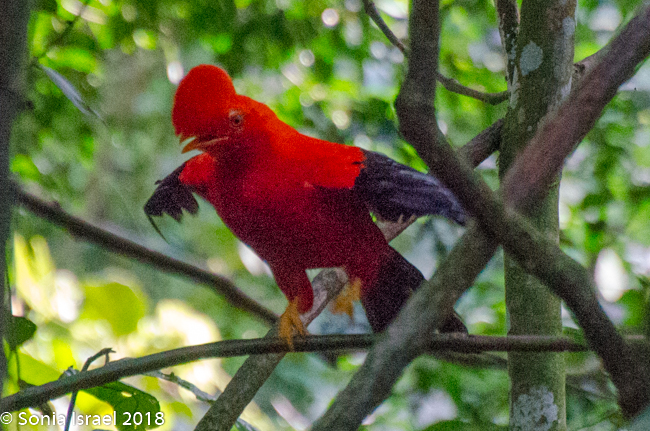 Gallito de Roca or Andean Cock-of-the-Rock is a most unusual bird that lives in Jardin. We spent some time watching them, but there was do much to say, that is a chapter all its own.  Please see that blog.
Food in Jardin
Los Coloros
Lunch our first day was at Los Coloros, aptly named as it was very colorful. Like everything in this pueblo, it was a short walk from the main square. We seemed to be the only ones hungry as it was fairly empty. Although there was a full menu, we had the traditional Colombian lunch of soup (usually bean, which I loved, or vegetable), chicken or beef, rice and arepas, a small salad and this time, a plantain. The food was fresh and quite delicious.  We also tried their fruit drinks.  There was also a choice of many different local fruit.  I tried the soursop. Unlike its name, it is is a rather sweet fruit, often described as an apple crossed with a strawberry, but with a bit of citrus.  An acquired taste.
Café Europa
Dinner that night was at the Café Europa, a pizza joint. But oh, what pizza. Deeelicious. We had a reservation which was a good thing as the place was packed. Without a reservation, it could be quite a wait. The place is small but cozy with wood tables. We had a nice corner table as Juan Carlos and Guillermo joined us.  It is owned by a German travel writer and photographer who ended up in this beautiful spot. The walls are lined with European newspaper clippings and Colombian photographs. The wine selection is on a blackboard, so it likely changes depending what is on hand. And there was entertainment, a young man playing a guitar and singing. I'm not sure if the entertainment is every night or just on the weekend, but it was a nice addition. Note, if you eat here, it is cash only.
Dulces de Jardin
When it was time for a snack, we knew we had to head over to Dulces de Jardin. It is a famous place for desserts and particularly arequipe, a sort of rice pudding made of milk and sugar. It was started in 1995 by Mariela Arango Jaramillo who is native to Jardin. Her passion was creating jellies, jams and sweets for her family and friends. And it grew and grew.
We made our way in and ordered our arequipe along a long counter which had shelves and shelves of jams behind it. We found a table next to a wall of flower pots and enjoyed our snack. Reeeeally enjoyed it.  This was worth the calories.
La Parrilla de mi Pueblo
One afternoon as we were walking around, we passed a restaurant that came highly recommended.  We stopped in to look over the menu, talked to one of the waiters and decided to come back for dinner.  And that is what we did. We had gotten the scoop about what time to show up so we would get there before the crowds.  Juan Carlos and Guillermo again joined us and we enjoyed a fabulous meal of grilled chicken.
Ice cream and coffee
On other days we also stopped at an ice cream shop and then sat in the plaza, at one of the colorful tables, to enjoy it. And we sat at one of the coffee houses on the plaza, drinking our Perico and watching the people.
Final thoughts
Jardin was an absolutely charming place to visit.  Two days was just right to get us out of the rush of the cities and to enjoy the quiet life the way it once was all over Colombia, and yet, after all this time, persists here. The people were friendly. The food delicious.  The sights out of the ordinary. The coffee great.  What more can one ask for when traveling?
As a side note, there is very little English is spoken here.  Not in the hotels.  Not in the restaurants.  Most of the tourists coming here are from Colombia. But don't let that stop you.  Sign language works great.
The tip in all of Colombia is often included, propina.