Day 6, Monday October 24, 2016
Belfast
Breakfast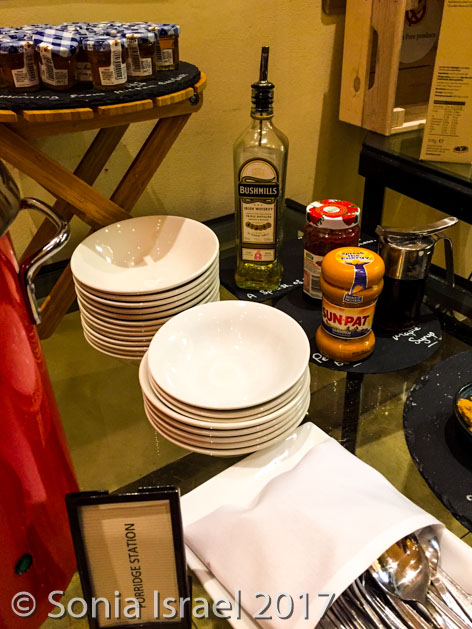 . What was unusual about breakfast. Well, this is Ireland so oatmeal at the buffet was served with whiskey.
After breakfast, we grabbed our jackets and gloves and hats (yes, it was cold!) and our green audio boxes and boarded the bus for our tour of Belfast. We drove through the town, past the Europa Hotel which, as four-star hotel,has hosted presidents, prime ministers and celebrities. But during the Troubles (see below) it became known as Europe's most bombed hotel (yes these pictures are at night and we were there in the morning, but obviously again later that day). We also passed the Belfast Opera House.
Queens University of Belfast
We stopped for a photo shoot at Queens University of Belfast, a magnificent set of buildings. It is ranked in the top 1% of Universities worldwide.
We passed a bank building with a sculpture of two bodies, one horizontal and one on an angle, called overdraft and underdraft. We drove past the famous Crown Pub and Robinson Pub.  And even driving around the city we were surrounded by hills covered in trees in fall colors.
Wall of Murals and Peace Wall – Part 1
We drove past the wall of murals and then to the peace wall. We would be returning here later so I'll save the description. But in short the Wall of Murals depicted the past and present political and religious divisions of Ireland, and of the world. And the Peace Wall is one of the walls that was built to separate the Irish Catholic neighborhoods from the Protestant neighborhoods and are now covered with "graffiti" with slogans and signatures for peace.  At the Peace Wall we got out and wrote a message.
The wall went on for what seemed like forever. We got just a small bit of history here, but not enough. That would come later in the day. And in a later blog as there is so much to say.
Our first major stop was the Titanic Museum. There is so much to say about this museum, that I have made it a separate blog.  Look for it.
But then it was now time for our walking tour with a local Belfast gentleman (a true g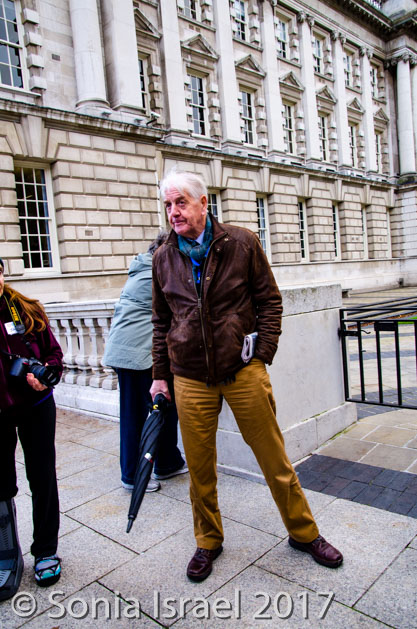 gentleman, carrying an umbrella and a newspaper) and walking us all around the City Center full of history and stories. We started at City Hall and its beautiful gardens full of statues and memorials. We would be back here later in the day for our own tour.
The Entries
Our guide told us the history of all the beautiful old buildings. We walked down the pedestrian mall to a large sculpture in a square where a young man was playing a guitar.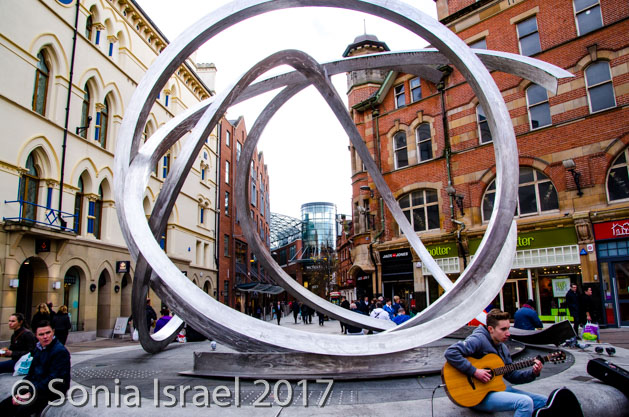 We walked through the little alleys and passage ways, known as the entries. These are a series of historical, narrow alleyways connecting the larger streets, mostly in the area of High Street and Ann Street. Dating back to at least 1630 but most probably even earlier than that, these entries are the oldest parts of Belfast city. The narrow alley was crisscrossed in little flags. And there was a plaque explaining that "The entries were narrow streets and arcades that connected the main shopping areas in the center of Belfast. From the 17th century to today, they are linked with the social and economic growth of the city.  In the 18th century, High Street had a prominent Market House which was the hub of the commercial life in Belfast. Merchants, shopkeepers and traders congregated in busy groups along the street in the open air and bought, sold or bargained their way into financial success or obscurity." Before long they spilled over into these passage ways which became the center of commerce. They are also described as the close knit passage ways where Belfast was born and bred. They have been described as "where Belfast began and developed into the city it is today".
One in particular was Joy's Entry (named after Francis Joy, founder of the first Belfast newspaper). There was a large mural at the entrance, of a woman cautioning secrecy ("shhh") as she pulls back a curtain to reveal a keyhole in the wall, the key for which is on a chain around her neck.  The mural is called The Gatekeeper (by an artist named Friz) and there was much more to her story, but I can't remember it and I can't find it.
We also strolled down the Winecellar Entry which widened in the middle into a courtyard with a famous pub at one end, Whites, established in 1630 (with a quote, "God knows how we survived this long in this country) and next door a bookmaker. This is very common to see one next door to the other. Men would come in for a pint, go next door to place a bet and then, if they won, come back for another pint.
We passed Kelly's Cellar, another famous pub built in 1720. Our guide suggested we go in to take a look as it was a small, cozy place where you could tell the locals hang out. We walked through a narrow door, and peeked into the dark chamber, filled with bottles behind a wooden bar, and people sitting around enjoying the beer.
The tour ended and Andy and I went off to find a quick bite to eat and to see the view from the top of the Victoria Center, a shopping mall with a viewing tower. Since it was almost Halloween – a holiday much loved in Ireland (more on this in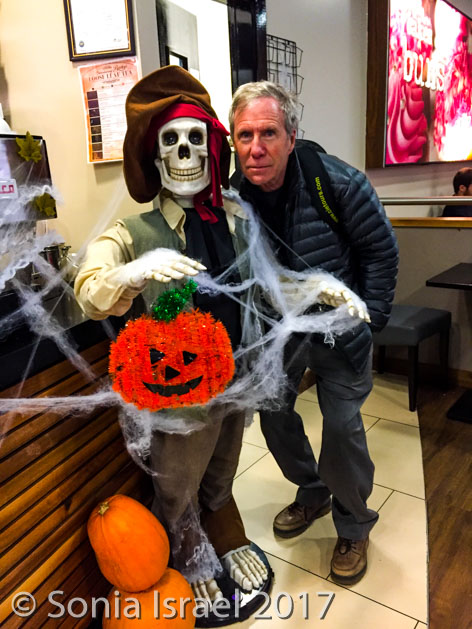 later blogs), the restaurant was well decorated with witches and goblins.
The Victoria Center, unlike the Guinness Storehouse, this one was not crowded and we could enjoy a 360-degree view of Belfast.
We then rushed back to City Hall for a free tour of the inside. Thea and Steve and Dan from our tour were also there.
City Hall
Queen Victory granted Belfast the status of a city in 1888 and it was then decided that a grand and magnificent building was needed to reflect this new city status. And thus City Hall was conceived. It is one of Belfast's most iconic and beautiful buildings.  The building is surrounded by stained glass windows, which are all original to the building from 1906. During the Troubles and the wars, the windows were removed and hidden to protect them.
Tours of the building last about one hour, are free and are on a first-come basis.  We got our tickets and joined a group of about 20 to learn the history and see the sights. The building itself has four towers, one at each corner, and a lantern-crowned copper dome in the center. At night it is lit up in a variety of colors from the flood lights below and we made sure to come back later that night to see it in its lit-up glory.  But that comes later.
The inside of the City Hall was as beautiful as the outside. Marble everywhere. The rotunda is surrounded by a grand staircase covered by a large, beautiful dome. The halls are lined with portraits of the prime ministers and each captures the personality of that person.  One was in a Hawaiian shirt.
We went into the anteroom where the ministers don their robes before going into the chambers. Our tour guide asked for a volunteer, and not even knowing what I was volunteering for, I raised my hand. I got to wear one of the robes that the elected ministers wear!
I had to give it back and then we went into the hall where the ministers meet and got to sit in the Prime Ministers Chair for a picture. There was a glass cabinet with gifts from around the world that included a menorah and a silver covered Tanach (small book with the words of Torah in it). And there was the very table used for the signing of the Ulster Covenant, also known as Ulster's Solemn League and Covenant in 1912,  in protest of the Third Home Rule Bill which tried to unite Ireland under British home rule. It was signed by just under half a million men and women.  Half a million!
City Hall is surrounded by a plaza and gardens. With lots of statues. There is a memorial to those lost in the wars. There is a granite column dedicated to the American Expeditionary Force, many of whom were based in Belfast prior to D-Day and marks the first arrival of US troops into Belfast in 1942. In 1995, President Bill Clinton rededicated the memorial. And of course the statue of Queen Victoria.
In the garden, along with all the statues, is the Titanic Memorial Garden and Titanic monument. The Titanic garden is set on two levels with the upper level containing a long wall with 15 bronze plaques which list, in alphabetical order, the names of 1,512 people who perished on the Titanic. This is the first time that the names of everyone who perished have been recorded on one monument. 'The Belfast List', as it is now known, is a key feature of the memorial garden. It is dedicated to those whose "devotion to duty and heroic conduct, through which the lives of many of those on board were saved, have left a record of calm fortitude and self-sacrifice which will ever remain an inspiring example to succeeding generations. 'Greater love hath no man than this, that a man lay down his life for his friends'."
Robinson Pub
We were exhausted but still had to eat dinner, so we were dropped off at the Robinson Pub.
The Robinson Pub is one of the oldest pubs in Belfast, having been established in 1895. There is a back room called Fibbers McGee with music, but the music wasn't starting until 10pm, past my bedtime.
City Hall Part 2 – all lit up
And after dinner we decided to walk back so we could see City Hall all lit up in purple and green lights.