If you read my post about gorillas and chimpanzees, you know that I was in Uganda with my friend Debby in December of 2021.
My posts are often day-by-day descriptions of our adventures, but this time there are three posts, one on the wildlife of Uganda, one on the Batwa people, and this one on life in Uganda. There are LOTS of pictures as I tried to capture life here. I hope you will click to enlarge them so you can see the vibrancy of Uganda.
We were traveling with Natural Habitat (Nat Hab), an organization devoted to saving and protecting wildlife and the planet. We were only a group of three, with just Matthew M joining Debby and me, along with our wonderful guide, Paul Kirui and our amazing driver, Sulai Iga.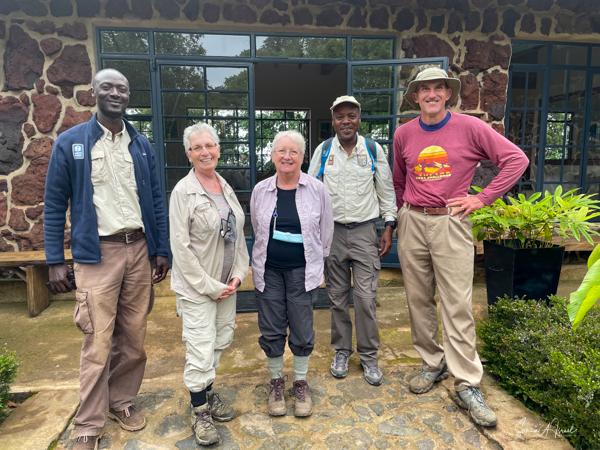 Flying into Entebbe
We flew into Entebbe in the early morning and the view from the plane, including sunrise, alerted us to what this country will look like. Lots of mountains. Lots of water. Entebbe sits on Lake Victoria and it was beautiful seeing it from the sky.
We were met as we left the aircraft by Jackson, a Nat Hab representative, who walked us through passport control (where they checked our COVID test results but not our yellow fever as, Jackson explained, we were too old for them to worry about that). Then we went over to get our new COVID test. They were set up with tents with lots of chairs as a waiting area, but there was hardly anyone there, perhaps because it was 7:30 in the morning. We were taken into a private room where a man in full dark blue surgical wear was getting ready. He swabbed my nose and sent me on my way. We then got our passports stamped, collected our luggage, went through luggage check and out to the waiting car.
Operation Entebbe (Operation Thunderbolt)
I mentioned to Jackson that I wanted to see the Entebbe Israel Memorial on the old control tower. So our driver drove slowly as we passed it, because you can only see it from a distance as the airstrip is now controlled by the UN and the military. In fact, this is the UN base for Sudan and the Congo. Why is there a memorial here? To commemorate Operation Entebbe.
This is the story of hijacking and a daring rescue. I am relating here in great detail because it is important and because it reads like a James Bond story. In fact there were several movies made about it (7 days in Entebbe, Operation Thunderbolt, Raid on Entebbe). But it is real, not fiction.
On June 27, 1976, an Air France plane left Tel Aviv, Israel with 246 mostly Jewish and Israeli passengers along with a crew of 12. On the way to Paris, the plane made a scheduled stop in Athens where 58 additional passengers boarded. Among those 58 were four hijackers.
Minutes after take-off, two Palestinian members of the Popular Front for the Liberation of Palestine and two Germans from the German Revolutionary Cells, hijacked the plane with the demand that 40 Palestinian and affiliated militants imprisoned in Israel and 13 prisoners in four other countries be freed in exchange for the hostages, along with five million dollars for the release of the plane. The plane was diverted to Benghazi, Libya to refuel and was held there for seven hours. One passenger, a British-born Israeli, pretended to have a miscarriage and was released. The plane then took off and landed at Entebbe Airport, Uganda. It was now more than 24 hours since the original departure from Israel.
The passengers separated
The passengers and crew were moved from the plane to an airport terminal that was no longer in use. At that point, the Israelis and non-Israeli Jews were separated from the rest of the passengers. One hijacked passenger was a Holocaust survivor and showed the German hijacker his concentration camp registration number tattooed on his arm. The German hijacker, Wilfried Bose, protested, "I am no Nazi..I an an idealist."
Over the next two days, the other 148 passengers were released and flown to Paris. But the 94 Jewish passengers and the crew remained as hostages. And the threat was that if the Palestinian prisoners were not released, the hostages would be killed.
Although the Ugandan government, led by Idi Amin, supported the hijackers, who at this point were joined by four more, Amin came to visit the hostages daily, promising them that he would use his efforts to have them freed through negotiations.
Negotiations
On July 1, the date the killing was to begin, the Israeli government agreed to negotiate. Israel tried to use all political avenues to get the hostages released. A retired IDF office, Baruch, "Burka"" Bar-Lev, had known Amin for many years and he spoke with him many times, but was unsuccessful in getting the hostages released. The US government intervened at the request of Israel, by delivering a message to Anwar Sadat, who together with PLO leader Yassir Arafat requested Amin to release the hostages, to no avail. And in Israel, the debate continued with then Prime Minister Yitzhak Rabin arguing for giving in to the hostages and then Defense Minister Shimon Peres arguing that giving in would just lead to more terrorism.
And then fate intervened. Amin asked the hostages to extend the deadline to July 4 so that he could take a diplomatic trip to Mauritius to officially hand over the chairmanship of the Organization of African Unity. It was this extension of the deadline that allowed Israel time to focus on getting to Entebbe to free the hostages.
Crocodiles?
On July 3, after failing to reach a political solution, the Israeli government approved a rescue mission with Brigadier General Dan Shomron as the operation commander. Lt. Col Joshua Shani was the lead pilot and later reported that the initial idea was to drop naval commandos into Lake Victoria, which was just down the street from the airport. However, when they heard that Lake Victoria was full of Nile crocodiles, they moved to Plan B. That was a good idea as there are indeed crocodiles here.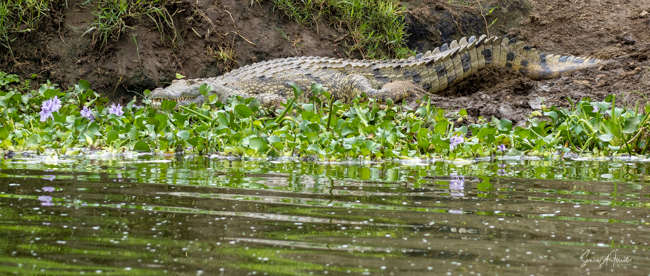 But where to refuel?
As part of the planning of the raid, the Israeli's had to figure out where they could refuel. Many African nations were sympathetic, but did not want to incur Amin's wrath or that of the Palestinians. It was Kenya that came through. It was the Kenyan Minister of Agriculture, Bruce MacKenzie, who persuaded the Kenyan President, Jomo Kenyatta to permit the Mosad (Israel's national intelligence agency) to gather intelligence information prior to the operation and to allow the Israeli Air Force access to the Nairobi airport. The Jewish owner of a block of hotel chains in Kenya, along with other members of the Jewish and Israeli community in Nairobi, likely also used their political and economic influence.
Gathering information
One can't plan a raid without some information and reconnaissance. Mossad built an accurate picture of the situation from information gathered from the released hostages. With luck, it turned out that Israeli firms had been involved in building the terminal where the hostages were being held. Based on that information, the IDF (Israel Defense Force) built a replica of the airport terminal to help figure out the rescue mission.
Counter-terrorist hostage rescue mission
The Israel's were now ready to raid. Four Air Force transport planes, carrying 100 commandos, left Israel at midnight and flew 2500 miles, flying and landing without being detected by the Entebbe air traffic control. They landed with their cargo bay doors already open. Using cars that looked like those Amin used, they drove to the terminal. They left the cars and started running towards the terminal. Entering, they used megaphones to shout in both Hebrew and English, "Stay down…we are Israeli soldiers…" One of the hostages, a 19 year old, stood up and was killed when the Israelis mistook him for a hijacker. Two other hostages were killed in the cross-fire.
The entire raid only lasted 90 minutes. The rest of the hostages were rescued. One hostage was in the hospital and was later killed. Five Israeli commandos were wounded, and unit commander Lt Col Yonatan Netanyahu (yes, Benjamin Netanyahu's older brother) was killed. All the highjackers were killed along with 45 Ugandan soldiers. The Israelis then destroyed Ugandan MiG fighter planes to prevent them from pursuing.
Because of Kenya's support, Ida Amin issued orders to retaliate and slaughter several hundred Kenyans living in Uganda; 245 were killed and another 3,000 fled.
And that is the saga of Operation Entebbe, also called Operation Thunderbolt, and sometimes called Operation Jonathan in memory of Yonatan.
Fast Forward to 2012
In August 2012, Uganda and Israel jointly commemorated the raid at a ceremony at the base of a tower at the Old Entebbe Airport, where Yonatan Netanyahu was killed. Uganda and Israel renewed their commitment to "fight terrorism and to work towards humanity."
While we are on the topic of Israel…
As you may know, Uganda was once considered the place that the Zionists should make their home. Joseph Chamberlain, the British Colonial Secretary of Great Britain was aware that the Zionist Organization was looking for a Jewish homeland. He was on a trip to East Africa and stated, "If Dr Herzl were at all inclined to transfer his efforts to East Africa there would be no difficulty in finding land suitable for Jewish settlers."  Herzl had been introduced to Chamberlain in the spring of 1903, a few weeks after the outbreak of the Kishinev pogroms. Chamberlain offered 5,000 sq miles at Uasin Gishu, an isolated area that was actually in Kenya, but was being transferred over to Uganda, and now is Kenya again.  He thought the land would be suitable because of the temperate climate and its relative isolation as it was surrounded by forests. The isolation was particularly relevant as he hoped it would be a refuge from the persecution the Jewish communities were experiencing in Russia.
Chamberlain presented the plan to Herzl, who presented it to the Sixth Zionist Congress. But many of the 573 delegates resisted, feeling it was a betrayal of the 1897 Basel Program which had promoted settlement in Palestine. Nevertheless, the plan did win formal support of the congress, causing a rift between the delegates. As a gesture to reassure delegates, Herzl recited Psalm 137 at the last session of the congress:  "If I forget thee O Jerusalem, let my right hand forget its cunning."
Some say the Herzl never meant it to be a permanent Jewish state, but rather a stopgap to protect Jews from anti-Semitism and violence until the dream of a homeland in Palestine could be fulfilled.
However, the British later withdrew their offer and that was the end of a Jewish state in Uganda.
Entebbe
So back to our trip. The airport is not far from the city and before long we were driving through Entebbe. The city of Entebbe did not feel like a city at all. No large building. Just lots of gas stations and shops on the main street.
The Hotel No. 5
We arrived at our hotel, Hotel No. 5, and were greeted by Evelyn, another representative of Nat Hab. Our hotel, No. 5, was in a wealthier neighborhood with large homes surrounded by large gates and barbed wire. We settled in and went to the outdoor terrace for breakfast. We both decided on French toast, just for a change. 45 minutes later we still had not been served. The server kept coming over to apologize. I figure they had to run to the store to get bread! But at least as we waited, we enjoyed listening to the birds.
We went back to our room and awaited our test results (they were negative), took a long nap, had lunch, walked around the property (which was lovely) and then met our fellow traveler, Matthew M. and our guide Paul Kirui. And then it was off to our first outing to the Botanical Garden, which is described in detail in the Chapter on wildlife and gorilla trekking.
We had lunch and dinner here as well as breakfast (all included in the pictures above) and I must say the service improved. Hotel No. 5 is a lovely hotel with comfortable rooms, good food and the friendliest staff.
Paul Kirui
Paul, our guide, grew up in a village near the Maasai Mara National Reserve, an area of preserved savannah wilderness in southwestern Kenya, along the Tanzanian border. Since it was near the safari parks, the animals often wandered into his village and he loved them. When he was four or five years old he wanted to be a vet but realized it would take too much money. He saw tourists coming through the town taking pictures of the animals and watched their guides and decided, at that young age, that he wanted to be a guide. His mother constantly discouraged him saying he should be a doctor or a teacher, something important. But in his heart he still wanted to be a guide. When he was about eight or nine years old, a group of tourists came to his school. While all the children were posing for pictures, he walked over and stood a few feet from the guide. The guide looked at him and said, "If you want to be a guide like me you better study hard." Paul had no idea how the guide knew that was his dream but he took it to heart and he worked hard. His mother still tried to discourage him but he stood up to her and said, "Mom, whether you like it or not, I'm going to be a guide." And he obviously fulfilled his dream that started at such a young age. He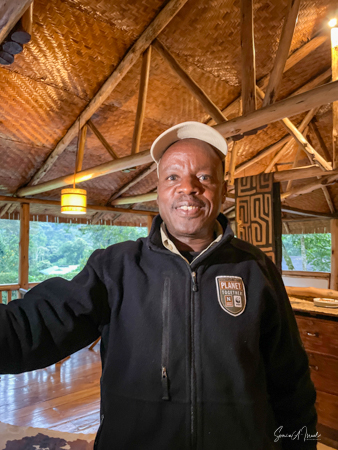 felt it was really a calling. And we were lucky to have him as our guide. He's worked for the President of Kenya, for BBC, for DisneyNature, and eventually Nat Hab came and enticed him away. He is one of just 30 Gold Level (highest-ranking) guides in Kenya and has received "Best Guide of the Year" recognition from Eco-Warrior Awards in both 2016 and 2017. You can follow Paul and his photographs on Instagram at  @paulonsafari.
Another Jewish Connection
One day over breakfast, Paul told us this story. In Paul's village there is a small Jewish community. Paul is good friends with them and over the years of that friendship, has taken up all their customs. He and his family do not eat pork, they celebrate Shabbat and all the other Jewish holidays (like Yom Kippur). On Passover, they have a Seder and read the Haggadah. Now his five children, aged 14-30, also practice Judaism along with Catholicism.
A Brief History and Some Background on Uganda – The Pearl of Africa
Before I describe more about our experiences, here is a bit of Uganda history and background.
The first and maybe most important thing is that Uganda is beautiful. If I had to find one word to describe Uganda, it would be "green." Everywhere we looked there was lush green vegetation. Trees. Papyrus plants as far as the eye could see. Green, green, green. The views were always of the Rwenzori mountains and lakes. And the light, beautiful light not only at sunrise and sunset, but throughout the day.

When Winston Churchill visited Uganda, he said, "Uganda is fairy-tale. You climb up a railway instead of a beanstalk, and at the end there is a wonderful new world…It is the pearl of Africa."
Although landlocked in East Africa, that is not to say there is no water to be seen, as a substantial part of Lake Victoria (Africa's largest freshwater lake) is in the Southern part of Uganda, along with many other lakes (like Lake Albert, Lake George and Lake Edward which I describe in the chapter on trekking in Uganda) and rivers. As we traveled around, we were often minutes away from the borders with Rwanda and the Democratic Republic of the Congo. At times we were looking down onto Congo villages. And we passed a field with row houses that was once the UN Rwanda refugee camp during the terrible strife there.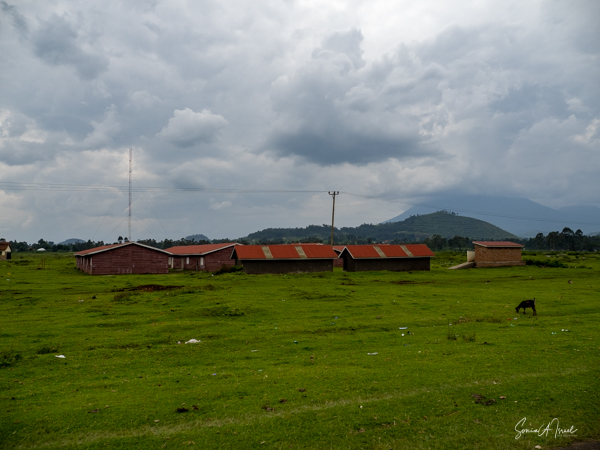 Official languages are Swahili and English, but there are over 50 different indigenous languages. I did not learn any Swahili, except for Muzungu, which literally means "someone who wanders around aimlessly," but is used to mean "a white person."
Kampala is the capital. We drove around the outskirts of Kampala on the new toll road which had just opened (so no toll collected yet), but never were in Kampala. There are close to 46 million people in Uganda with about 9 million living in Kampala and 69% living in the countryside.
Uganda is named after the Buganda kingdom, which encompasses a large portion of the south of the country, including the Kampala. The people of Uganda were hunter gathers until 1,700 to 2,300 years ago, when Bantu -speaking populations practicing agriculture migrated to the southern parts of the country. And since then, farming is almost a national pastime. Annual capita is only about $700, so the country is very poor. But the people are not hungry as there is always plenty of food. And if you are hungry, you can legally stop in anyone's garden and eat the food. You just can't take any with you. However, the farming is subsistence farming which m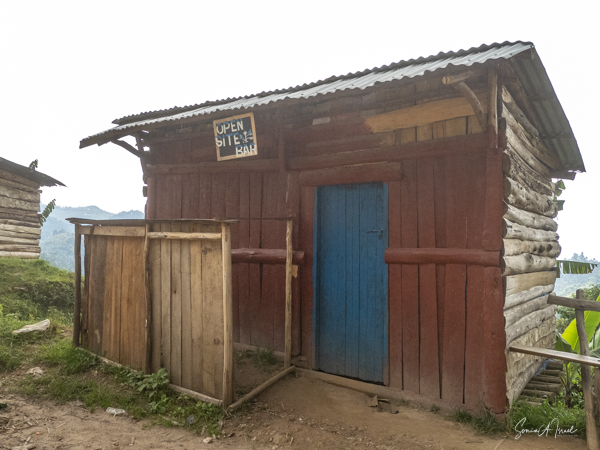 eans while they have food for themselves, there is not always enough to sell. And because they have plenty of food for themselves, they are not desperate to work or to make money. That is why, no matter if the roads are dirt or paved, the villages alongside the roads are the same. No one ever thought that, especially on the paved roads, they could open a coffee shop or something like that. They just keep trading their same potatoes.
In the late 1800s, Uganda became a British protectorate (meaning it was controlled and protected by Great Britain). Although Uganda gained its independence in 1962, many British customs remained including driving on the left side of the street and drinking tea rather than coffee.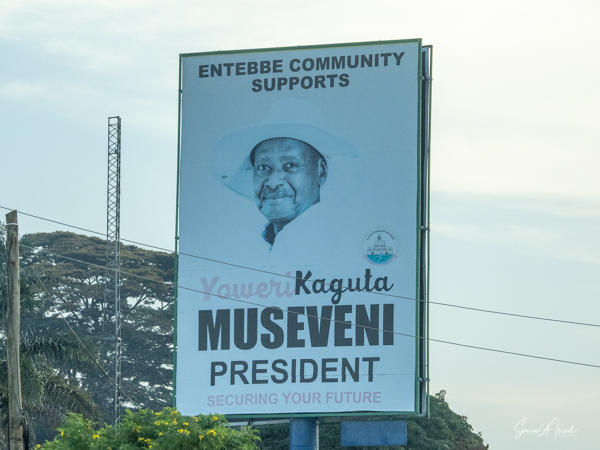 But with independence came an 8-year long military dictatorship under Ida Amin, years marked by violence and conflict. After a long guerrilla war, Yoweri Kaguta Museveni took power and to this day is still the elected president. Nevertheless, there is still lots of corruption and bribery in Uganda.
Muzinga Square Park
As we drove around Entebbe both on our first day and on our last day, we kept passing a monument of two so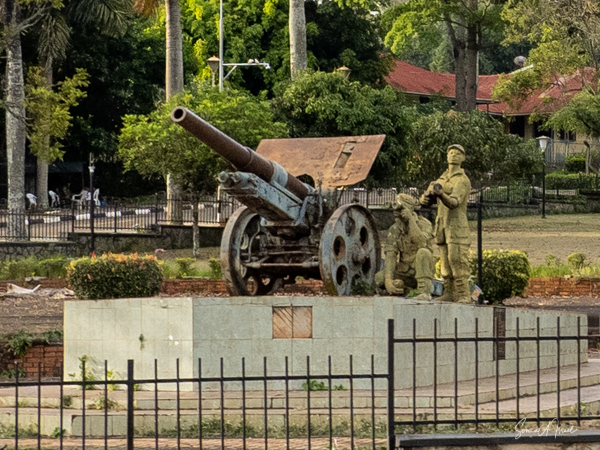 ldiers and a canon. This was the Muzinga Square Park (Muzinga means "canon"). The story is that the canon was abandoned by the Tanzanian troops after Idi Amin was defeated. They had tried to blow up the municipal building, which is next door, but the Ugandan troops fired back at them and they abandoned their posts and the canon. Whatever the story, this monument now symbolizes the freedom from dictatorship.
Gorillas
If you read my post on wildlife in Uganda, you know how important gorillas are to Uganda, not only to the economy but to the people who believe in preservation of nature. As we drove around different parts of the country, this became more and more clear. There were pictures of gorillas, statues of gorillas, signs about protecting gorillas. Those men who had been poachers of wildlife before, are now porters helping people like me trek to see gorillas. Gorillas now help them survive and make money. This also has helped save the gorillas.  There is a whole separate story about the Batwa people who once lived in the forest but were moved in order to save the gorillas and allow for treks. But the Batwa story is a separate one that you will find in its own post.
Tea Plantations
As so much is consumed here, there are many, many tea plantations. Paul stopped at one and gave us a lesson on tea. We saw workers picking the tea leaves by hand, throwing them into a basket on their back which would then get weighed as they got paid by the weight. As an aside, there was this one strange sign about sexual harassment. No one could explain why that sign was there, although I can imagine….
Religion
Paul told us about how religion plays a large role in people's lives. When the missionaries first came, they built schools and pharmacy dispensaries all next to each other. The dispensaries turned into hospitals which are considered some of the best. While there are some local doctors, most are volunteers from other countries – all working through the church. In this way, the church became a part of everyone's lives. Today, 40% of the population is Roman Catholic and 32% belong to the Anglican Church. Muslims make up 14% and we did see mosques quite often as we drove around.
We also saw religion in the names of the shops and even on trucks – God Barber Shop, Blessed Dairy, Life Preservation Pharmacy, No Limit Pub, Happy Human Medicine Shop, Fortunate Medical Center, etc etc
Funerals
We passed a funeral on one of our days on the road. There are many different traditions for how to bury a loved one, depending on the tribe. It seems that sometimes people are hired to wail over the deceased. When a Ugandan Catholic dies the whole community spends four days and nights with the family. This is reminiscent of the Jewish custom of shiva, where the family stays home for seven days praying while their community comes, brings food and shares in the grief.

Crosses
Ugnada is divided into counties which are divided into parishes which are divided into villages. The entrance to each new parish is marked by a cross with that parish's name.
On the road again. Roads?
The next morning was an early one as it was going to be a full travel day. We got into the vehicle that in some ways would be our home for the next 2 weeks. We met Sulai, our driver, a tall, thin man with a beautiful smile who always seemed to be happy, even first thing on an early morning. And what a driver he was!
We left Entebbe heading west. In the "olden" days, we would have had to drive through Kampala, with all its traffic, but a new toll road was just opened that bypassed the capital. It was still free, but would begin charging. I wonder how many drivers will be able to afford it. It saved us about 1.5 hours of driving. As we drove along the road, I could see lots of new construction of large, expensive homes. As everywhere when new roads are built, the cities expand. And yet, people were still selling things on the side of the road.
This would be a good place to talk about the roads in Uganda. The main roads between cities are paved, but those are few and far between. The most recent data I could find was from 2017 when as of 2017, according to the Uganda Ministry of Works and Transport, Uganda had about 81,000 miles of roads with only about 5300 miles – 4% – being paved. Most of the roads are red dirt covered with potholes and ridges created by rain and tires. Even the roads inside Entebbe are not paved. It was like driving an obstacle course. Sulai was great at avoiding the ruts, but the ride was bumpy and rough. One day it began to rain extremely hard and then the roads turned to mud. The going was difficult and that was the first time I saw Sulai very quiet as he concentrated on the road and on getting us to our destination safely. One needs nerves of steel to drive here. Some of these pictures and the video are in the Wildlife post, but they need repeating. And in all fairness, we did see one steamroller trying to fix the road.
As we drove and drove, we would come upon check points manned by armed police. Some were fishery check points, making sure people were not fishing beyond their limit. Others checked for things being smuggled (we were of course on the borders of Rwanda and the Democratic Republic of the Congo). But as a tourist vehicle, we were exempt from stopping.
Traffic
We were there in December so I can't speak to the traffic at other times of the year, but we saw no real traffic, except for trucks and motor bikes. In all fairness, we spent little time in the cities, so that could also explain the lack of traffic. On market days, there were many more cars and trucks. Otherwise, most of the cars we saw on the road were often like ours, filled with tourists. But bicycles and motorbikes were everywhere. They are cheaper than cars. But you might say, "You can only carry two people on a motorbike."  Not so! We saw motor bikes with up to five people, and often carrying all sorts of things, like pigs, chickens, wood, branches, and so much more. The motorbikes are also "taxis," called boda boda. We often saw motorbikes with their drivers hanging out in the villages, waiting for a passenger. And the same was true for the bicycles.  It is amazing how much they could carry on the bikes.
There are also taxi vans that pick up multiple passengers.
And if they weren't walking or riding a bike, they were riding on top of a truck. We saw trucks stuffed with people. I had no idea how they did not fall off. Often they were sitting (or in one case sleeping) on top of bags of charcoal or other items.
But on market days there was all sorts of traffic – motorbikes, bicycles, trucks, people walking and cattle!.
But most people walk
But the other reason there is little traffic is that most people walk. As we drove along, day after day, we saw men, women and children walking everywhere. Everywhere! And they will walk for miles and miles. The only time the roads were empty was very early in the morning or when it rained.
Often both the men and women would be carrying hoes to work the fields. I will never forget the picture that got away, of a man in a full suit and hat carrying a hoe over his shoulder.
They very often also carried yellow containers for getting water (and if the container was swollen, it meant they were carrying the local homemade brew). And the women, whatever they were carrying, put it on their heads. The men did as well, but we saw more women doing it. Sometimes younger children would also be carrying things on their heads.
One young woman captivated me with her shyness that broke into a beautiful smile.
And speaking of children
Unfortunately, because of the pandemic, schools have been closed here for two years (they were scheduled to open in January of 2022 and I hear they did finally open on January 10). When school is in session, the children get to go for free, but have to pay for their books and uniforms. In high school, they often board as there are fewer high schools near the villages. Had the schools been open, we would have visited a school sponsored by Nat Hab and WWF (World Wide Fund for Nature, an international non-governmental organization working in the field of wilderness preservation and the reduction of human impact on the environment).
Although not in officially in school, we did see some kids walking with books. Turns out that the church had an "unofficial" school where some of the kids could still learn. They didn't wear their uniforms so no one would know or get in trouble for holding classes.  However, if I knew, I imagine everyone knew.
But very few were doing even this. We saw lots of kids. Kids walking on the road with their parents. Kids in groups playing (either rolling a tire with a stick or on the scooters which they often build themselves out of the Nandi Flame Tree). I tried to ride….
Kids in groups just hanging out. Kids helping their families by collecting water in their yellow containers. But the common things among all the kids? They always waved and they had the best smiles.
After one gorilla trek which began at a village, the children were all waiting for us when we returned, proudly holding pictures they had made of gorillas (mostly with stamps) which they hoped we would buy. We did not.
We would always wave at the children and they always waved back. On the other hand, the men in the North never waved back. The women in the North sometimes waved back. But in the South, almost everyone – men and women – waved back.
But the children, no matter where always waved back with their big smiles, often running alongside the car. And they would yell in a singsong voice, "How are you? How are you? How are you?" repeating it over and over again until we were out of sight.
The children are expected to help at home. We saw many young boys (mostly boys) shepherding cattle, sheep, goats and pigs. They would often go in groups so that they could play with each other, but then they would get in trouble for not paying attention to the animals.
One morning, on our way to a trek, there was a group of children of all ages. We stopped and they sang, "We're happy to see you today."  That's the first time we stopped to listen and watch them. Most were singing, but one little boy was tapping an empty soda bottle in time to the music. Paul had made it clear we should never give the children money (or else their parents would learn that they make more money NOT going to school), but this time he gave them a pineapple (yes, the same one I tried to balance – see below) to share. They were SO happy.
The Markets
The markets closer to the borders, like Kihihi near the Democratic Republic of the Congo, were huge. Here you see lots of trucks taking food into the Congo and coming back with timber. The market seemed to have hundreds of stalls and hundreds of people. In these "official" large markets in the larger towns, the sellers have to pay the government rent.
But once we left the toll road and the bigger cities, we began driving through the villages and their markets. Our senses were bombarded. It was a feast for the eyes. The colors, the smells. I could smell fresh grass. I could smell potatoes roasting. In the villages, people just sell in front of their homes on blankets or crates. Chickens. Watermelons. Banana stalks.
They also dry their beans that way.
Sometimes we would see piles of crushed rocks, or actually see men crushing the rocks into sand to sell.
Or there was the time that we were at a stop sign and suddenly a young boy popped up at my window selling wild ginger. He and his friends pick the wild ginger and then stand on the road trying to sell it.
Or another time when a group of young boys surrounded our car selling bananas. And always with a big smile.
We were able to stop at one small market, a place that Paul often stops so he felt it was safe (safe due to Covid fears). There was no one else there other than the few women and their children. Market day must have been almost over, as they were starting to cover up their produce.
At first the women at this market were very shy. I took some pictures of their kids (with permission) and when I showed the pictures to the women, they began to smile and agreed to have their pictures taken too.
Paul bought some bananas to give to the kids. Each time he handed one to a child, the child bent down and bowed to thank him and Paul would place his hand on the child's head, as if to bless them. Respect.
Given how everyone carries everything on their heads, Paul showed us how he could balance a pineapple on his head. He had a competition with one of the women to see who could balance it longer. It is not an easy task – trust me, I tried it!
We also saw lots and lots of gates for the doors of the homes (see section below on their homes) being sold at the side of the road. And lots and lots of bed frames, mostly hand carved from eucalyptus.
 The fields and the scarecrows
As we drove and drove past village after village, we passed lots of fields. Where there were once cows, now there is corn and potatoes, and rice and millet etc etc.  Rather than having scarecrows to scare away the birds, they have a small tower where children sit with bottles filled with stones which they shake to scare the birds away.
It seems that sometimes children stayed away from school to work in the fields. But a recent article suggested that the Ministry of Agriculture is introducing highly reflective multicolored ribbons to replace the children.
Women of Uganda
Life is about manual labor and so you rarely see obesity here (although the life expectancy is about 50 years). The Ugandans are tall, slender and beautiful people – inside and out. The women are always impeccably dressed. Rarely do you see them in pants, but rather in colorful traditional dresses or skirts, even on their way to work in the fields. The traditional dress varies in different parts of Uganda. The national traditional clothing for men is called kanzu, a white or cream colored floor length robe, what we would call a tunic. For the women in the northwest and west, the traditional clothing, called gomesi, is a long, brightly colored dress with a square neckline, with a sash tied around their waists and short, puffy sleeves with what looks like wings on the shoulders. The gomesi is traced back to 1905 when a designer named Caetano Gomes (thus the name gomesi) designed it for the wife of the king. In the southwest they wear long baggy skirts and tie a matching shawl around their shoulders, called omushanana. Floor length dresses, which they pretty much all were, are called busuti and were introduced by the 19th century missionaries. The women often wore head-coverings, a load on their head and a baby in a sling on their backs. We even saw some women nursing their babies while they walked.
In addition to agricultural work, rural women are responsible for taking care of their families. As we drove through the country, I often saw women sitting outside their homes with sewing machines. This was clearly another job they had.
I read that most women in Uganda might spend 9 hours a day preparing food, cleaning clothes and the house, fetching water and firewood, as well as taking care of the children, and sometimes of their elderly parents. So if you add it all up, between working in the gardens and taking care of family and the house, these women likely work closer to 15 hours a day, compared to the men who work about 9 hours a day.  Of course, this is no different than in any other country!  Women usually do work harder and longer than most men.
Men of Uganda
I have to say a word about the men of Uganda as well. The younger men, who we mostly saw on the roads with their motorbikes, wore t-shirts and looked like young men anywhere. But there were many who also wore sport coats and hats (real hats, not baseball caps), clearly looking their best. Even when carrying things on their bicyles. It was heartwarming to see how people here care how they look.
Ride 4 a Woman
Just as everywhere in the world, there are women that need to escape from domestic violence, HIV and poverty. Ride 4 a Woman was set up in 2009 by Evelyn Habasa and her husband, Denis Rublema. Their organization supports the local woman who are struggling at home. Their slogan? "Empowering the Women of Bwindi, Uganda."
The idea came from Evelyn, who grew up in Bwindi with her mother, who struggled with poverty. Her mother had one red dress, which she washed and wore every day. The villagers would make fun of her and called her the "woman with the red dress." Evelyn grew up, was educated, and came back to Bwindi to help other women in similar situations. It all began with renting bicycles to tourists, thus the name, Ride 4 a Woman, with all the money going back into the organization to help women. But the organization has expanded to so much more. More than 300 women from 11 different villages now work at or are helped by Ride 4 a Woman. They learn new skills such as how to sew, weave baskets, dance, sing and drum, thus making a living and ensuring that their children will get an education. Ride 4 a Woman also has a microfinance program for women starting their own businesses. Over 100 women are now involved in 10 different types of businesses from second-hand clothes to restaurants to tailor-made dresses and money transfer businesses.
And while they are learning these new trades, they can stay at the center, have food provided and earn wages.
Another wonderful program is the Clean Water for the Community. Evelyn witnessed the terrible suffering of the Buhoma community due to disease borne in the waters, like cholera.  She understood that clean water was essential for a community to stay safe and healthy. In 2015, with the help of donations and charity from overseas, a new Safe Water initiative was born. Six Bio-Water filters and one electric powered filter were installed, and 500 Jerry cans were donated by a Ugandan based travel agent, to be distributed across the community. This saved many of the women from having to walk miles each day to get fresh water. There are now over 150 liters of clean water provided each day and so water-borne diseases are no longer a problem.
We first encountered Ride 4 a Woman at our first gorilla trekking briefing. A group of them performed some local dances for us. The women had so much energy. One of the dances they performed was the Kiga dance, a celebratory dance representing happiness. This dance is known for it show of strength with lots of stamping and lots of jumping quite high.
For one of the dances, they invited us to join them. I am the only one that did, and perhaps that was a mistake as it left me out of breath.  Not a good way to begin a trek.
We later saw other groups of women doing this same dance, one even dancing with a baby on her back.
This group, at the Clouds Mountain Gorilla Lodge, also invited us to join them.  This time Matt jointed them but I just watched.
Later that first afternoon, we went to visit the Ride 4 a Woman foundation. We were toured around and watched many women sitting, chatting, socializing and sewing, weaving, ironing. They had very few sewing machines and irons, but they shared and accomplished a lot. They looked happy and why not – they were all working towards a better life. We met Evelyn, who always wears something red in honor of her mother.
Ride 4 a Woman is always fundraising for more water filters, to help more women and to make life better for the people of Bwindi. Their email address is: ride4awoman@gmail.com and their website can be found at  https://www.ride4awoman.org.
Older people
We saw very few older people. Once in a while, I would see a woman with gray hair walking along the road. But the older people were few and far between. I asked Paul why.  He told me that the older people are respected and are taken care of by their families (the women, as I stated above), so they don't have to be walking to work. Mostly they stay home.
Sawing
Except for this one older man with his saw. He was standing by the side of the road, sharpening his saw. Saws here are usually two-people jobs, with one man at each end pushing and pulling. We saw one being used in the vertical position. But this man was clearly older, although in great shape. We stopped to take pictures and he smiled and was very welcoming.
Wood
Wood here is another whole story. We often saw piles of wood along the side of the road. And it was always cut in these narrow strips. It is really quite amazing how thin the wood was given that it was cut by hand with these big, long saws as you see in the picture above and video below. And as I mentioned, sawing wood here is a two-person operation.
Bricks
Most of the homes are made of bricks and the many of the people make their own bricks or buy them. It is quite a business, and we passed many a "brick factory." It is the most common wall material and is often called 'village brick.' The people dig clay from the ground, form it into bricks with wooden molds and then let it dry in the sun and then bake them in huge ovens. But it is a slow process as they make one brick at a time.
Homes in Uganda
The homes in Uganda are all very similar to each other. As we drove past villages and the countryside, we would see one home after another, or a single home near the fields. Many villages have no electricity as it is so expensive. That means no refrigeration either, which is why they go to the market almost daily. Solar is just starting to be used. Mostly they burn charcoal or wood. We could smell the charcoal burning and we saw many, many bags of charcoal sitting in yards to be sold or on trucks being taken to market.
While the people of Uganda are dressed in very colorful clothes, their homes are generally mud and brick. If a house is painted, it is usually with an ad such that the company paid for the painting. The homes we passed often looked like one room dwellings, but in fact, have multiple small rooms. Each house had its own front door that was either just an opening, an opening with a gate (that's why we saw so many gates for sale along side the road), or with a curtain hanging over it. The curtain gave privacy while letting air in. And addresses, when there are any, are just written in white paint on the house.
On our tour of the Batwa people (please see that post), we walked through a village in the southern part of Bwindi Impenetrable National Park known as the Nkuringo Sector. I asked our guide, Hilary, if we could see one of the homes. He took to visit an older, childless couple. There were actually two small buildings. The first one, in the front, had two room, an eating area set with a table and chairs, and the bedroom. There was a second door which we were told led to an identical set up on the other side of the wall which was for company. In the backyard there was a way to collect rainwater, as that was their only source for fresh water. Otherwise, they would have to take their yellow can and go to a local spot to get metered water. We did pass people lined up waiting to get water. In the villages, they do not pay property taxes, but they do sometimes have to pay for water. And then there was a second small building which was the kitchen/cooking area. It was dark and there was a low fire on the ground. The dwellings were simple, sometimes a bit primitive,  but certainly adequate.
The average number of children in the villages is 6 while in the city it is closer to 3-4. I imagine with 6 children, these homes might get a bit more crowded, and perhaps the "guest" area is used for the children.
We also saw local hotels which looked very much like the homes.
Dogs
I have to say a word about dogs. In many third world countries there are dogs roaming the streets. Lots of dogs. On all our days of travel and driving through the country, I think I saw only one or two dogs, and they were with their owners. Paul told us that dogs are not allowed to run free. What a great law!
Bathroom stops
Since we were taking long drives, we made bathroom stops along the way. We usually stopped at a gas stations.  Sometimes the bathrooms were "Western" style and sometimes they were squat style, but they were always very clean (although not so much the one in the picture…), with plenty of toilet paper available and soap and water to wash up. This was very different from the toilets in the villages. On one of the gorilla treks, I needed to use a bathroom and since we were starting at a village, one of the women walked me around to the back of their outhouse (to what we call a bush toilet). I had the opportunity to peek into their outhouse which was a hole in a dirt floor although in a brick structure. Sanitation still has to reach the villages.
Lunch or more like a feast
One day Paul told us we were to have lunch in a private home. I imagined siting around a small table in a home similar to what I described above. But no, this was more like a fancy restaurant in someone's large estate, called Tinka's Homestay in Bigodi Village, Kamwenge, just down the street from the Kabale National Park. It is privately owned by Tinka and his family and one of his sons, Emmanuel, is slowly taking over the business.
We sat outside, under a thatched roof, around a huge lazy-Susan table (a table that turns). Emmanuel began by teaching us about his customs, the customs of the Batooro people (singular would be mutooro).
There are about 1 million members of the Batooro (which means "the ceremonious ones") and as we learned, they have a rich culture of oral tradition, tribal customs, indigenous crafts and very high self-esteem. And the children are all taught to respect and value their elders and to love and be proud of their tribe. Given that, there are some behaviors and types of speech and personal conduct that are beneath a self-respecting mutooro. A mutooro is not supposed to say anything that might distort your mouth and thus make you look undignified, which makes it hard for them to speak some foreign languages. A mutooro always wears one's best clothes when welcoming guests, all part of being dignified. Being dignified also means not walking fast, sitting down when eating and eating slowly, making sure to enjoy your meal. Never eat on the run. And when it comes to eating, they don't eat birds or their eggs (although now they do eat chicken), frogs or fish. A mutooro does not eat pork or the meat of any animal that had upper teeth, because such an animal is like a dog.
Rather than having castes, there are two classes divided by economic activity. The bahuma were cattle keepers and the bairu were land tillers. In this way one group provided the milk, meat and butter while the other proved food products.
Emmanuel continued to tell us about the children. Every mutooro child has their own last name as each name must have a meaning and must say something about the circumstances surrounding the birth of that child. The names are chosen by the family elders who sit around a good meal, sipping some local brew, and informally choose a name for the new baby when the child is four days old for boys and three days for girls. As Christianity came to Uganda, children were also given religious names, often from the Old Testament.
The other very interesting thing Emmanuel taught us was about blood brothers. To become a blood brother one holds a ceremony which includes coffee berries, a new bark-cloth, a knife, two branches of a fig tree and sprouts of a grass called ejubwe. The climax of the ceremony was the taking, with coffee berries of one's blood from a cut made just below the navel. Then the two blood brothers would take an oath to behave as real brothers in all respects. Two men and one old woman would usually act as witnesses to the occasion. The two celebrants would pronounce the following words to each other during the ceremony: "Brothers fight and shave each other; they cut each other's nails; they beat each other and help each other. If you become dishonest to me your stomach will swell. When come to you with horrible disease, you will not send me away. When I come naked you will not send me away. When I come to your home, I will not go away hungry. We shall not do evil to each other, nor shall our children and clans." Emmanuel had coffee beans there for us and bark-cloth, but we did not become blood brothers.
Our meal
Tinka's daughter, Bridgit, does all the cooking. Tin containers were brought out and Emmanuel described every dish, which were mostly vegetables, potatoes, rice and some beef, a very authentic meal.
Other lunch spots
We often stopped for lunch at other small hotels that Paul knew were clean and safe. We had our own picnic lunches but that gave us a place to sit and a clean bathroom to use. One spot was by a lake with birds everywhere and beautiful views.

Our last day
We drove a few hours into Kosoro, a rich town on the border with Uganda, the Democtraic Republic of the Congo and Rwanda. There is a small airport here, or at least an airstrip. We had our luggage hand searched and then were asked to wait for the plane to arrive. And we had to say good-bye to Sulai as he was to drive the car back to Entebbe. After about 45 minutes, we could hear the low roar of the propellers. A small 12-seater Cessna Caravan plane landed on the gravel runway.
We boarded by the back ladder and took off flying over the beautiful countryside of Uganda.  As we flew over the mountains and saw all the dirt roads, it became clear how the paths connect one house to another, one village to another, for miles and miles, which helped me understand how people walked everywhere.
Our flight to Entebbe took one hour and ten minutes and our pilot Justin and co-pilot Albert made sure we had great views. We flew over lots of empty mountain areas filled with forests and I couldn't help but think, "What lurks there?" We also flew over lots and lots of lakes. As I have said before, water is not a problem here.
We landed in Entebbe and were driven back to Hotel No. 5, where we first started our journey. And then it was time to go home.
Final thoughts on Uganda
This is a beautiful country with beautiful people and beautiful landscapes. It was magical being here. Seeing the gorillas and the chimpanzees and the other wildlife in their natural habitats was exhilarating. And it all made me realize how much there is to protect in this world. Thank you Paul and Sulai, and thank you Nat Hab.