Saigon or Ho Chi Minh City
March 16, 2009 Monday
We arrived in Ho Chi Minh late last night after some very long flights.  After about 30 minutes to get our entry visas, we were met by our guide Khoa, and our driver Doan.  It is always wonderful to see a friendly face holding a sign with your name when you arrive in a new country.
Although the official name of this city is Ho Chi Minh City, everyone still calls it Saigon, as I will.  For me, the name Saigon brings lots of memories of growing up during the Vietnam war.
Our hotel, the Majestic, is as the name implies, truly majestic.  The hotel was built before the war (here called the "American War") built in 1925 and remodeled in 2003.  When you walk into the lobby, the whole place smells like mint – yum!  We have an amazing suite with Phyllis and Ben Zee, our wonderful traveling companions. There is a living room, dining room, bar, office desk and two bedrooms.  The master bath has a deep Jacuzzi and there were orchids on the bed.  The furniture is all heavy wood which gives the rooms a very warm feeling.  Speaking of warm, it is quite warm here. And the view of the river is spectacular.
The time difference here is 14 hours from home, but since we arrived at night, we were able to get a decent night sleep.  We woke up at 5:00am, not bad for jet lag!  Khoa, who will be our guide for the next 3 days is meeting us at 8:30 this morning to start our adventures.
But, as is our pattern, Andy and I went on an exploratory walk before meeting Khoa. THe hotel is across from the Saigon River and we decided to walk around and explore. That was our first adventure – crossing the street! At that hour of the morning, everyone is heading to work on their motor bikes.  And I mean hundreds of motor bikes, non-stop.  They swarmed off the ferry boat. They crowded the streets. The only way we could cross the street was to follow someone else crossing.  That worked fine, but when it was time to go back to the hotel, no one else was crossing.  We stood there for a while and just watched all the bikes go by.  Finally, a police car stopped and we asked one of the police men to help us cross (when I say asked – I mean with pantomime as he did not speak English).  And luckily he did.
We then headed for breakfast, on the roof garden restaurant, overlooking the river.  The buffet breakfast was beautiful and full of both Vietnamese food and western food.  And we ate both – we had omelets and pho (a soup with noodles which is the traditional Vietnamese breakfast), and fruit common to Asia.
Khoa then picked us up and we headed an hour out of town to see the Viet Cong tunnels.
We saw many tombs along the way. When people die, they are first buried by the river for 3 years. Once there is nothing but bones left, they are moved into tombs in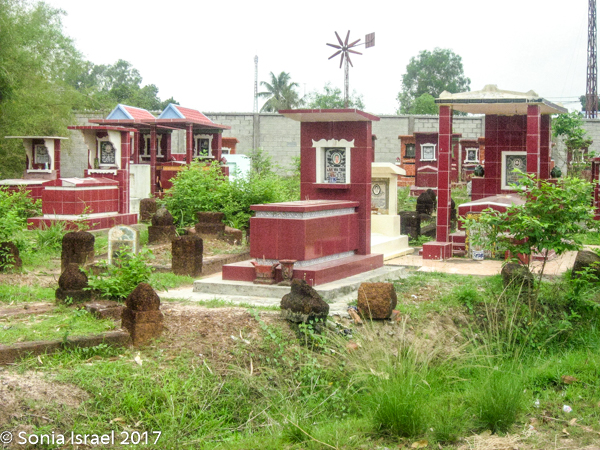 the hills/mountains as the mountain represents the ruler. That shows respect to the ancestors. In the Saigon area, there were no mountains, so people are buried in tombs either in the rice fields or next to their children's homes.
We passed markets and motor bikes, and more markets and more motor bikes. And rice fields. Forests where sap was being collected. And monuments to the lost in the "American War." One of the most interesting things was these "rest stops," which were areas with hammocks where people stop for coffee and a nap (the nap or siesta is called ngu). Phyllis and I of course found that particularly interesting.
Cu Chi Tunnels
The tunnels are in the town of Cu Chi, and are an immense network of connecting underground tunnels. The tunnels were the Viet Cong's base of operations for the Tet Offense in 1968. The Viet Cong lived in the tunnels, and had communication and supply routes, hospitals, food and weapon caches and living quarters. They spent their days in the tunnels and came out at night to fight and lay mines.
They hid the entrances to the tunnels, which were exceptionally small. They also set all sorts of traps with bamboo spikes for the "American devils." It felt a little strange to be standing at the entrance to the tunnels, or like Andy and Ben did, to actually crawl through the narrow spaces. We posed with Viet Cong mannikins. It was almost like an amusement park, except it wasn't funny.  One of the amazing part of the whole experience today was the propaganda everywhere about the Americans. Even as someone who protested the war, I found it quite insulting. On the other hand, it did put the other side of the story into a new perspective.
Indochine for lunch and walking tour of Saigon
After the visit to the tunnels, it was time for lunch. We told Khoa we wanted a typical Vietnamese restaurant. Instead, he took us to a rather fancy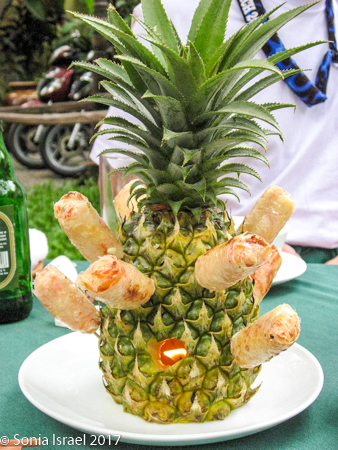 restaurant called Indochine, where we must admit the food was fabulous.
Then it was time for the "city tour."  The truth is that Saigon is rather a boring city with not much to see or do. We went to the War Remnants Museum which was basically photos from the war showing all the horrible things the Americans did (sort of like their own Holocaust museum). We then did a brief walking tour of the Notre Dam church, the Reunification Hall (once called the Presidential Palace – but it is here the North Vietnamese resistance fighter tanks, i.e., Viet Cong, rolled on the morning of April 30, 1975 as Saigon fell).
the post office, the opera house and city hall – all from the outside (except for the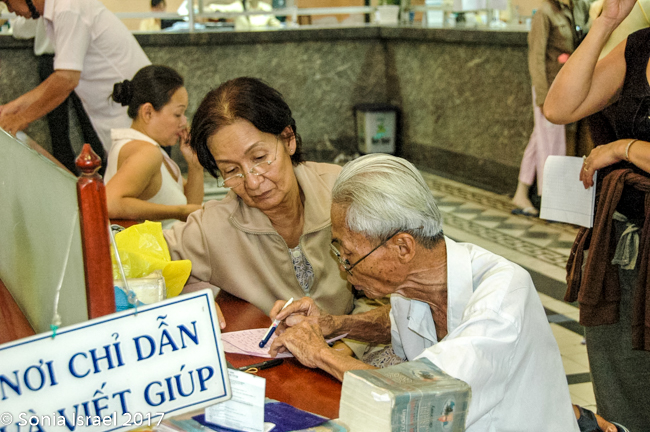 post office). The most interesting part was watching a scroll sit with an older person writing a letter for her. The rest was not really very interesting.
We also visited the large market and found it rather boring, maybe because the end of the day is the wrong time to visit a market. We did however discover Vietnamese coffee which is a delicious combination of strong coffee with sweet condensed milk – yum again!
Dinner tonight was at a local restaurant Quan An Ngon, which serves food from all the different regions of Vietnam. There are stations around the periphery of the restaurant with people cooking the foods. Once you have had a chance walk around, you go back to your table to order. All this probably works great if you know what you are looking at. Of course we did not. But we somehow managed and had a great meal.
Mekong Delta
March 17, Tuesday
For those of you in my generation, the name Mekong Delta brings thoughts of patrol boats, Viet Cong, death and destruction. This morning we drove 2.5 hours to the Mekong Delta to take a boat cruise. As happened when we visited Poland and Lithuania, I again felt these incongruous feelings of memories of bleakness combined with the reality of beauty.
The drive started out through rush hour traffic. Rush hour traffic here means thousands – yes thousands – of motor bikes. The streets are literally jam-packed with motor bikes. They are everywhere going in every direction. It is literally a sea of helmets. And they carry everything on their bikes.
The country side is a bit different than Cambodia, although there were a few rice fields and a few water buffalo. Mostly we drove though towns that were full of shops selling pickled pork, rice wine, and tires. Lots of tires to go with those thousands of motor bikes. It was not particularly pretty, although it was fun to see many of the women in their conical, traditional hats.
We got to the Mekong Delta River and boarded the Cai Ba Princess, a private junk (boat) just for the four of us with pillows to nap on (napping is a big thing here), fresh dragon fruit and bananas, bottled water and sights to spare. The Cai Be floating market here is quite different from the ones in Thailand or Cambodia. The boats are large and the "shoppers' come to them in smaller boats (whereas in Thailand and Cambodia, the "sellers" are in small boats to and from house to house on the river). Each boat has a flag pole with the item they are selling on it (pumpkins, watermelon, etc). We sailed along the floating market and up and down the canals. We stopped to watch them make puffed rice and coconut candy (Cu'u Long). We watched fisherman with their large nets. We watched other locals bicycle along the side of the river. We watched people just living, living on their houseboats, with laundry drying and plants surrounding their windows. We sailed for a few hours just relaxing (sort of like the Disneyland jungle cruise but without the crocodiles).
Lunch was at what was once a large private home on what seemed like a large estate, where we were served elephant fish among other things. I learned how to say cilantro – ngo – very important when you want to ask for food without it. Elephant fish is a local fish which lives in the Mekong Delta and is served whole. The presentation was gorgeous. The fish itself was rather bland.
After lunch we took a walk around the area filled with other homes. The best part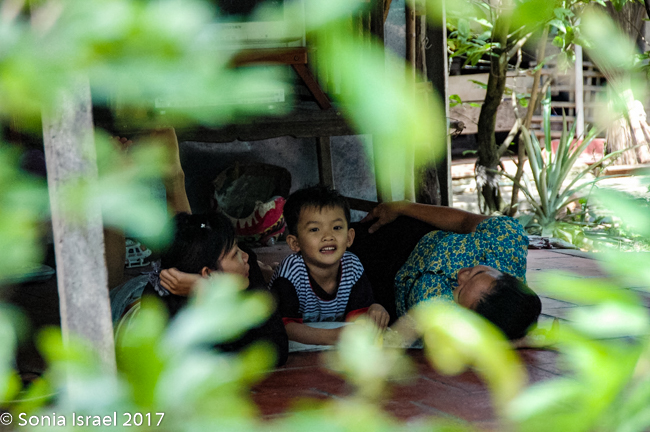 was the children who smiled at us shyly as we smiled back.
Then it was another 1.5 hours back to Saigon (again with motor bike bumper to bumper), followed by a trip to Chinatown to see the Cho Binh Tay Market, Saigon's main market.  Right outside the market is a huge dragon reflecting into a pool of water. Inside the market, not only were there aisles upon aisles of food and hats and household items, but we also got to watch the people shopping, choosing their items carefully, or just taking time out from selling by playing games. The tricky part for us was crossing the street as the market is huge and goes for blocks and blocks. I must say we are getting better at it, but it is still scary to just walk out into a sea of motor bikes.
Dinner tonight was just OK at a restaurant called the Temple Club. It is housed on the 2nd floor of a beautiful colonial-era villa decorated beautiful woodwork and masonry, and a terracotta floor, with spiritual motifs and elegant Chinese characters. There were lots of options for Vietnamese dishes (including vegetarian), but the décor and ambience were much more interesting than the food.
So, in a nut shell, that was Saigon. Not a pretty city, rather, a large, noisy, rather unpleasant city. But I hear it just gets better and better as one heads north, so I am looking forward to our trip to Hue tomorrow in central Vietnam. (Please see the entries on the rest of the Vietnam trip).