August 11-19, 2019
Pantanal
Most people have never heard of the Pantanal in Brazil. Some of you may recognize it from John Grisham's novel, The Testament, which takes place mostly in the Pantanal. When I mentioned I was going to the Pantanal to look for jaguars, I was asked if they were cheaper down there! But no. The Pantanal is known not for the car but for having the largest number of jaguars in the world. So we hoped there would be a good chance of seeing at least one.
We were 11 intrepid travelers going on this trip with Natural Habitat. Cassiano (Zapa) Zaparoli was our amazing guide and my fellow travelers included (in no particular order) Ruthi, Debra and David, Cindy and Richard (Dick), Carol and Gary, Johanne and Mario, and Karl. Some of the group knew each other as they had traveled together, with Zapa, in Patagonia. The rest of us met in Rio, but by the end of the trip, were one big family.
Before I launch into the heart of my story, let me say that this post is a bit different from my others. Those of you who follow my travels know that I often separate my posts by city or by day. This one has all 9 days and all the places we visited in one post. Why? Because this is really about the animals so it made more sense to keep it as one long story. In addition, while the photographs are mine (except for a handful), many of the videos were taken by Ruthi and my other compadres (thank you all for sharing). And I included lots of videos. They help you hear and see and almost feel what we experienced.
What exactly is the Pantanal?
The Pantanal is right in the center of South America and is divided into the Northern (Mato Grosso) and Southern (Mato Grosso do Sul) Pantanal, both of which we got to visit. Each is different, with their own distinct characteristics and their own animals who call it home. The North is full of jaguars, giant otters, ocelots, caimans, capybaras and birds, birds, birds. The South also has jaguars (although fewer of them), caimans, capybaras, but also has armadillos, giant anteaters, tapirs, 4 kinds of deer, peccaries, and birds, birds, birds.
Pantanal comes from the word "pantano" which means swamp in both Portuguese and Spanish. One could think of the Pantanal as a swamp, but really it is the world's largest freshwater wetland with one of the most diverse and spectacular ecosystems in the world. And it has the highest concentration of wildlife in all of South America – more than the Amazon. There are 698 species of birds, 80 species of mammals, 26 of fish and 50 of reptiles. The area itself is 70,000 square miles. Much of the Pantanal has been named a national park by the UNESCO World Heritage. In fact, the Pantanal is a combination of national parks and privately-owned lands.
The Pantanal is one of eight biomes in Brazil. The others are the Amazon, the Cerrado (vast tropical Savannah), the Caatinga (desert vegetation), Paraguayan Chaco (a semi-arid region), the Atlantic Forest, the Pampa (or Southern Fields) and the Coastal. In general, the North and the South are very dry. The West is a Savannah. The Central portion is very pristine and clean; in fact, as told to us by Zapa, our wonderful guide, it is one of the most pristine places on the planet, "the way the earth was created."
And of those seven biomes, the Pantanal has elements of five of them – the Cerrado, the Amazon, the Atlantic forests, the Paraguayan Chaco, and Caatinga. The Pantanal area is characterized by a top layer of sandy soil over clay. It is not good for agriculture so the farms that do exist are mostly cattle farms. When it rains, the rains descend in a torrent but do not permeate into the ground, so flooding is widespread and deep. Since this area is very flat, the water from the rivers rise and combine with the waters of the lakes, creeks, and marshes and all of them then merge with the Rio Paraguay to form one large fresh water sea. When the water recedes, the land is renewed and fertilized.
A time to go, a time not to go
And for that reason, there is a time to go and a time not to go. In the dry season, from May to September, the Pantanal is a flat grassland covering an area about the size of half of France. There are lakes and woodland and one can see the tracks of the animals weaving between them. But in November-March, it is the rainy season with the water level rising and flooding the whole area.
Zapa said, "In November the rains are very hard, and the bugs can carry you away."  We were here in August and the weather was perfect, not cold (except sometimes at night), not too hot (except sometimes in the middle of the day), dry and no bugs (although we still sprayed for them).
Unlike the Amazon, no indigenous folk live here. Just the animals, the birds and the isolated cattle farmer or two. And the people who work in the Ecolodges. The funny thing is that most of the tourists are not Brazilian. The Brazilians go to Africa for safaris, but they miss the safari of the Pantanal. The Brazilians who do come to Pantanal, come for recreational fishing, not to see jaguars.
Northern Pantanal (Mato Grosso)
Day 1, Sunday, August 11, 2019
Our first few days were spent in the Northern Pantanal. Due to an unforeseen hiccup, the group left Rio on Saturday, August 10, 2019, but I did not join them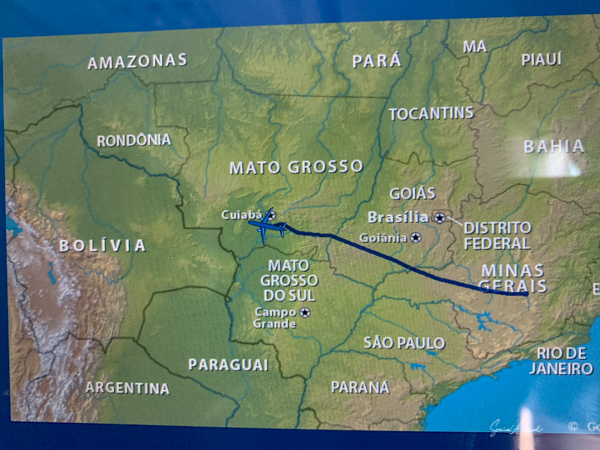 until Sunday. I flew with Azul Airline from Rio to Belo Horizonte, and after a quick layover, continued onto Cuiaba. We flew over lots of empty green land. And mines. But we saw very few homes or villages.
A side note on Azul Airline. Azul in Portuguese means blue, and the airline was named after a naming contest. It was started by the founder of Jet Blue, so the theme continued.
Once we arrived in Cuiaba, I got to see my first Jaguar. Ok, ok, so it wasn't a real jaguar, but it got me excited about the upcoming adventures.
Eugenio Souza, my very own private Natural Habitat guide and I were met right outside of arrivals and the trip officially began. We stopped for lunch right in town at Sinuelo, a combination restaurant, take-out and souvenir shop. And I did buy some gifts there. Although there were lots of tables and chairs awaiting us, we decided to take our sandwiches to go in order to save time. I was anxious to rejoin the group. The menu looked great and we each chose our sandwiches. The waitstaff was busy in the kitchen but brought out glasses of homemade berry juice for us to try. It was delicious, as were the sandwiches. After a brief wait, we got our lunch and hit the road. We drove through small towns, many of which were shut tight as it was Sunday and this is a Catholic country. We did make a brief bathroom stop one hour into the trip at Pocone, a small town of 5000 people. I think its claim to fame is that it is on the route to the Pantanal. But it had a clean bathroom and a fancy restaurant/gift shop. I did notice when I stepped out of the car that the road was this red dirt and everything was covered in red dust.
And we were so lucky. The rest of the group had arrived at night, so they didn't get to see much. But I got to see so many things. We passed lots of statues of the local animals. Jaguars. jabirus, hyacinth macaws, giant otters, capybaras, caimans (see below to learn more about all of these). All the animals who are native here. And everyone seemed to want statues of them. (As an aside, once I returned home, I tried to find a statue of the Jabiru for my backyard. No such luck). But we also saw the real things. We passed a group of capybara in the water. We passed a Jabiru up in its nest. We saw a huge caiman who looked almost like a statue as he never moved the entire time we watched him. We saw Brahmin cows who looked so skinny and bony. We saw birds perched and birds flying. There was a green Ibis. There were cattle egrets sitting on top of buffalo. There was a kingfisher sitting on a wire. Muscovy ducks. Snail kite (a kind of hawk who hovers like a kite).
The Candelabra Tree
In addition to all the wonderful birds and animals, there were trees of all types everywhere. The most beautiful was a tree that was in full bloom with yellow flowers. Only later did I find out that it is called the Candelabra tree, a perfect name for this tree as the yellow flowers all faced up just like candles. It can grow up to 100 feet and the branches grow in a circle around the stems. As the tree grows and matures, the lower branches drop off, leaving a long, bare trunk with a crown of upturned branches tufted at the ends. Thus, a candelabra.
The tree is actually a parana pine, also called araucaria or Brazilian pine. And although called a pine, it really is not in the pine family. The wood is used for veneer, furniture, and flooring, and therefore has been heavily exploited in the past. And thus, although we saw it everywhere, both in the north and south, it is a critically endangered species.
Zapa later told us that their season was almost over, so we were lucky to see them in bloom.
The Transpantaneira Highway
The paved road ended and the Transpantaneira Highway began. Although called a highway this is really a red dirt road originally built in the 1960's by Brazil's then militarized government to transport the Brahmin cattle to the meat-processing plants in the south. It was originally supposed to go all the way to Corumbá, but 93 miles later, when they reached Porto Jofre on the Rio Cuiaba, that plan was aborted. The earth that was cleared away for the highway's construction left large holes that have become ponds, canals, and lagoons which now attract all sorts of wildlife. The road goes through savannas, marshes, and forest patches. And it has over 122 (more or less) wooden bridges. We were only going part of the way today, but would end up driving the rest of it in a few days.
Close to the start of the Transpantaneira Highway was the famous "Here begins the Pantanal" sign. We stopped to take some pictures. Now it was official. I was here.
Araras Pantanal Eco Lodge
After a trip of about two hours covering 80 miles, we finally reached the Araras Pantanal Eco Lodge. We drove up and were greeted by a capybara, Zapa and Ruthi, a wet towel and a glass of Barbados berry juice. Andre Thuronyi (who is Hungarian) and Jerneja Akhila Krusic (who is Slovenian), the owners, also greeted me as they do each guest on arrival. Ruthi walked me to our room and there was a bottle of champagne on ice and some flowers, sent by Natural Habitat, to welcome me.
Araras Pantanal Eco Lodge, which was one of the the first eco-lodges in the Pantanal, was built to be in perfect harmony with the beautiful surroundings. It is a self-sustainable lodge with its own private trails in the forest, wooden walkways over the wet areas and lots of birds. There is also a swimming pool. They offer guides and canoeing and horseback and safaris, but we had our own and didn't need to use theirs. Breakfast, lunch, afternoon tea and dinner were all included, but I only got to enjoy dinner and breakfast. Dinner was in the large wooden dining room which was set with long tables and round tables for group meals which were served buffet style. Breakfast the next morning was outdoors surrounded by the trees and birds serenading us. All the food is local with the fish from the nearby river, the beef from a ranch close by, and the fruits and vegetables all grown locally. The décor is rustic but in a comfortable way, made from organic materials. Our room was very simple with two beds, some shelves and a small, but adequate bathroom.
Capybara
Since I mentioned that I was greeted by a capybara, let's jump right into the description of them. The capybaras are ubiquitous in the Pantanal. They are everywhere both in the north and the south. We would joke each time we saw one – "Oh look! The elusive capybara!"
The capybara is the world's largest rodent and is a relative of the agouti, chinchilla, and guinea pig. They are semi-aquatic mammals who like to live in densely forested areas but always near bodies of water, i.e., the Pantanal. Their scientific name, hydrochaeris, comes from the Greek meaning "water hog."  The name capybara comes from the word, kapiyva in the Guarani language, meaning "master of the grasses," also translated as "lord of the fields." Zapa told us that "they live to live."
Adult capybaras may grow to over four feet in length and weigh up to 140 pounds; females are a little heavier than males. An adult capybara can eat 6 to 8 lbs of fresh grass a day. They also eat their own poop which contains beneficial bacteria that helps their stomach to break down the fiber from the grass. They have heavy, barrel-shaped bodies and short heads with reddish-brown fur on the upper part of their body that turns yellowish-brown underneath. When fully grown, their coarse hair is sparsely spread over their skin, making them prone to sunburn so they rokk in mud to protect their skin. They have blunt muzzles, webbed feet, and no tail, and their back legs are slightly longer than their front legs.
Capybaras reach sexual maturity within 22 months, and in Brazil, they breed once a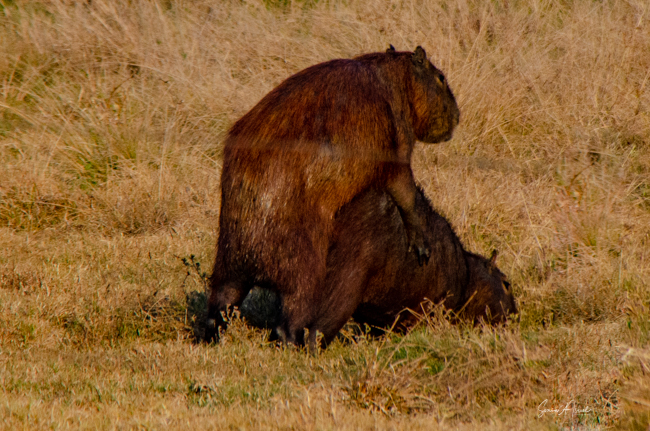 year during the rainy months of April and May. The male pursues a female and mounts when she stops in water. Having said that, we were in the Pantanal during a full moon in August, and we saw them mating on land.
Baby capybara begin eating grass within a week of being born but will continue to suckle—from any female in the group—until weaned. Youngsters will form their own cluster within the main group. We saw lots of little ones, and while I am not a rodent fan, these were very cute.
Their big predator is the jaguar. Later in the trip, we would see several jaguars stalking the capybaras. To protect themselves, the capybaras stand around in groups, with each one facing a different direction, on the look-out (you can see that in each of the videos). When they realize how close the jaguar might be, they communicate through a combination of scent and sound such as purrs, alarm barks, whistles, clicks, squeals, and grunts. They then jump into the water where they can stay underwater for up to five minutes.
---
They sleep little, usually dozing off and on throughout the day and grazing through the night. If necessary, they can sleep underwater, keeping their nose just at the waterline.
Safari Drive
Once I had settled in, we were off for a four-hour afternoon drive in an open-air safari truck, mostly still on the grounds of the Araras Pantanal Eco Lodge. We entered an area that was quite reminiscent of Africa, with savanna grass, acacia trees, and jacaranda trees that sadly were not yet in bloom. But there were still lots of blooming candelabra trees.
At one point the road was blocked by tree limbs. Zapa and Chaco pulled out their machetes and hacked away. That cleared the path, but it turned out that the limbs were covered in ants which then crawled all over Zapa. He was not happy.
We saw so many birds, today and throughout the trip. See the section below for a complete list and pictures.  But the hyacinth macaw gets its own section.
Hyacinth Macaws
The hyacinth macaws, the largest of all the macaws, are all over the Pantanal, living in tall trees, in palms in the swamps, in the forests and near rivers, flying everywhere, and even walking on the ground. As the name suggests, they are a bright blue with large black eyes surrounding by yellow rings, a yellow chin and a strongly hooked beak. Their feet are zygodactylous which means that two toes point forward, while the other two point backward. They are the largest of all the parrots with an average wingspan of four feet. Their long beautiful tail comprises about one-third to one-half of their length.
In the Pantanal, hyacinth macaws eat mostly nuts and little coconuts from the acrui and boucaiuva palm trees. They feed on the clusters that fall down from the tree or pick up the ones that have fallen on the ground. And they are extremely messy eaters. I can attest to that as we saw many of them eating, using their toes to hold the food. But by dropping the seeds they help regenerate forest growth. These birds are able to break open and consume the toughest nuts; their mobile beaks allow the birds to press hard seeds between their tongue and palate and grind them so that they can be digested. (For more on how they eat, please see the section below on the Southern Pantanal).
They are also very noisy, screeching quite loudly.  And notice in the video that each time they cry out, they open their wings.
Hyacinth macaws gather in flocks to sleep at night but maintain a monogamous bond with mates for life. Macaws are mostly found in pairs, either in their nests or flying together; mates may even show affection by licking each other's faces. Once paired with a mate, they are rarely found alone, except to feed, when one bird must remain to incubate the eggs.
As mentioned above in the capybara section, we were here during a full moon and on our last morning at the Pantanal North Porte Jofre (see below) we saw two hyacinth macaws mating. They sat on a tree branch, right next to each other, and you could see the males tail go up and down as they mated.
Nests are made in hollowed areas in trees, where, in the protection of the thick foliage, they are camouflaged so that predators are less likely to spot them. The clutch size is typically one to two white, rounded eggs, with an incubation period of about 29 days. After hatching, the young may stay with their parents for two to four years, during which time they are fed by regurgitated food from the male. Macaws take three years to reach sexual maturity. The parents bring them to join a group of single macaws and leave them there to breed. At that point they are as large as their parents, except for their chest feathers. Sometime later, the parents will call for their chick. If the chick does not return, it means it has mated. As mentioned, they mate for life and will breed about 6-7 times in their lives.
The hyacinth macaw population got so low in the 1980s that they were almost endangered. There are a number of conservation efforts around the country (see below for the conservation efforts in the Southern Pantanal at the Caiman Ecological Refuge), but the owners of this lodge have planted many trees that will eventually serve as homes for the birds. This will take time as the macaws build their nests on the manduvi tree and the tree has to be 60-80 years old to have hollows wide enough to hold the birds and the nest. But as the tree continues to age, it becomes fragile and vulnerable to the heavy winds during the rainy season.
The Great Potoo
At one point, Zapa stopped the car and had us all climb out. He used his green laser pointer to show us a Great Potoo. We saw a second one a few days later on the river. At first I thought it was an owl, but if you at his face carefully, you can see it is very different.
The great potoo (Nyctibius grandis) is a nocturnal passerine bird (meaning it has feet adapted for perching). Its most well-known characteristic is its unique moaning growl that it vocalizes throughout the night. We did not get to hear that.
The Great Potoo tends to perch high up in trees, and always returns to the same place. That's how Zapa knew where to find it. Otherwise, its coloring resembles the tree stump and it is quite well camouflaged.
Zapa told us that the great potoo has a magic eye. It doesn't open its eyes during the day because it would ruin its camouflage up high in trees. But it can see without opening its eyes. Wish we could do that!
Greater Rhea
We also saw greater rheas walking in the field, and then crossing the road in front of us. Rheas are interesting birds. They are flightless and are distant relatives of ostriches and emus. They are one of the few birds to have an actual penis. The male can mate with at least 15 partners. The male builds the nest and all of the female birds leave their eggs in the nest while the male sits on them. A few days before they are about to hatch, the male cracks open a few which attracts insects. The insects then serve as the first food for the rest of the chicks.
Rehabilitated Parrots
But we weren't just randomly driving. We had a destination in mind. Our destination for the afternoon was the Passo da Ema Ranch, a cattle sub-ranch belonging to the Araras Lodge. Although a working cattle ranch, it also has a mission to rehabilitate poached parrots. The birds are fed twice a day and then encouraged to return to the wild.
We came close to sunset and there seemed to be hundreds of green parrots enjoying their free meal. Many of the birds end up mating with wild parrots and then bring them back for free food. Who wouldn't return for free food!? And of course, other birds come and hang out as well.
Mustn't go hungry
And speaking of food, just in case we were hungry, there were snacks for us. Zapa came out carrying a basket, reminding me of Little Red Riding Hood. Throughout the trip we had snacks of M&M type candies (wrapped in a white paper cone), nuts and raisins (best mixed with the chocolate candies), granola bars and much more.
Pantaneiros
At the other end of the ranch were cowboys, Pantaneiros, learning how to lasso the cattle, both for their ranch work and for competitions. There was a man riding a motorcycle pulling a fake bull. The Pantaneiro would ride his horse behind, trying to lasso the "bull." The experienced cowboy would lasso the horns of the bull, and nowhere else. Chaco, Zapa's local helper guide in the north, was a Pantaneiro as was Guarano, Zapa's local helper guide in the south.
The cattle ranches here would not survive without the Pantaneiros. Their culture is deeply rooted in the rural tradition with a South American twist. They work and live just like their ancestors of 200 years ago. This is a culture that understands how to work in this unique landscape that is dry half the year and flooded the rest of the time. During the season of rains and floods, the horses have to cross water that is chest high and full of caimans. And these cowboys can lasso the caiman or a giant anteater just as easily as a cow.
The Pantaneiros have their own way of riding. They use five layers of wool, sheepskin and leather. Two woven wool saddle pads sit on the horse's back, topped by a leather tree to which leathers and stirrups are attached. The stirrups are merely heavy round metal rings. Next comes a sheepskin either in a natural color or dyed a bright orange, their favorite color. The final layer is a "baldrana," a large square piece of leather, similar in weight to a pair of chaps. This makes their long days on horseback easier to tolerate.
And if you look at the Pantaneiros cowboys you can tell if they are married or available by looking at their horse. The flashier and the more "rings" on the bridle, the more it says "I'm available."  And the cowboys wear brightly colored woven belts tied tightly around their waist which holds machetes or handguns. Cow horn cups or "guampas" are attached to the saddles for drinking iced mate. And they tend to wear a distinctive straw hat and always carry both a machete and a knife sharpener. As we would discover later, this proved useful on some of our subsequent forest walks. (See below for more information on the Pantaneiros.)
Morning hike
Day 2, Monday, August 12, 2019
The next morning, we were woken up by the cacophony of the Chachalaca birds.
That was OK because, since I had missed the big hike with the group the previous day, Zapa and Eugenio were taking me on an early private, shortened version of their hike. And it was also OK because later in the day it would be 104 degrees.
We stayed on the property but there was so much to see right there. First there were the toucanets, or aracari. These are small toucans and there were bunches of them. They were all busy eating the fruit on the trees.
There was the beautiful grounds filled with birds and capybaras.
There was also a particularly gorgeous blue and yellow Macaw that just hung out eating seeds and was more than happy to have his/her picture taken.
And there was an old shell of a rhino beetle. And along with the toucanets, there was also a Toco Toucan.
We saw capybaras, caimans, lots and lots of birds, flowers and an owl (which I always thought of as nocturnal, but his eyes were quite open).
Caiman
Like the capybara, caimans are everywhere in the Pantanal where there is water, whether a river, a creek, a swamp, a stream or a pond. Caimans are crocodiles' modest-sized relatives, one of the smallest of western crocodilians, no more than seven feet long and possibly the most abundant in existence today. The caimans found in the Pantanal are the yacare caimans, which are also called the piranha caiman, or southern spectacled caiman (due to the bony ridge between its eyes, which gives the appearance of a pair of spectacles). It is estimated that there are about 10 million caimans in the Pantanal and it seemed like we saw most of them, in all sizes.
The caiman has a smooth, broad, medium length snout. But its teeth are something to behold. It has an average of 74 teeth and some of the teeth on its lower jaw can poke through holes in its upper jaw. This feature makes its teeth more prominent and therefore the caiman has been compared to piranhas and is why it is sometimes called the "piranha caiman." The scales of the caiman take on the blue-green color of the water it slithers through. Such camouflage, and even the ability to breathe underwater through raised nostrils, sometimes protects it from its biggest predator in the Pantanal, the jaguar.
Another very interesting feature, which Zapa explained to us, is that the caiman, when underwater, can open its mouth but shut off its throat so nothing can get back there if they don't want it to. This way it can catch fish, then come out of the water to swallow.
When it is hot, the caimans sit with their mouths open to lose heat. They can't lose heat through their skin. So you often see them just sitting very still with their mouths wide open.
They also have the ability to burrow into the mud for up to three months. This is called estivation (a state of animal dormancy, similar to hibernation, although taking place in the summer rather than the winter; characterized by inactivity and a lowered metabolic rate, that is entered in response to high temperatures and arid conditions).
Heading to Porto Jofre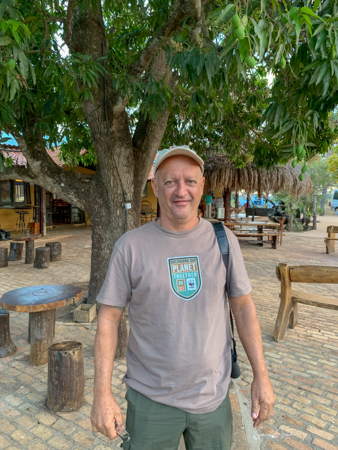 After my private hike and breakfast, it was time to say good-bye to Eugenio, climb into one of two vans and head on to our next spot.
We drove on the Transpantaneira Highway, the red dirt road, this time counting bridges. We passed lots of Brahma cows and all of them were so skinny. In the dry season, there just isn't enough grass for them. We passed lots of bright yellow Candelabra trees. The sun was rising in the sky. Birds were everywhere. Sometimes we would see a lone egret. Sometimes we would see whole villages of birds. And villages of termite mounds. There would be a dead tree with a bird perched on the top. We saw white birds, gray birds, yellow, orange, blue, purple. We had a blue sky with a smattering of white clouds. There were flowers on the road in purple, pink, yellow. There weren't fields of flowers but rather a flowering bush here and there. But mostly it was green with the yellow trees, yellow candelabras and brown earth due to the dryness. It was spectacular.
The bridges
As I mentioned in passing above, there are wooden bridges all along this highway. The number seems to be unclear. Whether 100 or 122 or 126, the wooden bridges by now are old and decrepit, in varying states of disrepair. Some are slowly being replaced with concrete bridges, but most of those haven't been completed and just end in mid-air. Many people just end up driving around the bridges rather than over them, at least in the dry season. In the wet season that is not an option.
And as we drove along, we kept counting bridges. At least we tried to count them, but of course, we lost track. Karl however kept counting and ended up with a total of 107.
Deer of the Pantanal
We saw different types of deer. There are four types of deer in the Pantanal. And we saw all of them.
Brocket Deer
There are different types of Brocket deer, so these count as two. This one, like many of them, was small and was roaming around the trees. The name, brocket, comes from the French meaning 'spindle,' a word for a stag in its second year with unbranched antlers. And they tend to be nocturnal. When threatened by predators (yes, you guessed it, the jaguar), they use their knowledge of their territory to find hiding places in nearby vegetation.
This time we saw a brown brocket deer, the type who tends to be a loner. We saw others throughout the trip.
Pampas Deer
Pampas deer are known to live up to 12 years in the wild but are threatened due to over-hunting and habitat loss. They are light in color and their coat does not change with the seasons. They have white spots above their lips and white patches on their throats. They are on the smaller side, standing about 25 inches. When they run, they lift their short, bushy tail revealing a white patch. Males have small, lightweight antlers that are 3-pronged, Pampas deer do not defend their territory or mates, but do show dominance by keeping their heads up and trying to keep their side forward.
Marsh Deer
That morning we saw a marsh deer with large, forked antlers. And then many others throughout the trip.
The marsh deer are the largest species in South America, reaching a length of 6.5 feet and a height of 4 feet. And they are endangered. They have large ears lined with white hairs. Their skin is tawny brown fur. Their eyes are black with white marks surrounding them. And their legs are long and black, which helps them camouflage in the water. And of course, their biggest predator is the jaguar.
We all climbed out of the vans and took turns peeking at the marsh deer, trying not to spook him. He ignored us, just munching on the leaves. Eventually, he tired of eating and just sauntered off.
Then it was back into the vans and back to counting bridges.
The red dirt road continues
We passed multiple marshes with hundreds of different species of birds as well as more caimans. We saw a bard ant shriek (a striped bird) and egrets, mostly solitary, but now and then in bunches on the trees or marshes. Ruthi called that a hotel of birds. We saw a tiger heron. And we saw so much more. And then we couldn't help wondering, what else is sleeping or hiding out there that we can't see?
The rain brings the fish
We stopped on a bridge and all got out to look down at the pool of water filled with caimans. The water was bubbling. Zapa explained that as the heat rises, the oxygen levels fall so the fish blow bubbles to oxygenate the water. However, their vibrations and the bubbles make the fish easier prey for the caimans and birds.
As the dry season goes on, and the water disappears, the birds and animals move around in the quest for water. The fish lay their eggs in the mud and then die off. After the first rain, the eggs, left by the fish, hatch and suddenly the ponds are full of fish again. The natives believed therefore that it was the first rains which brought the fish.
On the other side of the bridge, the water was filled with birds. An Amazon Kingfisher was sitting on the ledge of the bridge. We saw lots of egrets, a Roseate Spoonbill sitting on a tree, and lots of jabiru.
Jabiru
The jabiru also gets it own section. The jabiru is a large stork, most common in the Pantanal. In fact, it is the symbol of the Pantanal, where it is called Tuiuiu (pronounced tu yu yu) from the Tupi-Guarani language. The word "jabiru' means swollen neck. More on this later.
The jabiru is the tallest flying bird in South America, standing up to 5 feet, with the third largest wingspan of 7-9 feet (after the albatross and the Andean condor). They are primarily white birds with a black head, a long, black beak and black neck, and with a large red featherless and stretchable pouch at the base of the neck which looks like a red velvet ribbon. When the jabiru is mating, the red turns a vibrant almost neon red. And when they are hot, their black necks become bloated, filled with air to keep cool.
Both parents build their nest out of sticks on very tall trees, and they return to the same nest each year. Thus the nest gets bigger and bigger as more sticks are added. The parents take turns incubating the clutch of two to five white eggs. Although the babies are ready to fly at about 3 months, they often spend around another 3 months in the care of their parents. For this reason, pairs breed only every other year.
When we were in the south, we came upon a marsh that was 6-7 feet deep. There were a number of jabiru fishing. As I mentioned these birds have really long beaks and they repetitively put their beaks into the mud, causing a vibration and stirring things up. They are then able to catch eels, worms, fish, clams, whatever. Some of the longest worms in the world live in the Pantanal. We saw one jabiru catch a few clams and then a worm who was at least 12" long. Many small birds hang out around the jabiru because they stir up so many insects that it is easy for the other birds to feast.
Ruthi and I fell in love with this bird. It was so magnificent and royal looking with its commanding presence. And when it flew, it was incredibly graceful. We saw jabirus everywhere, both in the north and south. We saw them walking and searching for fish. We saw them in their nests. We saw them flying. We saw them alone and in pairs and in groups. And each time, we fell in love with them over and over again.
Anaconda
We continued on our way. Within a few minutes, Chaco, who was in our van, suddenly stopped the car and yelled, "anaconda!" It was crossing the road right in front of us and we all scrambled to get out and take pictures. It was yellow on its stomach and grayish silver on its back with reddish-brownish stripes on its tail and similar colored spots on its body. It was rather gorgeous. It was about 6 feet long. Since I was in the back of the van, I didn't get out fast enough to take a picture, but luckily David did, and Gary got a video.
Anacondas, or Eunectes, are semi aquatic and are in the boa family. The name Eunectes is derived from the Greek word which means "good swimmer." But the name anaconda is a word from Sri Lanka. The name likely traveled as Portuguese sailors and colonists moved between Portuguese settlements in Brazil and Asia. Anaconda became a generic word for a large snake.
The anaconda are the biggest snakes in the world often in length, and always in size and power. Life in the water helps support the anaconda's heavier weight and girth, making the snakes fatter and more muscular than its land-based cousins.
The anaconda eats infrequently, often with intervals of several months. It kills its prey by constriction. The digestion of a single meal can take two weeks or more once the prey has been swallowed. The indigestible bones are eventually regurgitated. It can eat a whole capybara. They have six layers of sharp teeth which are hooked so that if you attempt to back out of its mouth, your flesh will tear. According to the Pantaneiros, if you are bitten, you have to push in slightly further, forcing the anaconda's mouth to open and then unhook their teeth. Most prey don't ever get this opportunity as the bite is immediately followed by the snake lifting its victim and maneuvering to coil itself around it, suffocating the pray.
While there are four types of anacondas, only two are found in the Pantanal, the Green and the Yellow Anaconda. Sometimes it is hard to tell the yellow from the green anaconda as the yellow may appear olive green. But their undersides are yellow and the black circular markings on its back are more likely to touch and merge, forming a complicated pattern. The yellow anacondas are smaller than the green species but are more common in the Pantanal. They can grow up to about 14 feet, so the one we saw was rather short.
Later, when we were on the river, we floated by an area of the bank that was full of holes. Every time we passed it, we slowed down and Zapa would carefully look. He was looking for snakes as this is where they nest or burrow. Most of the times we passed the holes were empty. But one morning Cindy spotted an anaconda in one of the anaconda "hotel" holes. It was slithering along the bank amongst the foliage which made it hard to see. Zapa estimated it was about 10 feet long. He then found a second one already curled up in a hole. It was apparently sleeping so we could only see its head, which was huge and bright yellow with black spots. Then we saw a third one all curled up with just part of the middle of the body sticking out. Zapa thought that one was even bigger. He joked that we could now photoshop the tail from the first, the head from the second and the middle from the third to make a complete snake. Zapa said that he went two seasons without ever seeing any but there are now more and more and they are easier to find.
Yellow-tailed cribo snake
Another time when we passed the holes in the bank we saw a yellow-tailed cribo snake (Drymarchon corais, also called an indigo snake) about 7 feet long, slithering around, sticking its head in and out of holes as it searched for food. As much as I don't care for snakes, this one too was beautiful. It was a translucent green on the first half of its body and bright yellow on the second half. Zapa said that although very pretty, and although nonvenomous, it is an aggressive constrictor.
Jaguars – whoops, not yet
The ride was bumpy over the uneven but quite flat road. We drove through an 200,000 acre ranch which raises Brahma cows and horses and also helps support the state park.
We stopped briefly at a resort on a riverbank for quick bathroom stop. And there were jaguars. Ok, ok, these were statues too, but we all had fun posing with them. And with the caiman. We also all bought a wonderful pamphlet about the birds of the Pantanal which helped me identify the hundreds we saw.
Hotel Pantanal North Porto Jofre
Four hours after leaving the Araras and crossing the Pantanal, we finally arrived at the Hotel Pantanal North Porto Jofre Lodge. This was once a farm, not a lodge. One day, a fisherman, who had caught many, many fish, stopped by and asked if he could spend the night. When he left the next morning and returned to his village, he shared the news of this river full of fish, of the bounty of the Pantanal and of the farm that let him spend the night. More and more fisherman started coming and the farm turned into a fishing lodge. And then the fisherman started posting photos of jaguars they had seen and slowly, slowly, tourists starting coming just to see the jaguars. And thus the Hotel Pantanal North Porto Jofre evolved. Now it is filled with both tourists and fishermen.
And the name Porto Jofre? The name of the farm was Jofre. When the Transpantaneira Highway was built and ended here at the Cuiaba River, this became the port for transferring cattle and food. Thus, the name became Porto Jofre.
The lodge has 36 rooms, all of which seem to have three beds (two single and one double). Each bed had the towels shaped into a heart. Each room has a refrigerator and bottled water. All are air-conditioned, which when we were there was quite necessary. There was no closet, but there was a coat rack and plenty of space to put our packing cubes (is there any other way to travel?!). The only problem we had was we could not figure out how the hot water worked and ended up with cool showers. I'm sure there is some trick as everyone else had hot water. And although they came to show us, we still could not get a hot shower. There were also lounge chairs outside each room if you wanted to sit and relax and watch the birds. (Or dry your laundry on them).
The lodge has a swimming pool and is surrounding by the river on one side and a large lagoon on the other. The lagoon is crossed by a long wooden bridge, but we were warned not to get off on the other side. Jaguars or other animals might be lurking there. There was a small chapel as well, right by the landing strip, to welcome people when they arrive.
There is a fairly large dining hall with two rooms. Food is served buffet style. The food is all locally grown or caught. There were multiple choices for lunch and dinner, including a fish dish, a meat dish and a vegetarian dish.
The lodge has its own vegetable garden and on our last morning we got a behind-the-scenes tour of their organic garden and the operations center. Their greens were gorgeous and there was a row of Paku and catfish hanging to dry, which is apparently a delicacy for the Brazilians.
The grounds are green with lots of lawn space. And of course, there are birds everywhere (real and not-so-real). Hyacinth macaws were almost in every tree.
And the owner's sister feeds toucans every morning and every afternoon which gave us a chance to photograph them at close range.
In the morning, horses came to graze.
The lodge has its own fleet of boats which made it very convenient as we explored the Pantanal, and which were beautiful when all lit up at night. The lodge also has its own landing strip (a long stretch of grass) which we got to use on our last morning as we flew out.

Lily Pads
Close to the shore by the bridge were large lily pads, sometimes called Queen Victoria's lily pads (Victoria Amazonica), perhaps 4 or 5 feet in diameter (although they can grow up to 9 feet). Whenever I had seen pictures of the Pantanal, this is what I saw. But this was the only place we saw them. They were beautiful, in different shades of green with white and purple lilies blooming. I saw them described as looking like big green dinner plates on a blue tablecloth.
And sometimes, the caiman came to visit here too.
Time to hit the water
After settling in and having lunch, it was time to head to the water. Finally, finally we might have the chance to see jaguars.
We all trudged down to the water, outfitted with neck buffs (the most important item to take with you on this trip) and hats and settled into our fast 250 hp skiff. Chaco was with us as well as our helmsman (boat driver), Gonzelino.  And so we headed upstream on the Cuiaba River, the three of them always on the lookout.
Rivers of the Pantanal
The Cuiaba River divides the north and south Pantanal and goes 2000 miles, all the way down to Buenos Aires. We went upstream until it met at a fork with the Piquiri River, a tributary of the Paraná River. The fork represents the beginning of the Pantanal Matogrossense National Park (see below). The water in the Piquiri comes from the mountains so it is cleaner than the Cuiaba which is brownish due to lots of silt. The Piquiri is also the dividing line between two states, Mato Grosso and Mato Grosso do Sul.
At different times we passed the Black Creek and the Three Brothers river (Tres Hermanos). Creeks have ends and are fed by marshes. Caimans love creeks because there are lots of fish and no current. We also saw lots of capybaras. The caimans are afraid of the capybara and when the capybara move towards them, they plop back into the water. And of course, there are always tons of birds.
Pantanal Matogrossense National Park
The Pantanal Matogrossense National Park is some of the only land not privately owned by ranchers and farmers. It has been labeled the "Wetland of International Importance," and covers both the states of Mato Grosso (where we now were) and Mato Grosso do Sul (where we would be going). The park is a protected area, whose mission it is to preserve the natural ecosystem of the area, protecting the beauty and enabling research, environmental education and tourism. The park itself is about 335,000 acres, and much of it is water.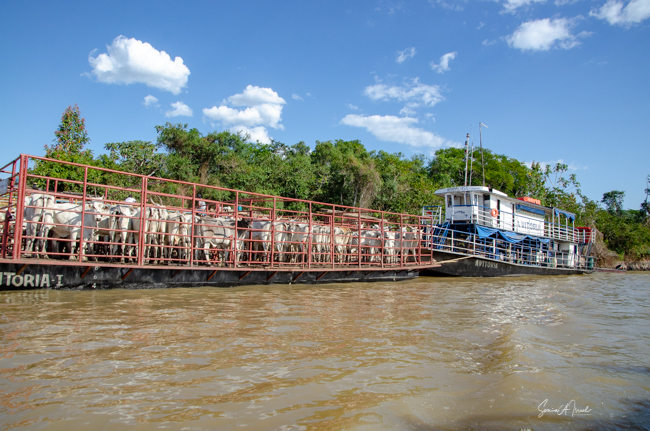 Having said that, the cattle farms still use the rivers to transport their cattle.
Tiger catfish
Tiger catfish, called Pintado, are very common here and are a favorite delicacy. They are very different from the catfish we find in the US as these are not ground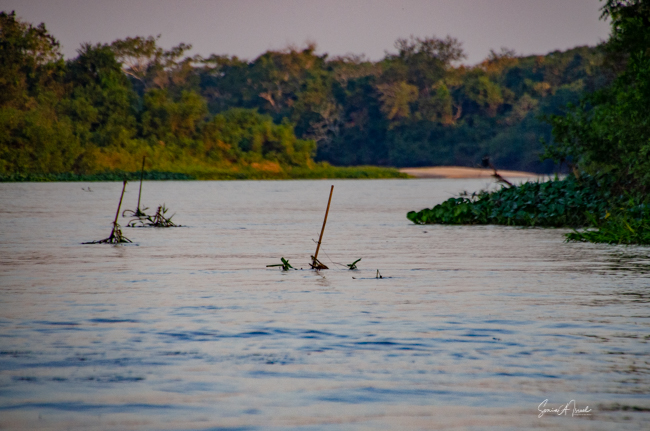 feeders. These, also called sorubim, have an elegant pattern of hieroglyphic black markings on a silver-gray background. To catch these fish, you need a license and you are only allowed to catch 5 kilos plus 1 fish. The locals, when fishing for this fish, are not allowed to use nets. Rather they set up poles with bait and leave them overnight to catch the catfish. Since these fish are so expensive, they check their poles at midnight and again early in the morning.  We saw the poles in lots of spots on the river, and we were served some variation of this catfish every night.
Jaguars – for real this time
As I mentioned above, we all climbed into our boat and headed upstream. We raced across the sparkling water under the brilliantly blue sky with the wind in our faces. Birds were flying everywhere and perching on the very tops of trees. Everywhere we looked there was more and more beauty. And for quite a while, we were the only boat. We passed a few house boats that are hotels, but no other boats racing through the water.
In just a few minutes we saw our first jaguar. He was sleeping but as we watched, he sat up and posed for us. He stood up so we could see his full grandeur. He walked a bit and then went back to sleep. The show was just for us.
And Zapa did his happy dance!
Later in the day, each time we passed this area, other boats were waiting (once someone spots a jaguar, they radio the other boats). But for them, he just slept.
Jaguars used to be rare here. When Zapa first started guiding, about 15 years ago, it took 7 months before he caught a glimpse of one. Then another 11 months before he saw another. At the end of the year all the guides would have a jaguar party and recount how many they each had seen. You had to buy a case of beer for each one you saw. Then the farmers got together and created an area where the jaguars would be safe. So they multiplied. 70% of the jaguar's diet is caiman and there are over 10,000 caiman for the jaguars to feast on. Now it is estimated that there are 60 jaguars in the park.
The name jaguar comes from the Tupi-Guarani word yaguar, which means "he who kills with one leap." They are the symbol of wildness and prominent in ancient religion, mythology and art. The Maya believed the jaguar was the God of the Underworld and helped the sun travel under the Earth at night, ensuring it would rise in the morning. The Aztecs worshiped the jaguars and were the guardians of their sacred temples.
Jaguars are the third largest cats behind tigers and lions, and the jaguars in the Pantanal are the largest in the world, occasionally exceeding 300 pounds and 7 feet in length. Their heads and shoulders are massive, and their legs are relatively short and thick. They are both adept climbers and swimmers, making them versatile hunters. They are at home in trees, on the ground, and in water. In the Pantanal, they hunt caimans by jumping into the water and dragging them back out and they hunt capybaras either on land or in the water. They have been known to kill cows as well. Relative to body size, jaguars have the strongest bite of all the cats, with a crushing power of up to 1,500 pounds of force which allows them to pierce the skull of their prey and even crush bone to access the marrow.
The jaguar is nocturnal, spending most daylight hours snoozing in the sun. The males will hunt at night. They  mark an area of about 65 square miles and spend the nights stalking other animals. The younger males and females tend to hunt in the day, in order to stay out of the way of the males.
Here are some fun facts which I got from the Jaguar ID Project website (see below for more info about this project):
Jaguars are one of the four roaring cats. The roaring is a proclaiming of their territory or bringing together of the two sexes
Jaguars are one of the few large cats that have melanistic individuals; meaning there is no such species known as the "Black Panther", it is just a jaguar or leopard with melanism.
Jaguars are aquatic cats and many rely on aquatic prey as their main food source
Jaguars actually have 5 toes, but only four leave tracks, keeping the most developed hunting claw off the ground
Jaguars can eat 8 to 10lb of meat per day
Jaguars have been known to be nocturnal, but studies show they are often active during the day with peaks around dawn and dust.
Jaguars vs leopards
So how do you tell a jaguar from a leopard? While jaguars look similar to leopards, the jaguar has a much stockier build with shorter legs, and the "rosettes" on the coat of a jaguar have spots inside the rings, while leopards do not. In addition, jaguars are only found in the Americas while leopards are found in Africa and Asia.
…And more jaguars
We continued upstream. And there, a second jaguar. This one was much fatter and was surrounded by boats. There were some photographers with very, very large lenses.
But this jaguar just slept and slept. We anchored and watched for a while. He would lift his head. We'd get excited. Then he would put it back down and go back to sleep. Once in a whi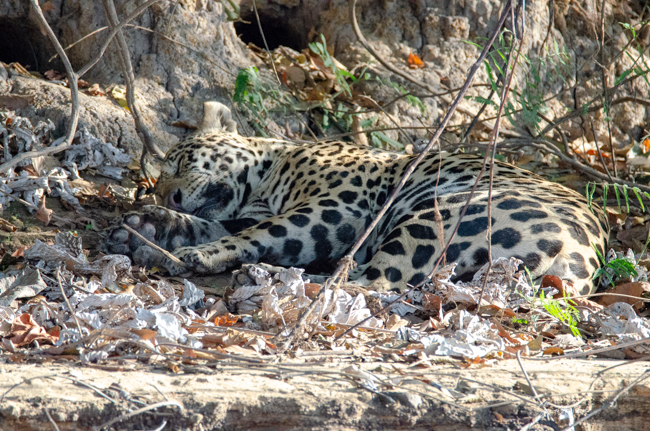 le his tail would twitch. He would swipe at a fly with his huge paw. But sleep continued.
So we pulled up anchor and kept going. And on the way back to the lodge, right as the sun was beginning to set, we saw a third jaguar.
This one was sitting on the beach and just watching a family of about 10 capybaras. We knew he was thinking, "dinner." And we couldn't help but root for the capybaras to get away. There were two large capybaras, each looking in a different direction, as they are apt to do. And we couldn't understand why they just sat there. The jaguar got up slowly, and then stealthy starting walking towards them. All of a sudden, we heard a bark and a splash as all the capybaras jumped into the water to get away. Finally!  Zapa said the jaguar must be young and inexperienced to have let the capybaras get away. Please see the capybara section above for the videos.
Jaguars lose some color as get older but ours were all young.
So three jaguars. And that was just the first afternoon.
The Giant River Otter
After seeing our first jaguar, we pulled up anchor and moved again, still heading upstream on the Carrizo Creek. Suddenly our boat pilot, Gonzelino stopped. We saw a head bop out of the water. The giant otter.
And then right before our eyes, he climbed out onto the bank where he was building a den.
Dens are built by all members of the family. They clear a living space for their clan, as they are monogamous and have litters of about 5 cubs. But the different generations of offspring live with them, so you could have as many as 12 otters living together. They were once endangered, but no longer.
The den might be as large as 540 square feet but surrounded by vegetation so you can't actually see it from the river. They clear the area by trampling the surface grasses, they collect tree limbs and leaves and then embed those into the trampled mud. They construct large burrows under fallen logs. And finally, they mark the territory with a scent from their anal glands. And if that isn't enough, they leave dead fish, urine and poop all around.
So yes, the smell hit us. You can always smell an otter's den. Putrid.
The otter then went back into the water, swimming so incredibly fast. We would watch him submerge in one spot and seconds later he was a football field away. They swim with an up and down motion just like porpoises. And when we would catch up, he would lift his head and bar his teeth. They are not cute. They are mean, ferocious, and frankly have a face only a giant otter mother could love. In fact, they are so nasty, they are also called water wolves or water jaguars.
We went on and suddenly there was a whole family of Giant Otters. Five of them. Parents and kids. They too were swimming through the water hyacinths where they look for fish. We followed them as their heads bobbed in and out of the water. One caught a fish and swam away to be alone so as not to share. He (she?) looked like a little person, holding the fish with his front feet/paws/hands and eating it like corn on the cob.
They all swam some more and then came out of the water by their den (and yes we could smell it). The parents watched as the cubs frolicked in the water. At one point the 3 cubs swam right towards our boat, teeth barred. But at the last minute they veered off. Must have realized that big jaguar (i.e., our boat painted with a picture of a jaguar) was no match for them.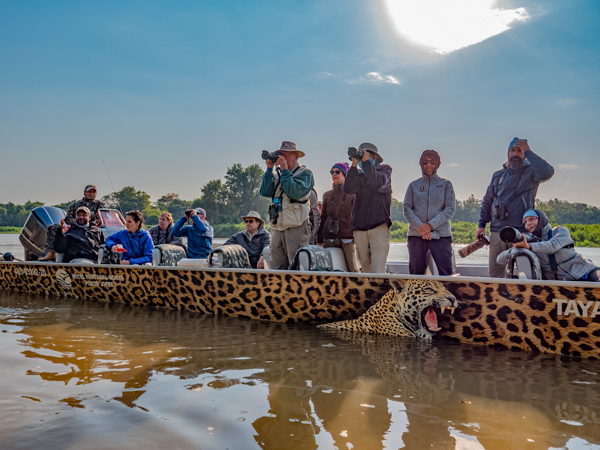 And the first day ends
As we made our way back around sunset, Zapa passed out bug glasses as we got bombarded by flying insects. We pulled our neck buffs up over our heads and faces. But the wind felt great, and the sun was setting and the sky turned beautiful colors. The moon was full. And we were so happy.
Neck Buffs and Fleece Jackets
Day 3, Tuesday, August 13, 2019
Our morning started early. We made our way down to the water at 630am, just as the sun was rising. Everything was covered in a red glow. It was magnificent.
We climbed into our boat and settled in. Neck buffs were pulled up and fleece jackets, hats and gloves were on against the morning chill. We even brought blankets to wrap up in. The boat took off, heading upstream again, and all we could hear was the rush of the waves as the boat sliced through the water. The sound of the wind in my ears. Now and then the cry or song of a bird. The quiet. Totally peaceful.
There were fewer birds out because it was so cold. But as the sun rose and it warmed up, the birds came out flying everywhere.For a while, all we saw were capybaras and birds. The capybaras were  on a small plot of sand and it seemed to be a whole family of parents, a teenager and three little ones. Zapa estimated they were less than a week old. They totally ignored us, but we had fun watching them.
The birds were beautiful, as they always are. They were everywhere and they were singing their hearts out. Flying in formation. Perched on trees. In the water. Birds, birds, birds,
And of course, caimans. Everywhere.
We veered off the main river onto the Three Brothers River and then into a small creek. There were beautiful red trees along the banks called Brazilian ant trees because they are millions of ants on them. So, beautiful, but do not touch! Zapa also cautioned us not to touch the long grass along the marsh, the razor grass since, as the name suggests, it is very sharp.
Howler Monkeys
We kept going up the creek. We suddenly heard a loud howl. Yes, a howler monkey, specifically a Paraguayan howler monkey, sitting on top of a candelabra tree. They really do howl. In fact, they protect their turf with their roars. She was hard to find as she was quite camouflaged. Zapa said there was a family around but we didn't see the others. They apparently don't move around much and mostly sit up in trees and eat leaves.
How did we know it was a she? The females are brown and the males are black and larger.
The howler is the largest of the Pantanal monkeys, weighing as much as 10 pounds. They aren't particularly aggressive but their howls sound like they are. The male starts each day with a call that sounds like the roar of a lion. In the evening, at dusk, the males get together and sing as if in a chorus. This gets particularly loud if any trespassers get to close. And that sound carries over a mile, which is why we could hear it so clearly. We often heard the howls no matter where on the water we were.
How do they "sing" so loudly? They have a very large larynx and throats which inflate into resonating balloons and are often compared to Pavarotti-like vocal abilities.
Howlers are similar to reptiles in that they have to warm up before they start eating. Then mainly eat leaves and figs. Hawks and eagles are their predators.
Later in the trip we saw another family in the trees, howling away.
At different parts of the trip, we also saw other monkeys.
Green Iguana
At another point Gonzelino suddenly stopped the boat and Zapa pointed out an iguana. This was a green iguana, which is a large lizard found in the Pantanal. It was just sunning on the tree and with the sunrays on it looked iridescent. The next day we saw a second one. I still don't know how anyone can spot them as they blend right into their surroundings.
Bathroom?
We had been cruising for a few hours now and it was time for a bathroom break. Of course there are no bathrooms out there. So Zapa found a place we could pull the boat up and climb up the bank. He went first, clapping his hands to scare away anything that might be there and making sure it was safe, that is, no animals we would not want to run into. It was sure full of termite mounds, but luckily no animals. Once he felt it was safe, the women all climbed up the bank, with our toilet paper and plastic bags and we each found a spot to do our business. The men had it easy; they just went by the boat.
Caiman Alley
We got back into the boat and went up another river called the Cairna river, unofficially called "Caiman alley."  There were huge caimans there because are so many catfish living here. This river also connects with the Cuiaba river. There are thousands of interconnected and intertwined rivers/creeks and easy to get lost. Our driver has been a boat driver in this area for over five years and knew exactly where we should be when.
And then the radio call came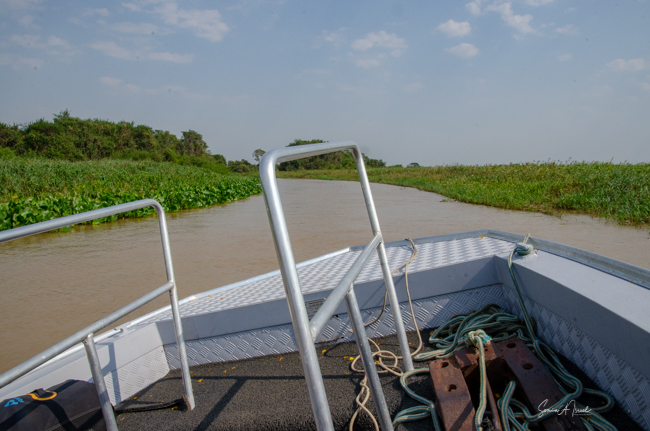 And then the radio call came. Jaguar. We took off at neck breaking speed. Hugging the corners. Water spraying. On the hunt. Anticipation great- would the jaguar still be there. We raced down one river and onto another.
And then we saw all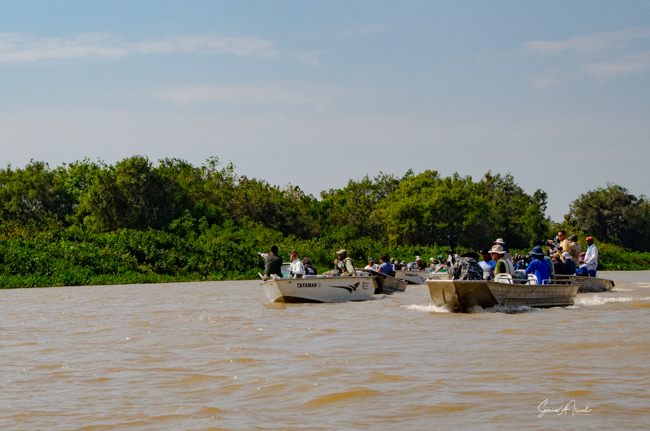 the boats. The cameras were all pointed in the same direction.
And then we saw him. One beautiful jaguar walking through the tall grass. But wait. Right behind him was a second one. Brothers.
The Tale of Two Brothers
All the jaguars previously identified are named. Later we learned that the first brother we saw was Borro (also called The Brother Arara, Tore or Os Imaos). He is the "son" of  Kyra and was first seen in 2017, making him about 2-3 years old. Borro walked through the tall grass, stopping now and then to examine his surroundings, and us. They are so used to boats that we don't bother them. And a few feet behind him came his brother, Ando (also called The Brother, Os Imaos, Kim, Inho). You might be wondering how I could tell them apart? Borro has a marking above his nose that is shaped like a horseshoe. Ando has one more like an angled line.
Ando continued to follow Borro. In anticipation of them reaching the beach up ahead, we moved our boat to get a good vantage point.
And sure enough, after many minutes, Borro broke through the tall grass onto the beach. He paced back and forth. He sat down. He yawned. And then he paced some more. He went to the other side of the beach and walked into the water, and then back out again. Suddenly he called out. Zapa translated for us. Borro was calling for his brother, Ando. Essentially, he was saying, "Ando! Where are you?"
Ando, in the meantime, had spotted a capybara and decided it was time for lunch. He jumped into the water, but the capybara was faster this time and got away. Ando slowly swam back to the shore, climbed up and made his way through the grasses to the beach. When he emerged, his wet fur was much darker.
Borro walked over to him and they started rubbing against each other as if they were hugging. Brothers.
We watched for some more minutes until the two brothers walked back to the tall grass and disappeared from sight.
How Jaguars are Identified
Abbie Martin runs The Jaguar Identification Project, a non-profit which uses citizen-science to build a cohesive database on individual jaguars in the northern Pantanal region [www.jaguarsidproject.com; info@jaguaridproject.com] They have been following individual jaguars and documenting their behaviors since the early 2000s. Each jaguar is identified by its spot pattern, which is like a fingerprint. Most of the photos are supplied by tourists and each jaguar is cataloged in the Jaguar Guide which lists individual behaviors, lineages and relationships, and home ranges and movement. The guide is available as a pdf for $10.00.
Apaz
After we left the Brothers, it was back to the lodge for lunch and a break from the mid-day heat. It was about 96 degrees. And then at about 3:00 pm, we were off again. Zapa decided to head downstream on the Cuiaba River instead of the usual upstream to the national park. He warned us that we night not see any jaguars. Very few people head downstream as one of the goals of these trips is to see jaguars and fewer have been seen downstream and those that are there seen, are not as habituated to boats and are more wary of us. But Zapa, our fearless leader, thought the beauty and the serenity of that area would be worth it. So off we went into the Rio Negronho Creek.
And before we knew it, near the Boca Brava channel, on the right bank, we saw a jaguar (our 6th in less than 24 hours and over 102 miles of river). Zapa thought he was a young male, probably about three years old. He had not mated yet as his face was not yet scarred (see below for an explanation of this). He was sitting by a tree on the riverbank, overlooking a group of caimans below. We assumed he was waiting to catch his dinner. We watched for over an hour, but he never pounced. He sat.  He watched.  He yawned (showing us his very, very long tongue). Eventually he got up, walked over to a tree, put up his front paws and marked his territory, at which point all the caimans jumped under water with a big splash. And then he walked off and we continued on our "cruise."
Later that evening, back in our lodge at the Pantanal Norte, we ran into Abbie Martin of the Jaguar Identification Project I just described above. When she heard we saw a jaguar downstream, she asked if I had any pictures. Did I have pictures?  Do you know me?! I emailed her some photos and received this response:
"Congratulations you got yourself a new jaguar!!  So we do have some naming guidelines. We ask you to choose a name that relates to this individual, the way you think it looks, your experience with it or its behavior. We do not accept names like Kitty or Spot or a name of a ex boyfriend..etc.. you get the point. If the word you choose is English I will translate it into Tupi-Guarini the indigenous language of the region."
And so we got to name the jaguar! I decided that although I took the pictures, I was not the first to see it. And it would be more meaningful to Zapa to name a jaguar than to me. Zapa suggested we name him as a group. He came up with "Dear Friend." This was so fitting for so many reasons. The first is that Zapa always addressed us as "dear friends." The second is that we felt that "our" jaguar was indeed our dear friend. So now we waited to hear what the Tupi-Guarini version would be.
I emailed the name to Abbie and a day later got this response:
"Thank you for getting back to me. Sorry but 'Dear Friend' is a very strange jaguar name even if it's translated into Portuguese. Can I suggest you name him Zapa? What do you think?"
Well, we all loved the idea of naming him 'Zapa." But Zapa was not wild about that idea. So it was back to the drawing board. At this point we were all heading home and continued our deliberations via email. Johanne came up with the idea of naming him Apaz. First, that is Zapa backwards. Second, it Portuguese it means "peace." We all loved that idea, as did Abbie.
So our jaguar is named Apaz. Here is the page from the ID book.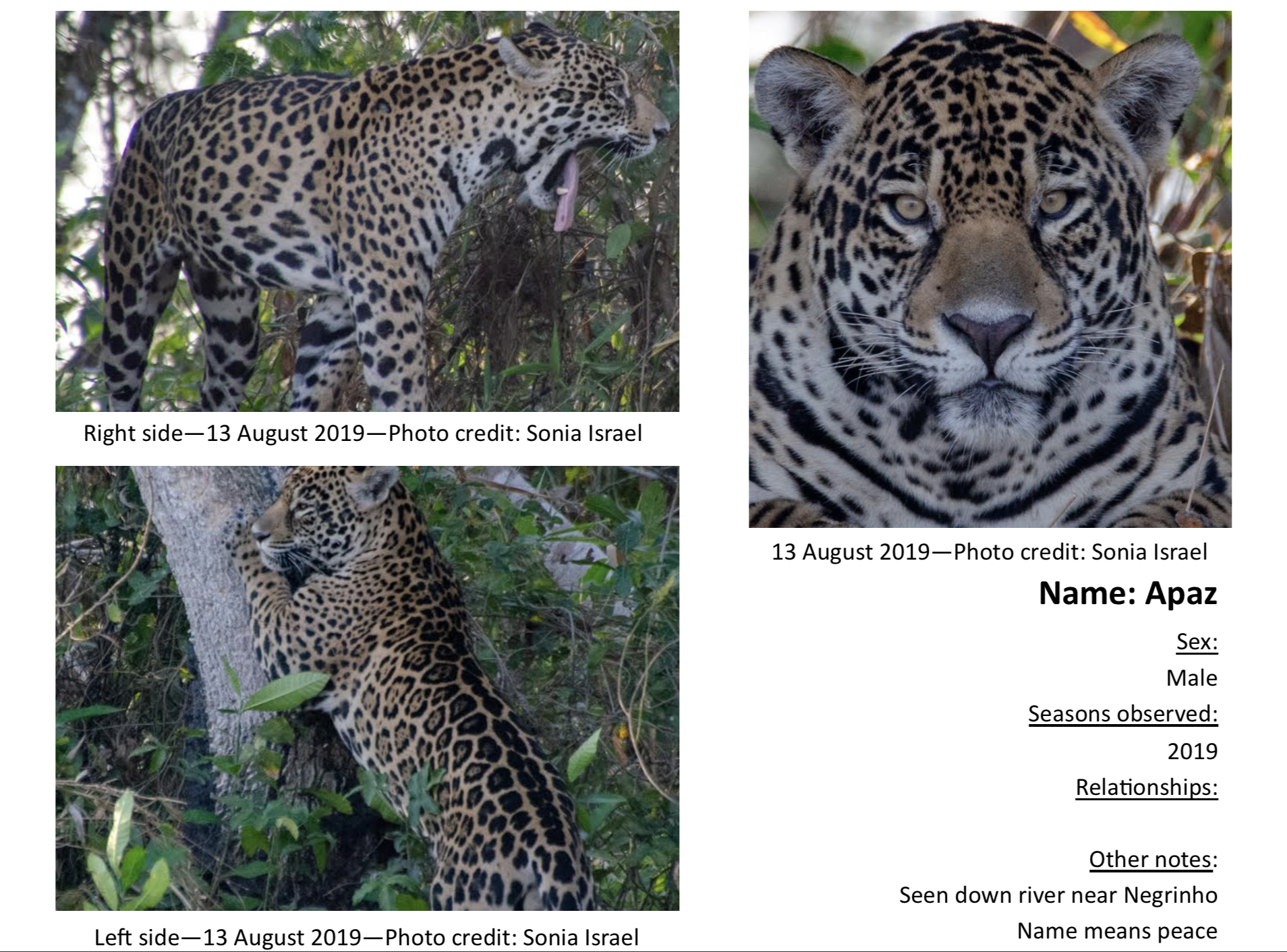 White caps
On the way back to our lodge, heading back upstream, the wind picked up. The boat was speeding, There were white caps on the water. We all moved to the back of the boat to so the front could rise out of the water. We huddled close, dressed in our warm jackets, neck buffs pulled up over our heads and faces, with only our eyes peeking out (and even those had our bug glasses over them), blankets covering us. Hard to believe that earlier it was 96 degrees.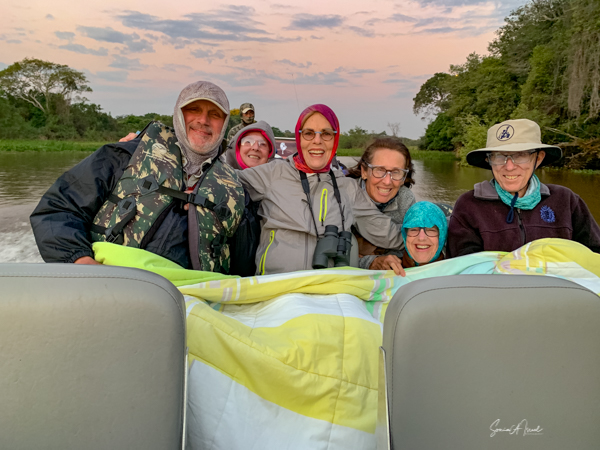 And so you can "feel"the wind, listen to this video.
The sun was setting, the moon was rising, it was getting dark. But Zapa never gave up looking for more things to show us.
Another beautiful morning
Day 4, Wednesday, August 14, 2019
This was an early morning again and it was cold. We got to the boat and wrapped up in our fleece jackets, gloves, hats and blankets. But our hearts were warmed by the beautiful sunrise.
We headed upstream again, back into state park. We passed the bank with all the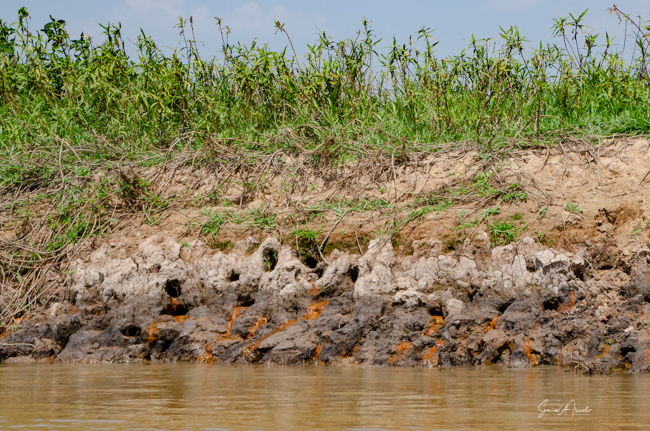 holes in it and searched for anaconda, but no luck this morning. And then we saw boats. At this point we knew that meant jaguar, our seventh. (Zapa told us that the group who came in July never saw even one jaguar). This one was sound asleep. The sun shone on her. The morning light was perfect. We hoped she might stand up, stretch and pose before going back to sleep. No such luck. After about 20 minutes we were on our way again, cruising up the river in search of more wonders. The morning wind had died down and the Cuiaba River was very calm.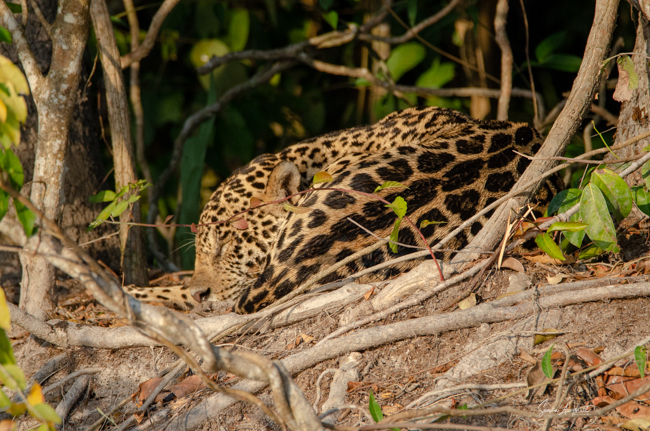 We ran into a family of howler monkeys (see above for more info on howler monkeys). There were four high up in the tree and one female on a branch further down. We floated for quite a while watching them and listening to them.
Mother and cub – numbers 8 and 9
We started up the river again and there were more anchored boats. Yes, jaguars. It was a mother, Tina and her 1-year old cub Matthew. The mother was sound asleep as she is well habituated to all the boats. We could just make out her nose through the foliage. The cub was just learning about boats. He would raise his head, see mom wasn't worried, and go back to sleep. And thus he was also slowly getting habituated. And that was number 8 and 9.
Number 10 and 11?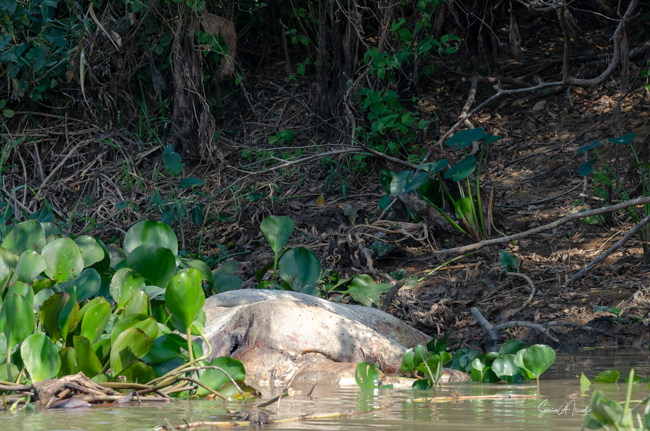 We came upon a dead Brahma cow carcass in the water along the shore. As we arrived, the two brothers were just walking away into thick vines and brush. Some of us just caught a glimpse of them, but others in our boat did not.
We waited for almost an hour, wishing for either these jaguars to return or vultures to come down, as Zapa said if the vultures came, it was likely the jaguars would return to defend their carcass. But the vultures just flew and watched, but never came close to the carcass. And the jaguars did not return. So we pulled up anchor and left.
The big discussion in our boat was, do we count the same jaguars twice, which would make these 10 and 11, or do we count each only once. I voted for only once. So no 10 and 11….yet.
Gonzelino took us back into Caiman alley. It seemed like the caimans were twice the size of yesterday. Although we did not see them here, the brothers mostly live around here. And why not? It would be the equivalent of a caiman buffet.
Birds, birds and more birds
The river was full of birds today. We saw a Great Heron catch and eat a fish.
Watching all these beautiful birds day after day made me realize that I never understood what color really is. (For a full list of all out birds and more pictures, see below.)
Our last afternoon on the river
Unfortunately, our time in the Northern Pantanal was coming to an end. Our last river cruise was this afternoon. We went onto the Piquiri River, for the first time and then back to a different part of Black Creek. Although the Piquirri is supposedly more pure as it comes down from the mountains, it looked pretty brown and silty.
We stopped to photograph a beach with a jaguar on it…..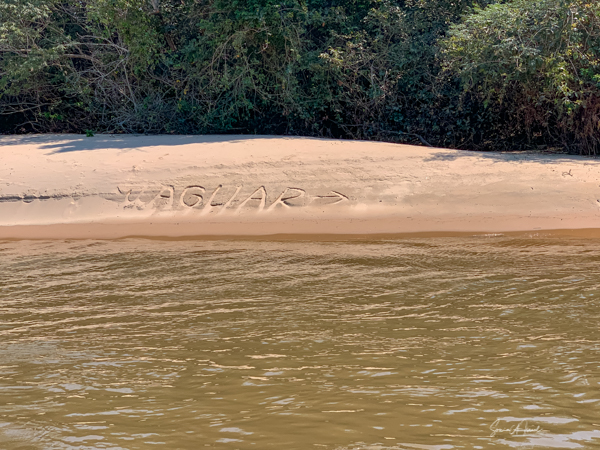 Another boat of tourists thought they saw a jaguar. The birds were going nuts but unfortunately, despite waiting about 40 minutes, none of us could see it. So we continued up the river.

Inside bends. Outside bends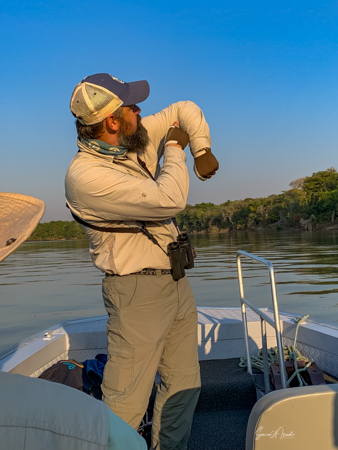 We had gone up and down many of the rivers and creeks at this point. Using his elbow, Zapa explained that at the bends of the rivers, the "Inside bend" will have a "beach' while the outside bend will have significant tree/vine growth. This is a function of the currents: the push of the rivers on the outside banks erode the bank while new land and eventual growth occurs on the inside bank. The erosion also explained why we saw so many tree roots along the river banks.
Wine at sunset
We anchored in Black Creek just before sunset. Zapa and Chaco brought out wine glasses and bottles of Sauvignon Blanc (I'm pretty sure cause they knew it was my favorite). As we watched a gorgeous sunset on one side and moon rise on the other, we toasted to a wonderful trip so far!
Final thoughts on the Northern Pantanal
The whole time on the water was so relaxing and soothing. The wind in my face. Warm, although we all brought our fleece. Sun rising reflecting on water. At times the sun peeking through the trees. And the smell of freshness. River water. Morning.
There are songs written about this, called Relva. That is the smell of the forest. The smell of fresh air
Good bye to the North; Hello to the South
Day 5, Thursday, August 15, 2019
This was our last morning at Pantanal North Porto Jofre and we were sad to go. Our flight wasn't until 9:00am so we had a lazy morning. I walked around the grounds with my camera. Near the bridge there was a family of Southern screamers – two adults with their chicks. I watched them, and listened to them, for quite a while. They were  just being a family.
Bird's Eye View of the Pantanal
The Pantanal North Porto Jofre lodge has its own landing strip, a large grassy area similar to the landing strips we experienced in Africa on safari. There were two small planes waiting for us. We said farewell to our local guide, Chaco, who was off to guide a group of German tourists and "boarded" our plane.
Zapa assigned us to the planes and the pilot told us which seat we were to take, based on weight and length of legs. Debra and I were in the back of the Cessna 206, a five-seater, along with David, Gary and Carol. Ruthi and the rest of the crew were in a Cessna 208 B grand caravan which is a 9-seater.
We rolled down the "runway" and took off ahead of the other plane. Since we were smaller, we were slower, but also could fly lower for better views. The caravan flew higher and faster, which made it harder from them to get pictures. It took them about 65 minutes to transverse the 200 miles, and us about another 15 minutes, a trip that Zapa said would take over 19 hours by car.
And the view from up above was spectacular. We first flew over the lodge and could see the river and the grounds and the bridge over the lagoon.
Then we flew over a canopy of blooming candelabra trees, which looked like a thick yellow carpet. We passed our river, the wonderful river we had just spent 3 days on. The ground was green, but in a dry sort of way. We could see lots of dry riverbeds and could only imagine the sight during the wet season.
At one point, since our plane was so small, the pilot lowered the plane and we felt like we were getting ready to skim the treetops. The land alternated between barren brown, dry land and forests of green trees. There were no real roads. We could really get a sense of the huge expanse that the Pantanal covers. We could see how the water holes were drying up during this normally dry season. And all those areas with no trees would soon be underwater when the wet season arrived. Zapa said that in the wet months, one cannot see the ground at all.
And here the ground had large puddles (not really lakes) with dead trees creating sculptures designed by Mother Nature. She is the most magnificent artist of all.
After a bit we rose higher again for more of a bird's eye view. There was a winding river now and then. A ranch or two. But no roads. No cars. Untouched.
I imagined what was living down there. Which birds were hiding in those trees? Which mammals called this home? Yes, Zapa would tell us the names. But I tried to imagine the actual creatures moving around under the canopy. Each trying to survive another day.
And suddenly the color changed from dark green to light green. The terrain changed. It wasn't gradual. It was like someone had drawn a straight line with a ruler. We had crossed over some sort of border. We started descending, getting closer and closer to the treetops. We flew over fields of white Brahma cows and ranches. Welcome to the Southern Pantanal.
The Southern Pantanal
The Southern Pantanal is quite different than the Northern Pantanal. Yes, there are still myriads of colorful birds, caimans, howler monkeys, jaguars, giant anteaters, tapirs, ocelot, etc etc. But down here is the land is made up of mostly of cattle farms. And here we would be touring in a safari vehicle, not a boat racing through the rivers. Having said that, the Southern Pantanal actually floods more than the North. This means that at certain times of the year there is an explosion of aquatic vegetation.
We landed on another grassy runway and our friends were already there to greet us. There was a large sign, Estancia Caiman Aero Porto. But that was the extent of the airport. We climbed out and the plane immediately took off again.
Our group was greeted by Sami and Claudio from the beautiful Caiman Ecological Refuge where we would be staying. Our guide, whose real name is Claudio, told us to call him by his nickname, Guarano, which is a drink that he is crazy about. Guarano was born in the Pantanal and used to be a chief cowboy. He is now training to be a guide. His English was minimal but apparently, from years of being a cowboy, knows EVERYTHING about the Pantanal.
Caiman Ecological Refuge
Out destination was the Caiman Ecological Refuge, our home for our last nights in the Pantanal. The lodge was started in 1987 by a Jewish Brazilian named Roberto Klabin. He is a huge conservationist and supports multiple conservation projects. As we drove around, Zapa pointed out that the 15000 acres of his property were designated as a nature preserve forever. No one can build anything on it. Ever.
The ranch itself is 204 square miles. Klabin used to have >60,000 head of Brahmas but now is down to 5000 as cattle ranching has become less important to him and conservation and ecotourism more important.
The lodge is not your typical lodge. There is a main lodge which houses the registration desk, a small museum and a gift shop. The halls were covered in beautiful paintings by a local artist.
There are two separate pousadas (i.e., an inn or lodge), each on a different part of the property. One of the pousadas, Cordiheira (Mountain Range Lodge) has 5 suites and is near the forest. We stopped here one day to use the bathroom.
The other, Bahiazinha, where we stayed, has 6 rooms and is built on stilts in the shape of a bird. There were 3 rooms in each of two "wings."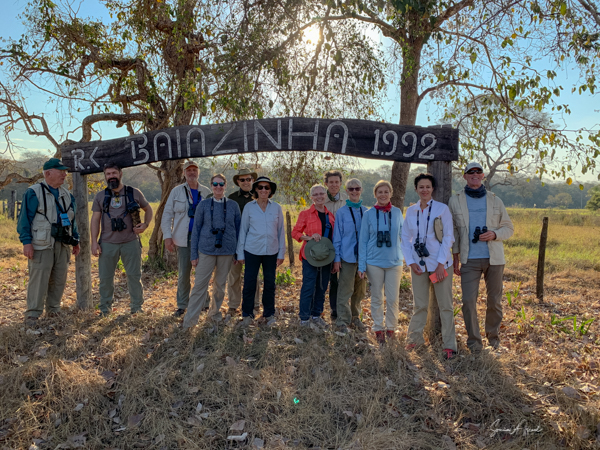 The bedrooms were all wood and were very comfortable with enough space for us to unpack. And each room had its own balcony with a hammock and a bench. While we never got to relax out there, it was the perfect spot to dry our hand laundry, and it dried very quickly in that heat. The bathroom had a large counter and a shower with a big wooden door. But beware of the shower. Ruthi and I managed to flood our shower. It turns out that we were supposed to open a drain that otherwise was kept closed to keep frogs out of the lodge. These are not venomous frogs but are still annoying. We brought our own Pantanal into our room!
In the center of the lodge there was a large living room/dining room with a glass wall which looked out onto the marsh.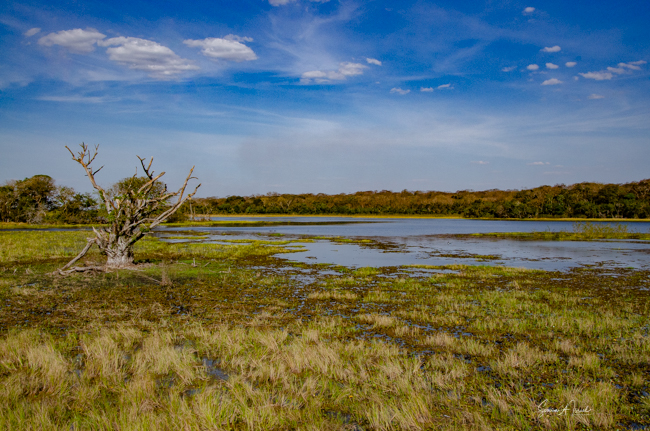 The large deck around the lodge led to a swimming pool (which unfortunately with our busy schedule we never got to use), and a greater than 180 degree view of the marsh which was filled with frogs and birds. And you could hear the frogs croaking and birds singing. A lovely sound.


And the decoration was lovely and the food great! Breakfast, lunch and dinner were buffet style and the food was all home-made and delicious. And, unfortunately for our waistlines, there was always an amazing dessert.
Some of the most important things about the Refuge however, are the conservation projects, which include the hyacinth macaw project and the jaguar safari project, both of which have the mission of protecting, monitoring and improving the growth of these populations.
The Hyacinth Conservation Project
I described the hyacinth macaws above. I told you about the amazing blue of their body and the yellow of their head. Well, many others also thought they are incredibly beautiful birds which, in the 1980s, led to thousands of them being captured and sold as pets. This led to a decrease in their population to about only 1500 birds.
In addition to poaching, the populations of hyacinth macaws was also limited by the natural shortage of nesting sites. As I mentioned above, most of the hyacinth macaws nest on manduvis and the trees have to be 60-80 years old to be wide enough for there to be a hollow large enough for the nests.
So in the 1990s, the Caiman Ecological Refuge under the auspices of Klabin and in conjunction with the World Wildlife Fund (WWF), began the Hyacinth Macaw Project to help increase the population of these magnificent birds. Zapa pointed out that on their property, there were these large wooden boxes on the trees. As part of the conservation project, these boxes were built to emulate the nests. We saw hyacinth macaw mates flying in and out of the boxes and perching on top of them. In fact, other birds who don't build their own nests want to nest in them too. We saw a hawk trying to sneak into one of the boxes and the macaws fighting it off.
The macaws avoided the early boxes. It turned out the wood was too hard and they knew it wasn't where they were genetically programmed to nest. The biologists had to experiment with many different types of boxes, sizes of the boxes, sizes of the holes, woods used, etc. They discovered finally that if they made the boxes from the soft wood of the trees in which the hyacinth macaws like to nest, they birds laid more eggs. But the birds were whittling away at the boxes to carpet the bottom of the "nest" which made the entrance to the box too large. The biologists then used sawdust in the bottom of the boxes, the birds stopped whittling away at the boxes.
There was also an issue with the survival of the chicks. Other animals would come and eat the eggs. So the biologists started substituting dummy eggs for the real eggs. They incubated the real eggs and then switched them back to the nest just before they were ready to hatch. Macaws generally can have two eggs at a time and the first chick is born about 1-2 days before the other. This meant that the parent birds would start feeding their first chick who would get stronger and by the time the second one was born, it would not get enough food, would weaken and die. So the biologists started switching the chicks, putting two weak ones together in the nest and two strong ones. These two things increased the chick survival rates remarkably.
I asked Zapa how the birds responded to the fake eggs and to the biologists visiting. Turns out the parents watched the biologists do all this but they just didn't care.
There are now about 500 boxes, administered by on-site biologists. The researchers use a rope system to climb up and monitor the boxes on a regular basis, which we got to see a few days later. There is no longer a need to switch the eggs, but they go up just to check on the chicks.
And now, due to the success of this project, there are more than 5000 birds living here on the refuge, which is the majority of all the hyacinth macaws in all of Brazil.
The crab-eating fox
We all climbed into our safari vehicle and started heading down the red dirt road. There were mango trees everywhere, heavy with fruit. We immediate saw a crab-eating fox sleeping at the side of the road. He wasn't the least bit intimidated by us. He woke up, stood, re-positioned himself and went back to sleep. Over the course of the next few days, we saw lots of foxes. As their name suggests, they love to eat crabs. I was surprised that there were crabs here, but obviously there are, especially during the rainy season.
One night we saw a fox trotting around with a poisonous, rococo toad in his mouth. There toads are quite venomous, and although the local animals have become immune to the poison, it tastes bad, so this fox was pressing the toad into the ground, picking it up in his mouth, trotting around, pressing it back into the ground and repeating this over and over again, trying to express the venom.
These foxes typically live alone or in monogamous pairs but hunt individually at night. Yet on another night we saw one fox eating a coconut. A second one came and watched and then a third, who tried to steal the coconut. But the first two chased him away. Eventually they all just sat down, just warily watching the first enjoy his meal.
The lost phone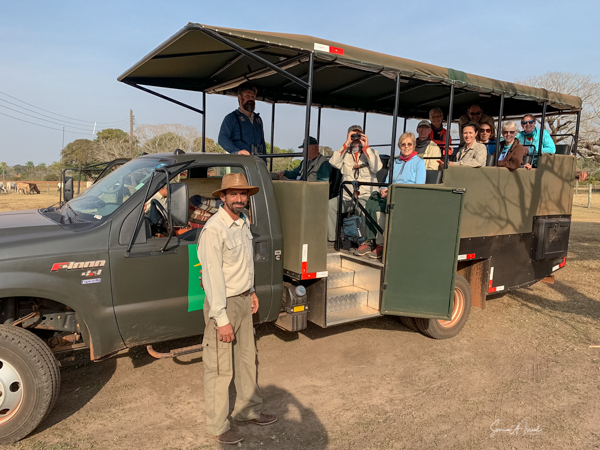 We continued on our way and all of a sudden Zapa realized he didn't have his phone. He had placed it on the front of the safari vehicle when we arrived, and we figured it must have fallen off when we started driving. So we u-turned and headed back to the airstrip. We all got out and walked around slowly searching the ground for the phone. No luck. We could not find it. But a few days later, it was returned. Someone found it and had taken it. But when the radio call went out about it being missing, it was mysteriously returned.
The journey continued
So we left the airstrip again and headed back down the same road. The fox was still sleeping along the side of the road. The trees were tall and green, with lots of boxes (nests) on them, as described above. We passed a bridge that was built in the 1920s by Britain, but our safari truck was too heavy to cross it, so we went around it. There's something you could never do in the rainy season.
Rocks? No rocks.
We passed a small pond, which was a brilliant blue, by the first bridge. What was unusual about it? There were rocks. This is the only place in the Pantanal with rocks. That's correct. There are no rocks in Pantanal here except by that first bridge. There aren't any rocks in the Amazon either. So gravel has to be brought from other areas for roads.
Why don't we do it in the road … Capybaras mating. Hyacinth Macaws mating. And now…
We drove to the reception area, a separate building with a gift shop and a small museum. It was about 15 minutes from the airstrip, and our lodge would be another 30 minutes. As we were driving to the rooms, Zapa asked if we minded being late for lunch as he said there was something really special down the road. Of course we said we didn't mind. We were always up for something interesting and Zapa had not disappointed us yet.
We drove for about 20 minutes and then suddenly, in the road in front of us, were two jaguars. Number 10 and 11! These two were a large male and a female. There was a yellow truck on the other side of the jaguars from Oncafari (see below) observing their behavior and photographing them. They had radioed Zapa and gave us permission to come watch. As we approached, they instructed us when we could move and how close we could get.
But these were not just two more jaguars. These two were mating right in the middle of the road. Why don't we do it in the road…  The male, Magrao, suddenly got up and walked into the brush where we could not see him. The female, Gatuna, followed him in and in what seemed like just a few seconds, rolled out of the brush onto her back. She then rolled back again, walked away just a short distance and went to sleep. Magrao came back out and also went to sleep. Gatuna then woke up, rolled around, swiping at flies, got up, walked over to Magrao and just stared. She laid down, he mounted her, bit her neck, she rolled onto her back and the whole thing began again.  I took loads of pictures and Zapa made the video.
What is all is about? Jaguars have their own way of mating. The female stares at the male letting him know she is ready. He mounts her and bites her neck. Within seconds, it is over and he continues to bite her so she rolls away onto her back to protect her neck. She also may scratch or scar his face. So if you see a jaguar with no facial scars, it means he has not yet mated. After each mating session, the male walks away to rest. The female lies down to rest. About 25 minutes later, she stares again. In this case, she walked over to him as if to say, "wake up, it's time." He got up, mounted, bit, she rolled onto her back and the cycle began again.
It was fascinating to watch. I don't quite understand how biting your mate who will be carrying your offspring, and sometimes even biting so hard that it kills her, helps perpetuate your genes.
The other thing we learned is that the female mates with lots of different males. Male jaguars may kill cubs who are not theirs, so by mating with different males, the female is protecting her cubs. He has no idea if the cubs are his or not.
The poop bird
We finally arrived at the lodge. The field right outside the lodge was covered with Nacunda nighthawks or goat hawks. They hang out near capybara poop and blend in by looking like piles of poop, which is why they are also called the poop bird. They are the world's largest night hawks. They are migratory and come only for about two months a year. They fly all night long and basically sit still out in the open, on the ground, all day long.
Welcome committee – capybaras and an owl
There was a family of 19 capybaras, including many babies, hanging out in front to welcome us. And on the fence post just outside the lodge was a Southern burrowing owl. These posts must be one of their favorite spots as we saw them here often. Southern burrowing owls are small, long-legged owls who nests in burrows, but, unlike other owls, are active during the day.
We unpacked, had lunch, rested for a bit and then hit the road again. There was a lonely male capybara right nearby our lodge who has been banished because he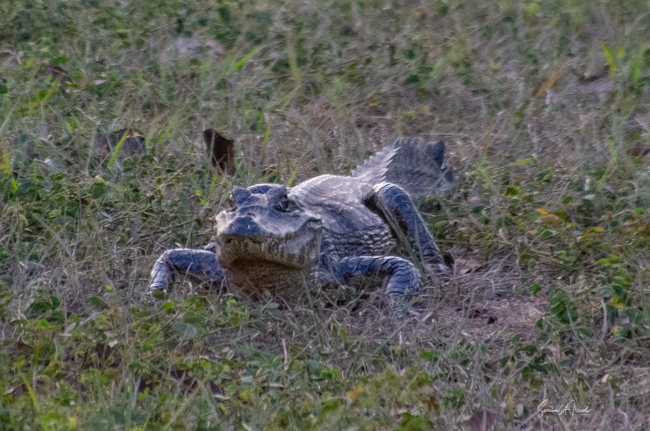 tried to become the alpha capy and lost. The tribe beat him up terribly and will not allow him back into the group. And we saw a caiman walking on the ground in search of water.
Agouti
We saw a number of Azara's agoutis on this drive who quickly disappeared into the forest. We saw four more running across the road. Later we saw another one in one of the marshes. They are very shy animals, unlike their distant cousins, the capybara. They look like a tailless squirrel. They have a strong anal musk they use to scent their territories. And they have a habit of running in circles, but never leaving their home turf. When disturbed, they emit a high-pitched alarm bark. We never saw any of this behavior nor did we hear them.
Along the road
The ranch is huge with all of the roads clearly marked with wooden markers, arrows and named fences. And of course they are not paved but rather are made of hard packed red dirt.
We passed by an old cemetery that until 15 years ago served the community that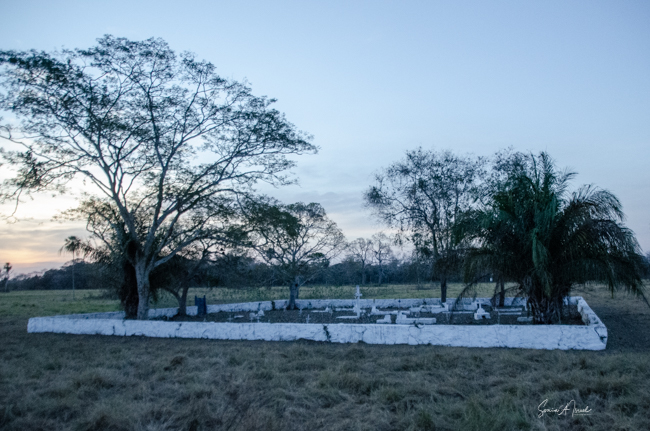 lived on the ranch. New burials are no longer allowed here by the Brazilian government.
There was a gorgeous huge ficus tree on the side of the road. The bottom of the branches was leveled off, looking like someone had taken a ruler and used that as a guide for trimming. But of course it is from the taller animals coming along and eating the leaves. On another evening, we stopped to photograph it again with the setting sun.
But that evening, on our way back to the lodge, Zapa made us get out of the car and walk partially over the bridge which is over a dammed river to see the beautiful sunset. The bottom line? Every night had a beautiful sunset.
Night drive
After dinner and a brief rest and after we watched the sun painting the sky different colors, we went out again for a night drive. We were hoping to see a giant anteater. Instead we found a tapir.
Tapir
It wasn't long before Zapa spotted a tapir near a mango grove. He got so excited, as we all did. But as I mentioned above, Zapa, when excited, does this little dance. It is as if he just can't contain himself.
The tapir, the largest land mammal of South America who is nocturnal and can often weigh more than 700 pounds, is one of the stranger looking animals. That may be explained in part by the fact that they have roamed the earth for tens of millions of years and that they are related to horses and rhinoceroses, a strange combination. And yet, although those are their relatives, they look more like a pig with an elongated upper lip and nose which forms a short trunk. They use their 'trunk" to grip branches and eat the leaves and fruit. They particularly love to eat mangoes, so the owner of the ranch has planted hundreds of the mango trees.
In the Pantanal you find the Brazilian tapir, also called the South American tapir. He is one of four types, all of whom are endangered mostly due to loss of the forests. In addition, their gestation period is 13 months, they generally have only one baby and the baby stays with its mother for a long time. So there aren't that many babies repopulating the tapir population.
We watched the tapir for quite a while. He was slightly in the distance as he searched for mangoes for his evening meal. Zapa shone a bright light on him which helped us see him and it didn't seem to bother him at all.
Giant anteater
It was time to move on. Before we had driven too far, Zapa had the car stop again and did his happy dance. He had spotted a giant anteater. Finally! We had been wanting to see one for days. We couldn't believe our luck. And if we thought the tapir looked strange, the giant anteater was even stranger.
First, they really are giant, growing as long as 7 feet and weighing up to about 100 pounds. He (she?), like all giant anteaters, had very small eyes and ears, no lower jaw and no teeth but did have a very long nose, like a tube with tiny lips which they use to suck up ants and termites. Their tiny eyes make it hard from them to see, but their sense of smell is incredible which make it easier for them to find their food. Now it sounds like ants would be easy to find and eat, but the ant soldiers who protect the ant hills have a wicked bite. To protect themselves, the giant anteaters move quickly, spending only a few minutes at each mound. Their tongues flick in and out as fast as 150 times a minute. In that brief raid, they eat thousands of ants but manage to leave the ant hill intact, which means they can come back to the same mound again. And by doing all this, they can eat up to 30,000 ants or termites a night!
As small and long as his head was, his tail was large and bushy. I read somewhere that their tail can act as a portable parasol. In the dark, with Zapa shining his light on it, it looked almost like a cartoon character. As you will read below, we saw one the next day at sunset where we could see it more clearly. What we never got to see was a mother carrying her baby on her back, as they often due for the first 9 months of the baby's life.
Ocelot
Our good luck had not yet ended. We were driving back towards the lodge and were near the bridge where the lone rock in the Pantanal "lives."  Zapa was still sweeping his light and suddenly saw an ocelot sitting by the riverbed. The ocelot, like the jaguar, is truly one of mother nature's great works of art. Like all ocelots, this one was small as they only get up to about 35 pounds. His (her?) coat was spotted, but the spots were almost shaped like a horseshoe. The back of his neck was stripped, and his face, which we only got to see when he finally turned his head before standing up and wandering off, was a combination of solid, spotted and stripped. He was truly a beautiful animal. Later on we saw a second one crossing the road.
The big five of the Pantanal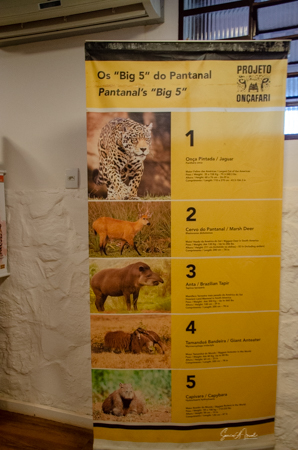 Everyone has heard of the big five of Africa. But the Pantanal also has its big five. The problem is that the list seems to change depending on where you look and who you ask. At the main lodge, there was a poster listing the jaguar, marsh dear, tapir giant anteater and capybara. Another list had the jaguar, ocelot, tapir, giant otter and giant anteater. But no matter which list you use, we saw them all!!
Hot? No, cold. No, Hot.
We continued on our drive listening to the sounds of crickets, toads and the owls all around us. As we drove on Zapa would sweep his flashlight back and forth from one side of the road to the other side looking for more animals. There was one point in the road, which we passed several times, that was a valley and each time we dropped down, the temperature also dropped, a lot. And as soon as we headed out of the valley, about 3 minutes later, the temperature rose again. The first time, I quickly put on my fleece jacket, but after a few times, I knew I would only be cold for a few moments.
We drove on home, everyone quiet, thinking about all we had seen and listening to the musical cacophony of toads, frogs, crickets and birds.
Sunrise
Day 6, Friday, August 16, 2019
I woke up early this morning, on purpose, as I wanted to go out on the back deck and watch the sunrise. The sky was the most beautiful purples and pinks and shades of orange. The moon could still be seen. The stark trees were silhouetted against the colors of the sky. And the glow from the sun shone over everything, giving it an ethereal feel. The light was just beautiful.
There was one large tree in the distance which early in the morning was covered with sleeping egrets, making it look like a ring of white around the green. As the sun rose, the birds woke up and started flying off. It was spectacular.
The morning was cool, until the sun finished making its way into the sky, and then it warmed up.
We hit the road right away, as Zapa had a surprise for us for breakfast, but immediately had to stop for a fox sitting in the road.
Our usual neighbors of capybaras and our owl, and a Brocket deer were everywhere. And of course tons of birds.
Pantaneiros breakfast
We drove for about 15 minutes and then pulled into a driveway of a house that we had passed a few times. It had looked like the kind of hall you would rent for a party, with tables and chairs outside. This was part of the ranch and they were cooking us a traditional Pantaneiros breakfast over a wood oven.
What is a Pantaneiros breakfast? Rice with dried beef, fried eggs and deep fried manioc. It was quite tasty although not my traditional breakfast. But the coffee was strong and delicious.
The Pantaneiros then put on a show for us. First they demonstrated a mini-cattle drive.
Then Zapa explained about the cow horn (literally a horn from a cow) was used to bring in the cows. I called it the Pantaneiros shofar.
Guanara showed us how they use a whip to get the cows' attention (the sound is frightening enough, they don't actually whip the cows). Each Pantaneiros must braid his own leather whip or is not considered a true cowboy.
Zapa then taught us about how to lasso and had Guanara demonstrate, first while standing on the ground and swinging the lasso around, and then on a horse making believe he was lassoing a cow. Unfortunately, Zapa played the role of cow and was upended onto his behind, got dragged a bit and ended up quite sore. Ruthi had so wanted to volunteer to be the cow. Good thing they didn't let her. Guanara, as I mentioned above, was once a Pantaneiros, and although he likes being a guide and life now is easier, he told us that he does sometimes miss the simplicity of his former life.
Cordillera
After breakfast, we drove for a while into the woods. Guanara stopped the truck and we all piled out. Zapa sprayed our socks with bug spray and we began our hike.
This type of forest is called a cordillera (or cordilheira in Portuguese) and is unique to the Pantanal. A cordilheira is a mountain range in a line, connected by high ground. Zapa drew a picture in the dirt for us, explaining how these are formed by the ebb and flow of the rivers during wet and dry seasons. The Pantanal is surrounded by mountain ranges with 12 major rivers flowing into the Pantanal but only one, the Paraguay River, drains the water back out. In addition, the Pantanal is just 1000 feet above sea level, so as the rivers overflow, everything floods. Every open area that we could see will flood during the wet season. Mammals shelter here during the flooding. It is very beautiful then and great for bird watching. The first rains begin in September but the torrential rains begin in earnest in November. The temperature can go up to 118 degrees F and can sometimes it can rain up to 10 feet in an hour.
Hammock Forest
We were walking through what is called the hammock forest. The hammock begins with a termite mound. Birds eat seeds they find on the termite hills and then they poop out the seeds, from which little treelets begin to grow. As the treelets grow larger, they form islands. They grow in the direction of the overflow from the river. Water runs north to south in wet season and south to north in dry season so all hammock forests run north to south. None ever run east to west. Eventually these little islands connect with each other, forming long, narrow and high natural formations. These can be ten miles long but are rarely more than 100 yards across. All this of course happens over many years, but not over decades and is a biological rather than a geological phenomenon. Hammock forests grow into candilehira when the hammock forest islands merge. Whenever there are gaps, little wooden bridges are placed connecting the islands.
Walking through the forest
This forest is closely monitored to study and observe the jaguars. There were a number of cameras around the forest to track them and other animals. We saw a bat tree covered with deep jaguar scratches. Zapa explained that they do so for three reasons: to mark their territory, to sharpen their retractable claws and to clean their claws
There were bromeliad plants all over. There were also prickly plants which make a perfect spot for jaguar females to hide their cubs while they are off hunting for food. The prickly plant are pineapples, which Zapa assured us was the origin for Hawaiian pineapples.
There were a number of ironwood trees, which is a wood that can last for hundreds of years. The bridges that were placed between the "islands," over the areas which flood, were made of ironwood. Although a strong wood, these bridges looked like they had seen better days. It was amazing however how high the bridges were which helped us understand how high the water can get.
Guanaro showed us how Pantaneiros use leaves to drink water out of the marsh. The water didn't look that appealing to me but apparently it is quite fresh.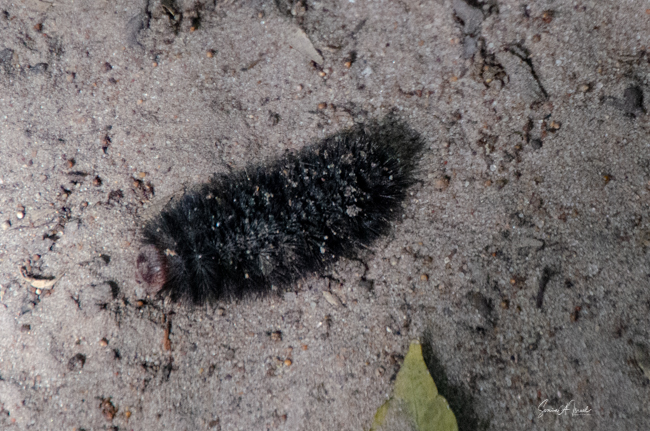 We saw scat from a lot of different animals but the most interesting was jaguar poop which looked like steel wool because it contained peccary fur.
We saw a fascinating tree called a crooked wax tree. It is a citrus tree and looks like stacked wood. It provides protection against fires as the outside layers melt, which then protects the core of the tree. We saw many strangler trees as well as a vanilla orchid which looked like a green vine on a palm tree.
We also saw a leaf ant colony that Zapa estimated to be about 150 yards long. They slowly, slowly build these mounds and connect them via tunnels. Amazing.
More on Hyacinth Macaws
We had already seen lots of hyacinth macaws here and in their nests and I already told you a lot about them. Hyacinth macaws build most of the nests found in these hammock forests and then other birds subsequently use them. They always stay around trees, never on the river so they can stay safe. Their biggest predators are poachers. But now Zapa then had us sit on one of the bridges while he taught us some more about macaws.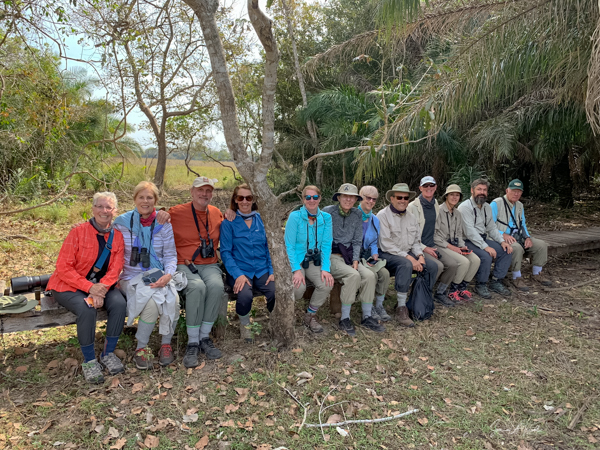 Unlike many other birds, the macaws have to learn everything from their parents. By the time they are 108 days old, most macaws are the same size as their parents, except for their chest feathers.
They initially are fed by regurgitation. As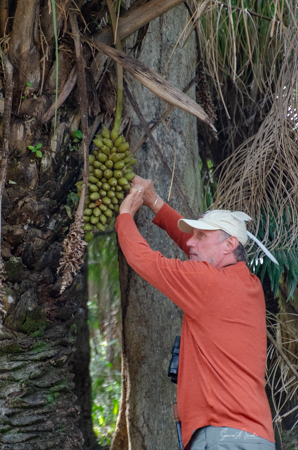 they age somewhat, the parents teach them how to get the acuri palm nuts and crack them open. It can be hard to separate the nuts from their clusters. Zapa had Gary try to rip one off the cluster – it was hard to do.
It can take a young macaw up to 1.5 years to learn how to open the nut. Guanara used his machete and a log to show us how difficult it is to crack these nuts because they are so hard. Yet the macaw's lower jaw is very strong and therefore can open them. They eat >100 nuts per day.
To eat the nut, they use a palm leaf in their beak which keeps the nut from slipping.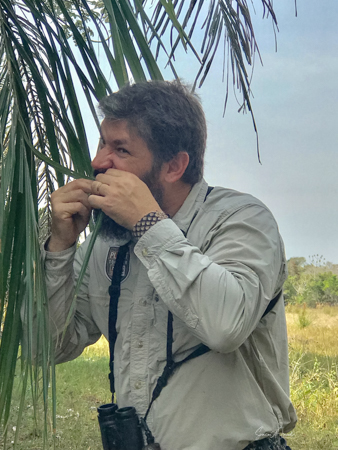 They twist, bite, drink the nut milk and drop it. Repeat. But the meat is sticky, so after about 15-20 nuts, their beaks get really sticky. Zapa showed us how they use the side of leaves to essentially floss their beaks. They are not only pretty but also really smart.
And nothing goes to waste. The agouti come and eat the sticky meat. The nuts find their way into the ground and more trees grow.
And in case you are hungry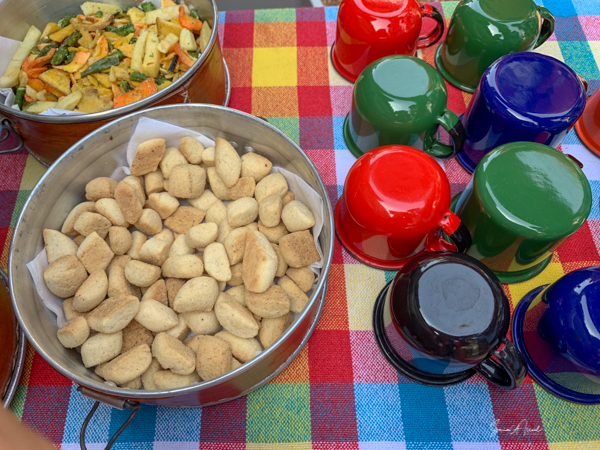 We made it back to our truck, drove out of the forest, and stopped for a snack. Always welcome. And then it was back to the lodge for lunch. You never get hungry on one of these trips!
The afternoon safari
The afternoon found us back on the truck for a safari ride into a new area to explore, a grassland area. Zapa likes this area because one can see the furthest in any direction. It was very hot and he warned us that it was unlikely we would see any mammals. He often sees anteaters in this area, but he said that today it was highly unlikely because anteaters have a waxy substance in their fur that protects them from ants and other insects. If they are out in the direct sunlight, the wax can melt and it makes them very susceptible to bites. We did see quite a few "elusive" capybaras which had kettle bird flycatchers sitting on them in a symbiotic way.
Zapa pointed out some hammock trees. There were a number of Pampas deer, two with gorgeous antlers. Although many of the marshes are really drying up, we could often see >15 different species of bird fishing in them. He also pointed out a number of Savanna hawks, which are also called smoke hawks. If there is a fire, they will often circle around and wait for the smaller rodents and animals to run out. At one point, we saw two male pampas deer and a female doe, eyeing each other (see the section on deer for the photos). We saw a large tegu lizard walking along the road.
And then it was time for more snacks and sunset.
Armadillo
We saw a nine banded armadillo. There are also yellow armadillos in this area but we did not see any. Armadillos (meaning little armored one in Spanish), are somewhat related to anteaters and sloths. The are characterized by a leathery armor shell and long sharp claws for digging. The different types are distinguished by the number of bands on their backs, or their amour. They have short legs but can move quite quickly. The average length of an armadillo is about 30 inches, including its long tail. When threatened by a predator, they frequently roll up into a ball. But this one either did not see us or did not consider us a predator. He just moseyed around looking for food.
Back at the ranch…
After our snack, we started driving back towards the lodges. I had noticed when we drove by the lodge where we had had our special Pantaneiro breakfast, that it was all decorated. I assumed someone was having a party there. Turns out it was us. We were about to have a traditional barbecue. The meat was being roasted on wooden stakes over an open fire. And there were many, many different cuts of meat (I lost track). There were two men playing traditional Pantaneiro music.
We helped ourselves first to salads and corn and other side dishes and then the Pantaneiros started coming by with the long stakes, cutting off a piece of meat for us. Each cut was tender and delicious, and each had its own flavor.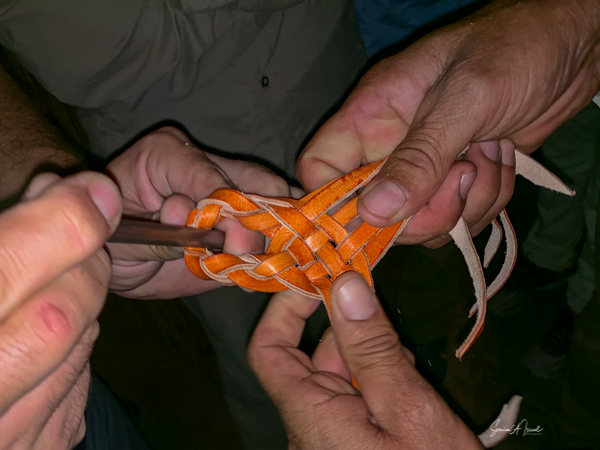 As I mentioned above, every Pantaneiro has to weave his own whip. Guanaro, who also weaves leather belts and bracelets, showed us how he does it.
The whole place was lit up in gentle colors. The big tree to the side was lit up on blue. I tried a few night shots, but there was a bit too much of the pretty light.
Night time viewing
It wasn't over yet. As we headed back home, Zapa turned on his spotlight and scanned the road left and right, searching for anything interesting. We pulled off the road towards some water, and watched some birds caught in the spotlight. And then, when we got back to the lodge, there was a great potoo waiting for us.
Biomes
Saturday August 17, 2019
This morning we took a stroll down the road from the lodge. It was a bird morning. There were everywhere. On the ground. In the trees. On the fence posts. Flying in the sky. I got to practice my "shooting" flying birds.

But Zapa was really focused on teaching us about the different biomes here. There was an open field by our lodge that drains water from higher ground into the Savannah woodlands which surround the lodge. But along the way, we also saw beautiful plants. There was a mimosa plant which, when he touched it, curled up. He picked another plant and had us smell it. The smell was familiar, almost like a combination of mint and sage, but I couldn't quite place it. It was camphor and is used in VapoRub. There were native pink hibiscus plants (they were tiny, much smaller than the ones we have at home), Astor trees with little white flowers, and a white Cordia tree. An interesting fact about the Cordia tree is that birds are not attracted to it, so its seeds are like propellers which are spread by the wind. We saw carnauba trees which provide the wax used in car wax.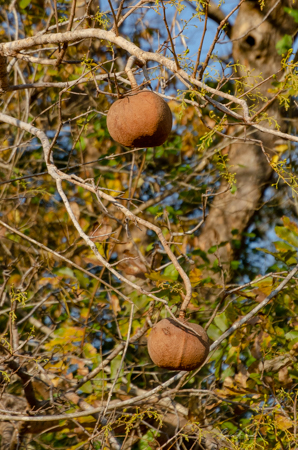 We also saw a Tingui tree with very large pods. The villagers throw the pods into the creek to stun the fish. Then they catch them.
There was a beautiful pink trumpet tree, called Ype, which is the same family as the jacaranda. Zapa told us that in one week they would all be blooming, and everything will be pink. And at the same time the candelabra tree blooms will be gone. So it goes from all yellow to all pink.
And lots of other beautiful trees.
Donkey tail
A word about the tall grass. They call it donkey tail as it does look like a donkey's tail. It was everywhere, in bunches, in fields. But we could also see it dying off as everything was drying up. The rains will be coming soon and it will all be revitalized.
Collared peccaries
And then our luck held up. One of the few animals we hadn't seen yet were peccaries. Zapa suddenly stopped the car and pointed. There in the bushes was a Javelina collared peccary.
The collared peccary, thought to be related to the wild boar, but not to pigs, is called that because of the way their fur stands up, looking like a collar. They have small tusks which point toward the ground when the animal is standing. It has slender legs with a robust or stocky body. The tail is often hidden in the coarse fur of the peccary. They are diurnal and usually live in groups of up to 50 individuals, averaging between 6 and 9 members, but this one was by himself. They sleep in burrows, often under the roots of trees, but sometimes can be found in caves or under logs. Although they usually ignore humans, they will react if they feel threatened. They defend themselves with their tusks. A collared peccary can release a strong musk or give a sharp bark if it is alarmed. We did not test all that, but rather just took pictures from the truck.
Another truck with tourists must have seen us stop and came right behind us. Fortunately, we had been watching for a while because they scared him away.
White-lipped Peccaries
We kept driving and suddenly Zapa stopped the car again. There, in a mud hole, were a large group of white-lipped peccaries. Their lips are not actually white, rather, they have a white fur line on their bottom jaw; thus their name.
Like the collared peccary, the white-lipped peccary is a diurnal feeder, performing all of its activities during the day, more specifically in the mornings and afternoons. When we saw them in the morning, they were quite active, digging in the mud. We saw about 15 of them, but their herds could get as large as several hundred. And within a group, they are all related.
White-lipped peccaries have a scent gland on their backs, which emits a scent, allowing a strong bond between members of the herd. The peccary can spend up to two-thirds of its day traveling to look for fruit and roots to eat, so if you see lots of them hanging around, it is a good indicator that the forest is healthy. Nevertheless, they can be very aggressive, and cowboys and jaguars are equally afraid of them. Birds, on the other hand, like to hang out around them because as they dig up the roots, they expose all sorts of worms and bugs.
Later in the day we came back to this same area and they were all cuddled up together napping It was hilarious to watch as they each wiped off their muddy spouts on one another and then cuddled down, body to body. All but one who was still digging around the mud. That one must have insomnia.

As soon as they all left the pond, a very muddy caiman came crawling out. Zapa said this one is likely to be starting to burrow into the mud to hibernate.
And later we saw another family of white lipped peccaries, and then a third by the Candilehera lodge. Those were running very fast. It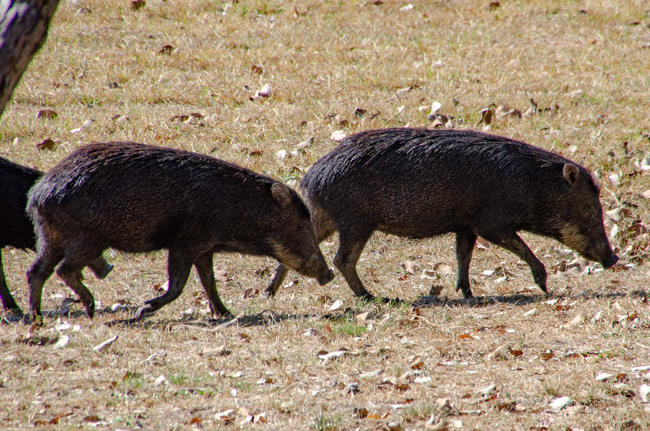 was actually quite amazing how fast they could move on those tiny legs.
Oncafari
And that was just the morning. We went back to the lodge for lunch and a brief rest. Then we gathered in our living room for a lecture by a biologist, Stephanie, who works for the Oncafari (meaning Jaguar Species as "onca" in Portuguese means jaguar). The project began in August of 2011 to promote environmental conservation and foster the socioeconomic development through ecotourism and scientific studies. In Southern Brazil there are no longer any jaguars. In the Brazilian Savanah the jaguars are endangered. In the Pantanal and Amazon, which are geographically connected, the jaguars are only vulnerable, not endangered. So the Oncafari's goal in the Pantanal is to protect jaguars. In this way they preserve the species, which includes the whole food chain, so in fact they are preserving the Pantanal. This also helps create jobs for men and women and increases the value of the land.
Not so long ago, from 1960-1980, the jaguars would be hunted for their fur. Over 18,000 jaguars were killed. Eighteen thousand!!!!! People thought you were brave if you could kill a jaguar. Today the Chinese want the jaguar's bones and teeth as they believe they are aphrodisiacs. But the main impact is the effect of jaguars on cattle. The private land in the Pantantal are livestock farms. Jaguars are known to kill the cows and a lost cow is lost money. So the farmers want the jaguars killed. The truth however is that while cows are very easy to find, they are not great food for the jaguars. The cara cara bird will eat anything and will wait for a cow to die so it can eat it. Jaguars only kill cows who are already sick. So, to protect the jaguar, the biologists also try to protect the cows. They will mix up the sizes of the cows. While calves are curious and might go explore when they see a jaguar, if the sizes of cows are mixed, the older cows will protect the vulnerable cows. Sometimes electric fences are used, but only in some parts. Yet another strategy is to make sure other animals are available for the jaguar to eat, like capybara, caiman, anteater etc.
The way to increase ecotourism is to make sure that tourists can see the jaguars. After all, that is why we come. So the Oncafari staff began by habituating the leopards to cars, in a small area close to the Caiman Lodge. Habituating them does not mean domesticating them. Rather they are left wild and free, without feeling threatened by cars. Cubs are taught by their mothers that cars are safe. Once the jaguars were used to the cars, they began bringing tourists. The farmers slowly realized that there is more money with tourism than with cattle. Since 1967 no hunting is allowed. And it worked. The rate of guests actually seeing a jaguar went from 7% in 2012 to over 95% now.
Many jaguars have been identified here, and as I mentioned above, they are recognized by their facial roses (spots). Seven out of 50 on the property, wear radio collars. But in all, 140 different jaguars have been recorded. Some visit from other places. The recordings occur on 80 cameras placed around the 240 square miles owned by the Caiman Lodge. Since the jaguar is often nocturnal, infrared lights are used so you can see the behaviors on the video.
So how do you capture a jaguar?
We asked Stephanie how they get the collar on the jaguar. She carefully explained that they use a lasso cage which captures the jaguar on its leg. The trap has a transmitter and the staff frequently checks if the trap is activated. That way the jaguar is not left there for long. They quickly drive over and use a dart to put the jaguar to sleep. They collect blood, look for disease and parasites, measure everything on the animal, check teeth for age (they do this with puma, so  are researching if same way works with jaguars) and then put on the collar. They have a whole team, so everyone has a job and it all moves quickly. And they do it all right on the pickup truck. Once the cat begins to wake up, they put the cat back in a safe spot. It will take a few hours for the cat to wake up fully. They never leave them in the sun, in water or on the road. And they think that the jaguars don't seem to remember the events.
Afternoon adventures
Then it was back out again. So much to see and time was running out. This was our last day.
As we left our lodge, there were some gorgeous Vermillion flycatchers sitting on the fence posts, the same spot we usually see the owls. They return to the same places and use the same paths. We passed a marsh and watched some jabiru fishing, digging into the mud to find some worms. We passed the center where we had enjoyed our Pantaneiros breakfast and dinner, but this time, instead of cattle standing at the troughs, there were peach fronted parakeets perched one alongside the other.
Our last day, but another lucky one
We kept driving, enjoying the air in our faces. Sad that this was the end of our trip. Not wanting it to end. But the excitement was not over yet.
As the sun began to lower towards the horizon Zapa suddenly yelled out, "Hold on tight" and Guanara floored the accelerator, the safari truck sped at top speed, around curves, down the road. We held on in amazement, laughing. Why were we racing so ecstatically? On the other side of this park, there was a tapir. In daylight, where we could easily watch him and take pictures. The lighting was perfect, with the sun turning the tapir a golden color. A photographer's dream. And Zapa did his happy dance right in the truck.
Although tapirs are usually nocturnal, apparently the heat had broken enough that this one had come out in the late afternoon. We sat in the truck watching, taking pictures, and slowly following him (yes, definitely a him) as he meandered along, eating.
And then, although our last day, it was once again a lucky day when we saw not one but two giant anteaters, also out in the late daylight. We watched from the truck, but then Zapa said, "Everyone out! We're going in!" The anteater closest to us was just a bit far, so Zapa decided we would follow him, on foot. He pulled apart the fence wires so we could climb over and walk on the field to get closer to the anteater.
I had my 600mm lens on the camera, but hadn't grabbed my tripod as I was not expecting to leave the truck. So Guanaro became my human tripod, supporting the end of the lens while I shot picture after picture.
I described the giant anteaters above, but seeing this one in the light made me realize just how strange looking they really are. His tail was so bushy and his nose so long. And with the white stripe, it was sometimes hard to tell his head from this leg. He walked along, sticking his nose everywhere to find and slurp up ants and termites. Anteaters have terrible eyesight so we were able to get much closer to it. That is, until it caught wind of our smells and wandered off.
On the way back to the truck, Zapa did another happy dance with exuberance!! It was hard to tell who was more excited, Zapa or us.
A million stars
On the way back to lodge, Zapa stopped the truck in the middle of nowhere, an isolated spot, and invited us to step into the darkness. He had told me to bring my tripod along and I couldn't figure out why (although I wish I had brought it out of the truck when we saw the anteater). But now I understood. This was my chance to shoot the night sky. I had been asking for this opportunity the whole trip. And it was so worth the wait. The sky was so clear. There was no other light. Perfect for night shots.
While I was concentrating on shooting, Zapa pointed out many of the constellations and talked to us about Greek mythology. Unlike our northern star, the southern cross actually moves so he showed us how to find the poles. I would give you more of the stories, but I wasn't really in ear shot as I had moved as far away from the group as I could to take my pictures.
You think sunrise is spectacular, you should see the moon rise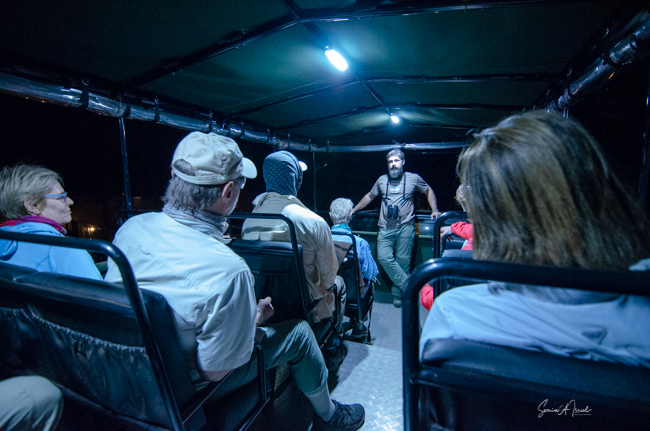 As we drove back to the lodge for dinner and packing, Zapa gave a lovely speech about how special this week had been for him. He said it was one of the best trips of his life, in terms of animals and birds seen but just as much, in how special the spirit and camaraderie of our group was. And indeed, it truly was a wonderful group!
While everyone started having dinner, I grabbed my tripod and camera and went out onto the back deck overlooking the marsh to keep taking night pictures. And I was enchanted by the rising of the moon.