January 12, 2008
Our trip to the Galapagos has begun. It was time to leave Guayaquil (please see that post). We woke up at the crack of dawn, suitcases outside the door by 7:00 – some to be taken to the ship, others held for the Peru leg of the trip (please see that post).  We had not met any of our fellow travelers, but headed down to breakfast.  In the elevator we met a nice couple from D.C. (Joanne and Frank), she an internist with a geriatric specialty (sound familiar?) and he an endocrinologist.  Seems there are quite a few doctors on this trip.  After breakfast it was off to the airport for the short, 1.5 hour flight to Baltra in the Galapagos.  We got to the landing to board the zodiacs for the ship, and found several sea lions sleeping on the deck.
North Seymour Island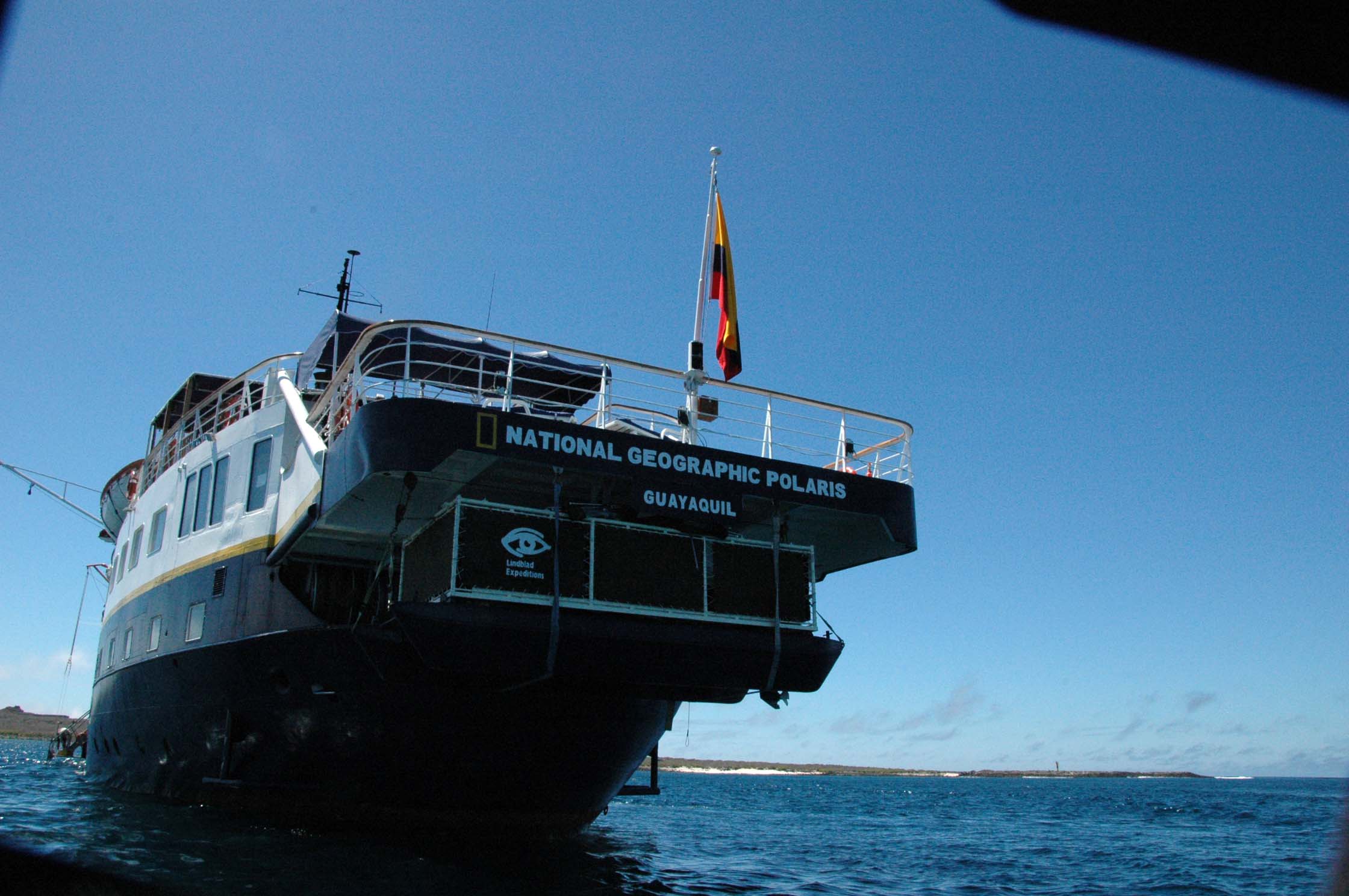 After unpacking (lovely when your luggage miraculously appears without ever having to deal with it), we went through our disaster drill and off on our first outing to North Seymour Island.  All landings are via zodiac – some wet and some dry.  This first landing was a dry landing which meant we came off the zodiac straight onto land.  Our landing was held up a bit as there was sea lion in the way.  Once he jumped into the water we were able to land. And then the adventure really began.  With our small group and our naturalist, we started our walk.  In the Galapagos you must always be with a naturalist and you must always stay on the path – unless an animal is in the way such as a sea lion.  We saw sea lions, marine iguanas, lava lizards, frigates (grand frigates and magnificent frigates and male magnificent frigates with big red balloons under their necks when they are courting), blue-footed boobies (some sitting on eggs), baby sea lions nursing, huge red/yellow/blue sally lightfoot crabs, and more.  And that was just the first two hours!
Then it was back to the ship for a gorgeous sunset (sun rises at 6 and sets at 6 here at the equator), the captain's welcome and dinner.
Espanola Island
January 13 (I think it is Sunday – the sign of a good vacation – we have lost track of the date).  Today we were on Espanola Island.  The morning started with a long 2.5 hour hike around the island where we saw more blue footed boobys, Nazca boobies, marine iguanas (these were red and green, also called Christmas iguanas), Galapagos hawks, sea lions and lots of baby boobys (both blue footed and Nazca).  The male boobys sit on the eggs. We also saw blue footed boobys courting.  The male whistles and struts with his feathers opened up, around and around the female booby, who calls out more like a honk.
As my mother would say (and often does) – nature is amazing, and she is right.  The colors of the animals we saw were almost unbelievable.  We literally had to watch where we walked because there were so many iguanas and boobys sleeping on the path.
Then back for lunch (a traditional Ecuadorian lunch), and then getting ready for an afternoon of snorkeling.
Floreana Island
January 14, 2008
Today (Monday?) was spent on Floreana Island. It is a peaceful, rolling island dotted with extinct volcanic cones. We started at 7 in the morning with a short zodiac ride to the post office barrel.  This is literally an old barrel where post cards are dropped off.  Everyone that stops looks through and takes any close to where they live, where they then hand deliver them (no stamps and mailing allowed).  So you never know when they will reach (or if they will reach) their destination.  We dropped off postcards as well and we will see if they ever arrive.  This tradition began in the whaling days and has continued until today.  Once couple from our ship found a card addressed to them left by friends months ago that knew they would eventually be there.
Then it was back to the ship for breakfast, a quick change into wet suits and off to go snorkeling along a small offshore volcanic cone named Champion Islet.  We did what is called drift snorkeling – you let the current take you along and you just enjoy the fish.  The zodiac drops you off  but stays close by in case anyone needs to stop or to rest.  We saw beautiful fish, star fish, some coral and sea lions.  We also had a chance to go looking for the Floreana mockingbird, a bird that lives only on this island.  We saw many of them (some people never get to see any) as well as lava herons, brown pelicans (which always reminds us of Roxi), sea lions (of course – they are every where), blue footed boobys and swallow tailed gulls.
After lunch we had a chance to rest, read, edit pictures, write emails or what ever we wanted to do.  This afternoon, in a short while, we will head back out again to visit Punta Cormorant where we will walk between a green beach (olivine sand) and a white coral and sand beach and hopefully see green sea turtles (which always remind us of Sarah!).
So, back to Floreana Island.  When we went to the olivine beach (and it looks green because of small pieces of peridot in it), we walked over the lagoon to see the flamingos.  Yes, Galapagos has flamingos.  Unfortunately they were all rather far away so we didn't get to take any close up pictures.  But the island was beautiful, and the lagoon was beautiful and we had a lovely time.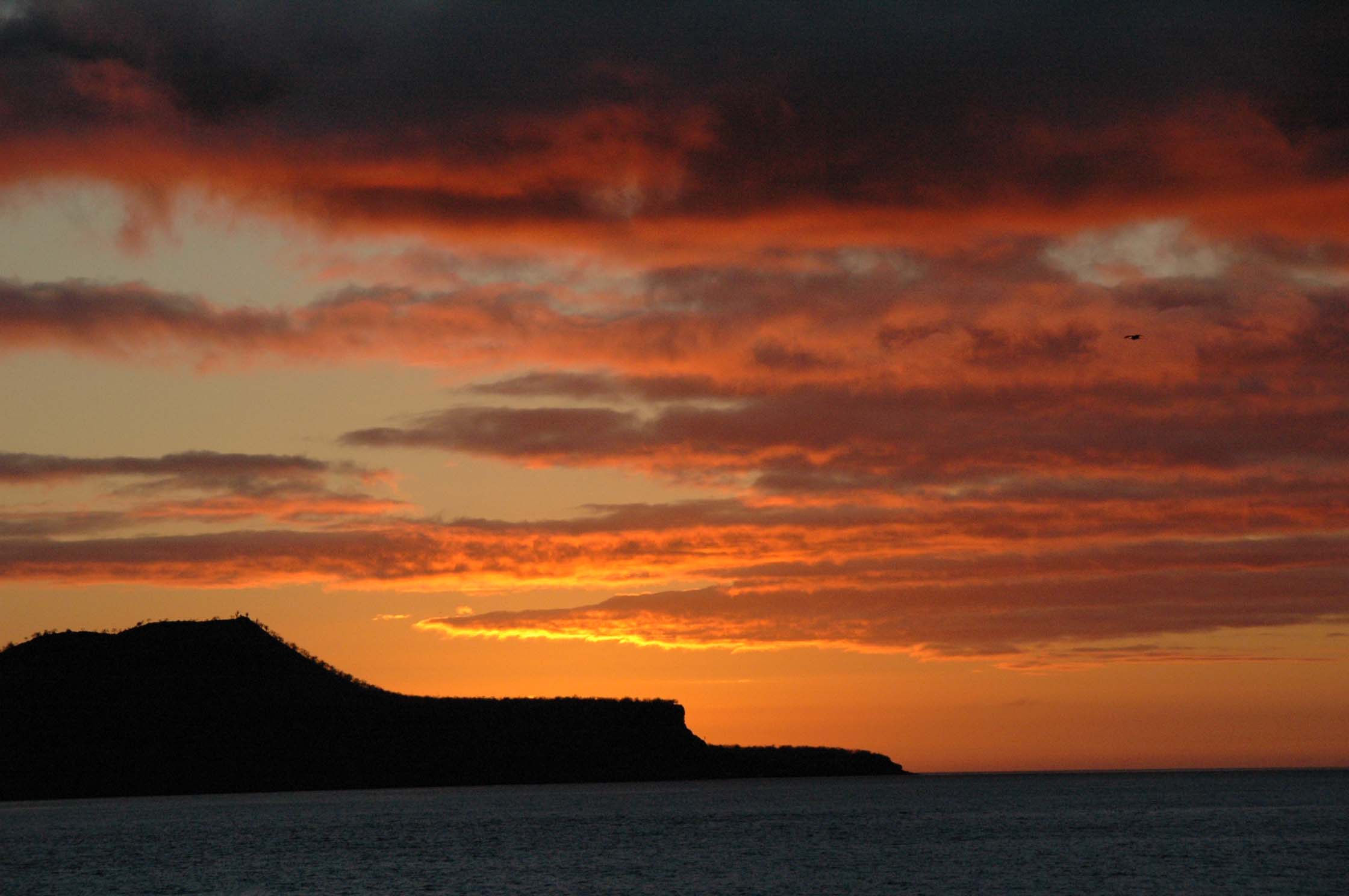 Roca Rodonda
They tell us today is Tuesday. At 4:30 in the morning we crossed the equator. We did not wake up for it. We did however wake up especially early to circle the Roca Rodonda (Round Rock). This is an uplifting of the earth, a volcano which is full of bird life.  We had a beautiful sun rise and saw hundreds (thousands?) of shear water birds, blue footed boobys, Nazca boobys, frigates, and others whose names I can't remember.  The birds were literally in swarms all around the water and the rock (this rock is not just a rock – it is more like a tall, small island).  There were also sea lions frolicking (I did tell you – sea lions are everywhere) and dolphins arcing in and out of the water.  After watching for a while, we went down for breakfast.  But the real excitement came at 8:30ish when we once again crossed the equator (and this time we were all awake!).  You see, we went north around Isabela Island and then came back down south on the other side of the island.  I have a picture of the ship's GPS saying we were at a latitude of 00.00.00.  Very exciting.  The captain thought so too as tonight when we returned to our cabins, we had a certificate announcing we had crossed the equator (in fact we will end up crossing 4 times before the trip is over).
Punta Vicente Roca, part of Isabela Island
But back to this morning.
After the excitement of crossing the equator we all headed for a zodiac cruise at Punta Vicente Roca, part of Isabela Island.  This is a shear drop of a volcanic wall, with ribbons of black lava and caves, that is quite spectacular.  We went looking for marine mammals such as PENGUINS.  Yes, we did get to see some Galapagos penguins, which of course made me very happy.  It is not often you get to see a penguin and an iguana share a volcanic ledge.  Now you might ask – isn't it too hot at the equator for penguins?  (Go ahead – ask).  Well, since you asked, I'll tell you.  The water around the equator is quite frigid due to the deep Cromwell Current, also known as the Equatorial Countercurrent, which rises up along the western edge of the undersea Galapagos platform.  This is responsible for much thick sea fog and cooler sea temperatures.  So, some penguins can live here.  We also saw more – yes you guessed it – sea lions.  And we finally got to see turtles – all over the place.  These are big turtles, around 2 feel long, swimming through the water. What you mostly see is the top of their shells and their heads sticking up out of the water when they come up for air.
Then it was back the ship for a quick change into swim suits and snorkel gear and back out on the zodiac to snorkel back at the cliffs of the Punta Vicente Roca, the same place we had just cruised.  This of course meant we were snorkeling with turtles, penguins and yes, sea lions, as well as all sorts of fish.  We didn't actually see any penguins while snorkeling (that was disappointing as it would have been incredible), however, we did get to snorkel with turtles was in itself was amazing.  And yes, I have pictures to prove it.  Now, if you read the paragraph above, you will recall that the waters here are frigid enough for penguins.  As it turns out, weather everywhere is a bit crazy and the water temperature was somewhere in the low 70s, cold when you first get in, but then you don't want to get out.
Fernandina Island
After a hot shower and lunch, it was back out again, this time to Fernandina Island.  Fernandina is an imposing volcano rising to almost 5000 feet in elevation.  It is streaked with fresh lava flows most of which are black and lifeless.  But our landing site was at Punta Espinosa which reflects the abundant life supported by the rich sea bathing the stark coastline.  We saw hundreds of marine iguanas basking on the dark lava, sea lions, flightless cormorants, and sea lions (a bachelor colony, i.e., all male.  Each male sea lion has 5-6 females in its pod.  Since the ratio of male to female sea lions is 1:1, there means there are some male sea lions that have no females.  They end up on bachelor island.  These are the males that didn't win the alpha-male battle).  The ground was essentially slabs of ropey black lava with iguanas blending right in.  We stayed until almost sunset as the sun began to sink into the water reflecting in the tide pools.
Santa Cruz Island
Wednesday
Santa Cruz Island – an island of contradictions.  Today was a day totally on land, and in a city with cars and buses and people and shopping – it was a shock to the system.  We began in Puerto Ayora where 15,000 people live.  It is considered the hub of the archipelago.  We landed with the zodiacs at the main town dock and then boarded buses to the Darwin Research Station where we visited the tortoise breeding program.  Some of the tortoises, particularly from the Galapagos tortoise from Espanola Island, were becoming extinct (back in the 1970's).  They had some females but no males.  So the word was sent out and a male was found – where?  At the San Diego Zoo, which donated him back to the Galapagos.  Diego, as he is called, was happy to mate and now, 40 years later, that particular tortoise has been reintroduced to the island.  We saw giant tortoises and baby giant tortoises smaller than the ones Sarah once had.
We then had free time to walk around the town and do some shopping (not really much to buy –the usual t-shirts and other schlock).  Then it was off to the highlands for lunch at a restaurant called Altair which is a charming place in the hills.  While it is very dry near the water, the highlands were lush and green.   After lunch we continued higher into the highlands to visit a pair of huge pit craters (and I mean HUGE), called Los Gemelos, surrounded by a forest of epiphyte-laden endemic Scalesia trees, ferns, orchids (not blooming) and many birds (mostly Darwin finches).
But the real fun began when we were taken, still in the highlands, to the property of a Galapagos native whose land is in the middle of the tortoise migratory route (Rancho Miraposa).  What this means is that his land is covered with "wild" tortoises.  We were given free time to wander alone amongst these giant, gentle beasts.  It was magical.  Andy and I just sat on the ground and watched them – close up and personal – for 10-15 minutes.  We watched them eat, drink, breathe (they can get quite loud). And the whole while of course, we took pictures (I shot close to 400 today and Andy another 85).  There were enough of them and the field large enough that everyone could have his/her own tortoise to spend time with without having to share with anyone else.  To see animals in their own habitat in the wild really makes one understand the force of nature and the magic of life.
But then it was back to our own reality.  Back to the zodiacs, back to the ship to shower and get ready for dinner (sounds like we are always eating; well it is true, we are).  Today we will be visited by a guest from the Darwin research station and after dinner we will have a musical/dance performance from local Galapagonians (I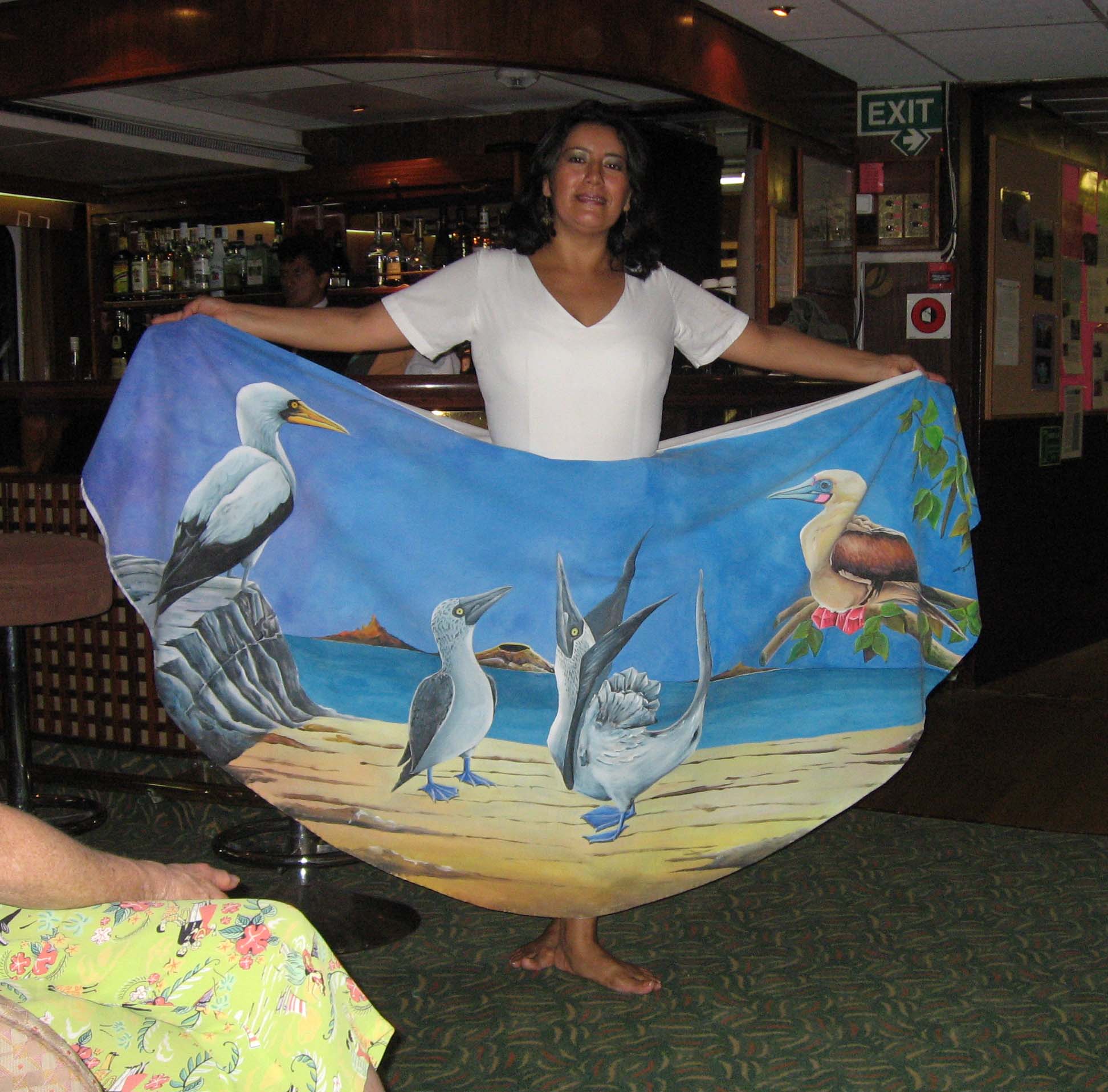 made that word up…).
"Cerro Dragon" or Dragon Hill
Thursday
Hard to believe we have only one day left in the Galapagos (although we do still get to go to Peru).  Today started with a walk on the northwestern shore of Santa Cruz Island where we were on the hunt for land iguanas.  We were in the area called "Cerro Dragon" or Dragon Hill as this is the home of the famous endemic Galapagos land iguana.  This is an area with both giant cactus (prickly pears or as we like to call them – sabras) and incense trees (although it has been so dry that the trees were bare rather than green).  It is unusual to see both in the same place sharing the same soil.   There was also a beautiful lagoon which sometimes houses flamingos but we were not so lucky.  We disembarked (dry landing) on an uneven, rocky spit of land, as much of the walking around here has been.  It is helpful that the ship has walking sticks for us to use and many times I was very glad to have one.  There are probably about 100 land iguanas in this particular area, but we saw about 3-4.  One never knows what one will see.  The land iguanas have the same ugly face (as we keep saying – a face only a mother can love), but like the marine iguanas, they can be very colorful.  While the marine iguanas are red and green, the land iguanas are golden in color.  Again, nature at its best.  The ground around here is also golden, so the iguanas blend right in.
In the afternoon we went snorkeling again.  We went out about 45 minutes in the zodiac, to swim along a wall that had beautiful sponges and sea urchins and fish all around.  We saw our first shark (a white tipped shark who swims along the sandy bottom of the water – not dangerous), and hundreds of other fish, many of which I'm beginning to recognized and am able to name (although probably not for long).  I have learned to relax with my head in the water, although I must add that having a prescription snorkel mask really helps.
Bartolome
Friday, January 18
Today is our last day in the Galapagos.  The day started with a 6:00am departure for a pre-breakfast landing on Bartolome.  Bartolome is in the central part of the archipelago and is a lovely volcanic islet just off the east coast of Santiago Island and in the shadow of Santa Cruz.  The conditions are rather dry (drought) so few plants grow here.  It looks much like a moonscape of rust-colored cones and black lava flows and canals.  We had a dry landing and climbed 372 steps (yes, they built wooden steps to the top) which took us 359 feet up to see the spectacular 360 degree view.  We looked down at the golden beaches (which we would visit later in the morning) and at pinnacle rock where Master and Commander was filmed.
After returning and having breakfast, it was a quick change into bathing suits and wet suits and off again for a wet landing at the golden beach. As we approached we saw a penguin sitting on a rock with an iguana again (every one here gets along – the world could learn from them).  We landed on the beach and  went for a walk over the dunes to the golden beach on the other side where we saw pelicans, sea lions, turtles and just beauty in general.
Then it was back to the first beach to swim and snorkel.  The water temperature was just right and this time we got to walk into the water from the beach rather than jumping in from the zodiac.  We were also able to swim at our own pace with our buddy rather than staying with a group (although there is always a zodiac watching out for us).  Andy and I swam off and watched the parrot fish, puffers, white-tipped sharks, sea stars (4 different ones including one called a chocolate chip star.  These used to be called star fish, but since they are not fish, the name was changed). I saw a parrot fish eating a sea urchin.  We saw schools of razor back fish and schools of very tiny fish such that it seemed like the whole water was filled with them. But, we didn't see any swimming penguins.  Later we found out that some of the snorklers did get to swim with two penguins, but it just wasn't meant to be for me. So the swimming penguin pictures belong to Franklin.
Santiago Island
After lunch back on board, we had one last outing.  We zodiaked to a black beach (wet landing) at Puerto Egas on the western shore of Santiago Island.  We again snorkled although visibility was not very good.  We were about to get out when we saw a turtle. He (she) was right under me and I swam with him for about 15 minutes just watching him munch on the sea weed, swim/float around, come up for air now and then.  It was amazing.  Then it was off for a walk around the tide pools.  The sun was low in the sky and reflected off the water, off the backs of the sea lions and was generally gorgeous. The animals were all very active with sea lion pups frolicking in the tide pools, marine iguanas chasing females to try to mate or chasing off other intruding males.  We saw an American oystercatcher sitting on her two eggs.  We saw fur seals (who are really sea lions – there are NO seals in the Galapagos). We saw crabs every where.  And a yellow warbler, a yellow-crested night heron, a rudy finch, a fly-catcher finch, a lava lizard and other birds I can't name.
We then headed back to the zodiacs to get back to the ship to get ready for Shabbat and the evening.  We were on the last zodiac and the engine would not start.  So
they called a second zodiac which towed us out to the boat.  Half-way there, the current was too strong for a tow, so they brought over two more zodiacs and we did a mid-water switch.  They put them side by side and you slide your tuch over to the other zodiac.  Very easy and very safe, but an adventure none the less.
We got back to the ship in time for a quick shower before we met for Shabbat.  Andy and I had arranged for the chef to bake a challah and had announced to the whole ship that we would say the blessings that evening.  It was amazing how many of the passengers showed up (you never know who is Jewish – although two ministers came too).  The hotel manager used to work on a large cruise ship so although in five years, no one ha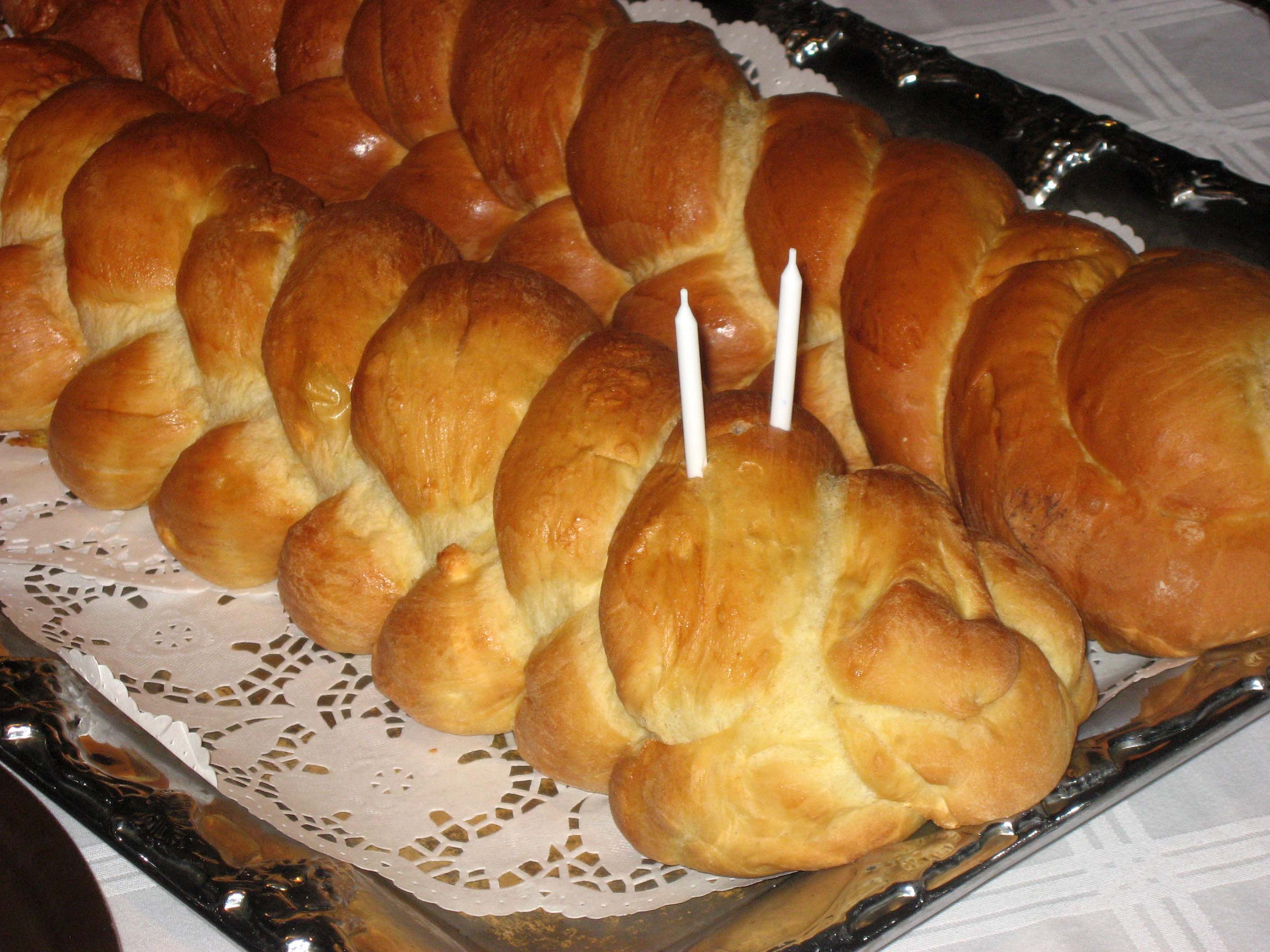 d asked for a challah, he knew what it was.  They baked two beautiful, two-foot long challahs and poured us wine.  They only candles they had were two small birthday candles which we stuck into the challah. I can never seem to remember to bring my traveling candle sticks.  It was lovely and we had about 20 people there.  Andy led the prayers, everyone joined in, and then we sang a few Shabbat songs.  Community!
Today, Saturday, we are off to Lima.  At the moment we are on the plane on the way to Quayaquil where we will change planes for Lima.  There are about 30 of us (out of 75) continuing on the trip.  So part 2 of the adventure begins. Please see the Machu Picchu blog.
But before you go, here are a few more pictures: