June 16, 2022
As you, my readers and followers, know, my posts are generally about my trips around the world. During the pandemic of 2020, when all travel stopped, I began exploring my native San Diego and posted about those adventures. In 2021 I started traveling the world again. But I find there are still discoveries to be made in my own backyard.
Last week, my friend David, and his friend (and my new friend) Gail, drove up to Escondido to the Kit Carson Park to see the Queen Califia's Magical Circle. I loved it so much that I returned a few weeks later with my family.
Kit Carson Park
But first a word about the Kit Carson Park. The park is named after Christopher (Kit) Carson who was a famous scout who guided Captain John C. Fremont over the Sierra Nevada Mountains during a government exploration expedition.
The park itself in in a valley just five miles from where Kit Carson fought the Battle of San Pasqual. And should you be interested, there is a historical monument commemorating the battle on Mule Hill, one mile southeast of the park.
The park has its origins in 1967, and there is lots to see and do there. But many people come to see the park's newest addition, Queen Califia's Magical Circle, the only American sculpture garden by the internationally acclaimed artist, Niki de Saint Phalle.
Niki de Saint Phalle
To understand the magical circle, you first have to understand the artist. Niki de Saint Phalle (pronounced se fal) who was born in lived 1930 in France. She had a very difficult childhood with a mother who beat her and a father who abused her. She would grow up however to be a sculptor, painter, filmmaker and author of many colorful hand-illustrated books. She was considered on of the few female monumental sculptors and she won many awards. One art critic said of her, "The French-born, American-raised artist is one of the most significant female and feminist artists of the 20th century, and one of the few to receive recognition in the male-dominated art world during her lifetime." Her work was in part inspired by her 1955 visit to Antoni Gaudi's Parc Guell in Barcelona. From there she began using diverse materials and objects as essential elements in her art. She was mainly known in Europe, until she moved from Paris to La Jolla, Ca at which point she became known in the US. And in 2002 she died in La Jolla. And thus her connection to my home town.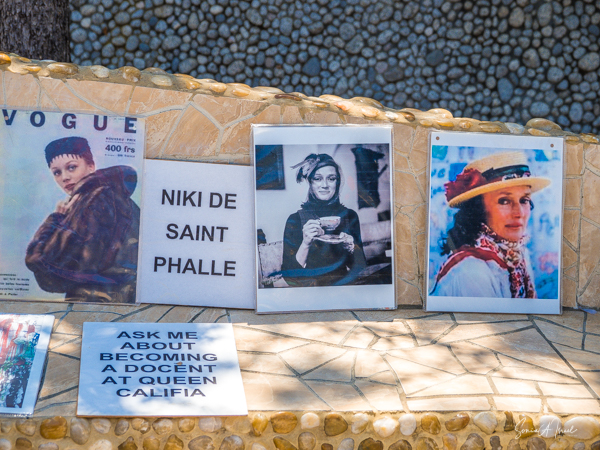 Saint Phalle was also known for her social commitment and work. Throughout her life, she was outspoken about important religious conflicts, political issus, pandemic health, gender, reproductive rights, race, food security, climate change and cultural issues. Much of her early work reflected these ideas.
Her San Diego Connection
Saint Phalle moved from Paris to La Jolla in 1994 for health reasons   She set up a new studio and produced sculptures which were covered with mirrors, glass, and polished stones, instead of paints. And this is what I most knew her for, as those sculptures are all over San Diego, including in Balboa Park, the San Diego Convention Center and UCSD.
Queen Califia's Magical Circle
For all the work that Niki de Saint Phalle created, this is only one of two sculpture gardens of her work, the other  the Tarot Garden in Tuscany. It is also the last major international project that she created. The garden was financed by Saint Phalle although the land was acquired, landscaped and maintained by the city of Escondido. It took almost 4 years to plan and complete and Nikki remain totally immersed in the project until her death at the age of 71. When asked, she said, "Here in Escondido you can touch the sculptures. They feel nice and you won't harm them. You can be part of them… It's like a marriage between the sculptures and the person.  Maybe it brings out the child in the adults."
But most importantly, the garden was inspired by the mythic, historic and cultural roots of California, that is, by the story of Queen Califia.
As an aside, I have to mention that there is another sculpture of hers that one can touch and that brings out the child in all of us  It is a monster's head with a large red tongue that is a slide in Jerusalem. I recall taking my kids there about 30 years ago, but did not realize until recently that it was one of her sculptures.
Queen Califia
So who was Queen Califia? She was the fictional queen of the island of California. In the early 1500s, Carci Rodriguez de Montalvo wrote an epic novel of chivalry, Las sergas de Esplandián (The Adventures of Esplandián). In it, Califia was the Black warrior queen who ruled the mythical island of California. This island was only inhabited by Black women who lived like Amazon warriors. Califia wore armor made of fish bones and used weapons made of gold. She had an army of griffins who she commanded.
The novel was so popular in Spain that when the conquistadors reached the Baja Peninsula, they thought they'd found the fabled island of California, and thus our state got its name.
While everyone now knows California, few know of Queen Califia. She does appear in a Diego Rivera fresco at the City Club of San Francisco, in a mural at the InterContinental Mark Hopkins San Francisco hotel and in a Disney California Adventure Park movie, in which she was played by Whoopi Goldberg. And now in her magical garden.
The Garden
We parked our car and began walking towards the garden. From the distance, you could begin to see the fence surrounding it with sculptures peeking over the top. We finally got to the entrance, where there is a sign explaining a bit about the garden and about Queen Califia. It explains that the free standing sculptures, nine in all, incorporate imaginary creatures, protective deities, geometric symbols, crests, skulls, humans and animals, all of whom played a role in the history of Southern California. This was Niki's gift to her home, San Diego. When the sculptures were created, she was already ailing and too weak to do the work herself. So many artisans and workmen helped her create the sculptures and they are all represented at one end of the garden in ceramic plaques carved with Native American rock art symbols and planetary forms and hearts and hand imprints and signatures of the artist's team an family members.
As we walked down the stairs, just inside the entrance, I had to stop and just stare. I actually gasped. The first thing I saw were these two enormous snakes weaving their way around the perimeter of the garden. Their heads were huge, with open mouths and large eyes.
The snakes formed a wall that is 400 feet long and varies in height from 4 to 9 feet, and I could see the top of some of the sculptures over the lower parts of the wall.
I walked in and found myself in a maze of black, white and mirrored tiles, with the mirrors reflecting the sun and the sculptures, and us as we become part of the art.
Once we were through the maze, the David, Gail and I went our separate ways to take in the art on our own at our own pace. I entered the interior part of the circle and didn't know where to look first. Of course, I immediately grabbed my Olympus E-Mi Mark III fitted with my Olympus 12-100 mm f 4 lens and started taking pictures.
The one in the center is of course that of Queen Califia standing on the back of a five-legged eagle, holding a blue bird in her hand. It is called Queen Califia  and the Eagle Throne, and that is the one who first catches your eye. The sculpture is immense, and the colors almost overtook my senses. I walked under the eagle, between its legs into a domed temple, and there was a golden egg fountain (although it was not turned on) reflecting Califia's magical reign over the oceans. There was also a most brilliant blue "sky."
I slowly walked around taking in each of the other 8 totemic sculptures, all totems: Cathead, Birdhead, Yelling man, Bullhead, Untitled totem (bird on a square), Kingfisher, Step, and Snake. And the whole place is made up of tens of thousands of individually hand cut glass, ceramic and stone mosaics. For first time Saint Phalle also used polished and tumbled stones like travertine, agates, quartz, and turquoise.
I had to walk around each one as there was much to see on every side and every surface. They were all covered in symbols and forms coming from Niki's imagination but incorporating Native American, Pre-Columbian, and Mexican art.
One sculpture particularly caught my imagination and my heart. It looked like an African mask below which was a woman hugging a child. There were steps leading up to the totem. In my mind, this was Niki looking for the love she never had from her parents. It was a moving piece. It touched me.
I continued walking around, almost in circles as I retraced my steps to looks at the totems over and over again. And each time, I saw something different. As the sun moved and the light changed, the colors and reflections shifted. The sculptures are magical indeed as the name of the garden suggests.
Eventually, the three of us met up and made our way back to the car.
When to Visit
Note, if you go, it is VERY hot there in the summer. The normal hours are Tuesdays and Thursdays from 9-noon. It is also open on the 2nd & 4th Saturdays of each month from 9 a.m. – 2 p.m. It is closed on Thanksgiving and Christmas. In addition, it is not open when it is raining or if it rained in the last 24-28 hours, likely because it would be very slippery. Information, including hours and directions, can be obtained by calling (760) 839-4000.
Escondido Art…
We drove into the old part of town and visited an art gallery. We hoped to visit a wonderful photography gallery, but it was closed. But the old town of Escondido is full of art and murals. I returned here a few weeks later and just walked around. There is even an alley covered in art.
…and Food
We got to have a great lunch at A Delight of France, a lovely, quaint patisserie with wonderful food, including great onion soup (almost as good as Jo's Mission Hills Diner which I think as the best onion soup ever). When I came back to Escondido., I stopped here for lunch again. It does not disappoint.
All in all a wonderfully fun day.  Still so much to learn about my home town.