We visited Santa Elena, Colombia exactly two years ago, but I'm just posting about our wonderful adventures.
July 29, 2018
Santa Elena
As a side trip from Medellin, we visited a flower farm in Santa Elena. .Juan Carlos, our guide, and Guillermo, our driver, picked us up at 9:00 and we headed towards Santa Elena. The ride took about an hour out of Medellin on the same road that heads to the International Airport, and onto the eastern mountain roads. The traffic was light. The roads narrow. Motorcycles were of course everywhere. The mountains were beautiful. Different shades of green. Trees everywhere. Every once in a while, there would be a tree in the distance, what looked like it was covered with white flowers or white birds. But it was a Silver Yarumo tree which close-up looked like silver leaves, but from the distance was white against the green.
We passed a lot of construction. Juan Carlos told us that the rich are tired of living in Medellin with all the traffic so are building homes out closer to Santa Elena. We passed a second construction site with a tall, 6 story building. Juan Carlos explained that some Americans had brought the land from the wife of the largest drug dealer in Colombia. Many Colombians invested in the project as well.  But the land really belonged to the government. It was all a scam and the drug dealer's wife got away with 10 million dollars. Yes, there are still powerful drug dealers in Colombia. Cocaine still grows in the mountains. It is much more profitable than coffee. Or flowers.
But we were here today for the flowers.
Honoring Flower Growers
We drove some more and got to the main square of Santa Elena where there was a statue honoring the flower growers, the flower arrangers and the silleteros. At the bottom of the statue it says, "Cuando pasan los silleteros, es Antioquia que pasa."  "When silleteros pass by, it's Antioquia that is passing."
 And what or who are the silleteros?  Read on.
The Londono Flower Farm
After driving about 15 more minutes, past small restaurants and homes, we finally arrived at Ignacio and Carmen Londono's flower farm. We stepped out of the car and immediately put on our sweaters. While it had been quite hot in Medellin, here we were at 7000 feet above sea level and it was cold. Carmen came out to great us in the traditional silleteros dress.  Yes, more on that later too. We shook hands and she invited us into her home for mint tea. Of course, mint from her garden.
Carmen is sixth generation flower family. Her father bought the land on which they now live along with her parents and sisters and brothers, all in their own homes, and all farming flowers. The house was cozy, with a small living room, three small bedrooms (one for them, and one each daughter, a 4-year old and a 7-year old, whose rooms were course done in pink), a small kitchen and one small bathroom. Certainly sufficient. In the living room were lots of family pictures showing the different generations of both families. Family here is important.
After we finished our tea, Carmen gave Andy and me each a ruana to keep us warm. The ruana is the traditional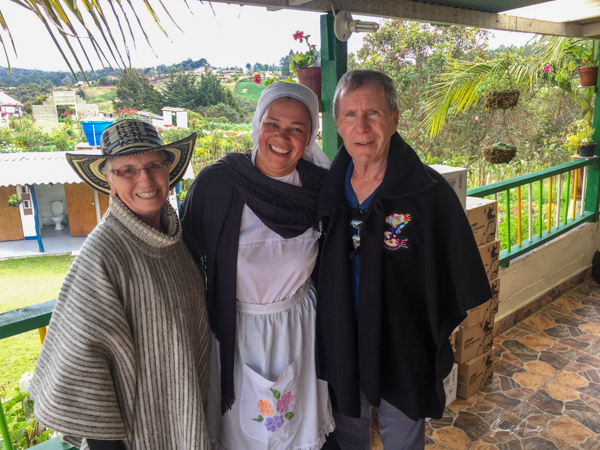 poncho typical of this area. The word ruana comes from the Chibcha word ruana meaning Land of Blankets. And these ponchos were indeed like wearing a warm, thick blanket.
And then we began our tour and education about the world of flowers in the Santa Elena area.
Gold and salt turn into chairs
In the pre-Spaniard days, the indigenous tribes were trading in gold and salt. They used threads from the leaves of the figue plant to weave a strap which they would wear around their forehead and then around the baskets of gold or of salt. In this way they could carry the heavy load. They were very strong and developed a reputation for being able to carry heavy loads long distances. Others started hiring them to do just that.
When the Spanish arrived, they noticed that the indigenous were extremely strong. So, rather than carrying baskets, they had them carry chairs for transporting people, that is, to carry them. The Spaniards used this procedure for cartography. The indigenous would carry them while they mapped the area. Some places in South America, still use these chairs for transportation.
And then from chairs to silleta
Carmen told us that they used to carry her grandmother that way. They also used to carry pregnant women from Santa Elena to Medellin to deliver their babies.  But then the Santa Elena indigenous locals changed the packages carried in the chairs from people to flowers and changed the chair for one with no legs. They began by transporting flowers from Santa Elena to cemeteries in Medellin.
And these chairs are called Silleta and the flower vendors silleteros.
Indigenous wear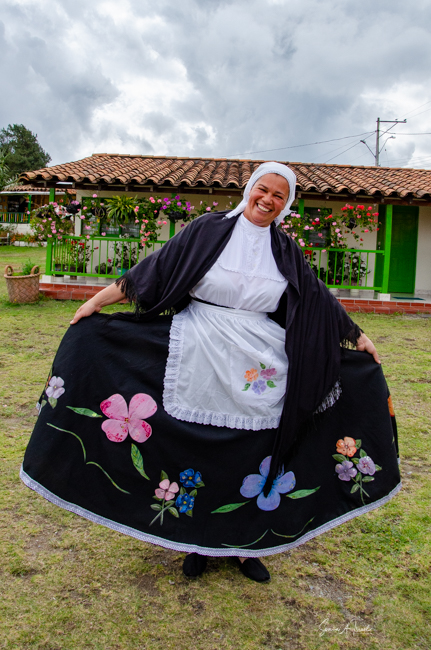 Carmen was wearing the traditional outfit of the silleteros. It was a black dress with flowers on it. It had a shawl for when they wanted to stop in church. It had a pocket in the front for money. The shirt was buttoned up to the top in case it was cold. She wore black sandals that laced up her legs, and a scarf around her head. Children all have the same costume. Juan Carlos told us that he had to have one for his son in Medellin as well as on the day of the flower parade, everyone wears it.
Flower Parade or Desfile de Sillerteros
Yes, the parade, the Desfile de Sillerteros (Flower Parade) is part of the Feria de las Flores (Flower Festival). The parade began in 1957 with 40 sillerteros participating with traditional, but ornate, flower arrangements. This was, and still is, a big deal, sponsored and paid for by the local government. The mayor also pays to transport the sillerteros from Santa Elena to Medellin. The entire parade costs $2.5. million. Now about 510 people compete. The parade route is about 4.5 miles long and takes about 3-3.5 hours.
Only those born in Santa Elena who still grow flowers are allowed to participate. The techniques are passed down from generation to generation. Carmen's two daughters, aged 7 and 4, have already begun. There is a local parade for kids one week before the official parade. Their silletas are smaller and have backpack type straps instead of head straps. The seven-year-old made a disc in white and blue flowers celebrating nature. She will participate in the main parade for the first time this August.
"Don't touch little girls. Don't rape girls. Don't kill girls."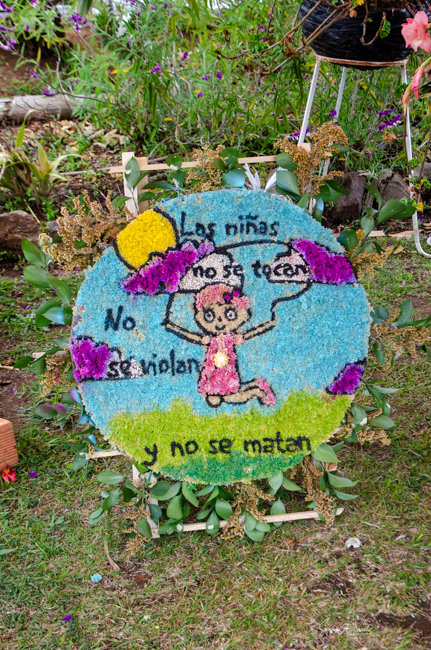 But it was her 4-year old's that amazed me. Her flower disc said, "Don't touch little girls. Don't rape girls. Don't kill girls." This was recently an issue on the local internet. Carmen was talking to her daughter about it and they decided that would be her theme. But the daughter decided that she wanted the little girl to look happy because girls are happy.
1.5 million flowers
In the main festival and competition, they compete in four categories which are each judged on beauty, composition and variety of flowers. The four categories are traditional (ornate large flower arrangements), monumental (the largest one created by covering enormous circles with flowers; they can be 7 feet in diameter and they are heavy), emblematic (cultural symbols with messages) and commercial (flower arrangements with commercial logos). Between all the participants, over 600,000 flowers are used. The sillerteros also are hired for professional arrangements and offer other arrangements for sale. If you include these, there are about 1.5 million flowers used. And the oldest silletero is 86 years old!
Designing and building
Once they decide on the design or the message, it takes 2-3 months to finish the arrangement. Other than the traditional arrangements, the rest are designed on a piece of wood, and then the flowers are glued down. Often the outline of the designs are glued down first, Then the rest is filled in. And of course, the flowers have to be fresh so they have to time it with the start of the parade. And the arrangements can be huge. One was a disk 7 feet in diameter!
Travel the world
The grand winner gets to go to other countries, particularly to embassies where they are celebrating national holidays. Carmen's mother, Blanco, won many times, as we could see from all her ribbons on display at her house, next door to Carmen's. She has already gotten to go to Rome and, since 38 Colombians died in 911, she also got to travel to New York to pay homage to them.
Family
In addition to touring Carmen's mother's house, we toured the grounds which were made up of flower field after flower field. Carmen's siblings also have homes on the same property. Family is important here, and they all work together towards their goals.
"A child who plays an instrument, will never hold a gun."
Carmen has also won many times. One winning emblematic arrangement said: "A child who plays an instrument, will never hold a gun." This year they are working on six different designs but it is a secret. We did get to see what they had done so far, but I'm was not allowed to tell.
They promised they would send me pictures after the parade, and they did.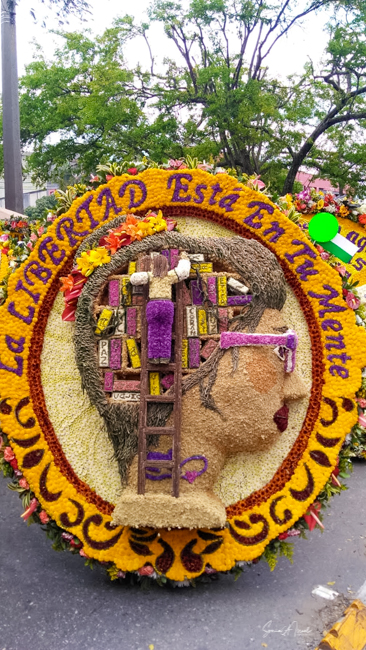 They also showed me some designs that a local clinic hired them to do. One was a lung. One was a heart. But the one that took the prize for me was a brain with the message: "Get 7-9 hours of sleep." (Those that don't personally know me, my other hat when I'm not blogging, is the study of sleep medicine. So this message is one I've been teaching for a long time). It seems like it was just made for me!  I took a picture of their model and they promised they would send me a picture of the final flower arrangement of the brain.
And then it was time to leave
It was time to say good-bye and hit the road. We kissed on both cheeks, and started heading out. Just then a man, carrying a large load of flowers on his back and with a machete at his side walked by. Ignacio had him pose for pictures and then, as he walked on his way, we learned that this man had won the overall award three times.
On the way back to town we passed lots of traffic on its way in to see the flowers.  Our timing was perfect.
Chiva
There is one other story to tell here.  The entire time in Medellin, I wanted to see a Chiva (which means goat) bus. This is a very colorful mode of transportation, particularly in the smaller towns of Colombia.
Why? Well, I did explain this in detail in my post, part 8 of Colombia: Coffee and Chiva (please see that post). Here in Santa Elena I did get to see my first one, but it wasn't a real working bus, rather it was a party bus.
Arvi Regional Park
Yesterday, we were also in this area, visiting the Avri Regional Park. The park has over 28,000 acres. People come here for all sorts of activities, including hiking, biking, camping.  We didn't really do any of those. We drove around to see some of the viewpoints. We did take some walks. There was a small open market and we walked around admiring the beautiful fruit and handicrafts.  I bought a few earrings as gifts and as always, had my picture taken with the artist.
There were also some flower discs on display.
Lunch
Both days in the Santa Elena area, we stopped for lunch at a roadside restaurant.
There were a few in a row along with some shops. One was cooking outside. That's not where we ate. One day we ate at Cesar Cocina. The other day we ate at La Montinita. Both times the meals were the typical Colombian meal – chicken or beef, salad and rice/beans or vegetables.
Sombrero Vueltiao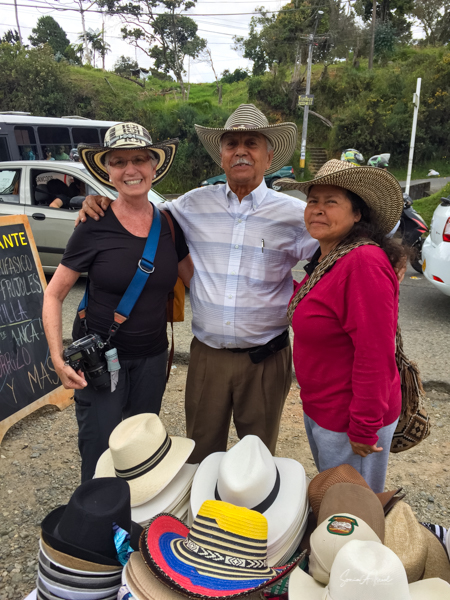 But, there was one vendor selling hats and I had been looking for just the right Colombian traditional hat, the sombrero vueltiao (or "turned hat"). The real ones are made of a type of cane that grows here and the quality of the hat is determined by the number of pairs of fibers braided together to make the hat as well as how flexible it is. The more flexible the hat is, the higher quality and the more expensive. But I was willing to settle.  Mostly I wanted one that had the right amount of turning up and looked good on me. And I found one.
Santafé
On the way back to the hotel, we were dropped off at the shopping mall, Santafé, not far from where we were staying. I had heard from someone we sat next to at dinner one night, that there was a gorgeous flower display there and I wanted to see it.  And outside was a statue of a silletero.  The stop was well worth it!
All in all, one of our best days.