Buffalo
March 2-5, 2018
Buffalo is the second largest city in New York, after NYC. It was originally inhabited by the Native American Iroquois tribe and then by French settlers. Immigration, the construction of the Erie Canal, the building of railroads and the closeness of Lake Erie all led to an increase in the population. The city relied on the grain, steel and automobile industries (hosting the car builders Pierce Arrow and the Seven Little Buffaloes, a 7hp High Wheeler manufactured in Buffalo by De Schaum) during the 20th century, but as those industries moved, the population of Buffalo decreased. Today the main industries are healthcare, research and higher education, a bit change for the days of the service industries. Now you might ask, what is a 7hp High Wheeler? I had no idea and had to look it up.
Here is a picture of it: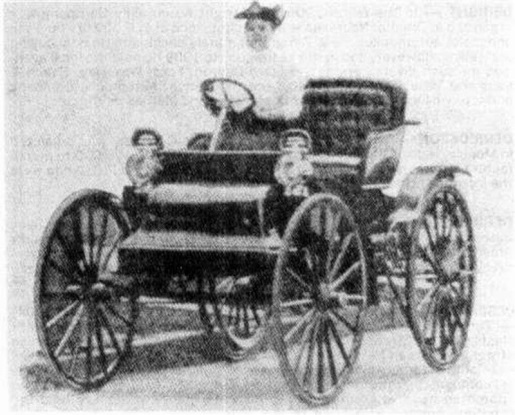 But what most surprised me about this city on the shore of Lake Erie and at the head of the Niagara River, was the beauty of the city and the buildings in it. While Buffalo is known for it early use of electric power (generated by the Niagara River and thus Buffalo's nickname of "the City of Lights"), it is really the extensive system of parks, designed by Frederick Law Olmsted (who also designed Central Park in NYC) and the gorgeous old architecture, that make Buffalo a beautiful city.
The Buffalo, i.e., Bison
Although the mascot for everything in Buffalo is the buffalo (i.e., bison), and although there are buffalo statues all over town, there have never, NEVER been any buffalo in Buffalo. The name Buffalo actually comes from the French fur traders and Native Americans who called it Beau Fleuve, French for beautiful flow or beautiful river. When the English came, they couldn't pronounce the French and it became Buffalo.
Buffalo and the American Presidency
Amongst other things, Buffalo has a long history of American Presidents. President  McKinley was shot in 1901 in Buffalo during the Pam-American Exposition. Theodore Roosevelt was then sworn in here in Buffalo. And Grover Cleveland and Millard Fillmore were both originally from Buffalo.
The Wyndham
We landed late on a Friday night. I had called our hotel to ask about their airport shuttle, but that would cost $25 (more on the hotel later). So we Uber'ed (has that become a word now?). Our driver was a local Buffalonian who drove Uber part time and worked as a mechanic full time. He is originally from NYC and told us how the cost of living is so much better in Buffalo. Houses are affordable. Property taxes are low. Great lifestyle.
We checked into our hotel, the Wyndham Garden Buffalo Downtown. The hotel was very convenient to the Medical Center in Buffalo (which is connected via a tunnel so you never have to go outside), to Allentown and about a 20 minute walk to downtown. There is also a free shuttle to take you to places close by. Randy at the front desk was very friendly and quickly checked us in. We went up to our room,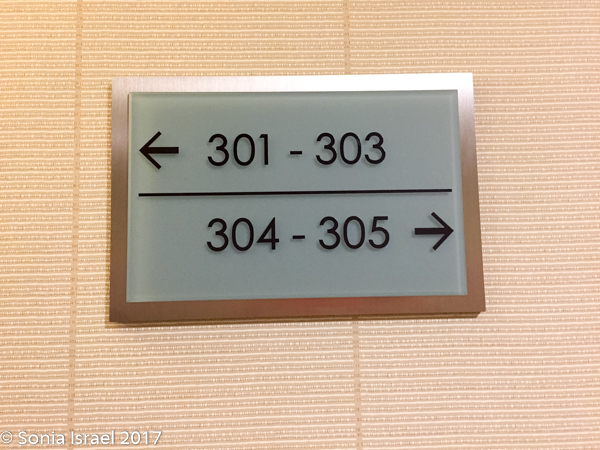 310. As we got off the elevator, the room direction signs said 300-302 in one direction and 303-305 in the other. What about the other rooms?  No sign.  We walked towards 305 and then finally saw the rest of the signage.  Very confusing. We unpacked and went down for a dinner in the hotel restaurant. The restaurant has televisions everywhere in the bar area, but also has another part of the room that is more quiet. The menu was surprisingly complete with sandwiches, salads and entrees. I had a local specialty, beef on a weck roll.  What is beef on weck? Well, first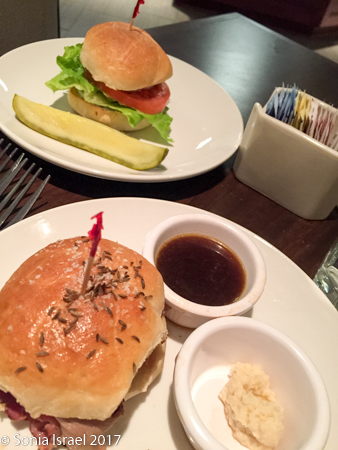 of all, it is the second most popular food in Buffalo.  The first? Buffalo wings, of course. And they were indeed invented here (our guide told us that there was a pub that was throwing away its wings. But the staff were hungry, so one day he threw sauce on the wings and served them to his staff.  And thus Buffalo wings were born).  But back to beef on weck. This sandwich consists of three parts: the beef, horseradish and the bread. And not just any bread. The roll, actually called a kimmelweck (or weck for short) is flecked with salt crystals and caraway seeds (ie.e, kimmel). Andy had a chicken breast in panko crumbs which he said was delicious.
We went back to our room. The room is simple but adequate. There is a safe. There is a microwave and refrig (although no plates or silverware), and coffee. The shower was nice and strong. But the WiFi signal was very weak.  I called down to Randy who said it was because of the weather (isn't the weather always bad here in winter?) and that he would try to reset it. I never found out if that worked as I went to sleep. Or tried to. The heater kept kicking in and out and making a lot of noise. So we turned it off. But although it was off, the fan continued to kick on and off which kept us up most of the night. And then in the morning, when I opened the curtains, I was looking right at a brick wall. In my sleep deprived state, this did not make me happy.
So back down to the front desk. They said they would send up an engineer to look at the heater, and that none of the rooms had a view. But there were two available rooms on higher floors. They took us to see them and sure enough, room 707 did in fact have a lovely view of parts of downtown and the river. Sold! We moved our stuff (in other words, packed and upacked again) and then headed off on the days adventure – Niagara Falls (see the Niagara Falls blog for more). And this room had a quiet heater. But the WiFi was still weak.
Giacobbi Cucina Citta
After spending the day enjoying Niagara Falls, we came back to the hotel and rested a bit.  I checked TripAdvisor (yes, I use it as well as review for it. Looking f9r me?  I'm Sa-I44) and found an Italian restaurant, Giacobbi Cucina Citta, within walking distance. We love Italian and this was just a few blocks away, so we thought, why not? We made a reservation as it was Saturday night and walked over for dinner. The restaurant is broken up into three separate rooms with large open windows in between so you don't feel closed or claustrophobic. The best thing about this restaurant is that it's not too noisy. There is a bar at the entrance and yet we could hear ourselves think and talk. On the wall is a mural of a woman with a scarf on her head riding a Vespa on the Italian shore line. John told us that the owner had been in Paris eating at a time at an Italian restaurant and saw this picture on the menu. He then had it replicated for the restaurant. The owner, Mr. Jiocobbi, said that story wasn't exactly true but he did talk to his painter friend about capturing an Italian scene on the seascape. I like the first story better.
We were seated in the middle room and given time to peruse the menu. There is a nice wine list (they had my favorite wine) and nice draft beer list, as well as bottles. My husband couldn't decide on which beer to have, so John, our waiter, made a selection for him. It turned out to be a local draft beer which was perfect. And it came in a beautiful etched glass, which our waiter gave us to take home.  We started with a side order of Caesar salad, which was quite good. This is always my test of a good Italian restaurant. Options on the menu all come with single portion or family style, which is a little cheaper than ordering two of the single orders. My husband opted for veal marsala while I opted for veal piccata, which wasn't actually on the menu but chicken piccata was so I knew the chef could also do the veal. Both came with a side of spaghetti in a tomato sauce. We were offered bread some of which comes from a local bakery and some of which is made on site, but we opted not to fill up on that. There is an extra slight charge for the bread. I'm OK with that.
We were too full for dessert, so missed out on the chocolate cannoli (which sounded amazing), tiramisu, warm brownie à la mode, blueberry crumble all a mode, or New York cheesecake. This restaurant has been here for about two years but follows in a long line of family restaurants.  This one is a winner!
Buffalo and its Architecture
The next day was a free day (it was a Sunday and work wouldn't start until Monday) so we decided to take a long walk to see all the great architecture we had read about. The city contains buildings designed by American architecture masters like Frank Lloyd Wright, Louis Sullivan and others. There are lots of walking tours offered as well as a double-decker bus tour, but not in March. So we walked and created our own tour.
We started with lunch. We had read about Cafe 59 so decided to walk over for lunch. The first thing you see when you walk in is a collection of bubblehead typed twice. I immediately pulled out my camera to take a picture, and the owner walked over and said "let me tell you a story. There used to be three mariachis, but two were ki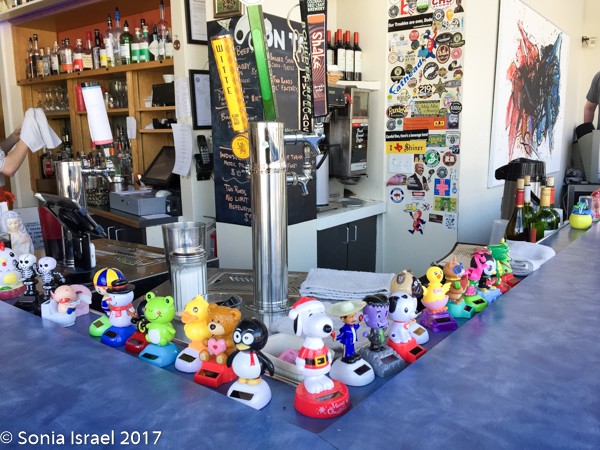 dnapped and there was no ransom note."
I assume he meant two were stolen but I truly am not sure. There is seating both at the bar, or counter, or in a small room next-door which had about five tables are there in sizes. We were seated in that second room at a table for two. There were lots of large windows leading in lots of wonderful light. Since it was Sunday, brunch was being served along with the regular menu. We opted for the roasted eggplant and artichoke sandwich on a hard roll and the brie and apple sandwich, which we also requested to be on a hard roll. We figured we would share. It took almost half an hour to get served. I'm not sure my service was so slow as the restaurant was not particularly packed, But I must've met I was getting a bit annoyed. The sandwiches were finally served and they brought us two extra plates since they knew we were sharing. The hard roll turned out to be a soft roll, although it was tasty. Both sandwiches however were extremely bland, and I don't even remember tasting any eggplant. The artichokes were straight out of a can, not even marinated which would have added some flavor. Maybe we just ordered the wrong thing. It seems that the chicken fingers are one of their specialties as they make those fresh. Maybe next time.
After lunch we continued our walk in Allentown along Allen Street to Elmwood around to Marina and back to Allen Street. The shops and even some of the restaurants were closed, but there were lovely brownstones and Victorian houses (painted ladies) to look at. We made our way to Delaware Street and walked all the way downtown, stopping along the way to read the signs by the old homes describing their history. There was the Adam House and the old Buffalo Club.  The Adam House was built in 1876 for Robert Adam who was a founding member of the Adam, Meldrum & Anderson department store, one of the first in the country. In 1920 it was converted to a funeral home and then in 1985 into offices. The Buffalo Club was founded by Millard Fillmore in 1867 and has been a private club ever since with entrance only by invitation. In addition to a private club, it also houses an inn and a spa.
City Hall
But my destination was City Hall. We had driven by it on our way back from Niagara Falls, but I really wanted to walk around it and see it up close. It is a 32-story art deco building from 1931. It is one of the largest and tallest municipal buildings in the United States and is also one of the tallest buildings in Western New York. The base is gray granite and the upper building is Ohio sandstone and gray Minnesota limestone. There are symbolic figures and decorations all around representing Buffalo's history, including the Iroquois Indians, the steel industry, law and education, electrical energy and the waterfront community. I read that there are four statues in the lobby representing the characteristics of good citizenship: virtue, diligence, service and fidelity. But unfortunately the building is closed on Sundays so we could only peek in the glass doors. And around the building were statures of Grover Cleveland (24th US President), Millard McKinley (13th US President), and William McKinley (25th US President who was assassinated in Buffalo).
Federal Courthouse
Across the street from City Hall is the Robert H. Jackson US Federal Courthouse. I stopped in my tracks when I saw it. There was a glass entry pavilion that has all 4,536 words of the US Constitution etched into the glass, and it was topped off by a glass enclosure meant to resemble a glowing lantern when illuminated at night – which we did not get to see. But the etched glass was stunning. And the reason behind the glass was to express the dignity and transparency of the Federal Judiciary.
Niagara Square
Both City Hall and the courthouse sit on Niagara Square, named after one of the Indian groups that lives near Niagara Falls. In the center of the square is a large monument, which looks like Place de la Concorde in Paris, commemorating the assassination of President McKinley in Buffalo during the Pan-American Exposition in 1901.
Liberty Building
The next building we admired was the Liberty Building, a 23-story Neoclassical office tower built in 1925  At the time of its completion, the Liberty Building was the largest office building in downtown Buffalo and was built for Liberty Bank to serve as their headquarters. Interestingly, The Liberty Bank was originally called the German American Bank but after WWI, the name was changed to the Liberty Bank. In keeping with its new image, two 36 feet tall replicas of the Statue of Liberty were placed on the roof, one facing west, one facing east (representing Buffalo's location on the Great Lakes), and a third replica was placed over the Main Street entrance. Only the rooftop statues remain today.  Another interesting tidbit about this building is that on Sept 23, 2010, a French tightrope walker, Didier Pasquette, successfully walked the 150 feet walk across a high-wire suspended between the two statues atop the building.
Lafayette Square
Right across from the Liberty Building was Lafayette Square with it Civil War Monument in the center. It is named after General Lafayette who visited Buffalo in 1825. The Civil War Monument, called Soldiers and Sailors, has a 10.5-foot female figure on top, representing the Union, and four 8-foot bronze statues around it representing the infantry, artillery, cavalry and navy. There are also bronze bas-reliefs circling the column featuring scenes of Lincoln's original cabinet. On the west side of the column is a dedication to those who died in the Civil War, on the east side is half of Lincoln's Gettysburg Address.
Electric Tower
We kept walking, up Washington St this time. Past more interesting architecture. Through different neighborhoods. The next building to take away my breath was the Electric Tower, also called the General Electric Tower. It is a historic office building and skyscraper which is the 7th building building in Buffalo. But what makes it stand out is the white terra-cotta clad octagonal tower which steps back three times to terminate in a large lantern. The decorative symbols feature aspects of electricity production. And since this is Buffalo, a city which loves it sports, the building is lit in blue and gold during the National Hockey League playoffs. This is also where the ball drops on New Year's Eve.
And we kept walking along Washington, back to the hotel, cold but happy.  We had walked about 4 miles total and felt like we had at least gotten a flavor of Buffalo.
Patina 250 Restaurant
That night we were taken out to dinner by locals, to the Patina 250 Restaurant within the Westin Hotel. The décor was modern and beautiful. There is an open kitchen which is always fun. The menu had lots of interesting options which made it hard to choose. There were five of us and we shared the piroshky and the poke. Both delicious. Between us we had the sea bass (tasty but salty), duck (tasty but tough) and scallops. And then we shared the citrus tart and the NY cheesecake for desert.  All in all a great meal.
Roswell Park Cancer Center
The next day, Monday March 5, was my work day. I was here to give a talk at the Roswell Park Cancer Center. Several things stood out for me here. Everything is connected by tunnel so staff and patients can avoid the cold and snow. Some of the tunnels and corridors are decorated with art representing cells and molecules, the way we fight cancer. There are sunflowers everywhere, and large courtyards for when the sun is shining and the snow has melted off the ground.
Final Thoughts
And then, after my talk, it was time to go home. When I was first invited to Buffalo, I wasn't sure why I would want to go. But it turns out Buffalo is a beautiful city, and while some might say that winter is not the best time to come visit, I loved visiting during the snow and the cold. And so the sun set on Buffalo and on our visit.