Saturday-Sunday, May 4-5, 2019
I was on my way to Aarhus, for work, but also for play. I landed in Copenhagen, and because of the late arrival time, spent the night at the Clarion Hotel at the Copenhagen airport. I could see the bridge to Malmo, Sweden from my window.  And since I was jet lagged, I got to watch the beautiful sunrise over the water.
The Clarion Hotel
The best part of the Clarion Hotel is its location, right at the Copenhagen airport. I got in late at night, followed the signs right to the lobby of the hotel, checked in and was in bed in less than 60 minutes of getting off the plane. The room was lovely, very Danish with wood furniture, a coffee maker, a safe, ironing board and the usual bathroom amenities. The halls were covered in lovely art. And the breakfast was fabulous!  Large buffet with all sorts of wonderful fresh fruit, juice, breads, cheeses, meats, herring, eggs etc etc.  Everything you could possibly want.
The next morning, after breakfast, I walked just outside the hotel right into the airport and right onto platform 2 for the train that would take me into Copenhagen central and then onto Aarhus.
So all in all, the Clarion was a perfect place to stay for one night.
Taking the train
I had a first-class train ticket in car 71, but the signs for the train clearly said only cars 81 and 82 would continue on to Aarhus.  Seems the train would be split into several components heading to different final destinations.  So instead of sitting in my first-class seat, I grabbed a window seat in car 81. At least I was sure I'd get to Aarhus. The train had free wifi and outlets to keep everything charged, so all was not bad.
When the female conductor came by to check tickets, I asked her about my first-class seat and she directed me to car 71, which by now had been added. So I grabbed my suitcase and backpack and made my way to my assigned seat. The first-class car had fewer seats so was quieter. There were water bottles and coffee and tea available. And snacks.
And then I just sat back and watched the scenery. I expected to see country-side. But I did not expect the fields and fields of yellow flowers. They looked like a thick yellow carpet and went on for miles.  Then they would stop and start again. Trees were blooming with white flowers and purple flowers. The sky was clear and blue, the fields either green, brown or yellow, and the farm house roofs red.  There were also wonderful murals. At times just a yellow line in the distance. I later learned that these were fields of canola.
I was watching the map and was excited that we would be going over the water.  Turns out we went through a tunnel under the water instead. When we came out the other side however, I wasn't disappointed. We were in fact on a bridge over the water. Birds were flying everywhere. There were windmills, the kind for energy as we have in my part of the world). The water was a dark blue/green full of whitecaps. I thought how it must be windy out there. The sky was still blue with puffs of white clouds. And I realized there must be great fish here because as we hit the other shore, there was a long line of fishermen.
Banegardspladsen Central Train Station
I was met at the Banegardspladsen Central Train Station by my mentees and colleagues, Lisa and Ali.
Scandic Hotel
We walked the few blocks together to my hotel, the Scandic Hotel. It was a great location as it was just a few blocks from everywhere you might want to be. The room was small by American standards, but just right by European standards. There were two twin beds pushed together, covered in thick and fluffy duvets. There was a desk, a closet and a small bathroom. It was all sufficient. But there was also a fitness center (which I did not use) and a sauna (which I did use).
The best part was the view of the park next door, the clock tour of the Town Hall and the ARoS Aarhus Art Museum with its rainbow roof (see below).
Breakfast was a disappointment.  Why?  The breakfast was basic, soft boiled or scrambled eggs, bread, yogurt, cheeses, meats and cereal.  But there was no herring. Ali told me that herring was more of a Swedish or Icelandic thing, not eaten consistently in all of Scandinavia. Boy was I disappointed!
A bit of history
Denmark, a Nordic country, consists of the Jutland peninsula and several islands located in the Baltic Sea. These are known as the Danish Archipelago.  I never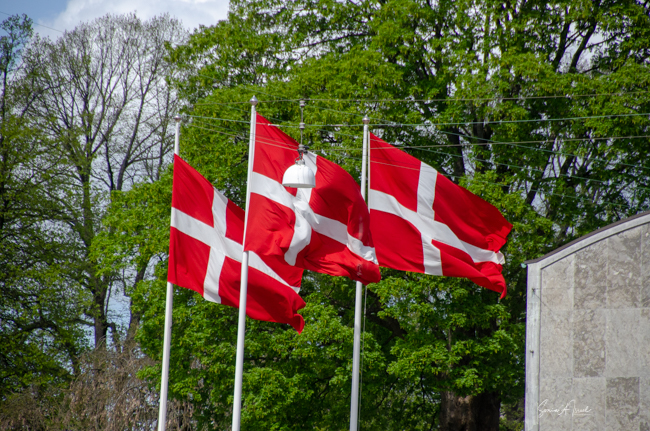 thought of Denmark as being made of islands before, but as I studied the map, it became clear. We in fact were going over some islands on the train, particularly the third largest island, Fyn. Denmark's only land border is the German state of Schleswig-Holstein. All its other neighbors, like Sweden and Norway, are separated by water.
Aarhus, my destination, is the second largest city in Denmark, located on the east coast of the Jutland peninsula. It is also one of the oldest cities in Denmark, with archeological findings suggesting the town was there at least 1300 years ago. This would likely make Aarhus the oldest city in Scandinavia. The original name of the city was "Aros" which means the "mouth of the stream." This is a clue to the location of the city, right on the water. Because of that, there is large harbor and a large immigrant population. The other consequence of being on the water with a large harbor, is that the biggest industry for many centuries was trade, particularly with Germany and other lands surrounding the Baltic Sea. And the harbor is still an active one today. But today it is nicknamed both the City of Smiles and City of Cafes, both of which made me happy.
The population of Aarhus is about 335,000 people, many of whom are University students which also means it has one of the lowest median ages of any city in Europe. It is estimated that one in seven people here is a university student. And Aahus is, in fact, most famous for its University, the main reason I was coming to visit.
Walkabout
After settling in and unpacking, Ali and Lisa came back to tour me around town. Right across the street from my hotel was the Aarhus Rådhus or the Aarhus City Hall.
Aarhus Rådhus
The City Hall is a rather newer building, having been built in 1938. It was designed by the famous Danish architects, Arne Jacobsen and Erik Møller and is considered a masterpiece of Danish functionalism, made completely of gray Norwegian marble. There is a beautiful clock tower, which I could see from my window. The clock tower is no longer open to visitors, but the inside of the building is, if you are there at the right time, which it seems I never was.
Agnete and the Seaman
In front of the clock tower is a bronze statue and fountain of Agnete and the Seaman, which I could also see from my window. The statue was made by Johannes Bjerg and was a gift to the city. The statue is based on a well-known Danish fairy tale of Agnete who falls in love with a sea man (the male version of a mermaid). She is dragged down to the bottom of the sea, where she lives with him and gives birth to their common children before leaving them to return to life on land. The statue and fountain is also famous as a local site for new students to jump into the fountain and/or filling it with bubble bath. I believe Ali may have even done that in his younger days…
Commemorative relief for Ole Rømer
On the side of the City Hall there is a commemorative relief, by the artist Olaf Stæhr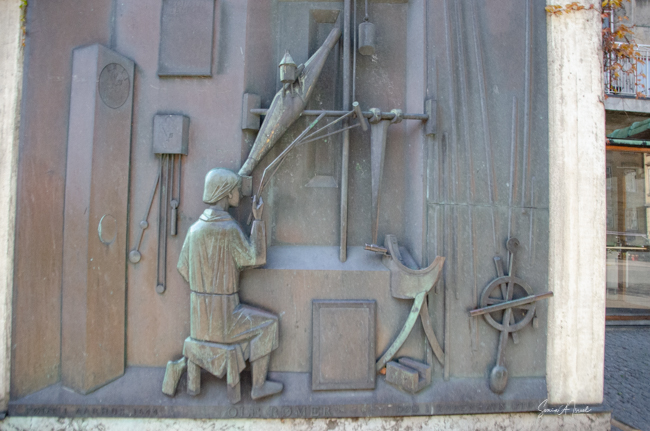 Nielsen, in honor of Ole Rømer, the Danish astronomer who computed the exact speed of light back in 1676 and invented the thermometer which showed the temperature between the two fixed points of boiling and freezing.
Grisebrønden
On the other side of the City Hall is a statue, one whose significance I could not figure out. Grisebrønden, or The Pig's Well, or Ceres Brønden (as it was donated by the Ceres Brewery). Yes, you read correctly. A statue/fountain of a sow with her 7 piglets. The interesting part, (at least to me, as I study circadian rhythms and human clocks), was that the fountain has a built in clock which causes the piglets to pee in shifts and the sow to drool. Yes, this is at the City Hall.  As with so many things, there is a story that goes along with these pigs. The artist, Bøggild, based the statue on the story of a lost son who spent all his money so now wanted to eat at the pig's trough. He spent several months on a pig farm, sitting on a straw able in the pigsty, studying and drawing the animals and their movements.
Rådhusparken, City Hall Park
At the back of the City Hall is a lovely park, part of which I could also see from my window. One morning when I was up early due to my jet lag, I grabbed my camera and walked around the park. I went towards the City Hall and then up a cobbled staircase and through a small tunnel up to the walkway lined with linden trees. And that walkway led to a small round plaza also surrounded by a circle of linden trees with a statue in the center. There were also beech and magnolia trees and bright yellow and red and purple rhododendron flowers blooming, adding color to the green.
As I walked around the park, I realized there were more and more statues, similar to the one in the center. There were four in all, all of female figures, called Girl (Pigen), Waking Woman (Vagnende Kvinde), The Fated (Den Svangre) and Atalanta (Atalante). Although they look similar to each other, each was sculpted by a different artist.
Strøget
After exploring the City Hall, Ali, Lisa and I walked the few blocks to the pedestrian street, Strøget which starts at the Banegardspladsen Central Train Station. This is a long, half-a-mile street, lined by shops and full of people enjoying coffee or ice cream, shopping, strolling or just visiting with friends. Some might consider the Strøget the city's nerve-center as it crosses across much of the city, over the river, past outdoor coffee shops, ending by the Aarhus Cathedral and the Bishop's Square (Bispetorv – more on this later) and Store Tove.
Glass Sky Platform
We ambled down the pedestrian mall, heading for the Sailing Department Store.  No, I was not interested in shopping. Rather, I was interested in seeing the Salling Rooftop which is a terrace on the roof of the department store with fabulous views of the city, including the University, the water, and the ARoS Art Museum, the Cathedral and city center. There is a lush green conservatory and places for kids to play. There was also a café but we did not indulge in either drink or food. There were places to sit, all created in a very architectural way and, of most interest and fun, a clear glass walkway, the Glass Sky Platform, that stuck out past the building's edge 82 feet above the street below. That was a bit scary.

Aarhus Katedralskole
We walked to the end of the pedestrian mall to the Bishop's Square, Bispetorv and the Aarhus Cathedral. Around the corner was a white building which was Ali's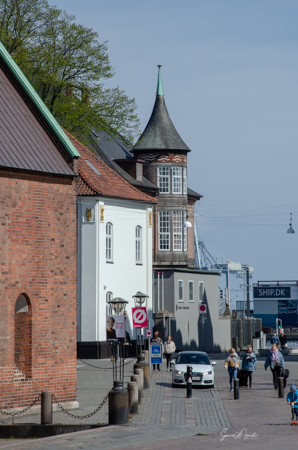 school, Aarhus Katedralskole, a cathedral secondary school and Gymnasium founded in at least the year 1195. Having all of Ali's personal experiences made this walking tour and visit to Aarhus extra special. When I walked back near here a few days later, I was amazed to see all the teens pouring out, in their school uniforms, smoking. Seems the hazards of smoking have not reached these kids yet.
Aarhus Cathedral
The cathedral was built in 1201 in the Romanesque style and like most, was enlarged in the 15th century. In 1330 it was destroyed by a large fire but many of the original bricks were used in rebuilding it. It is one of the longest cathedrals in all of Denmark at 305 feet long. The cathedral was dedicated to St. Clemens who was the Roman Pope in the year 100 and who died as a martyr when he was drowned with an anchor around his neck.
I was told that the altar piece is magnificent, and the cathedral is full of more frescos than any other one in Demark, but it was closed to tourists as it was Sunday. As an aside, I came back two days later but got there just after it had closed at 4:00. So I never got to see the inside.
Bispetorv or Bishop's Square
The cathedral sits on Bishop's Square, which is a public square surrounded by the cathedral and the Arrhus theater. There is a low sandstone wall which surrounds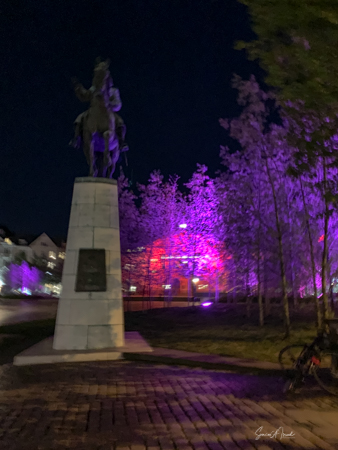 the square with two small fountains.  The wall was particularly helpful to hold my camera still for night shots of the theater which was all lit up. This area became a public space recently in 2016, having been converted from a parking lot! Now it is used for festivals and other public events.
Aarhus Theater
I didn't get to see a performance or the inside of the theater, but the outside was magnificent, both during the day when you could see the beautiful fresco and carvings, and at night when it was all lit up. The Art Nouveau building is fairly new, in Aarhus time, having been built in 1900.
King Christian X – a Symbol of Resistance
At one end of the square is a statue of King Christian X who ruled from 1912-1947, a total of 35 years spanning two world wars. He was also the King of Iceland at the same time. He was described as an authoritarian who was reluctant to embrace democracy. So why is there a statue of him in the square? During the German occupation of Denmark during World War II, he became a popular symbol of resistance. Each day, he rode through Copenhagen on his horse, without any guards. He also provided financial support for the transport of Danish Jews to Sweden in an attempt to save them. His role as a rallying symbol for Danish national sentiment, a symbol of resistance during the German occupation made him one of the most popular monarchs of Denmark.
In the United States and the UK, there is an urban legend that says if in a statue, if the rider is on a horse who has both front legs in the air or if one front leg and one hind leg raised, the rider died in battle. If one front leg is up, the rider was wounded in battle. If all four legs are on the ground, the rider died peacefully. Notice that King Christian X's horse has one front and one rear leg up.  What does that mean? Well, King Christian X died of shortness of breath while taking a walk, not in battle. So either this urban legend is false, or it doesn't hold up in Denmark.
Store Tove
We walked the other way, away from the Cathedral and toward Store Tove, translated as the Large Square. The feeling of this square is white, white, white. It seems the buildings are all white. The street was white. And for someone who was very jet-lagged, it helped wake me up. The first building you see, which you can't miss, is the Hotel and Casino Royal, a imposing Neoclassical white building with gold trim built in 1838 (everything here is old).
Torvenes Locker Loop  or the Water Dragon Fountain
Right in front of the hotel is the Water Dragon Fountain. There is lots of art all over Aarhus. In 2003 the city decided it needed some art on Store Tove and a competition was held, won by Elisabeth Toubros and his Torvenes Locker loop or the Water Dragon Fountain.
This is a 65-foot long sculpture which is a fountain, although all the different times I was here, there was never any running water. In fact, it seems that it is pretty rare for there ever to be any running water. And I was told that when there was water, it would run and squire all over. Ali expressed distress at this statue, and the general feeling of the locals is that the Water Dragon is neither pretty nor functional and in fact, it tarnishes the otherwise beautiful square. Some in fact have described it as a pile of steel and are unsure why it has been allowed to remain.
The River
We walked along the river admiring the beautiful old buildings reflecting in the new glass ones. (And we walked here again at night). We watched the people sitting in the outdoor cafes. This made me realize I was hungry and it was time for lunch. So off we went to the Latin Quarter.
Latin Quarter
The Latin quarter is the oldest area of Aarhus and some would say, the most charming. The streets were narrow and cobblestoned. The sidewalks small. Boutique stores, restaurants and coffee houses lined the streets. Since this area was established in the 14th century (14th century!!!), the streets all have historical names such as Klostergade (Convent St), Volden (The Rampart) and Borggade (Castle St).
It was here that I noticed all the bicycles often pulling or pushing carts filled with children. Ali took us to one of his favorite places, Café Drudenfuss, and although it was cold out, we opted to sit outside, in our down jackets and covered in blankets. We ate avocado toast and drank fruit sodas. In my jetlagged, sleep deprived state this was comfort food. And I felt revived.
So we continued our walking tour of the city. We walked the streets, slowly making our way towards the ARoS Art Museum and my hotel. The whole city is full of art and flowers which made for a beautiful walk.
Møllestien Lane
There was one more place Ali insisted we see as it is considered the most beautiful street in the city. Møllestien lane. Møllestien lane is indeed one of the most picturesque streets I've ever seen.  It is a small, cobblestoned street that looks like it belongs in a children's storybook. They say the street itself is even older, dating back to the middle ages and even perhaps to the time of the Vikings, but the houses are from the 18th century, filling the place with ancient charm. These houses are called "outhouses" or "booths" because they are small, one-story half-timbered houses each with only one or two small-paned windows and one door. Most have a kitchen and one other room. There were hollyhocks and roses everywhere. And each small house was a different color. It was absolutely beautiful. But it wasn't always so idyllic here. In 1688, two women who lived here were sentenced for witchcraft. Nevertheless, if I lived in Aarhus, this is where I would want to live.
ARoS Art Museum Plaza
We walked past more parks, more art and sculptures, lots of flowers and grass and trees, and lots of people enjoying the cold, but sunny weather. We got to the ARoS Art Museum, but were only using it to get up the hill. I would get to return here to actually see the museum in a few days. We walked up a long, long set of stairs that took us into the museum and then came out the other side onto a large plaza with flag poles, an airplane play unit for kids, a reflection pool and the concert hall. This area was also filled with gardens and flowers. On the other side, across the street was the Vester Alle Kaserne, a former military barracks which had a beautiful red brick façade.
The Concert Hall Aarhus
The Concert Hall (Musikhuset Aarhus) is the largest Concert Hall in Scandinavia and is home to the Royal Academy of Music in Aarhus, the Aarhus Symphony Orchestra, the Danish National Opera, the children's theatre "Filuren" and the Concert Hall Aarhus. I didn't get to hear any performances, but I did enjoy the architecture of the large glass building surrounded palm trees, old olive stress and art, including reflecting pool.
Stones on graves
As we walked across the park, in front of the concert hall and close to the main streets of Frederiks Allé and Thomas Jensens Allé, I noticed a fence with a few headstones inside, each with little stones placed on top. Knowing that that is a Jewish custom, I stopped to look more closely at the headstones. There were three rows of graves, for a total of about 60 headstones. The Jewish cemetery was in use since about 1829 until the beginning of the 20th century. There was no way to get inside other than squeezing through a small opening in the hedge, so I opted to just look from the outside. There must still be family members visiting, as someone has been placing stones on top of the graves.
And that exactly is one of the reasons Jewish people put stones on a grave. It is to show the world that someone has visited, a marker of one's visit. Someone remembers. But there are other explanations as well. Rabbi Jack Reimer, who I know and admire, wrote that one superstitious rationale is that the stones keep the soul down. There was a belief that souls dwell for a while in the grave. In Hebrew, the grave is called "beit olam", a permanent home. This meant that part of the soul remained behind. There are other explanations as well, but they all have one thing in common, and that is the sense of solidity. Flowers mean life, and they die the way a person dies. But stones last forever. Rabbi Reimer continues, "A beautiful answer takes it cue from the inscription on many gravestones. The Hebrew abbreviation taf, nun, tsadi, bet, hey stands for "teheye nishmato tsrurah b'tsror ha- chayyim," a phrase usually trans­lated "May his soul be bound up in the bonds of eternal life." Yet tsror in Hebrew means a pebble. In ancient times, shepherds needed a system to keep track of their flocks. On some days, they would go out to pasture with a flock of 30; on others, a flock of 10. Memory was an unreliable way of keeping tabs on the number of the flock. As a result, the shepherd would carry a sling over his shoulder, and in it he would keep the number of pebbles that corresponded to the number in his flock. That way he could at all times have an accurate daily count. When we place stones on the grave and inscribe the motto above on the stone, we are asking God to keep the departed's soul in His sling. Among all the souls whom God has to watch over, we wish to add the name — the "pebble" — of the soul of our departed. There is something suiting the antiquity and solidity of Judaism in the symbol of a stone. In moments when we are faced with the fragility of life, Judaism reminds us that there is permanence amidst the pain. While other things fade, stones and souls endure." [Wrestling with the Angel: Jewish Insights on Death and Mourning, edited by Jack Riemer (published by Schocken Books).]
Aarhus Street Food for Dinner
We had been out walking for a while,  but we had to have dinner. Ali and Lisa both suggested Street Food.  My image was a bunch of carts on the street. But no. Street Food is a large hall filled with 30 stalls, what we in the States would call a Food Court. But oh the choices. Every nationality was represented so it was a hard choice. There was Italian food, Vietnamese Banh mi sandwiches, dumplings, crepes, and fish and chips, just to name a few. Lisa got Thai food. Ali chose another favorite of his. I opted for a pulled-duck sandwich with pickled onions and it was well worth it. There were long tables with benches, and everyone shared the space. We worked hard to find a table for the three of us as this is clearly a popular place.   Unfortunately by the time we left I was too full for the enticing ice cream at the stand on the way to the exit.
Nighttime view
It had been a long day. I had only arrived that morning and my jet lag was definitely kicking in. Ali dropped me off at my hotel and I stumbled up to my room.  But as soon as I looked out my window, I had to grab my camera and take pictures of the City Hall Clock Tower which was all lit up, the Agnethe and the Seaman fountain, also lit up, the park and the colors of the rainbow on the top of the ARoS Museum. It was beautiful. I gazed at it all for a while, and then finally fell into bed.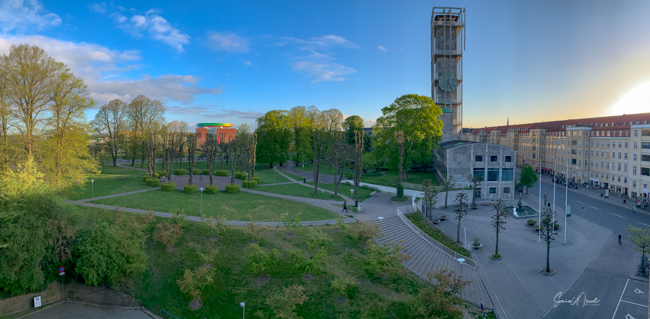 Monday, May 6, 2019
Today was also a play day as my work responsibilities would not start until Tuesday. I had given myself a day to recuperate from the jet lag. My colleagues and friends Ali and Lisa, along with Bobby, were taking me to the Old Town Museum this morning. We walked from my hotel to the museum, enjoying the sights  along the way.
Den Gamle By (Old Town Museum)
Den Gamle By is an Old Town Museum, an open-air museum of urban history and culture with 75 original Danish buildings from 1597-1909, all brought over from all over the country. They literally rebuilt them each stone by stone to recreate the villages of the past. There are sections from 1864, 1927 and 1974. The streets were cobblestones and narrow, just like in the olden days, and the houses were all are half-timbered. There are usually people playing characters from the appropriate times, in the appropriate clothes portraying a functioning pre-industrialized Danish village. But I was here more off-season so we only saw one or two.
We were taken on a trip to the past, from the first Vikings to the present day, all with the appropriate houses, manikins in the clothes of the time, shops (both models of bakeries, carpentry shops, groceries, etc, as well as real shops selling souvenirs) and restaurants. I particularly got a kick out of Poul's Radio Shop filled all types of old radios and tape recorders that I grew up with. There was a car repair shop and we watched as they tried to back an old car into the garage. We stopped at a bakery for some traditional Danish sweets made from historical recipes, and we ate them as we continued walking around the museum.
Wineke's Cellar
We were still there at lunch time, and of course I wanted herring, so we stopped at Wineke's Cellar as their menu specializes in open sandwiches, including a herring sandwiche. We walked down the steps into a real cellar, with wood tables and chairs. There was a large party in the back who were getting trays of open-faced sandwiches, so we got to see what the sandwiches looked liked. We all ended up opting for a combination of a herring and a smoked cheese open-faced sandwiche, both of which were delicious. And two were more than enough!
The Aarhus Story
My favorite part was a separate exhibit on the 1200 year history of Aarhus, called the Aarhus Story. We entered an elevator which slowly took us down one level. And during that ride we watched a video which set the stage for the rest of the museum. The video was 360 degrees, all around the walls of the elevator. We stepped out into the time of the Vikings and continued walking through the life of Aarhus, continuing with Middle Ages, the Market Town period, the Industrial period, the German occupation, to today, the City of Smiles and present day Aarhus. Each period was characterized by the furniture of the time, videos with "people" living then, artifacts and interactive exhibits. It was at the present day part of the exhibit that Bobby stopped at a psychedelic poster and told us that he had made that poster and the people in it were his friends. Bobby is essentially a local too and the history of Aarhus is also his history.
The Harbor
Bobby and Ali had to go back to work after lunch. Lisa was off to her Danish language class, so I had time on my own. Luckily, Aarhus is a very easy city to navigate. I was going to walk over to the harbor, but it started raining, so instead I went back to my hotel. As I got back to my room and looked out the window, the sun came out. So I went back downstairs, stopping at the front desk to borrow an umbrella. And boy was I glad I did. I did a lot of walking that afternoon and the weather changed every few minutes from sun, rain and hail. Yes, in the middle of May – big pellets of hail.
So, umbrella, camera and map in hand, I headed out towards the harbor. I know everyone uses GPS on their phones these days. But I'm old fashioned that way.  I still like a paper map in my hand. My destination was an apartment complex called the Iceberg. So off I set.
I found myself walking along the water right where the working boats were.  The real harbor.  Turns out I was on the wrong side of the water, but it did allow my beautiful views of the Dokk1. It also allowed me to study the Dockworker Monument.
Dockworker Monument
This large copper-bronze and stainless-steel monument, designed by Jens Galschiot, represents the manual labor of the dock workers, once a typical sight at the Aarhus harbor. It represents 7 workers loading and unloading coffee. As with many things, there is a back story. The dockworkers, both those retired and those still working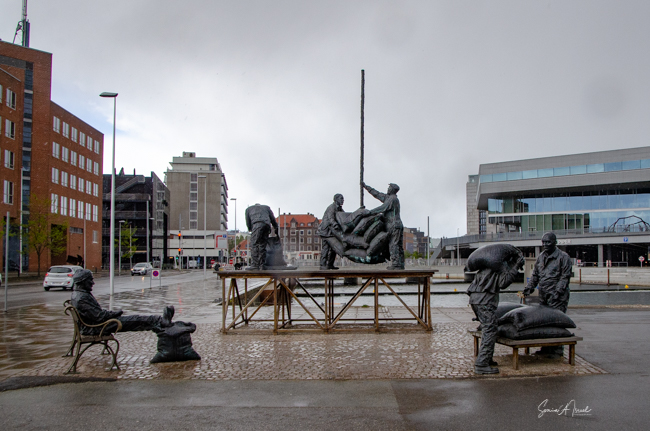 , would meet at the worker's Welfare House which was right there on the inner harbor, where I was walking. Here they would exchange stories and just hang out with each other.  I would not be surprised if beer or whiskey was involved. They would watch the harbor slowly change to one of tourism, residences, and modern coffee cafes. And so this group of dockworkers decided they wanted to have a way to mark and remember the hard work of their predecessors, the dockworkers who loaded and unloaded the many ships that came to the Aarhus harbor.
Dokk1
Dokk1 is a beautiful glass building which houses a the main library, information services, media rooms, study halls, a café and a playground. It is described as "a place for tranquility, empathy and contemplation" and was built in this spot in an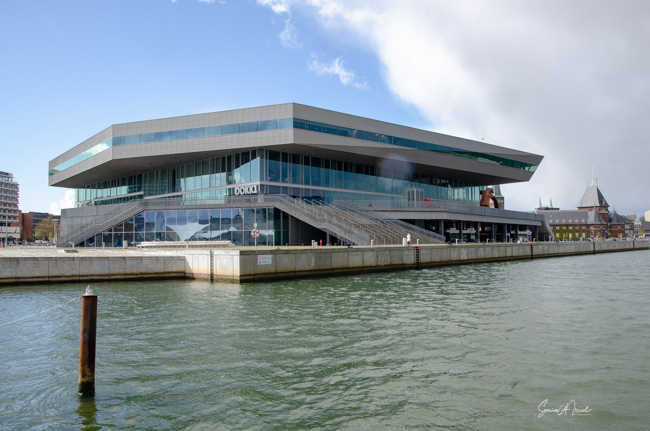 attempt to transform the inner harbor from an industrial spot to an urban space. It was certainly successful at that.  The building itself is a neo-futuristic heptagonal building made of glass.
I walked along the river, across from it and just looked at it from all different angles. I also had great views of the rest of the peninsula. The rain suddenly came down in buckets, so I made my way back and around to see the building close up.
I went up many flights of outdoor stairs to get to the main level. There is a large terrace surrounding the building full of outdoor art installation and play sculptures. The playground is called Kloden, the globe or the Planet. It is divided into five sections each representing a continent. There is a huge bear, 20 feet high,  holding a slide, which I was tempted to go down, but refrained myself. That represents Russia and Eastern Europe. There is a large eagle with spread wings on an erupting volcano, and kids can climb all over it. It supposedly represents Iceland and the Americas.  There is a jungle with a large ape representing Africa. And there are large wooden platforms on heavy springs which represent floating sheets of ice from the Arctic or Antarctica.
I never made it inside, which later I was sorry. Turns out Lisa was in there studying.
Harbor Square
I walked back down another large set of stairs and walked back around the other side of the harbor. This area, like much of Aarhus was filled with sculptures. I found myself in an area with long sets of steps which doubled as benches as the edge of the water. There were sea gulls just posing. There were a few people, but not many, likely because of the rain and hail.  But I did not let the weather stop me. I kept going and found myself on a magnificent public harbor square.
I enjoyed the view from here as well, lof the bay and the city. And then I noticed the Endless Connection.
Endless Connection
The Endless Connection is a spiral fountain designed by Jeppe Hein who was inspired by the changing patterns of the starry skies over Aarhus. It is a 6.5 foot cascade of a water wall, which randomly pops up and down. I'm sure in warmer weather children run through it, trying not to get wet, or more likely, trying to get wet. The best part for me was watching the view of the harbor through the walls of water.
I kept walking still trying to find the Iceberg. I thought I saw it in the distance, but it started pouring again and I gave up.  It turned out that what I was looking at was not the iceberg at all, but rather a 49-foot observation tower, in the Bassin 7 area, which provides a 360 degree panoramic view of the city and the bay.
But I did see lots of beautiful buildings and reflections.
Flowers
I found my way back to the pedestrian mall. I was going to dinner at Bobby's house that night, so I wanted to find a place to buy a small gift to bring to him. I decided on flowers. I passed a small grocery store that had buckets of flowers outside. I stopped in to find out how late they were open, as it was too early to buy them. The Indian owner assured me that he would be open until 7:00, which was perfect as dinner was called for 7:00. I walked back to my hotel, passing many more buckets of flowers for sale on the mall itself.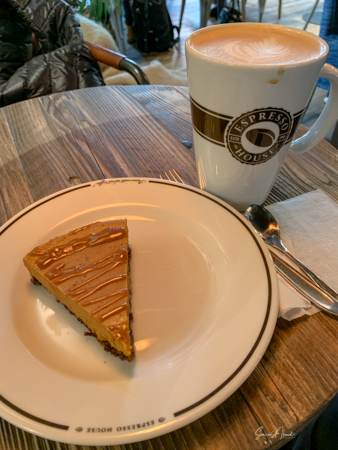 I passed a coffee shop and decided to stop in for a coffee to warm up a bit. And I couldn't resist a piece of caramel cheese cake.
An hour and a half later, at 6:30, I left my hotel to walk over to dinner. The flowers on the mall were all gone.  I got to the little grocery store at 6:50 and it was closed. The gate was down. Oh no! My flowers! I noticed movement inside.  So I knocked on the door and pointed to my watch.  It was not closing time yet.  He had promised me he would be open until 7:00. He looked at me, recognized me and came around the side to let me into the alley where he had stored the flowers. I chose a few, paid and was on my way.
A home cooked meal
Bobby, besides being a great scientist, is a great cook. He has a beautiful apartment which he and his wife have owned for over 20 years, in a great location in Aarhus. They hope to pass it onto their son.  That's how it works here. This is the only home I got to see, so I don't know how typical it was. But the rooms were big with high ceilings and lots of big windows letting in lots of light. We had pisco sours (he knows how to make a great one!), and then Ali, Lisa and I moved to the dining room for dinner. Bobby had made ceviche (without cilantro for me!) and a Thai chicken soup. It was all delicious. Not Danish. But delicious.
Flødeboller
But for dessert we had a typical Danish pastry, flødeboller or a marshmallow fluff cake covered in chocolate. It was originally made using cream, thus the name flødeboller or cream buns. Children get them on their birthdays, it is added to ice cream cones, and it is a popular challenge on the Danish equivalent of the Great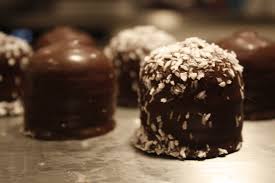 Bake Off. The ones we had were chocolate on the outside, but sometimes they are made with white chocolate, licorice coating or with sprinkles. The base is a plain wafer but could also be shortbread or marzipan. The most common shape is that of a Christmas tree but ours were more like a cylinder. They are extremely popular in Denmark with over 800 million produced each year. Once you subtract out those that are exported, that leaves about 45 flødeboller per Dane per year!  I alone ate five that night. [Note – not my picture.]
Tuesday May 7, 2019
Tuesday and Wednesday were my work days. I was invited here after all to give some talks, meet with students and collaborate on research. On Tuesday morning, Ali picked me up and we drove the few minutes to the University.
Aarhus University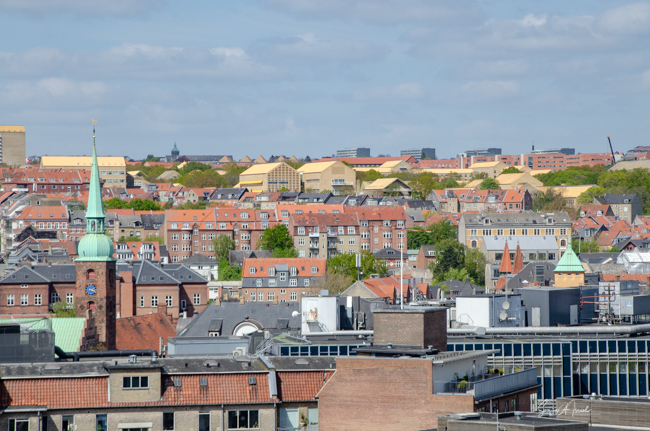 Aarhus University, the second largest in Denmark, is built on a hill and can be seen from almost everywhere in Aarhus. The buildings are all yellow, which helps them stand out.
Driving onto the campus one gets a feeling of green grass, green trees, yellow brick buildings. In other words, it is very colorful. And in fact, the university is internationally recognized for its stylish architecture and the for the way the Danish architect, C.F. Møller, made sure the buildings blended in with the surrounding parkland. Some publications have dubbed it the most beautiful university on the planet. With all due respect, I'm not sure I would go that far, but it was beautiful.
The weather was lovely and there were lots of people out on the grass. There were mothers pushing strollers, not a sight usually seen on a university. But the park and lake area were so lovely that people from all over town come to hang out.
There was also lovely art hanging on all the walls of the buildings I visited.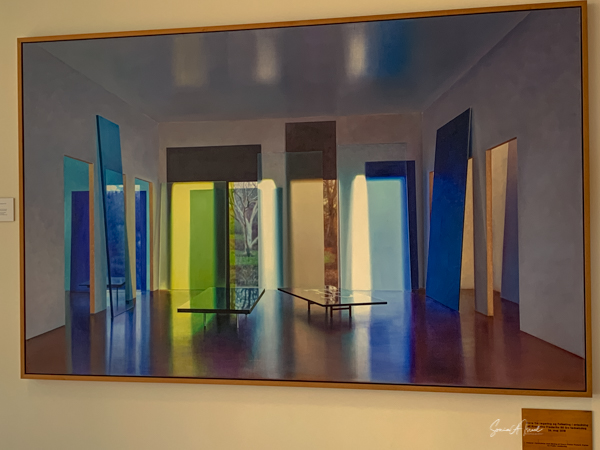 University faculty and staff and students spend a lot of time in their offices and classrooms and labs. There is nothing better than having a beautiful environment to work in.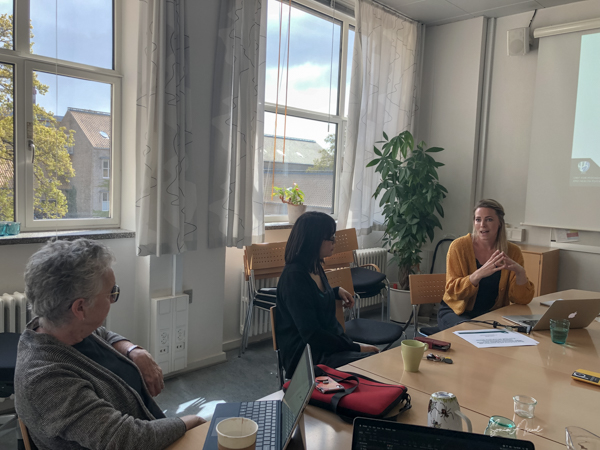 The morning was spent meeting with my colleagues and students and talking about research.  It is always exciting to collaborate with colleagues all over the world.
We had lunch at one of the University cafeterias and then it was time for my talk first of two talks. These pictures are from both talks.
Isbjerget, the Iceberg
Once the work part was over, Ali took Lisa and me to see the real Iceberg.
Isbjerget is an apartment complex that is one of Aarhus's more distinct architectural landmarks. It is a waterside structure with white pointed rooftops rising and then plunging down like jagged peaks of an iceberg.  Thus the name. Each apartment has a view of the water and a blue glass balcony. So when we stood there looking up at the structure, with the brilliant blue sky with puffs of white clouds, it looked like the white and blue of real ice.
I imagine not everyone likes it.  It is very modern. But I found it beautiful. The shapes of the buildings were all a bit different. The angles complemented each other. The white and the blue were brilliant against the blue sky.
It is a dramatic piece of architecture and Lisa, Ali and I all enjoyed taking photographs of it.

Restaurant Pondus
Bobby and Ali are food and wine connoisseurs (Ali especially wine) so they chose an almost Michelin star restaurant. Dinner that night was at Pondus, a small restaurant described on their website as ""eco-bistro with love for the local." Like much of Aarhus, it was within walking distance of my hotel, and near the river. Lisa picked me up and together we made our way to the restaurant. I say small because there were only a handful of tables, and each one was full. The décor was simple in a rustic short of way with brick walls and large windows, lined with bottles through which the sun was shining.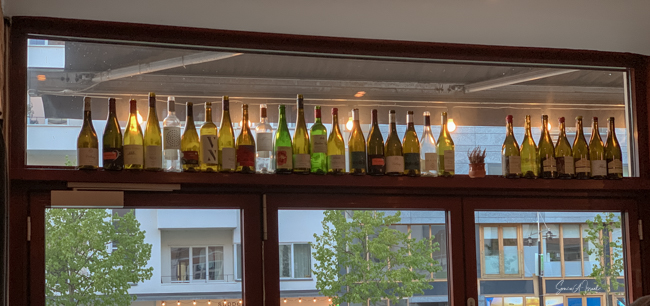 The menu is listed on a large blackboard in the back and is a prix-fix for a three-course meal although a la carte in also available.
If you get the Pondus Package, you get a wine pairing with each course, and that is what we did. For those that didn't want wine, a different fruit drink came with each course. The waiter, a young man who clearly knew his stuff, told us that all the food is made with organic Danish produce and he described each dish in detail along with the accompanying wine. It was like a performance, and he made sure we paid attention and dared not talk while he was talking.
And since there are some things I don't eat, they were very accommodating, making me courses they were sure I could eat.
Each dish looked small, but in fact was very filling. I can't tell you what I ate. I can tell you that each course was a work of art. Not only delicious, but beautiful to look at with just the right combination of colors and textures and flavors.
Wednesday, May 8
ARoS Art Museum
Today was my last day in Aarhus. I had one more talk to give in the afternoon, so Lisa and I spent the morning at the ARoS Åarhus Kunstmuseum, the famous art museum of Aarhus, which can be seem from almost everywhere in town.. This is one of the largest museums in northern Europe and has two Michelin-stars in the Michelin attraction's guide. It is named after the original name of Aarhus. I had been looking at the museum day and night from my hotel window and was anxious to finally see the inside. Part of what makes this museum so famous, and part of the reason I couldn't wait to see it, is the rainbow walkway that surrounds the top of the museum.  But we made ourselves see the rest of the 10-story museum first and save what we thought would be the best, for last.
ARoS is built on nine levels, based on Dante's "Divine Comedy," going from the underworld below to the rainbow heaven above. So we started at the 9th level and made our way down to the lower level. The upper levels house three different permanent collections mostly of Danish art from the 1700 to the present, and I must admit we spent less time looking at these. The lowest level houses the "The 9 Space," which is a progressive art installation with 1-2 rooms being redone each year. This turned out to be the most interesting art space.
There were 4 exhibits in particular that I loved. My most favorite was a Japanese installation of flowers moving around a dark enclosed room. The overall effect was a feeling of purple. But as we stood there, the flowers moved from the floor, up the walls, to the ceiling and randomly found their way around the room. It was so peaceful and so beautiful that I did not want to leave.


Another exhibit was all mirrors and as we stood on a platform, we could see hundreds of ourselves in front of us, behind us, above us and below us.  It was a bit eerie.
There was a red neon globe of the world. That seemed to epitomize all my travels. And above it, also in red, orange and yellow  neon, it proclaimed, "Be afraid of the enormity of the possible." Indeed!
The fourth was a huge reflecting ball in which we could see the rest of the exhibit called 'evolution.'   I have always loved reflections.
Another exhibit was a small screen with a video of an older couple sitting at a kitchen table while their house was destroyed around them. And on the floor around the video was old broken wood and sawdust, the remains of the house.  That one was a bit strange.
There was one more exhibit on that lower level that is extremely famous.
Boy
There is a lot of hype over this exhibit. And all worth it. Boy, created by Ron Mueck, is a fiberglass model of a young boy squatting, the way the Australian aborigines sit and watchfully look over the plain in search of prey. But this is no ordinary boy. He is just under 15 feet high and weighs 1100 pounds (and has a big toe that is  inches high, 11 inches wide and 8.8 inches deep! Truly a BIG toe.), and every detail looks real, from the skin which looks alive to the blood vessels and body hair. This makes boy look very real, but, because of his size, also alien.
And boy is naked, except for his green shorts. When Boy was first shown in London in the Millennium Dome in the year 2000 and in the Biennale in Venice in 2001, people actually averted their eyes. But the art director of ARoS loved it, bought it, and made it part of the permanent exhibit.  When Mueck heard where Boy would be living, he joked, "I would probably have supplied him with a pullover if I knew he should be so cold in a climate."
When Lisa and I walked into the exhibit hall there were very few people there. That gave us the opportunity to quietly examine Boy from all angles, watch his reflection in all the mirrors surrounding him. What I noticed that from the front, Boy looked like he was afraid. His brow is furrowed. His eyes are darting. Something in the horizon is frightening him. But when you walk to the other side, and look up under his arm, he has a slight smile on his face, totally changing his expression, his outlook and the overall feeling of his being.
Your Rainbow Panorama
And then it was finally time to see the rainbow. "Your Rainbow Panorama," designed by a Danish-Icelandic artist Olafur Eliasson. It is a 492 feet long circular walkway with rainbow-hued colored windows. From the outside it looks like a rainbow crown.
But inside, as you walk through the colors and the 360 degree view of the city, it feels like surreal as if you really are inside a rainbow. We have all heard about seeing the world through rose colored glasses. This was seeing the world through orange, yellow, red, blue, green colored glasses. Everything looked different depending on which color was saturating the scene. We wanted to just walk around slowly, immersing ourselves into each color, becoming each color. When we were blue, everything seemed sadder, more subdued. When we were orange, the world looked bright. When we were red, the world was on fire.

There is a patio outside the rainbow and during the warmer days, you can sit out there and eat and drink. But it was cold today. So we just stood there for a bit looking at the rainbow all around us.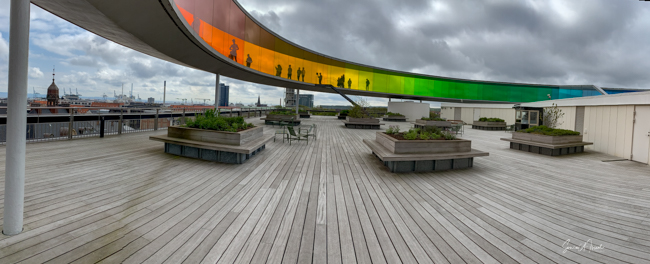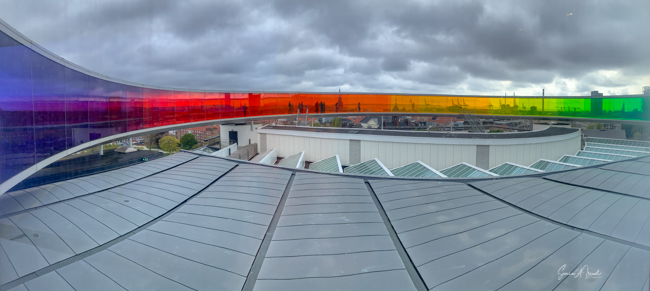 And from the patio, there were great views of town in their real color.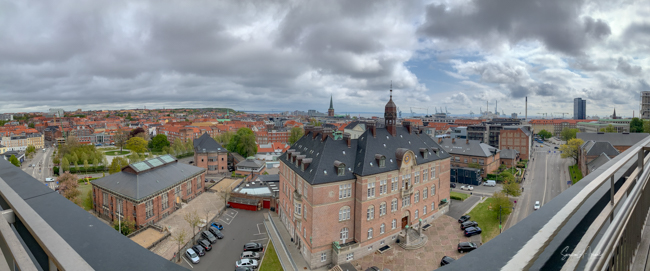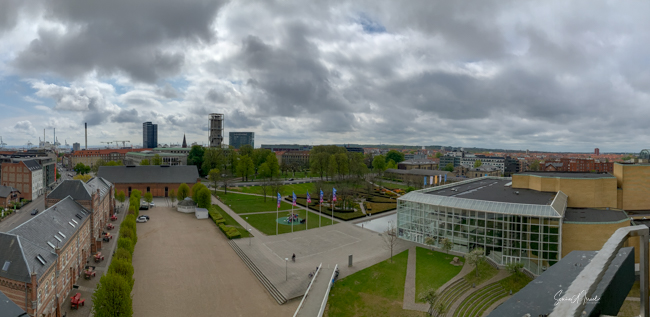 It was worth it to me to learn a bit more about Olafur Eliasson. I already mentioned that he is Danish-Icelandic artist. He is best known for his sculptures and large-scale installation art which is designed around light, water, and air temperature to enhance the viewer's experience. In addition to the rainbow, he is famous for a waterfall project in New York in 2008 where giant waterfalls were installed under the Brooklyn Bridge, along the East River, and on Governors Island. He is working with IKEA to produce solar powered tools which work without electricity and started the little sun foundation to bring solar light to countries off the power grid, like Rwanda. He has been commissioned to bring a permanent light installation for the Arc de Triomphe is Paris. I highly recommend looking him up. I'm going to watch for his work now.
ARoS Café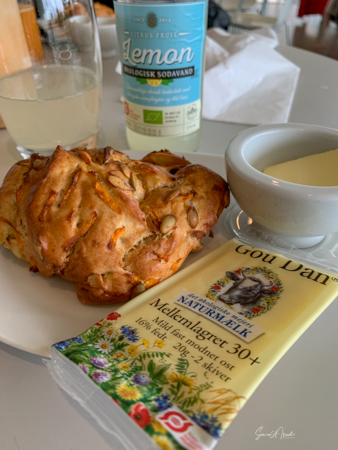 Our time was running out. We had to have lunch and make our way back to the University. While the museum has a high-end restaurant, we wanted something lighter, so we chose the café for lunch. The room was all white with windows and lots of light. We both had a cheese scone and a bottle of fizzy lemonade. Surprisingly a delicious lunch.
And then it was back to Copenhagen
I gave my talk that afternoon, then dashed to the train station to make my way back to Copenhagen and home. I headed back to the train station and my first-class seat back to Copenhagen. The view was as beautiful as it was a few days before. But I already had all my pictures so I just sat back to enjoy it.
When I got to the airport stop, I was so sad that I wasn't staying at the Clarion again, as it was full. So I was booked into the Park Inn By Radisson, Copenhagen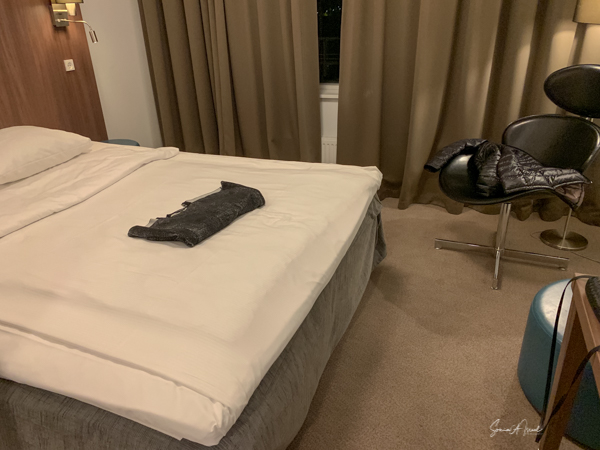 Airport, a quick cab ride away.  The room was fine. I went down to the restaurant for dinner and enjoyed a hot bowl of borscht, not something you often see on a menu. In the morning, I asked if they had a shuttle to the airport, although I knew the answer. No.  But the woman at the front desk told me the metro was just a block away and would take just a few minutes. So I thought, "Why not?" Although it was raining, I walked to the train station, figured out how to buy a ticket (24 kroner vs 100kr for the cab), rode two stops to the airport and was all set.
Final thoughts on Aarhus
My whirlwind tour of Aarhus was fabulous. It is a beautiful city filled with beautiful people. It is a city that is easy to navigate, easy to walk around, lots to see, great food, great coffee, great architecture, but perhaps not so great weather, at least while I was there. I am sure that in the winter when everything is white it has a whole different ethereal look to it. And I am sure when it is sunny and warm there are people everywhere soaking up the sunshine. But I was there in an unusual time, a time that should have been warm, but instead was cold with rain showers bursting through the sun for a few minutes before retreating again. Be aware, that did not spoil my time here. Rather it added to the serendipity that is Aarhus.
One more thing. When I first saw the inside of one of the homes, I commented on how there was Danish furniture everywhere.  You know, the teak, modern look.  Their response? "We just call it furniture."  I couldn't stop laughing.